Your apple crisp homemade recipe has arrived and so has all of fall dessert deliciousness! This wonderful fall dessert is one I look forward to every year.
If you're looking for fall recipes this apple crisp easy recipe must be on your list! Best of all this apple crisp is so easy to make. We love apples – fresh, cooked, in cobblers…..apples are just one of our favorites, and our home is filled with them.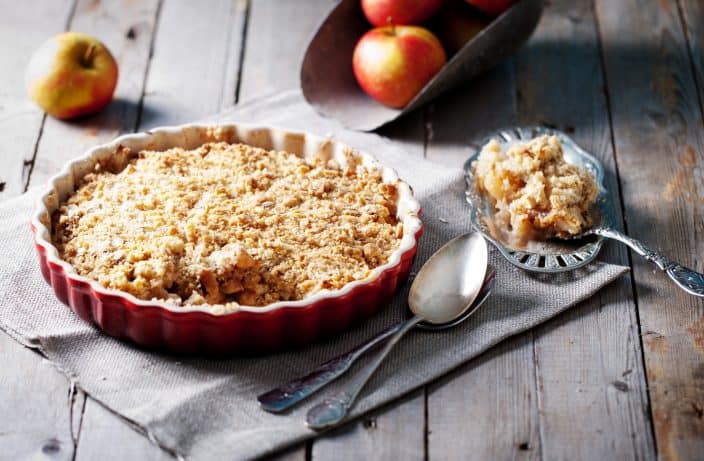 This post contains affiliate links. When you make a purchase through these links Betsi's World receives a small commission at no additional cost to you. As an Amazon Associate, I earn from qualifying purchases.
One taste of this delicious dessert and you've won't believe it is both gluten and refined sugar-free. The addition of fresh thyme adds a subtle savory note to the otherwise sweet flavor profile of this classic recipe.
What Apples Are Best For Apple Crisp
The best apples for to use for apple crisp are firm apples with a bit of tartness. Granny Smith and Honey Crisp apples are a great option. You can even use Pink Lady or Golden delicious! The best apples for dessert are the ones that stay crisp and don't become soggy. Texture is key, when making this fall favorite.
When it comes to choosing your apples, the fresher, the better, however if you happen to go apple picking and have some leftover, older apples will do just fine! No need to let these delicious seasonal fruits go to waste.
What You Need to Apple Crisp Gluten Free
Apples – again choose a firm apple. The top choice in our home is the Pink Lady.
Lemon Juice – You can juice your own lemon, or I love shortcuts, and always keep Nellie & Joe's Key West Lemon Juice on hand.
Real Maple Syrup – there is nothing better than natural maple syrup! And we love Vermont Maple syrup.
Apple Juice – look for sugar-free apple juice that is 100% natural apple juice.
Ground cinnamon – this spice lends such a festive flavor to anything, but it especially highlights the apple flavor in this dish.
Allspice – Allspice is a traditional spice used in many apple dishes.
Salt – salt is used to enhance and bring to the forefront some of the more subtle flavors of this dish.
Fresh Thyme Leaves – this lends a fresh twist on an old favorite dish.
Gluten-Free Oats– Most oats
Almond Flour– The use of almond flour instead of regular flour keeps this recipe gluten-free! You may also choose to use coconut flour.
Almond Shavings– You can buy these at the store or use whole almonds and chop them up yourself.
Honey– I like to use pure, orange blossom honey or raw honey for the best flavor.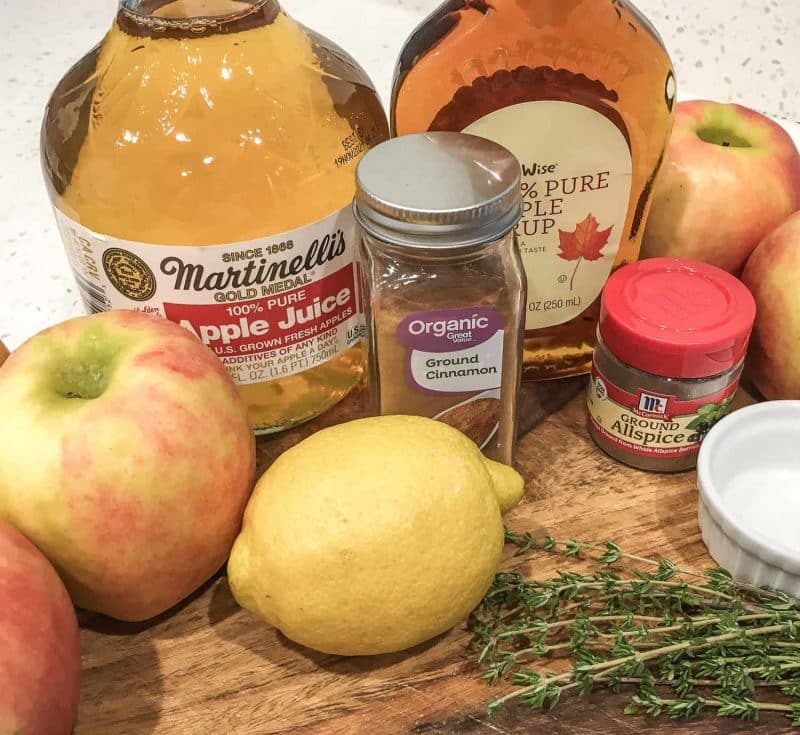 Topping For Apple Crisp
To make the topping for apple crisp combine the rolled oats, almond flour, sliced almonds, honey, and melted unsalted butter. You may also season this topping with cinnamon if you love cinnamon, but it doesn't need it. Stir the mixture until the oats are thoroughly coated and the ingredients are well combined.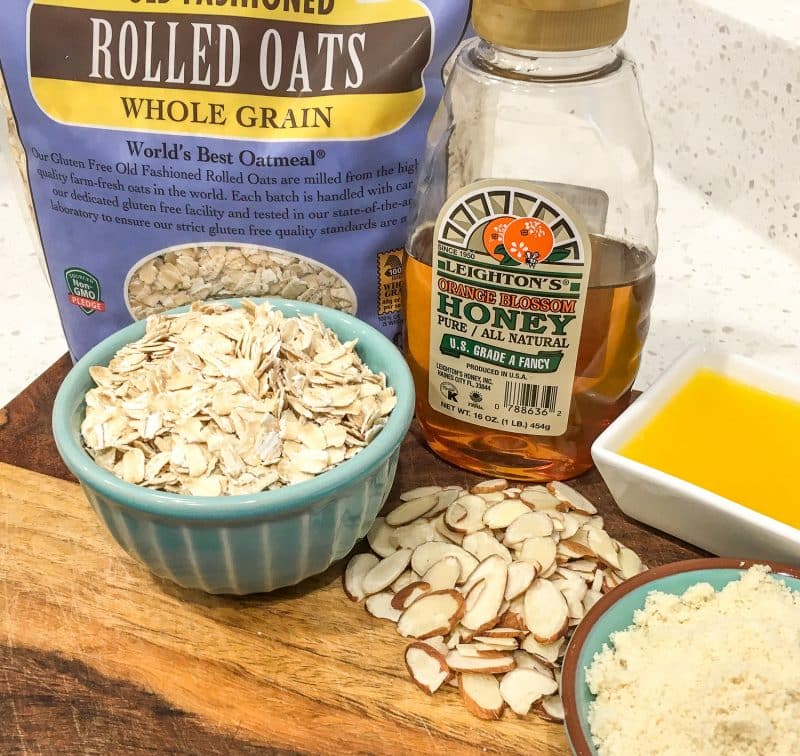 How To Make Apple Crisp
To make apple crisp healthy recipe you'll need to grease and baking dish and set it aside. In a separate bowl, combine your chopped apples, lemon juice, honey, apple, juice, cinnamon, allspice, thyme leaves, and salt. Toss it all together until well combined and each piece of apple is coated.
Pour the apple mixture into the prepared baking dish and spread it into a nice even layer. Grab the apple crisp topping you made earlier and spread it in a nice even layer right on top of the apples.
It's time to pop it into the oven! I adore the smell of warm, cinnamon apples- its such a delight. Bake until the top is golden brown, around 30 minutes. If it begins to brown earlier, cover it with aluminum foil to avoid burning.
The apples should be caramelized and bubbling when you remove it from the oven. If you can wait, let the apple crisp cool for a bit before you dig in!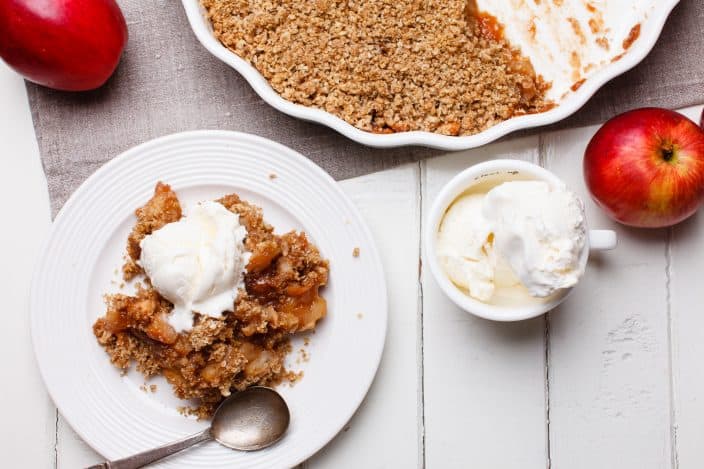 Tips For Making This Fall Dessert
Be creative with flavors try using a few different types of apples in your apple crisp recipe
Make sure to cut the apple pieces into uniform chunks so that they cook evenly and are done at the same time
You can substitute maple syrup for the honey if you prefer, or use a sugar substitute like Lakanto Monk Fruit Sweetener in syrup or granulated form
If you have a convection oven, definitely use it! The air circulation will help to get the topping nice and crispy. If not, put it on broil for a few minutes with the oven door slightly ajar.
How To Serve Apple Crisp
Classic apple cinnamon crisp is served with vanilla bean ice cream, but you could try any flavor! We have a lovely salted caramel pecan ice cream that would pair perfectly with these fall flavors!
Of course, you'll also wanted to top it with some fresh whipped cream, extra toasted nuts and oats. You may also want to try serving it in individual ramekins. This way it looks perfectly portioned for a party or on your holiday table!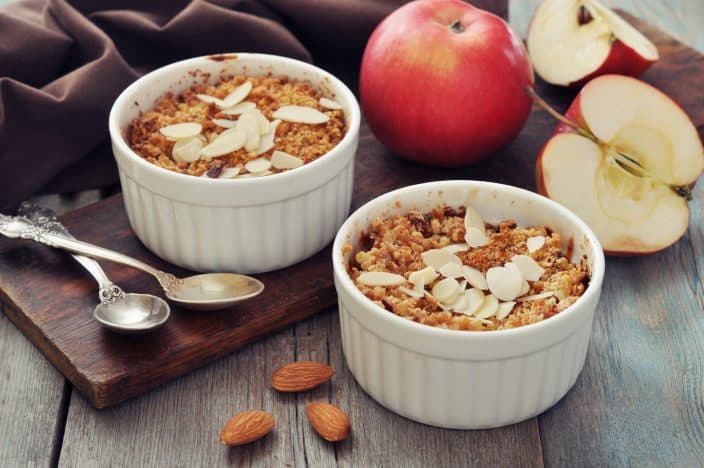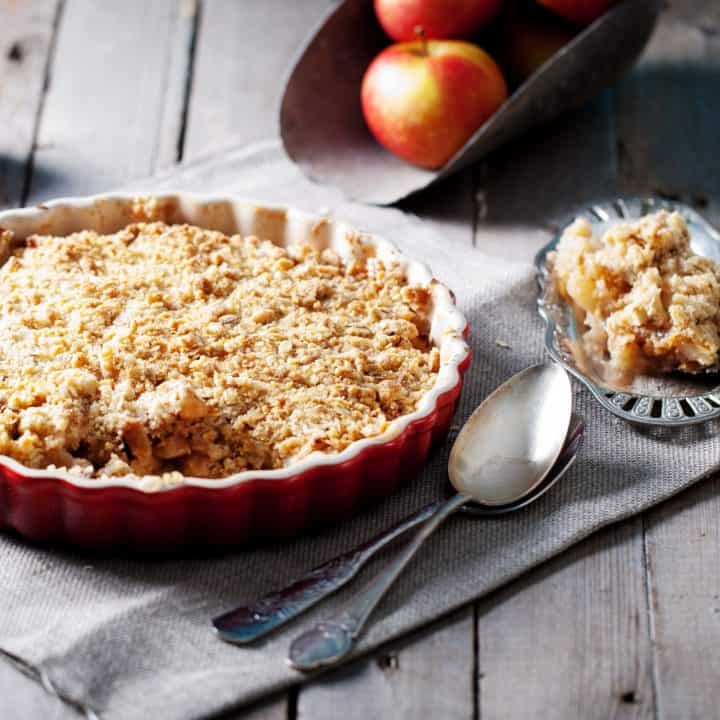 Baked Apple Cinnamon Crisp
Cook Time:
1 minute
35 seconds
Total Time:
21 minutes
35 seconds
This delicious apple cinnamon crisp is the perfect fall dessert. Its a comforting, seasonal dessert that is sure to please everyone who tries it!
Ingredients
6 large apples, cored, peeled, and sliced
1 T. fresh lemon juice
1/3 c. real maple syrup
2 T. 100% apple juice (sugar free)
1 t. ground cinnamon
½ t. ground allspice
1½ t. fresh thyme leaves
¼ t. salt
Topping Ingredients
1 c. old-fashioned rolled oats
1/3 c. almond flour
1/3 c. almonds, sliced
1/3 c. honey, preferably local
3 T. unsalted butter, melted
Instructions
Place the top oven rack in the center position and pre-heat oven to 350°F.
Grease an 8" x 8" baking dish and set aside.
Place apples in a large non-reactive bowl and toss with fresh lemon juice. Add maple syrup, apple juice, cinnamon, allspice, thyme leaves, and salt. Toss to combine and set aside.
Combine topping ingredients in a separate bowl and stir until oats are thoroughly coated and all ingredients are well combined. Set aside.
Pour apple mixture into the prepared baking dish and spread into an even layer. Spread the topping evenly across the top in a uniform layer, as well.
Place into a preheated oven and bake for 30 minutes. If the top layer is nicely browned, cover the dish loosely with aluminum foil to prevent over-browning.
Continue baking for another 15-20 minutes or until the apple crisp is nice and bubbling. Remove from oven and set aside to cool for 5-10 minutes.
Serve warm with some vanilla bean iced cream or freshly whipped cream, if desired. Enjoy! 
Nutrition Information
Yield

6
Serving Size

1
Amount Per Serving
Calories

406
Total Fat

14g
Saturated Fat

4g
Trans Fat

0g
Unsaturated Fat

9g
Cholesterol

15mg
Sodium

142mg
Carbohydrates

71g
Fiber

9g
Sugar

50g
Protein

5g
This wonderful fall dessert is one of my absolute favorites. I'm sure that as soon as you try it, it will be your new favorite too!
The crisp tinge to the air is the perfect time for baking apple crisps, and this recipe is so easy that your family will be clamoring for more! With the perfect balance of sweet and tart, your clan will love this apple dessert.
Looking for other fall desserts to add to your table? Check out our creamy Pumpkin Mousse recipe!
What do you like to eat with your apple crisp? Let us know in the comments below!
Other Recipes You Might Like