Key West Romantic Getaway
A Key West romantic getaway is the perfect destination option for couples. Are you seeking a tropical oasis perfect for water activities, beachcombing, dining, shopping and just relaxing the day away? Key West has it all. Here are our best spots for a Key West romantic weekend getaway.
Now that Florida has fully opened up, it is safe to travel to Florida during COVID. Hotel rooms are safely sanitized, there is hand sanitizer in airports, public spaces, shops, and hotels. Many of the counties in Florida have mask mandates in place, so please take a mask and hand sanitizer with you.
Hyatt Centric Key West Resort & Spa
In the heart of everything, Hyatt Centric Key West Resort & Spa is perfect for a Key West romantic weekend getaway. Overlooking the Gulf of Mexico, the resort boasts stylish comfortable rooms with sitting areas, and of course, stunning views. 
The resort offers private beach access, an outdoor pool, spa, and on-site dining. Take your choice of paddleboard and jet-ski rentals. Take a bike tour of the resort, and toast the sunset with a cocktail during the resort's cocktail hour. Boating charters, motorcycle rentals, and more activities are nearby.
Pier House Resort and Spa
Located near the popular Mallory Square, The Pier House Resort and Spa is a private, secluded romantic getaway option in Key West. Couples will enjoy the incredible views and lots of nearby dining options. Carve out some time for a spa visit. There are several on-site restaurants and live music choices.
Couples can take advantage of a variety of activities and excursions at Pier House Resort and Spa. A popular option is an all-day water excursion. You'll start your day with breakfast, and then snorkeling, parasailing, enjoying jet ski rides, kayaks, banana boats, and paddleboards. The trip includes complimentary beer and wine as well. This trip is great for adventurous, fun-loving couples. Whether you choose a relaxing sunset wine cruise, a wild all-day water excursion, or something in between, The Pier House Resort offers something enjoyable for every interest.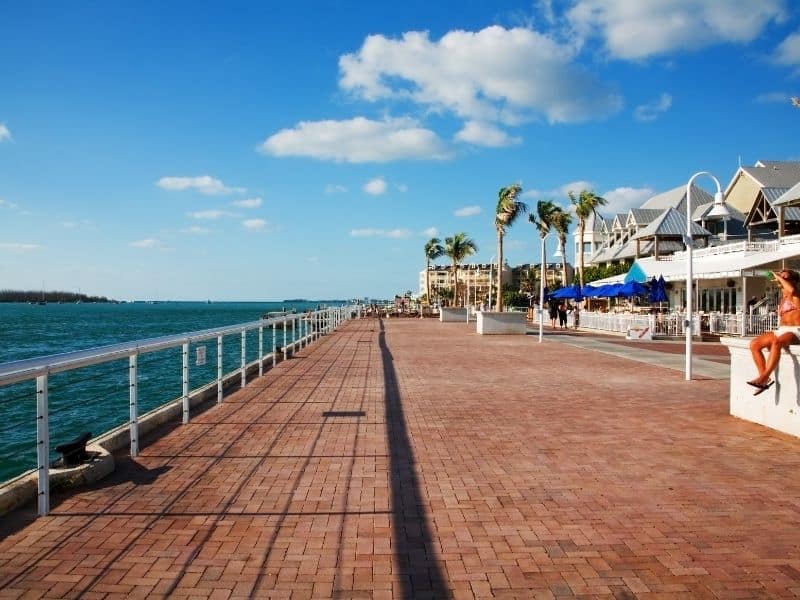 The Mermaid and the Alligator Bed and Breakfast
If you're looking for a luxury bed and breakfast for your romantic Key West getaway, look no further than The Mermaid and The Alligator. The fabulous accommodations are the ultimate in opulence! Whirlpool tubs, wraparound porches, and antique four-poster beds all enhance the romance. You'll enjoy breakfast poolside, and enjoy a cocktail in the evenings. Couples seeking a romantic getaway can choose from one of two romance packages available at The Mermaid and the Alligator.
Sweet Romance Package – This package includes a bottle of champagne and chocolate-dipped strawberries on your arrival night at the inn.
Love Story Package – Guests who choose this package will be greeted with chocolate-dipped strawberries, a dozen roses, and champagne.
Romance Packages About at Sunset Cottages on Key West
Sunset Key Cottages offer a romantic getaway package on Key West for couples seeking a beautiful, beach setting for their next vacation. Enjoy a romantic dinner or spend time relaxing on the cottage balcony. Take advantage of a couple's massage, or enjoy a personalized excursion.
How to Get to Sunset Key
Located just a mere 500 yards off Key West, couples can board the ferry from Key West at Margaritaville to Sunset Key. The ferry leaves Key West twice per hour until 2:30 a.m each day. The ferry launch is complimentary for guests staying at the Sunset Key Cottages.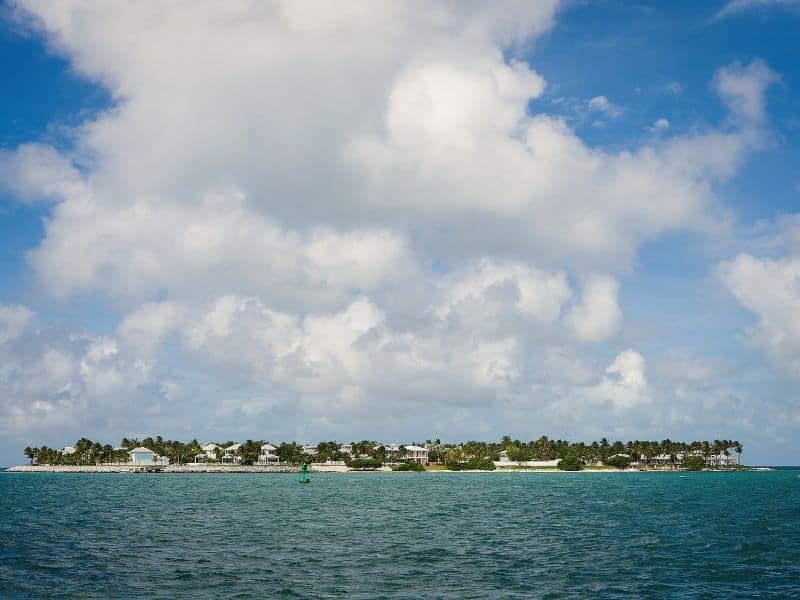 Stay in a One-Bedroom Garden-view Cottage on your Romantic Getaway
Sunset Cottages accommodations include cozy one-bedroom garden view cottages with sweeping garden views. Start your day with a decadent breakfast on the veranda. One-bedroom cottages are perfect for couples seeking a romantic getaway. They offer an open floor plan with a living room and dining room.
The Perry Key West
Though it is not in Key West, it is only a 15-minute car ride away. The Perry Key West is one of our favorite go-to resorts when we need a weekend away. The Perry is dog-friendly, which means that Zach is one of their VIDs (Very Important Dogs), and the staff is always at the ready to spoil him with a treat or three.
Paying homage to its roots on Stock Island, the rooms are "industrial chic" with lots of luxury touches. The Perry also boasts one of the top marinas in Florida, so come by boat, stay in the hotel, relax by one of the two fantastic pools with a cold drink in hand. After a full day of relaxing by the pool, head over to the Salty Oyster for some great bar food, or over to Matt's Stock Island Kitchen for some delightful low country with a Florida twist culinary creations.
Things to do in Key West
Ernest Hemingway Home & Museum
Couples looking for things to do during a romantic getaway in Key West may consider the Ernest Hemingway Home & Museum. Located in Old Town, the museum and former home of Hemingway is a U.S. National Historic Monument. This is where the acclaimed author wrote "For Whom the Bell Tolls" and "A Farewell to Arms." Tickets to the home and museum include a guided tour and stop in the bookstore and gift shop.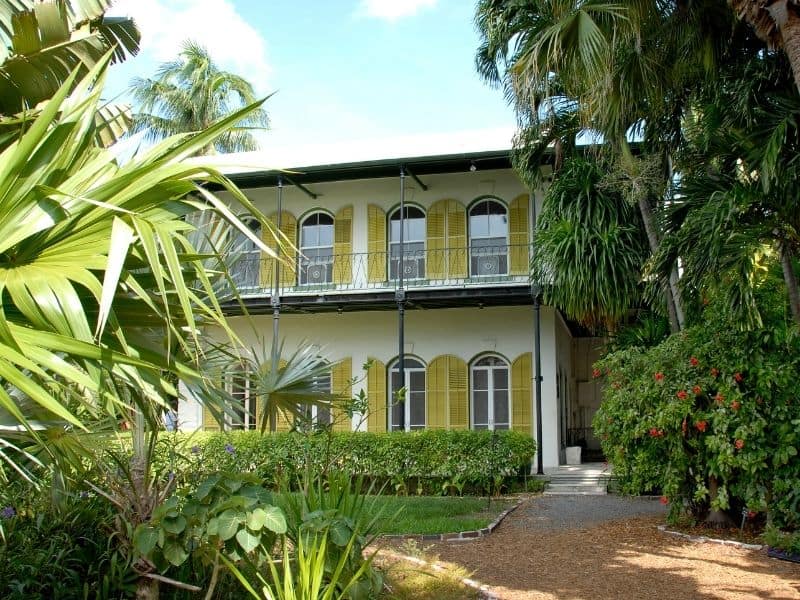 Fort Zachary Taylor State Park 
History buff couples will enjoy Fort Zachary Taylor State Park. This National Historic Monument brings Civil War and Spanish-American War era to life and tells the stories of the soldiers defending the nation here.
Dry Tortugas National Park 
Visit Dry Tortugas National Park, approximately 70 miles from Key West and accessible by high-speed catamaran or by seaplane. On our last visit to Key West we took the seaplane over to the Dry Tortugas, and it was fantastic! We booked a half-day excursion and had time to explore Fort Jefferson and to go snorkeling.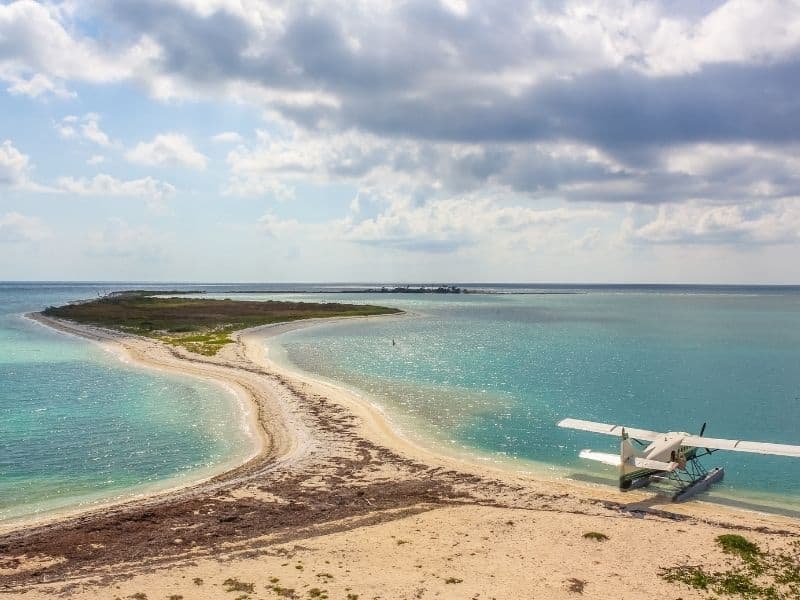 We highly recommend the seaplane! It does cost a bit more than the ferry, but the views are spectacular! The turquoise waters are so clear that you can actually see the huge underwater sand dunes, which are amazing.
You may be able to view the wreck of the North Wind, and lots of sea turtles and sharks. This is well worth the cost – it is something that we will never forget! And I know it will not be the last ride we take in a seaplane – I'll admit it, I am now hooked!
The decommissioned military Fort Jefferson is an interesting and historical site for both history buffs and nature lovers alike. The fort was built between 1846 and 1875 to protect the nation's gateway to the Gulf of Mexico.
 This post may contain affiliate links which won't change your price but will share some commission. As an Amazon Associate I earn from qualifying purchases.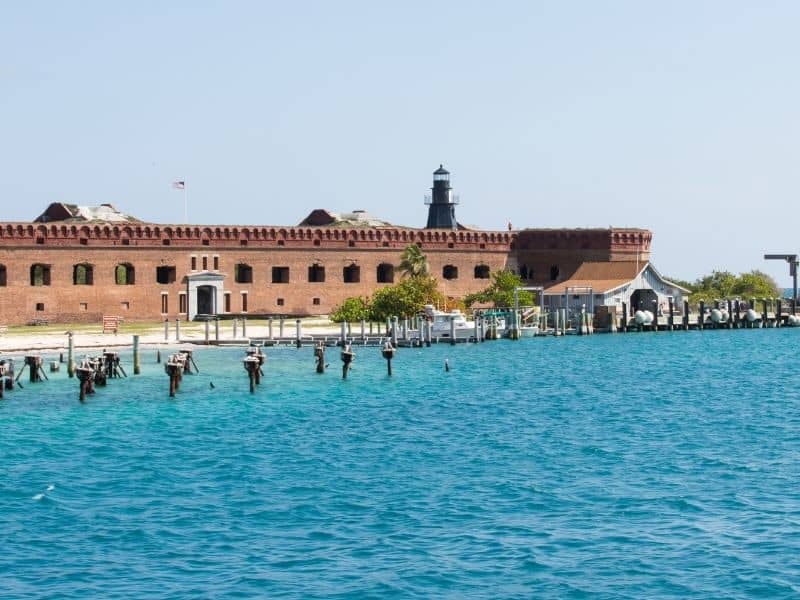 With countless trails, quiet beaches, birds, and marine life, it's an ideal way to spend the day. Don't miss out on snorkeling around the fort – you'll see lots of fish, perhaps a shark or two, turtles and maybe even a stingray. We saw loads of gigantic tarpon, and to be able to see these prehistoric looking creatures up close was incredible! 
Spend the day at the wooden pier or sit on the beach under an umbrella, people-watching or relaxing and taking in the sights, sounds, and smells. With amenities like tennis and volleyball courts, and nearby restaurants, its the perfect Key West day trip destination.
Tips for a Key West Romantic Getaway
What to Pack for a Key West Romantic Getaway
Wondering what to pack for a romantic getaway to Key West? Key West is pretty casual, so leave the fancy clothes at home. No need to bring all your jewelry – just a few casual pieces will work well. Here is our packing list for a Key West Romantic Getaway.
Whether you're looking to book a honeymoon or anniversary trip, a Key West romantic getaway destination will not disappoint. From stunning sunsets, kayaking adventures to just relaxing poolside, and enjoying some of the freshest seafood in Florida, the memories you make during your intimate getaway will last a lifetime.
CHECK OUT WHAT'S NEW ON BETSI'S WORLD
You May Also Like
Top Snorkeling Spots in the Florida Keys
The Best Places for Hiking in Florida