Florida Romantic Getaways
One of the best ways to celebrate life's milestones is to plan a romantic getaway! But where to go? Florida Romantic getaways are plentiful and full of fun! Grab your partner and hit the road for a romantic getaway!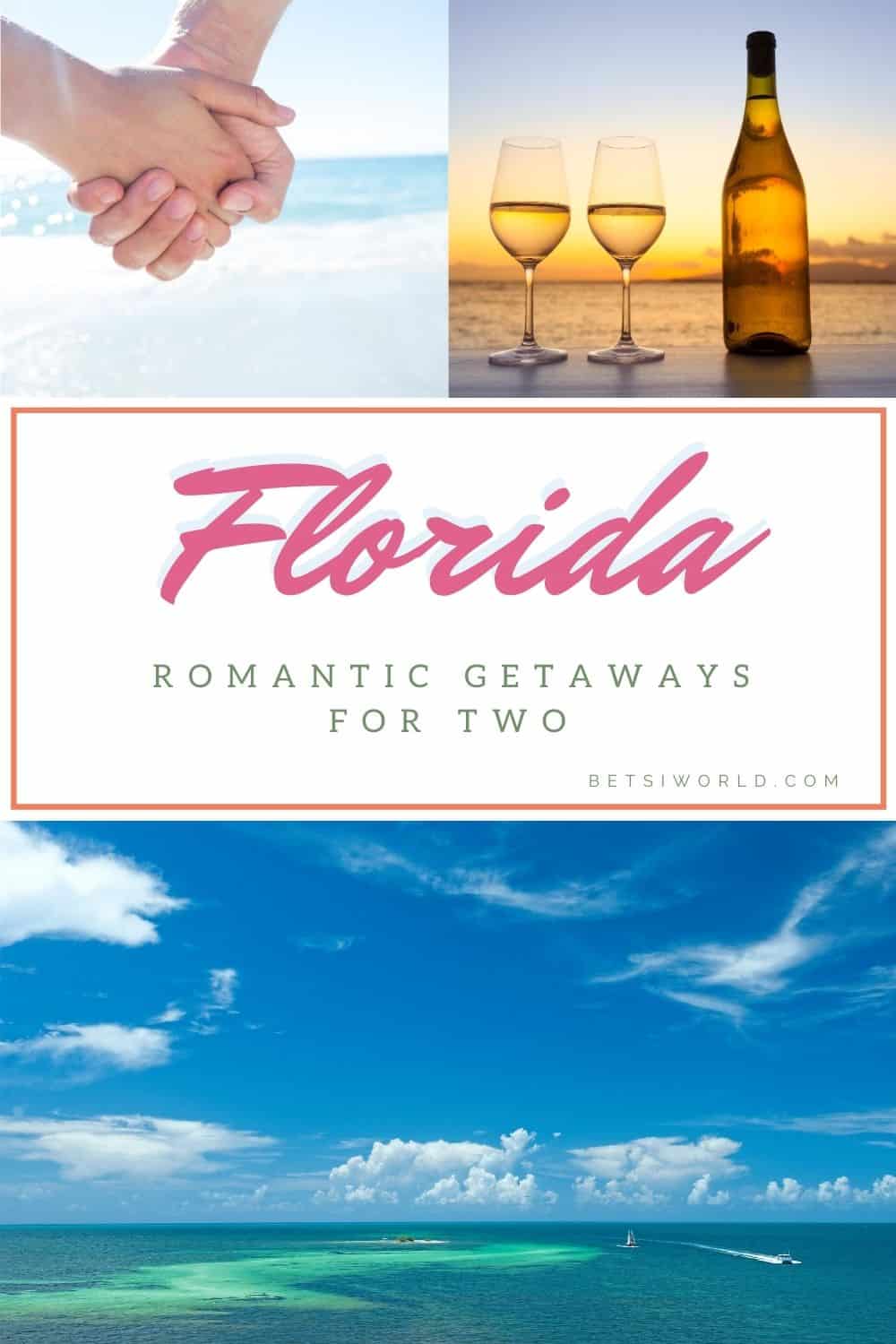 This post contains affiliate links when you make a purchase or book a hotel through these links Betsi's World receives a small commission that helps support this site at no additional cost to you.
We're featuring our favorite romantic getaways in Florida. Jim & I are picky when it comes to a romantic Florida getaway since we live in the Sunshine state. We are always up for a Florida road trip, with many of them being for work.
Speaking of work, it's time to escape! Remember to make time to for a romantic getaway with your partner. Always build in time to spend without the dog, the kids, or neighbors – trust us, your relationship WILL thank you.
Clearwater Beach
Clearwater Beach is excellent for a Florida romantic getaway. Dr. Beach's top 10 Beaches for 2020 includes two Florida beaches, one of which is Caladesi Island State Park Beach in Clearwater. This crystalline white beach beckons you to take a dip in its waters. Don't forget to pack all the essentials in your Beach Bag when visiting Clearwater Beach!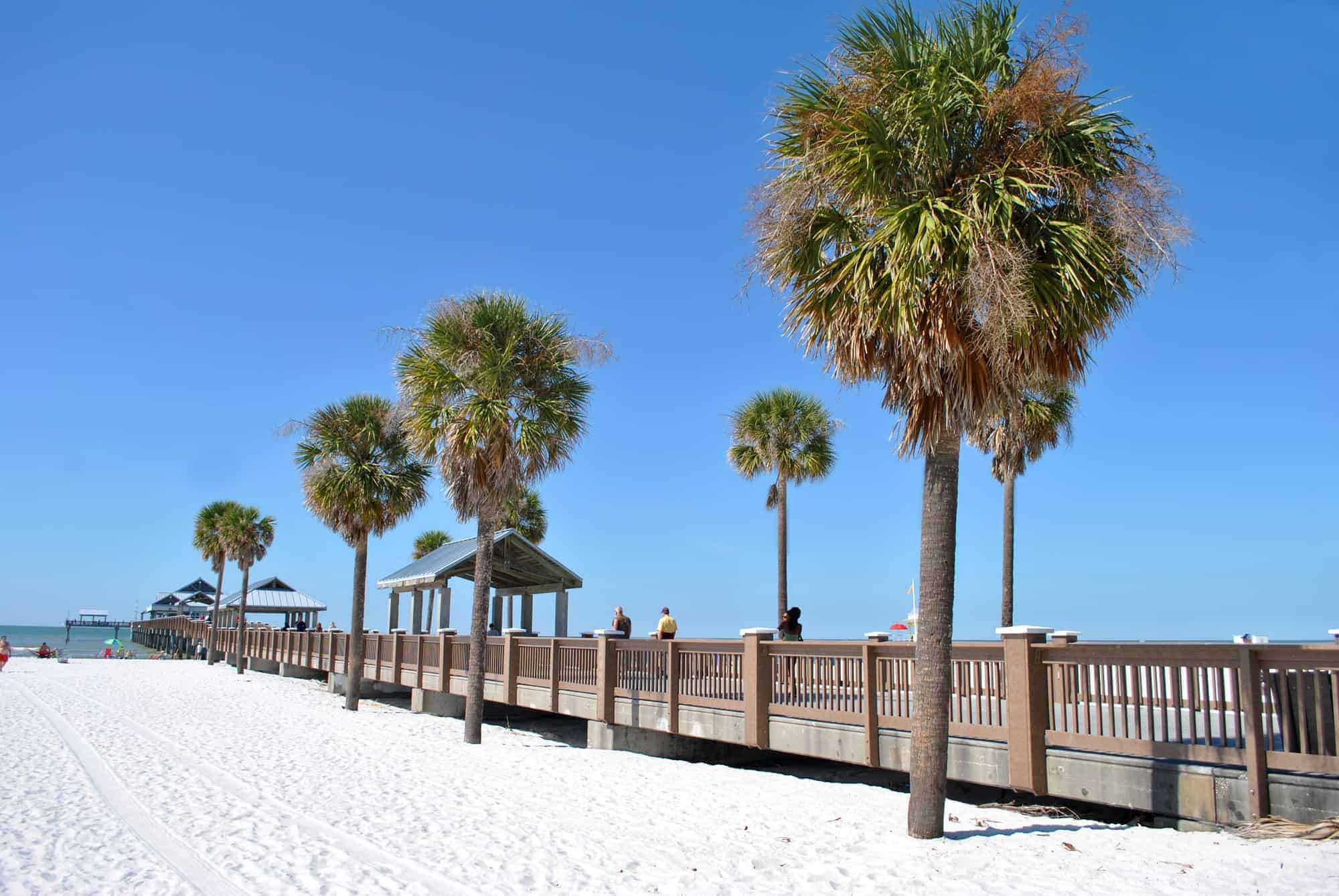 There are kayak and canoe trails through the mangroves to see the birds and other wildlife. Mangroves are the nurturing nurseries for many species of birds, fish, turtles, and other wildlife.
Plan a stay at the Hilton Clearwater Beach Resort and Spa. Perched on the edge of the beach, nothing beats waking up to a beach sunrise! And the Hilton Clearwater Beach Resort and Spa boasts the only tiki bar right on the beach! Let your cares slip away as you catch some rays and sip on a refreshing tropical cocktail.
Fort Lauderdale
Known as the "Venice of America" because of its vast canal system that runs through the city, Fort Lauderdale is a fantastic choice for a Florida romantic getaway. Our top hotel choice is the Pillars Hotel.
The Pillars is a top choice for anyone looking for a romantic Florida getaway. Looking for upscale rooms, unique dining options, and romantic waterfront dining?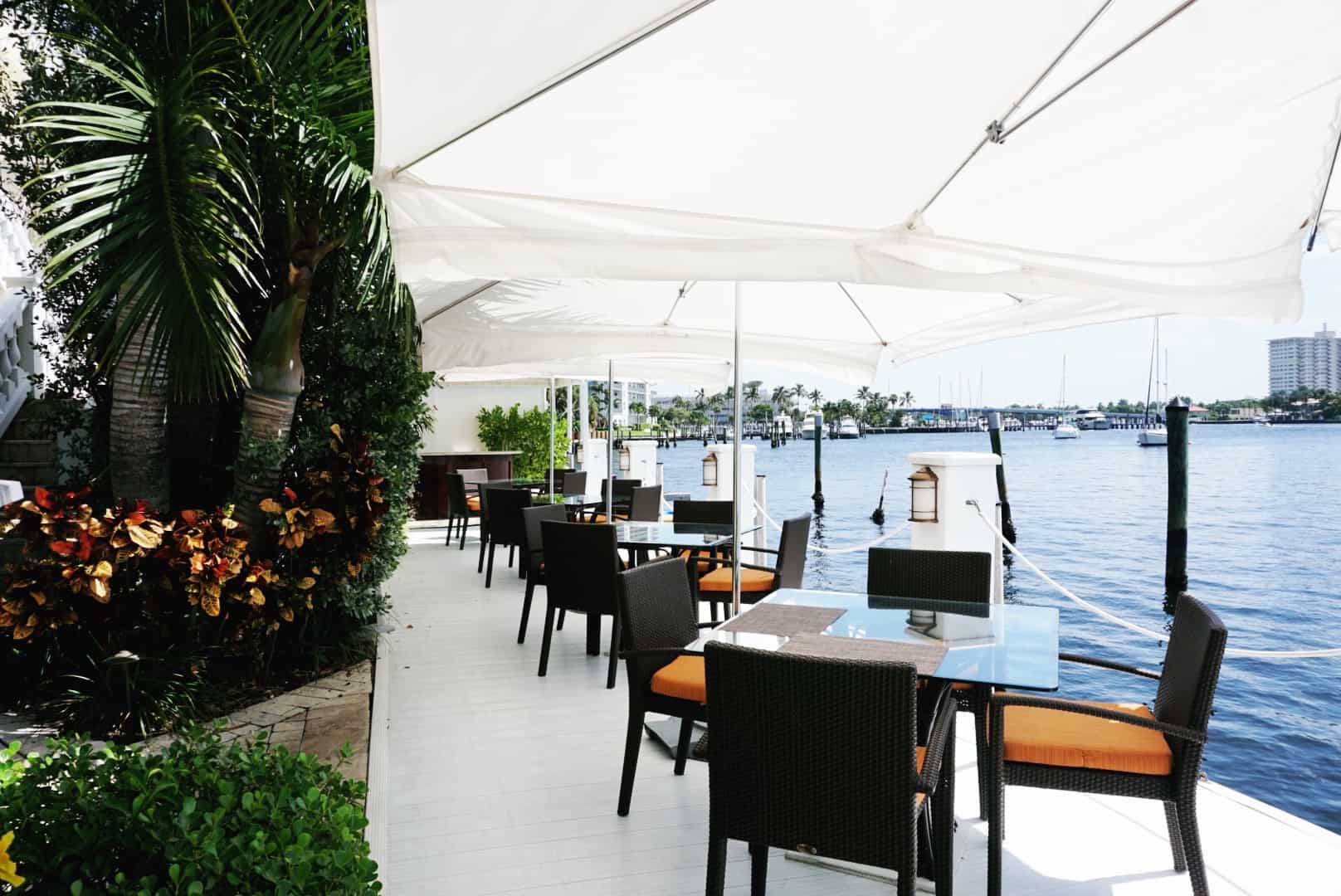 The Pillars has you covered! This small boutique property reminds us of some of Europe's top hotels and is a member of Small Luxury Hotels of the World.
There is so much to love about a visit to Fort Lauderdale – but our favorite pastimes are taking the water taxi to the Las Olas stop and window shopping along Las Olas.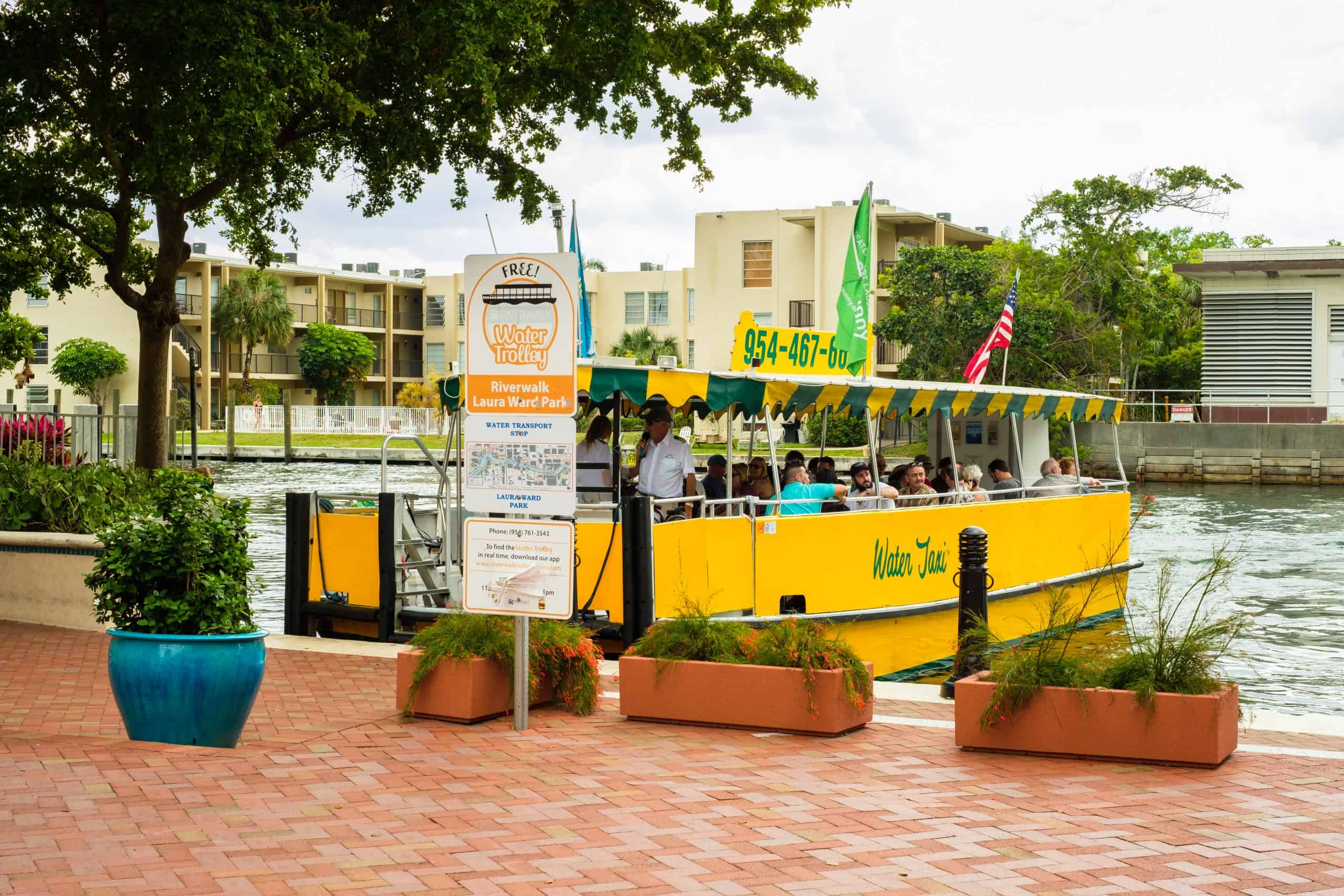 There are so many great restaurants; you can sip, shop, and eat the day away. We also love the Bonnet House Museum & Gardens. While you are in Fort Lauderdale, take a quick trip over to Miami and check out all there is to do! And last but certainly not least, a day in the sun on one of the area's beaches is not to be missed!
Key West & Stock Island
Another top choice for a Florida romantic getaway is Key West & Stock Island. We love, love, love the Florida Keys! We've come by boat and by car and enjoy the Key West & Stock Island area.
Key West has a fun, laid back vibe, and there are lots of activities. From celebrating sundown on Mallory Square to sipping your way down Duval Street to hand-rolled cigars and hand-crafted sandals, you won't be at a loss for things to do in Key West.
For those seeking a little more peace, a stay at the Perry Key West, located a short 15 minutes from Key West (and the Perry offers a free shuttle!) is our hands-down favorite place to stay in all of the Keys. With both the Salty Oyster and Matt's Stock Island Kitchen on-site, you'll have a feast for your taste buds. Spend the day relaxing poolside, sipping on a refreshing cocktail. You'll have a gorgeous view from your room looking out over the marina.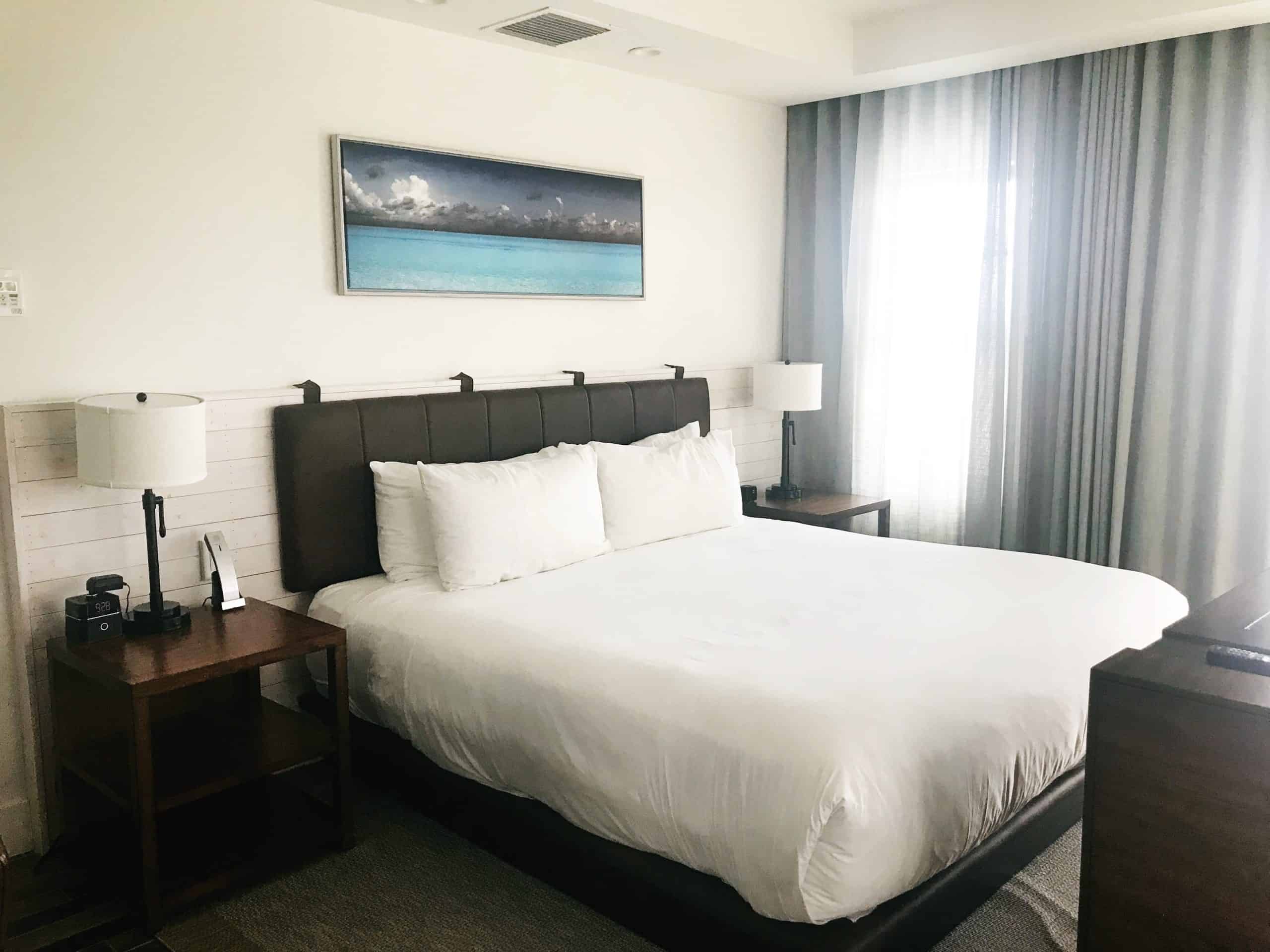 Bring Your Pup to the Perry
The Perry loves their four-legged guests – they are treated like VIPs! Zach is spoiled with loads of lovings and dog biscuits on every visit to the Perry Key West. Zach also loves sitting by the fire pit in the evenings – he has a bowl of water while we relax with some delightful adult beverages.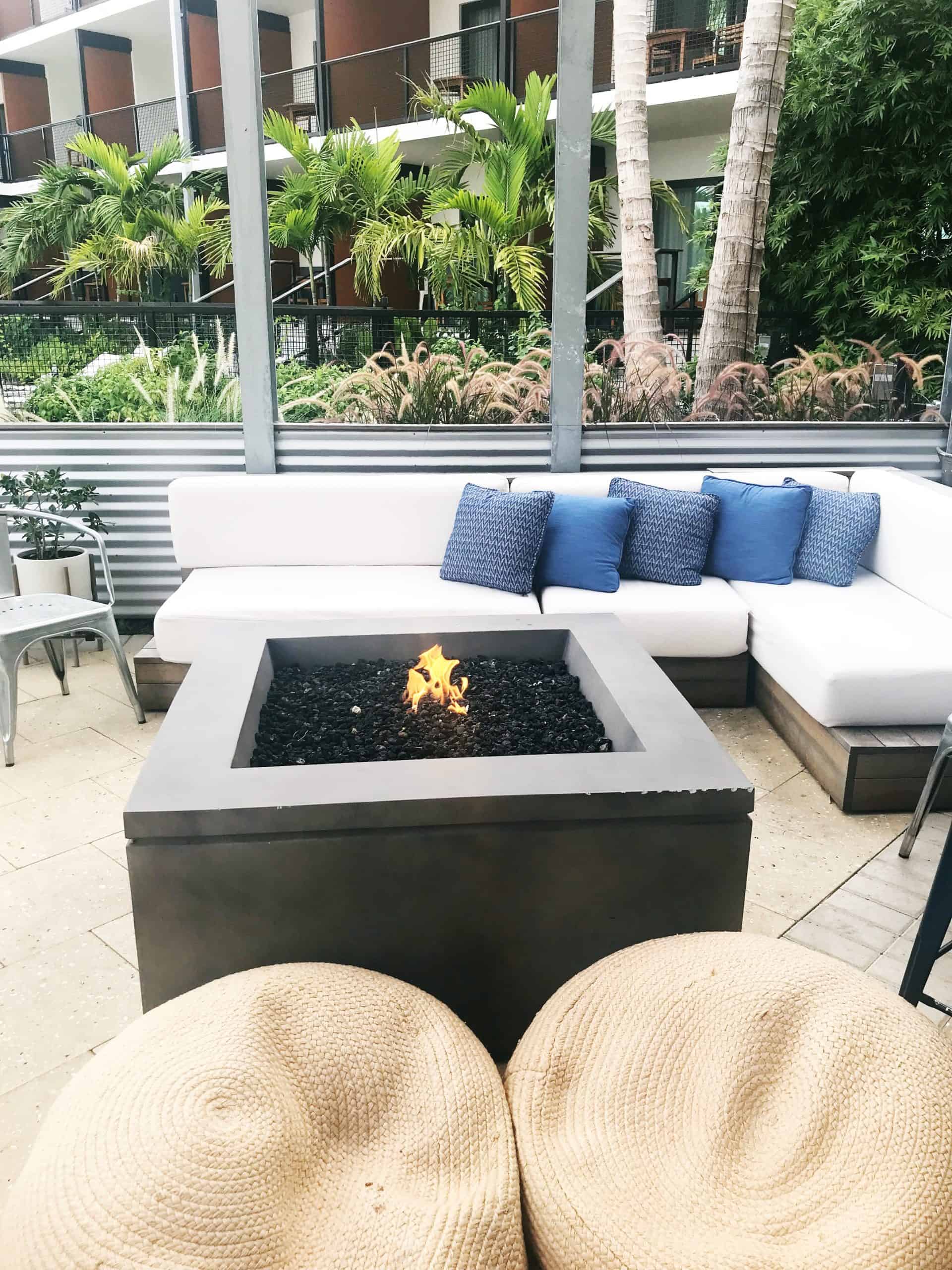 Favorite Key West activities? Take a seaplane trip out to the Dry Tortugas. During your 45 minute flight, you'll be almost skimming the wave tops, and you'll see turtles, sharks, dolphins, shipwrecks, and more! It's a bit on the pricey side, but so worth it! Once you arrive at Fort Jefferson, take some time to explore the fort, and then slip into the water and snorkel around the fort. You never know what you'll see – we've seen giant Tarpon, a Goliath Grouper, lots of Sargeant Majors, and more.
Palm Beach
Palm Beach – the upscale vibe, lots of great food and shopping, and topped with a stay at a historic hotel, it's a top choice for a Florida romantic getaway.
Book at a stay at the historic Breakers Hotel and get a glimpse into the life of Henry Flager, one of America's great industrialists. Flagler designed the hotel to be the luxury standard of the day in 1896. Today those standards still stand – a luxurious stay, the allure of the gorgeous seaside beach, and top-notch service.
For nature lovers, plan a visit to Lion Country Safari or the Busch Wildlife Sanctuary. Golfers will LOVE the many choices for golf in the Palm Beach area, including the oldest course in Florida, the Ocean Course.
History lovers will adore the Flagler Museum at Whitehall! We don't want to give too much away, but this a must-see when visiting Palm Beach!
St. Augustine
America's Oldest City holds an allure that continues to beckon Jim & me for visits. Every chance we get, we find ourselves back in this fun and fascinating city!
For a Florida romantic getaway look no further than the Casa de Suenos. With only seven guest rooms and its prime location in the heart of St. Augustine, this is our favorite lodging choice! Each room's decor is different and distinct, but each is filled with luxurious touches, including signature bath products, wine glasses and corkscrew, fresh flowers, full gourmet breakfast, evening socials, crisp linens, and comfortable beds.
Another choice for lodging is Casa de Suenos' sister properties, the 1894 House and the St. Francis Inn. All three properties are owned by the Finnegan family, and no matter which of the three properties you choose, you will not be disappointed!
There is so much history in St. Augustine to explore! From the Spanish to Henry Flagler, you'll walk away falling in love with America's Oldest City. Visit Castillo de San Marcos and get an NPS Regional Stamp. Tour the Lightner Museum and Flagler College for more on Henry Flagler.
Wander the streets of historic downtown, or take a trolley ride for an overview. There's lots of shopping and some fabulous food! We adore dinner outside at the Raintree Restaurant, and OC White's has some fantastic seafood! For those who love Spanish Food, a stop at the Columbia Restaurant is not to be missed!
No matter where you choose for a Florida romantic getaway, you can't go wrong! For even more romantic getaways, check out our picks below.
You May Also like these Romantic Getaways