One of the best ways to celebrate life's milestones is to plan a romantic getaway! Florida Romantic getaways are plentiful and full of fun! But where to go? Grab your partner and hit the road for a romantic getaway!
We're featuring our favorite romantic getaways in Florida. Jim & I are picky when it comes to a romantic Florida getaway since we live in the Sunshine state. We are always up for a Florida road trip, with many of them being for work.
Speaking of work, it's time to escape! Remember to make time to for a romantic getaway with your partner. Always build in time to spend without the dog, the kids, or neighbors – trust us, your relationship WILL thank you.
Romantic Getaways in Florida And What They Offer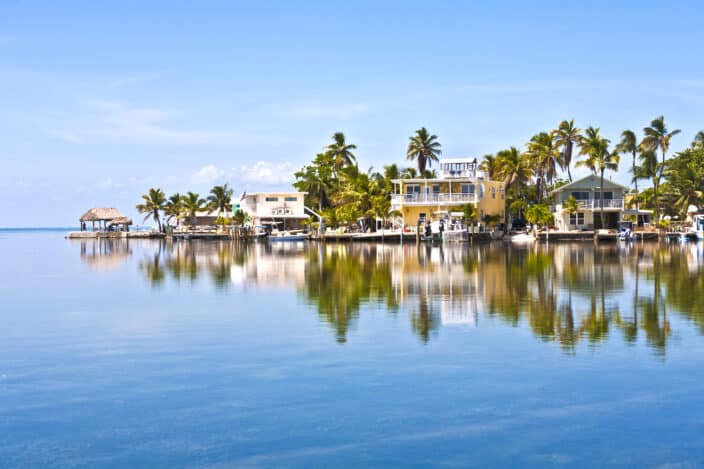 There are plenty of romantic resorts in which to enjoy a romantic getaway. Florida offers some of the best accommodations to complete your best getaways. Choose from a list of the most romantic hotels Florida has to provide its visitors.
Enjoy your romantic weekend getaway by having tea in lush tropical gardens outside your hotel room or relaxing in a private pool. Take advantage of your hotel's spa treatments like massages, facials, and steam rooms.
Breathe some fresh air in your room's private balcony, spend the evening in your hotel's fine dining option, take some photos in the stunning beaches, walk on white-sand beaches, spend time together in an adults-only pool, or unwind on gorgeous beaches.
Have a sumptuous lunch of fresh seafood or play water sports on beautiful beaches. You can also try scuba diving together or indulge in a romantic dinner of freshly caught seafood. Finally, splash in a pristine private beach, or revitalize in a heated pool at one of many romance-themed Florida resorts.
St. Augustine
America's Oldest City holds an allure that continues to beckon Jim & I for visits. We find ourselves back in this fun and fascinating East coast city of Florida every chance we get!
Look no further than the Casa de Suenos for your next romantic Florida getaways. With only seven guest rooms and its prime location in the heart of St. Augustine, this is our favorite lodging choice!
Each room's decor is different and distinct. Still, each is filled with luxurious touches, including signature bath products, wine glasses and corkscrew, fresh flowers, full gourmet breakfast, evening socials, crisp linens, and comfortable beds.
Another choice for lodging is Casa de Suenos' sister properties, the 1894 House and the St. Francis Inn. The Finnegan family owns all three properties, and no matter which of the three properties you choose, you will not be disappointed!
There is so much history in St. Augustine to explore! From the Spanish to Henry Flagler, you'll walk away falling in love with America's Oldest City. Visit Castillo de San Marcos and get an NPS Regional Stamp. Tour the Lightner Museum and Flagler College for more on Henry Flagler.
Wander the streets of historic downtown, or take a trolley ride for an overview. There's lots of shopping and some fabulous food! We adore dinner outside at the Raintree Restaurant, and OC White's has some fantastic seafood! For those who love Spanish Food, just a stone's throw away is the Columbia Restaurant!
Ponte Vedra Beach
This lovely beach is part of the Jacksonville Beaches area and sits just 26 miles from St. Augustine. It is a beautiful coastal town, known for golf, fine dining and shopping, as well as an abundance of other outdoor activities.
Ponte Vedra Inn & Club – is located near the oceanfront on a vast 300-acre property home to 250 hotel-like rooms in the historic Inn and another 68 rooms in the elegant, oceanfront Lodge.
Loyal families return to these places yearly (its origin dates back to 1928). They are drawn by excellent golf, outstanding tennis facilities, four oceanfront pools, as well as beautiful, pristine beach. Book romantic dinners at Seahorse Grill, where fresh seafood is served in a second-floor dining space with panoramic ocean views.
Clearwater Beach
Clearwater Beach is one of the best romantic getaways in Florida. Dr. Beach's top 10 Beaches for 2020 includes two Florida beaches, one of which is Caladesi Island State Park Beach in Clearwater. This crystalline white beach beckons you to take a dip in its waters. Don't forget to pack all the essentials in your Beach Bag when visiting Clearwater Beach!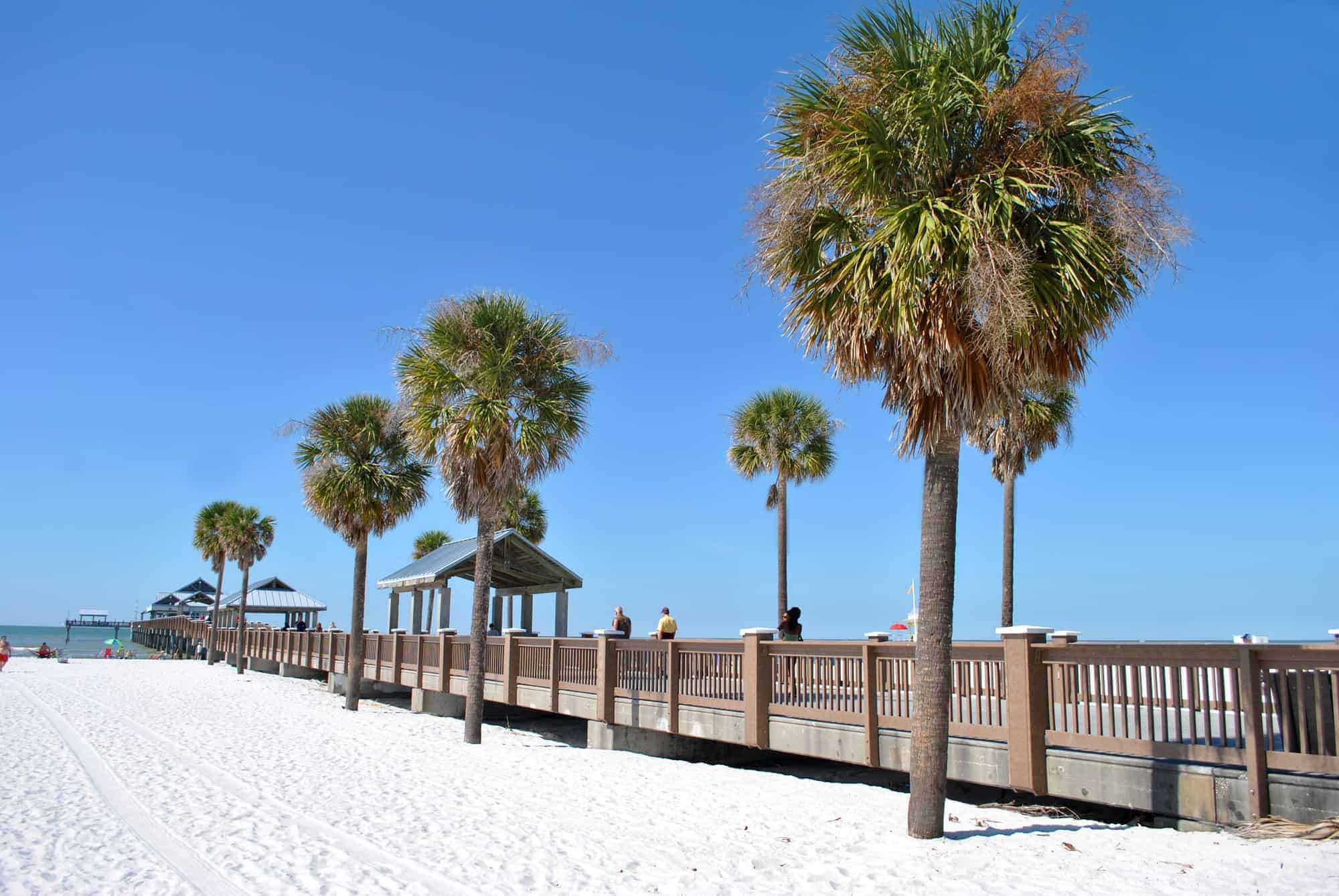 There are kayak and canoe trails through the mangroves to see the birds and other wildlife. Mangroves are the nurturing nurseries for many species of birds, fish, turtles, and other wildlife.
Plan a stay at the Hilton Clearwater Beach Resort and Spa. Perched on the edge of the beach, nothing beats waking up to a beach sunrise! And the Hilton Clearwater Beach Resort and Spa boasts the only tiki bar right on the beach! Let your cares slip away as you catch some rays and sip on a refreshing tropical cocktail.
Fort Lauderdale
Known as the "Venice of America" because of its vast canal system that runs through the city, Fort Lauderdale is a fantastic choice for a Florida romantic getaway. Our top hotel choice is the Pillars Hotel.
The Pillars is a top choice for anyone looking for a romantic Florida getaway. Looking for upscale rooms, unique dining options, and romantic waterfront dining?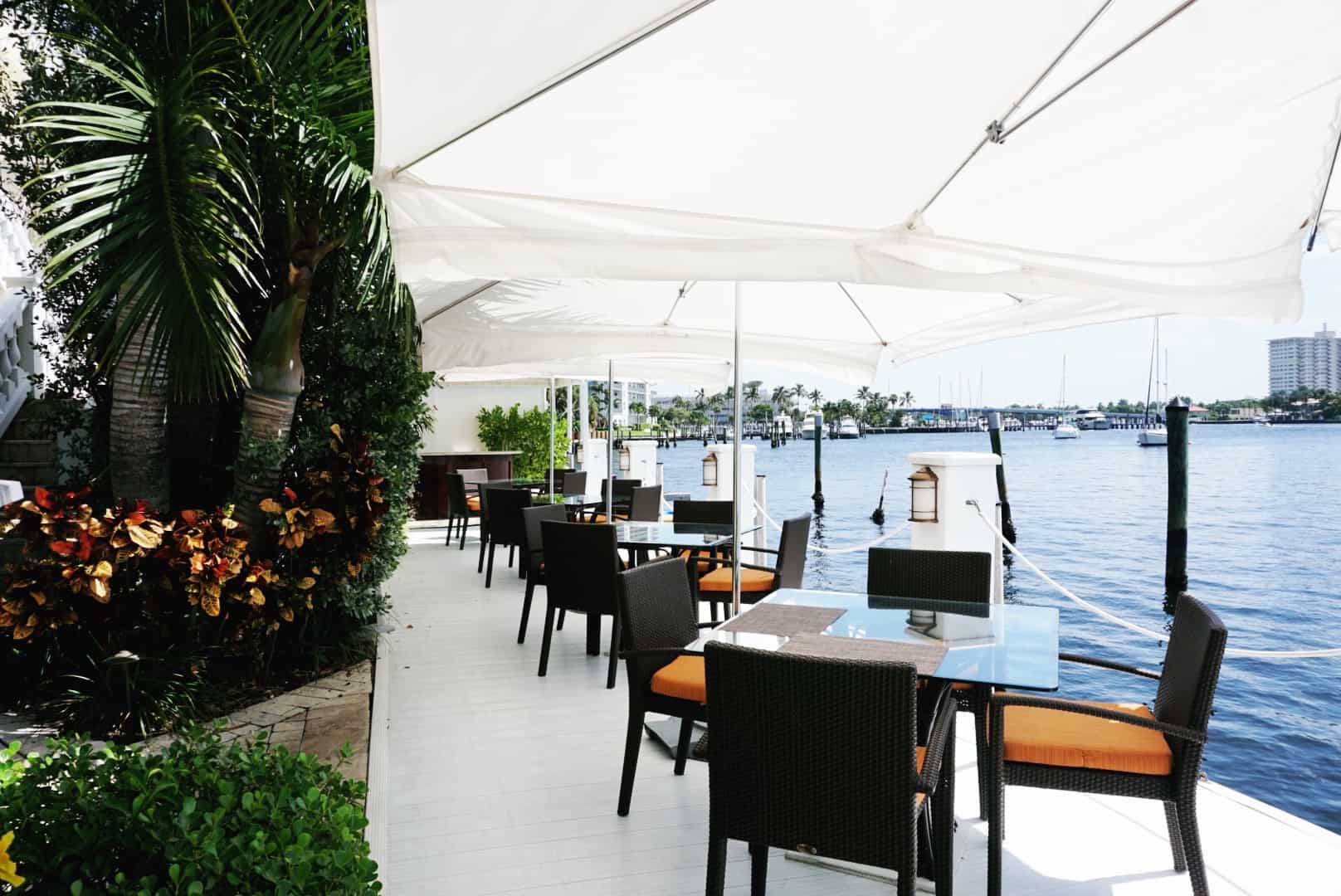 The Pillars has you covered! This small boutique property reminds us of some of Europe's top hotels and is a member of Small Luxury Hotels of the World.
There is so much to love about a visit to Fort Lauderdale – but our favorite pastimes are taking the water taxi to the Las Olas stop and window shopping along Las Olas.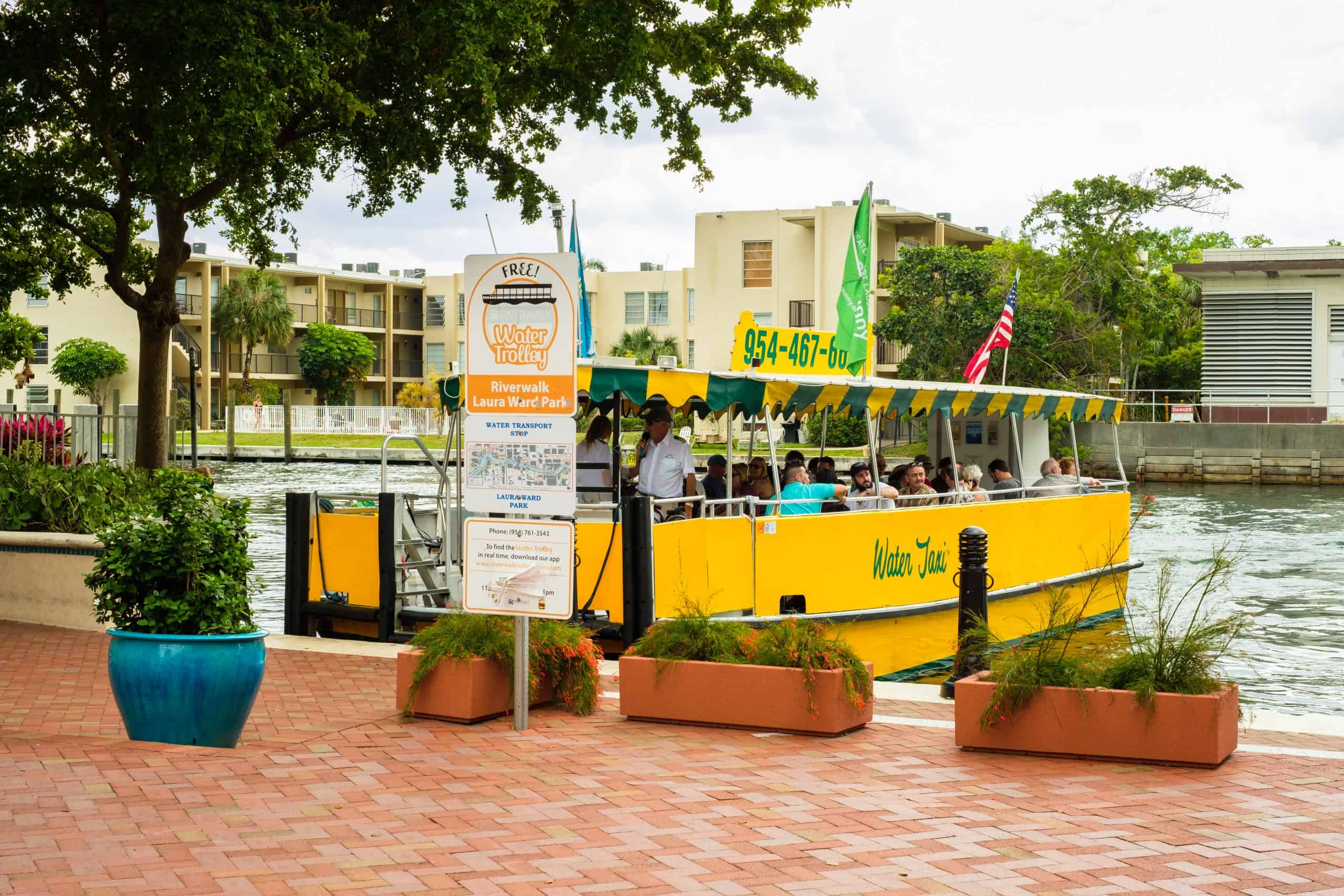 There are so many great restaurants; you can sip, shop, and eat the day away. We also love the Bonnet House Museum & Gardens. While you are in Fort Lauderdale, take a quick trip over to Miami and check out all there is to do! And last but certainly not least, a day in the sun on one of the area's beaches is not to be missed!
B Ocean Resort, Fort Lauderdale
Ocean Resort is a luxurious seaside resort surrounded by pristine beaches that stretch across the Atlantic Ocean. It offers a luxury hotel room and suite accommodations with breathtaking ocean views.
The well-designed rooms have en-suite bathrooms and cozy living areas decorated in a chic design and private balconies and patios. Sumptuous seasonal dishes are served daily at several restaurants, including the iconic, Wreck Bar!
Key West & Stock Island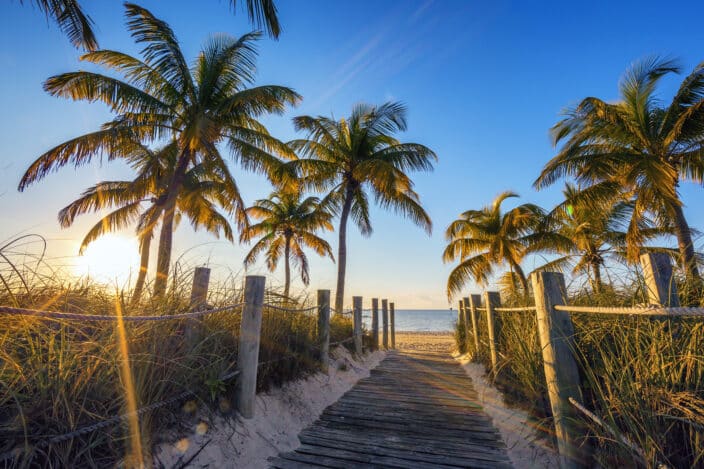 Another top choice for a Florida romantic getaway is Key West & Stock Island. We love, love, love the Florida Keys! We've come by boat and by car and enjoy the Key West & Stock Island area. 
Key West has a fun, laid back vibe, and there are lots of activities. From celebrating sundown on Mallory Square to sipping your way down Duval Street to hand-rolled cigars and hand-crafted sandals, you won't be at a loss for things to do in Key West. 
Sunset Key Cottages
There's nothing like spending a few days at the beach, and if you're looking for a place to stay on Sunset Key, then you need to check out the Sunset Key Cottages. These cottages offer everything that you could possibly want in a vacation spot, from private beaches to luxurious rooms. Plus, the staff is super friendly and always happy to help, so you'll feel right at home during your stay.
If you're looking for a place to get away from it all, then the Sunset Key Cottages are definitely worth checking out. You can spend your days lounging on the beach or exploring all that the island has to offer, and when you're ready to relax, you can head back to your cottage and enjoy some peace and quiet. Whether you're looking for a romantic getaway or a fun-filled family vacation, the Sunset Key Cottages are sure to please.
Opal Key Resort & Marina
If you're looking for a place to stay on beautiful Opal Key, then the Opal Key Resort & Marina is the perfect choice. This resort offers everything that you could possibly want, from spacious rooms with incredible views to gorgeous resort pools and docks.
Perry Key West
For those seeking a little more peace, a stay at the Perry Key West, located a short 15 minutes from Key West is our hands-down favorite place to stay in all of the Keys. With both the Salty Oyster and Matt's Stock Island Kitchen on-site, you'll have a feast for your taste buds. Spend the day relaxing poolside, sipping on a refreshing cocktail. You'll have a gorgeous view from your room looking out over the marina.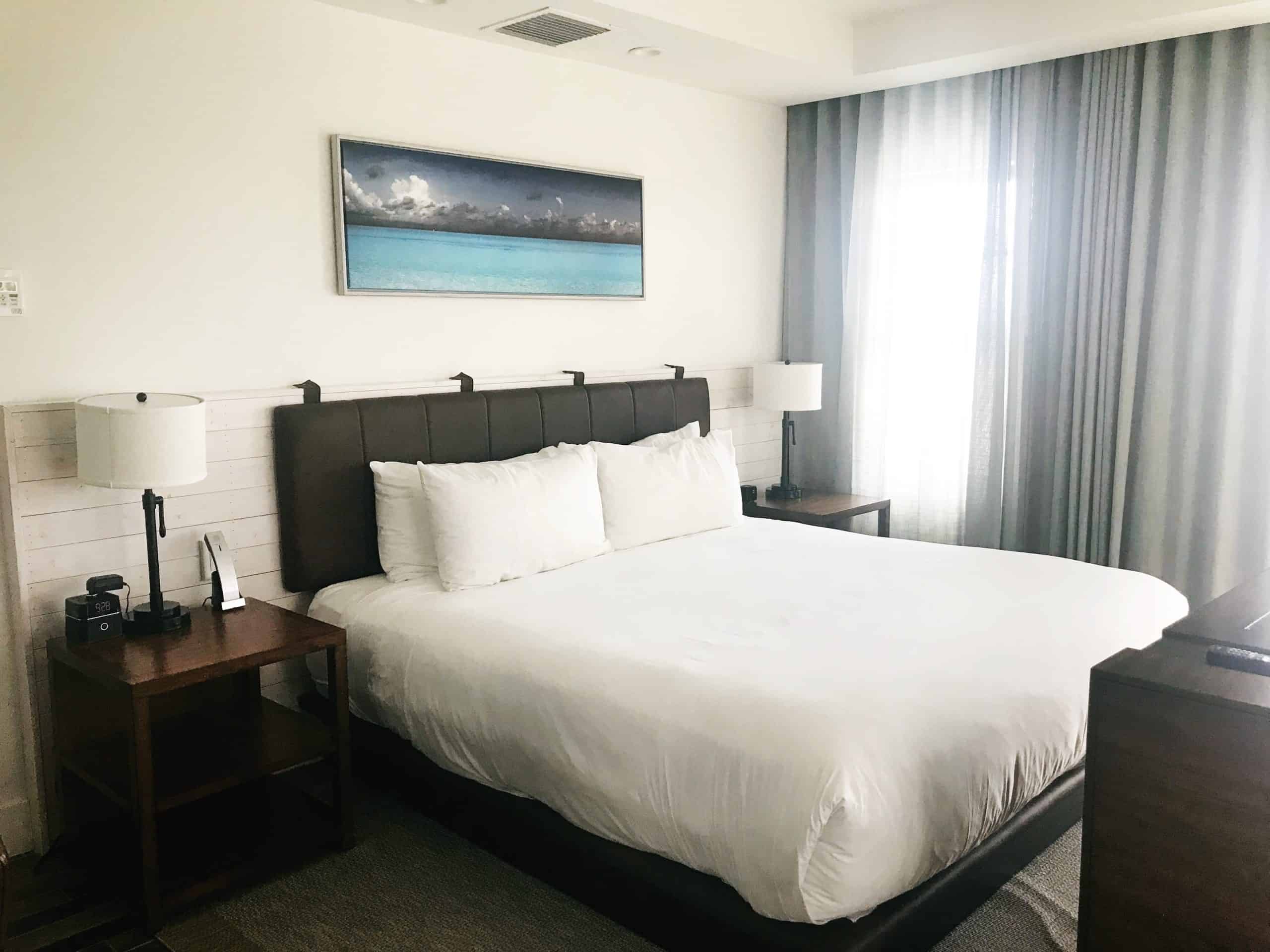 Bring Your Pup to the Perry
The Perry loves their four-legged guests – they are treated like VIPs! Zach is spoiled with loads of lovings and dog biscuits on every visit to the Perry Key West. Zach also loves sitting by the fire pit in the evenings – he has a bowl of water while we relax with some delightful adult beverages.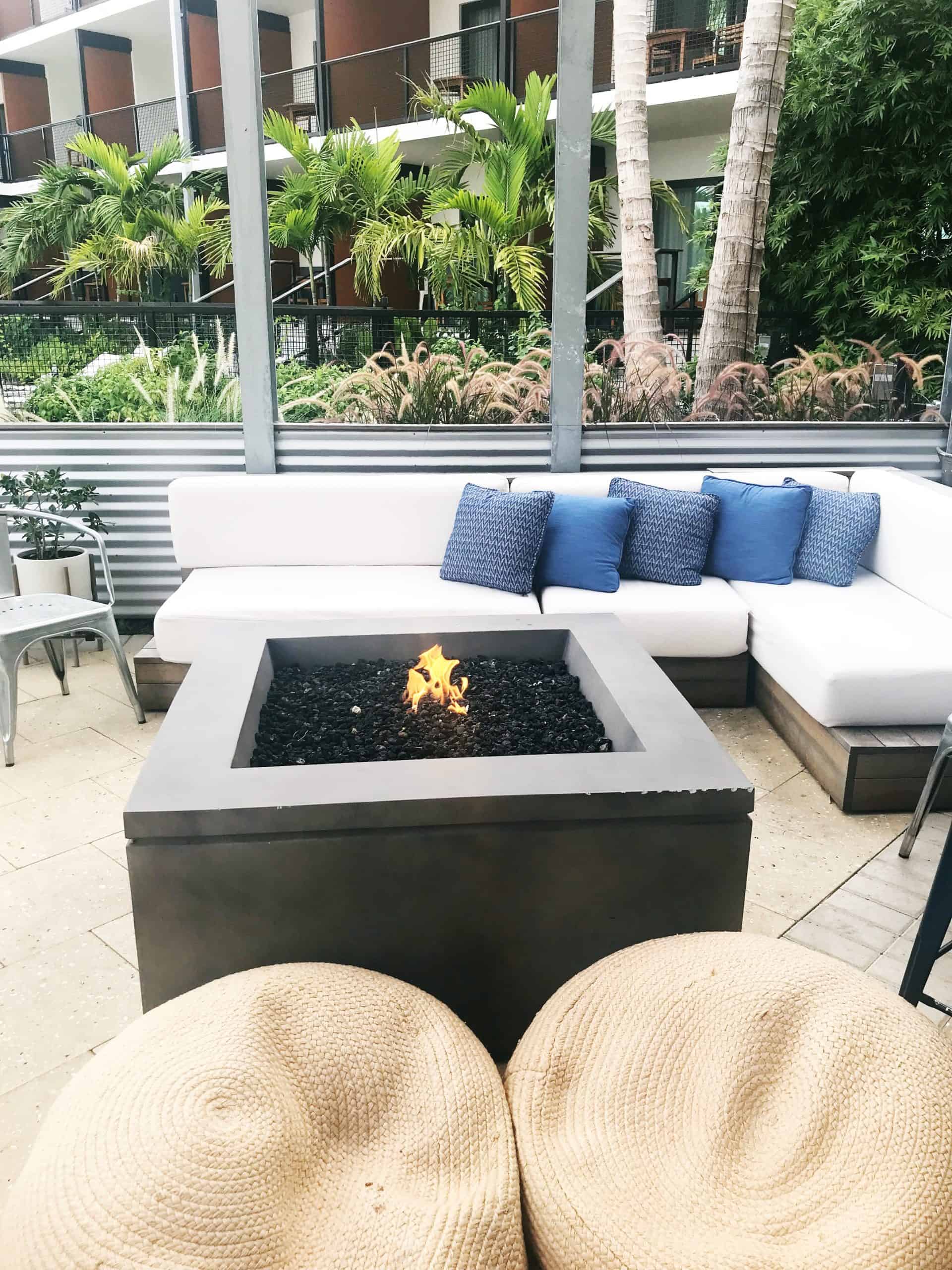 Lower Torch Key – Home to Little Palm Island Resort & Spa
This intimate and private resort was designed to be romantic. Stand-alone thatched-roof bungalows provide ambiance in all directions. In this resort, you can have a private bathroom with a bathtub, shower, and sink! They also have an elegant dining room, which offers complimentary breakfast, lunch, and dinner. It is a great place to stay if you are looking for a place with beautiful scenery and privacy.
Favorite Key West activities?
Take a seaplane trip out to the Dry Tortugas National Park. During your 45 minute flight, you'll be almost skimming the wave tops, and you'll see the Goliath grouper, turtles, sharks, dolphins, shipwrecks, and more! It's a bit on the pricey side, but so worth it!
Once you arrive at Fort Jefferson inside the park, take some time to explore the fort, and then slip into the water and snorkel around the fort. You never know what you'll see – we've seen giant Tarpon, a Goliath Grouper, lots of Sergeant Majors, and more.
Boca Grande
Gasparilla Inn & Club
The Gasparilla Inn & Club – is the perfect place for couples. With quaint cottages and palm tree-lined paths, its the ideal atmosphere for the old Florida resort, which dates from 1913. Gasparilla Inn is a luxurious hotel with an upscale yet casual atmosphere. You also have easy access to the gulf. Did you know that Boca Grande is known as the tarpon fishing capital?
Palm Beach
Palm Beach – the upscale vibe, lots of great food and shopping, and topped with a stay at a historic hotel, it's a top choice for a Florida romantic getaway. 
Book at a stay at the historic Breakers Hotel and get a glimpse into the life of Henry Flagler, one of America's great industrialists. Flagler designed the hotel to be the luxury standard of the day in 1896. Today those standards still stand – a luxurious stay, the allure of the gorgeous seaside beach, and top-notch service.
For nature lovers, plan a visit to Lion Country Safari or the Busch Wildlife Sanctuary. Golfers will LOVE the many choices for golf in the Palm Beach area, including the oldest course in Florida, the Ocean Course.
History lovers will adore the Flagler Museum at Whitehall! We don't want to give too much away, but this a must-see when visiting Palm Beach!
The Breakers
The Breakers in West Palm Beach, is a great place to stay if you are looking for a place with luxury in every room. The hotel is located right on the beach and overlooks the Atlantic Ocean. Plus, there are numerous restaurants, bars, and clubs in the area, to explore during your getaway.
The Breakers also has a lot of activities to keep you busy. There is an outdoor pool with lovely bungalows, a fitness center, a spa, several tennis courts, as well as golf courses. You can also take a walk or run on the beach or go for a bike ride.
South Beach
South Beach is a world-famous destination for vacationers and locals alike. The Art Deco architecture, stunning beaches, and vibrant nightlife make it one of the most popular places to visit in Miami. There are also plenty of shops and restaurants to keep you entertained. So if you're looking for a little bit of everything, visit South Beach!
Sunny Isles Miami Beach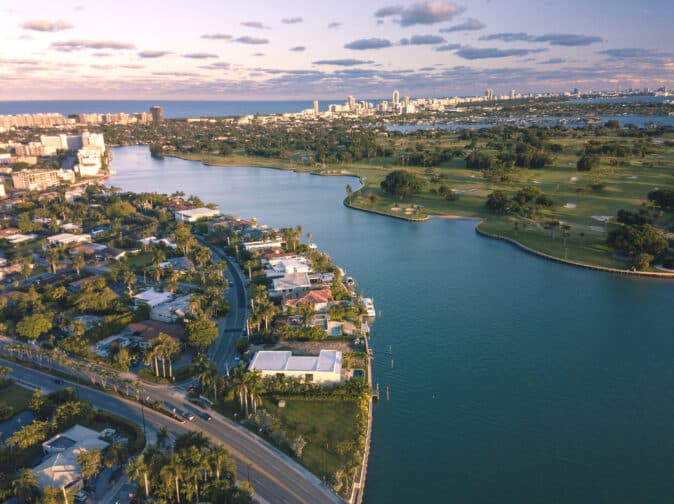 Sunny Isles Miami Beach is a world-renowned destination for its beautiful beaches and exciting nightlife. It also features first-class hotels and exquisite restaurants to satisfy any appetite. This southern location has something unique in-store, no matter what preference someone may have.
If you are looking for a place to relax and enjoy the sun, sand, and sea, then this is the perfect place for you!
Acqualina Resort & Spa
Acqualina Resort & Spa provides luxury Mediterranean-inspired beachside living – a stylish oasis. Located on an exclusive 4.5-acre private beach on the Atlantic Ocean, the Acqualina Resort has been synonymous with elegance, luxury, glamor, and exceptional hospitality for many years.
This beachfront hotel resort offers luxurious rooms, as well as one and two-bedroom luxurious suites. Lovely décor in rich colors, gorgeous bathrooms with showers and baths, and abundant modern amenities such as flatscreen and wireless Internet access.
St. Pete Beach
St. Pete Beach is a coastal city in Pinellas County, Florida. The city is a popular destination for its white sand beaches, crystal clear waters, and ample opportunities for outdoor recreation. Visitors can enjoy swimming, fishing, kayaking, as well as paddle boarding. There are also a number of restaurants and bars in the area, as well as a number of shops and boutiques.
The city is also home to the architectural wonder Don CeSar or Pink Palace, which opened in 1928.
Whether you're looking for a place to relax on the beach or want to explore all that the city has to offer, St. Pete Beach is definitely worth a visit.
Amelia Island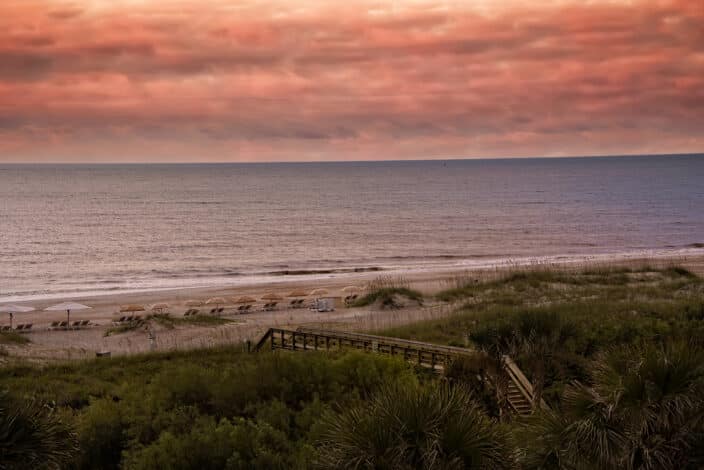 Amelia Island has incredible natural beauty and upscale amenities that can't be found anywhere else. From pristine beaches to lush forests full of unknown wildlife, Amelia Island does have it all!
The pristine beaches and crystal clear water of this barrier island are a magnet for luxury travelers looking to enjoy Florida's natural beauty. Amelia Island also boasts world-class resorts, romantic hotels, spas, golf courses, and restaurants that will satisfy any appetite!
The Ritz Carlton, Amelia Island is a perfect place to spend your holidays with your spouse with a variety of luxurious suites with luxury beds, marble bathrooms, and private terraces.
The on-site amenities at the Ritz Carlton include a spa with incredible spa treatments, an indoor and outdoor pool with ocean views, gold, a wonderful lobby bar and restaurant.
Marco Island
Marco Island in Southwest Florida was called La Isla de San Marco by Spanish explorers in the 1500s. So, you can believe that there's a lot of history in this place. Tourists from all over the world who visit Florida enjoy great weather year-round. This is what they long for: idyllic climate, fantastic theme parks, and the beautiful beaches of Marco Island.
 This post may contain affiliate links which won't change your price but will share some commission. As an Amazon Associate I earn from qualifying purchases.
Santa Rosa Beach
The small community of Santa Rosa Beach is a haven for those looking to escape the hustle and bustle of everyday life. For one thing, it has some great beach houses that offer luxury living with all amenities included in your vacation rental.
The unique coastal dune lake in Santa Rosa Beach is perfect for adventure days with a kayak or canoe!
WaterColor Inn & Resort – Santa Rosa Beach
A romantic escape at the WaterColor Inn & Resort means staying in the central hotel with 60 luxurious rooms facing the beach and offers some of the best features, including freshly baked cookies delivered right to you!
Leave the keys at home and explore the neighborhood on rental bikes. Then, spend the afternoon kayaking or canoeing the lakes inland before hitting the beaches.
Sanibel Island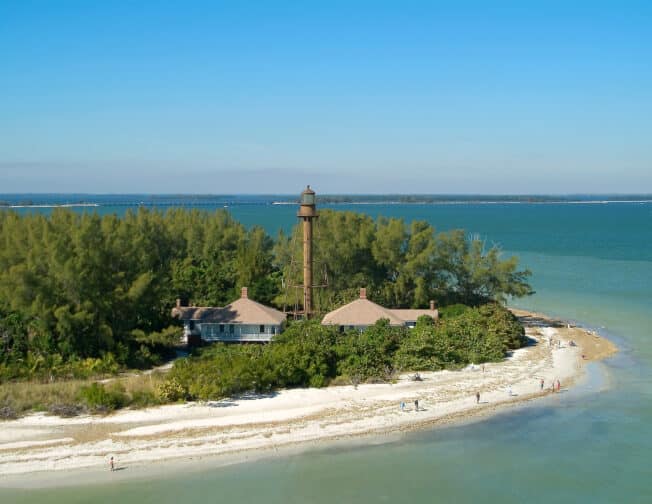 Sanibel Island is an ideal place for couples and a beach with white sand. This beautiful barrier island in the Gulf of Mexico has rich histories with pirate and Indian people and Spanish adventurers.
In addition, Sanibel Island offers a romantic escape with a broad array of unique places, shops, and wedding venues. The location is also quiet and is perfect for romantics.
The Best Romantic Getaways in Florida Yet
Imagine a place where you can spend your time together in harmony. A destination that offers sanctuary from the stresses of everyday life and connects with nature's beauty to create memories worth remembering forever- this is what Florida has waiting for its visitors!
From coastlines rich with fishing opportunities or awe-inspiring landscapes to resorts offering relaxation galore. There are endless options when it comes down to deciding which state spots have the best romantic getaways. The romantic hotels and resorts are all fantastic qualifiers for the best romantic getaways in Florida!
CHECK OUT WHAT'S NEW ON BETSI'S WORLD
Which spot looks best for your next romantic getaway in Florida? Let us know in the comments below!
Romantic Getaways in the South