Looking for a fabulous romantic coastal holiday getaway this season? Two of our favorite coastal destinations are getting ready for the holiday season. Both St. Simons Island, Georgia, and St. Augustine, Florida are preparing to show off their holiday side, and are our top choices for a romantic coastal holiday getaway.
The holiday season would normally find Jim and I celebrating island style in the Bahamas. But this year is different. Though we'd love to be in the Bahamas this year international travel is difficult with COVID. But that won't stop us from celebrating locally with visits to St. Simons and to St. Augustine.
Travel During Covid
In both St. Simons and St. Augustine we found the health and safety measures to stop the spread of COVID were implemented. Each hotel, restaurant, and attraction had hand sanitizing stations in various locations throughout the venue. Masks were required in all public spaces and employees wore masks.
At all the hotels we stayed in masks were required, there were hand sanitizing stations throughout, and our rooms had been sanitized. Daily room cleaning had been suspended. Jim and I felt safe and healthy.
Coastal Holiday Getaway To St. Simons
The King and Prince Beach and Golf Resort on St. Simons is the perfect setting for a romantic coastal holiday getaway. The resort is located on St. Simons Island, part of Georgia's Golden Isles. The King and Prince is always our top choice when visiting St. Simons. The resort rests on the edge of the beach and is the only beachfront hotel on the island.
The resort offers a selection of rooms, so whether you are celebrating with your special someone or coming with the entire family, the King and Prince can accommodate you.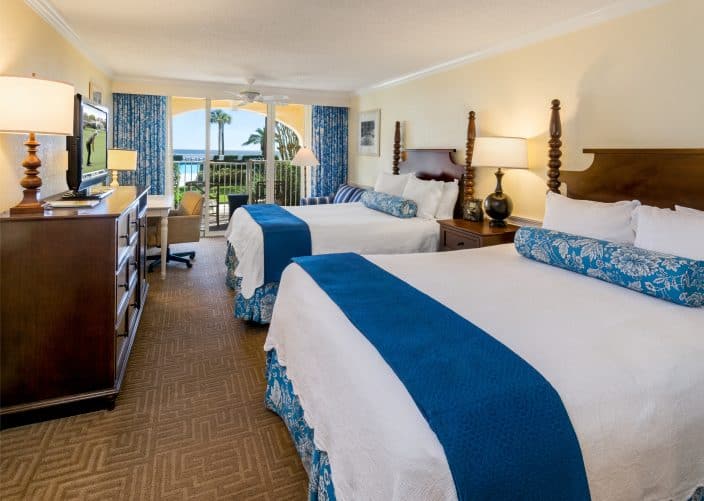 For a getaway for two we love the resort deluxe rooms or one of the oceanfront suites. When celebrating with our family the perfect choice is one of the resort residences or beach villas (depending on how many will be joining us).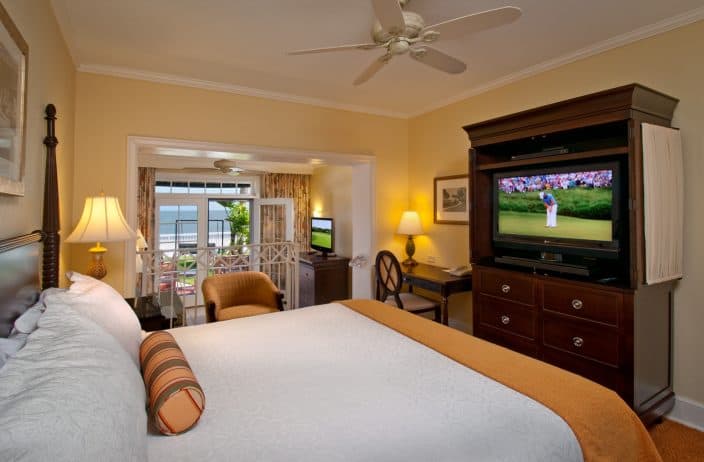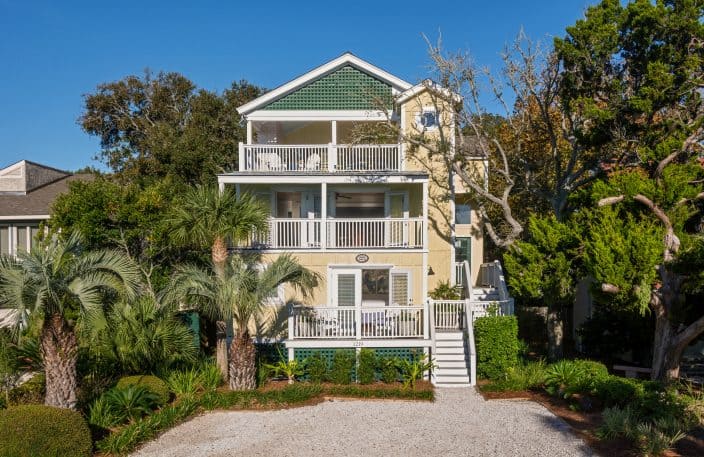 The resort is decorated in it's holiday finest, and its relaxed, casual vibe makes you feel at home as you sit by the huge fireplace that dominates the lobby, sipping a cocktail.
Speaking of cocktails, be sure to check out the bar at ECHO. They are crafting some incredible cocktails, and offer a large selection of wines and craft brews.
What To Do On a St. Simons Romantic Coastal Getaway?
There is a lot to do on St. Simons even during the winter. Start with a brisk beach walk. Step right outside your room and walk down to the beach. We love strolling the beach at sunrise as the sun peeks over the horizon and birds are busily seeking their breakfast along the shoreline.
Head back to the King and Prince for a healthy breakfast at ECHO. You'll have lots of choices from omelets to their fantastic warm peach yogurt parfait.
Then shopping! St. Simons has shopping down pat. The island is full of small boutiques, offering everything from clothing to art to kitchen goods. You will be sure to come home with some treasures.
The island will be decked out for Christmas, so be sure not to miss the annual Fendig Family's Christmas Tour of Lights onboard the Lighthouse Trolley. The tour is a great way to get into the spirit of a coastal Christmas holiday getaway as you ooh and ahhh over the island homes decked out in their holiday best.
History
History lovers will be in their element on St. Simons. Must see island sights include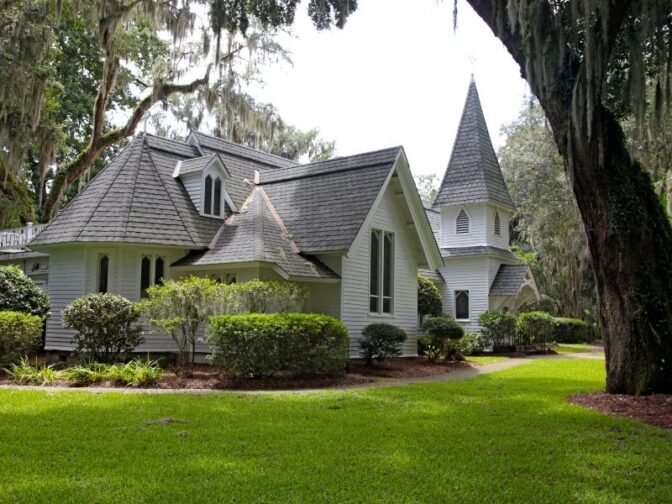 Fort Federica – this National Park is a must see. In 1742 Spanish and British forces fought with the British coming out as the victors, and cementing Georgia as a British colony.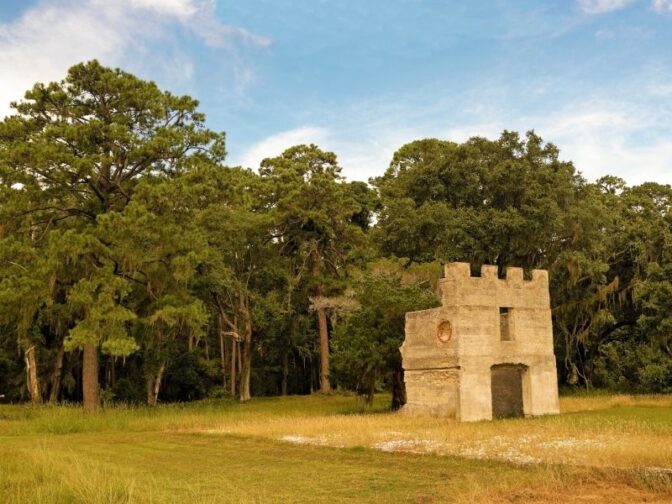 St. Simons Lighthouse – Both the lighthouse and the Keepers home were built in 1872. Climb the 129 steps to the top of the lighthouse for commanding 360 degree views of the coast from Jekyll Island to Brunswick.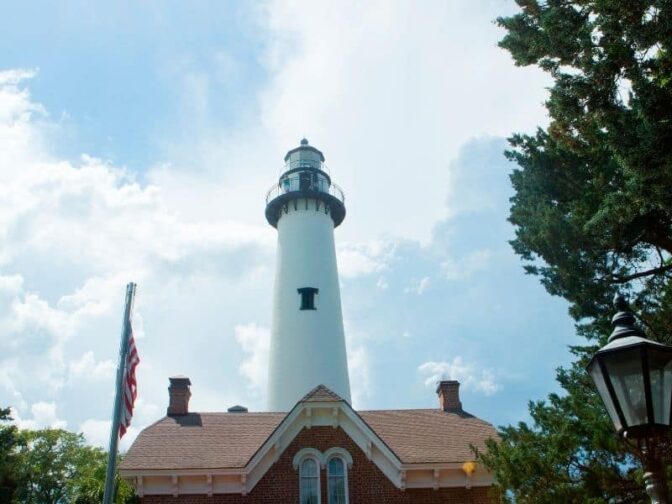 Where To Eat On for a Coastal Holiday Getaway to St. Simons
From laid-back flip flops to 5 star dining, there are so many choices when visiting St. Simons for a coastal holiday getaway!
Barbara Jean's
Barbara Jean's is one of Coastal Living's Favorite Seafood Dives, and we'd have to agree. The restaurant specializes in home style Southern favorites, and is just good comfort food. As a crab cake snob, I found the crab cakes to be fairly light on filler, and tasty. Be warned though, the portions are large.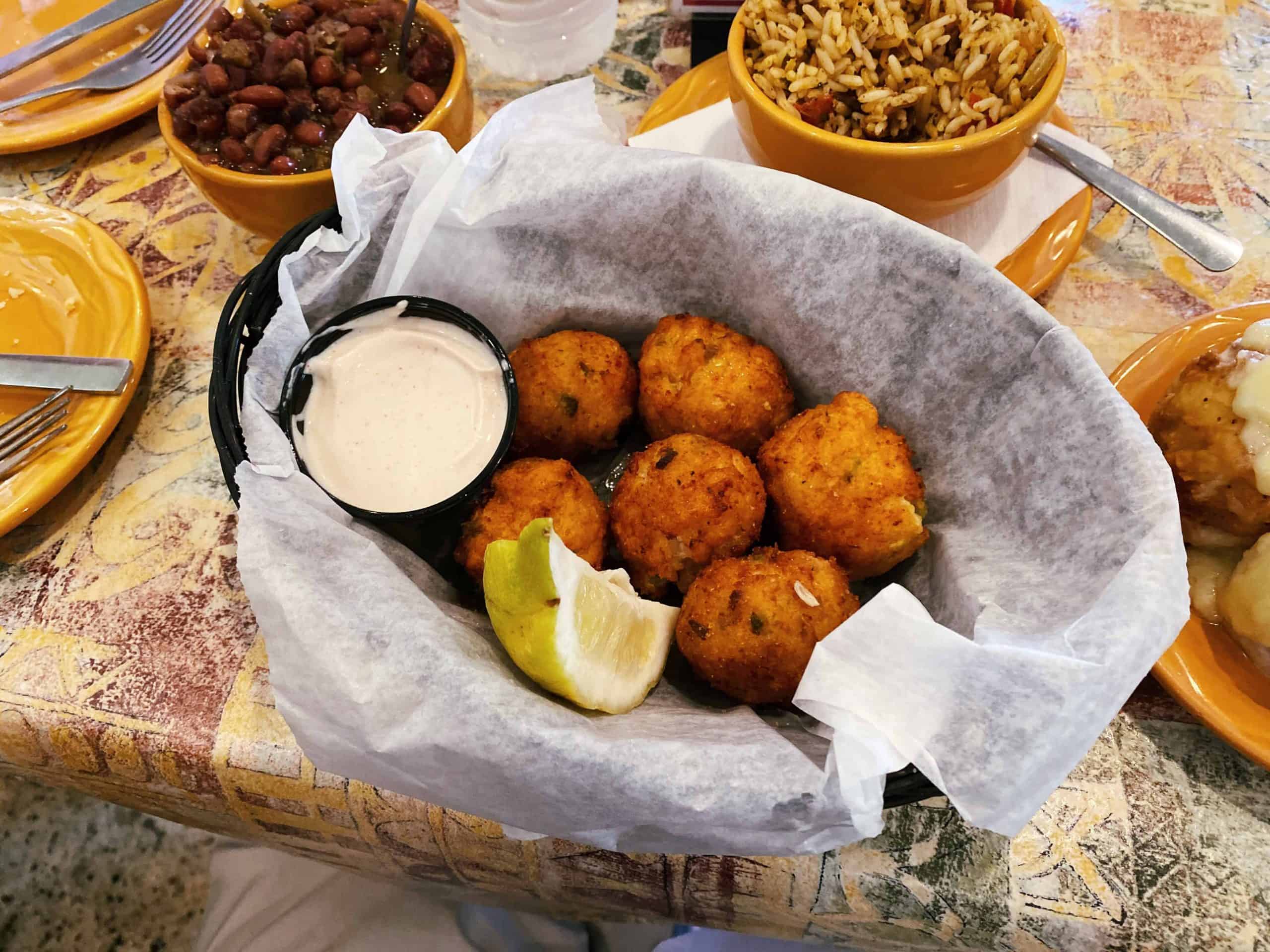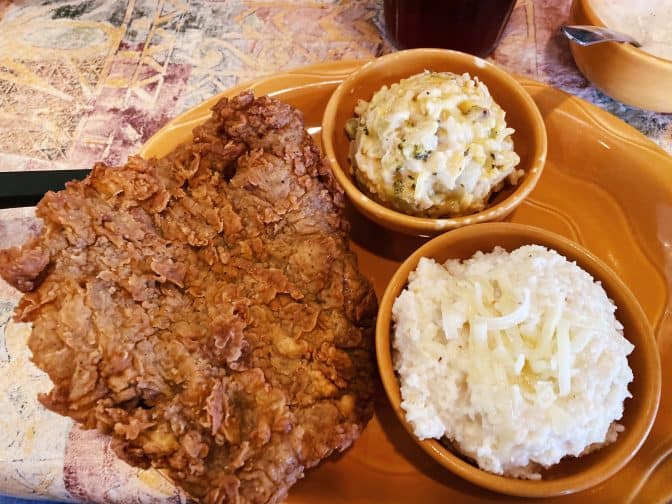 Gnats Landing
A timeless island gathering spot is Gnats Landing, and one of our favorites. We love eating on the open air porch with it's colorful picnic tables. Don't miss out on their Vidalia onion pie – out of this world good, and the slaw bowl is fresh, crunchy, and tasty, and is one of our favorite dishes.
Georgia Sea Grill
For fresh food look no further than Georgia Sea Grill. Another bonus is that Georgia Sea Grill is a perfect for a romantic dinner out. The interior is warm and intimate, the food is incredible, and the wine and cocktails are fabulous. Never in my life have I had crab cakes that had zero filler. They were definitely the star of the evening. Be sure to make reservations as this is one of the more popular restaurants on the island.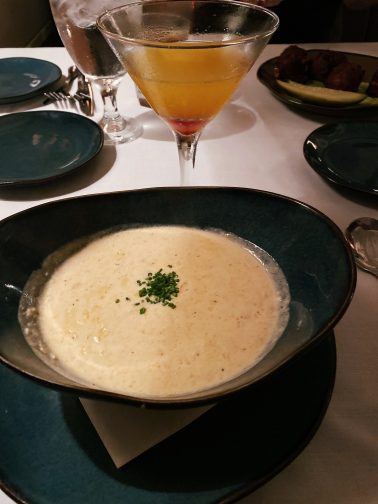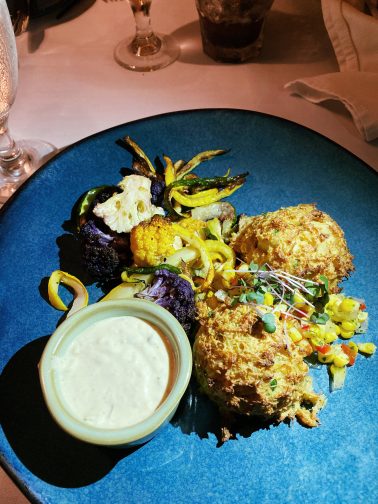 ECHO at the King and Prince
ECHO at the King and Prince is unbeatable for their culinary delights. Sourcing local is a key element for ECHO. The salads were fresh and tasty, and the dressings enhanced the fresh ingredients. I loved the twist on old favorites like the Salmon Carbonara. The crab cakes (can you sense a trend here?) are amazing! The crab is fresh and succulent and cooked to perfection. The presentation on what appears to a piece of slate is ingenious and lets the crab cakes take center stage.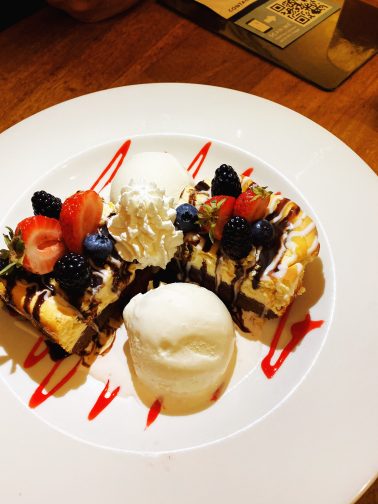 The cocktails at ECHO are superb. They feature as many Georgia products as possible. This bourbon cocktail was well balanced and was easy sipping.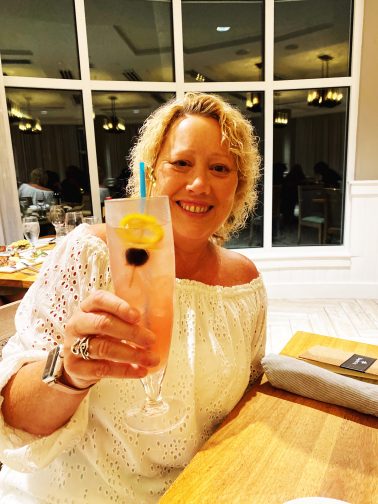 Another element to dining at ECHO is their touchless menu. You are given a stand that contains a QCR code. Just hold your phone up and scan the QCR code, and voilá, ECHO's menu is on your phone.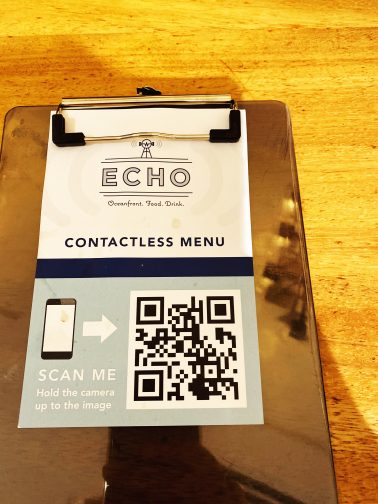 Coastal Getaway To St. Augustine For The Holidays
St. Augustine is another of our top destinations for a coastal holiday getaway. It oozes history around every corner and during the holidays romance reigns in St. Augustine!
Where To Stay For A St. Augustine Coastal Holiday Getaway
With so many choices for lodging it's hard to pick just one, so here are our top choices for a coastal St. Augustine getaway.
Casa de Suenos Bed and Breakfast
Casa de Suenos Bed and Breakfast is located at 20 Cordova Street in the heart of St. Augustine's historic district. The B&B is an adult-only property. With an intimate and welcoming vibe, all seven of their guest rooms are different. Some have whirlpool tubs and private balconies. Be aware that the inn is two stories and there are no elevators. If you have mobility issues, ask for a downstairs room.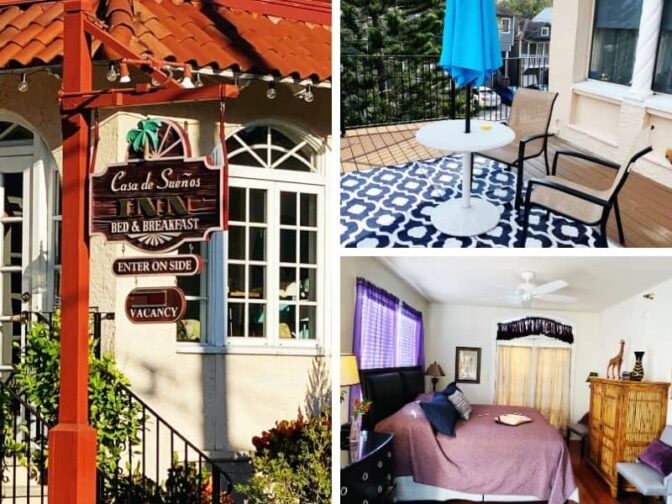 You are close to everything when staying at the Casa de Suenos – fabulous restaurants, historic sites, museums, shopping, art galleries, and more.
The Collector Luxury Inn
The Collector Inn is a relative newcomer to St. Augustine, and it is fabulous! It is also an adult-only property, and quite unique. The Collector Inn is actually not just 1 building but a collection of 9 historic homes nestled on 1-acre. This hidden gem is spectacular, and once you stay at The Collector you'll be hooked.
Amenities include a heated pool, turndown service, afternoon and late-night happy hour, valet service, complimentary bikes, WIFI, and more. Each home is unique, and that adds to the luxurious Collector experience.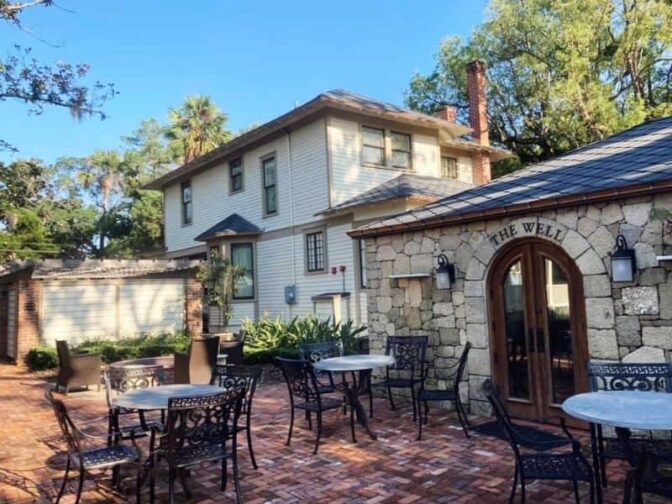 The Well offers an elevated hand-crafted cocktail experience that is amazing. It takes a special type of bartender to be able to create unique one-of-a-kind cocktails right on the spot, and that is just one of the things that makes the Collector unique
Nights of Lights A Perfect Recipe For A St. Augustine Coastal Holiday Getaway
St. Augustine's Nights of Lights is a perfect excuse to run away to St. Augustine for a holiday getaway coastal style. Nights of Lights is listed as one of National Geographic's top ten holiday light displays in the world. Lit with millions of tiny twinkling white lights the city is transformed into a magical holiday wonderland.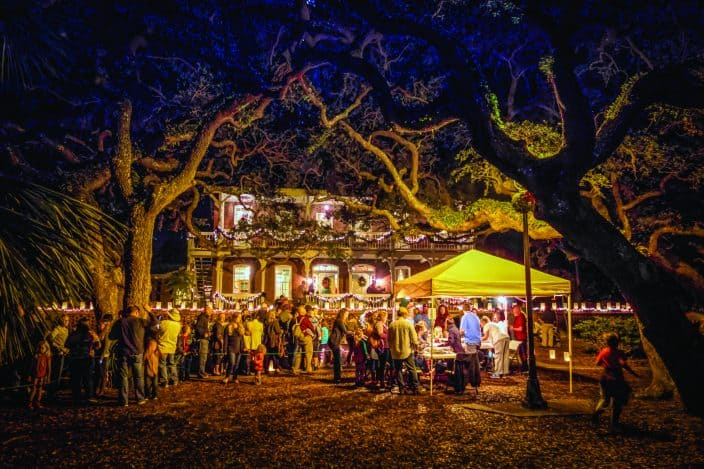 How to View Nights of Lights
For a romantic twist on Nights of Lights, opt for a city carriage ride. You have two options for this romantic evening escapade: A romantic carriage ride through the city. Tours depart from the bayfront near the Castillo de San Marcos. Reserve your carriage with Southern Carriages or with Country Carriages.
Another option, which is our top choice, because what is better than a carriage ride? A carriage ride with wine! The Tasting Tours offers both a public and a private carriage wine and lights carriage ride. Both include a complimentary bottle of wine and a souvenir glass. This is our favorite way to view the fantastic Nights of Lights display in St. Agustine.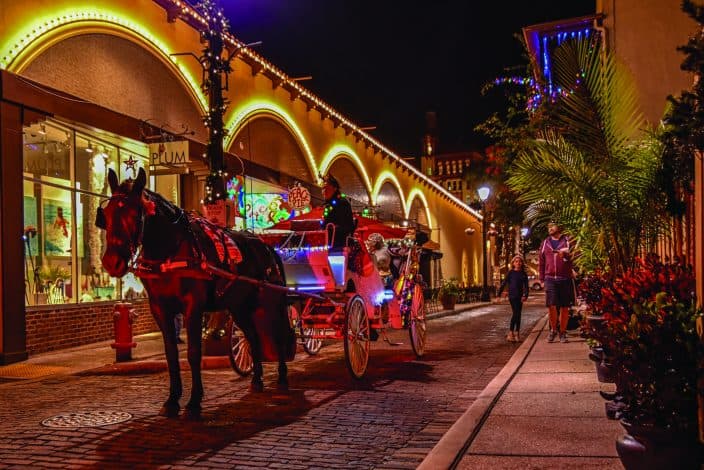 Additional options for exploring the amazing holdiay wonderland of St. Augustine is strolling through the streets. This is always fun, as you are surrounded by millions of lights in every direction.
The Old Town Trolley is also offering Nights of Lights tours. For more information on their tour options, click here.
Of course, don't miss the centerpiece of the evening light display – The Plaza de la Constitución. In the center of the plaza is a huge Christmas tree decked in white lights. This creates a stunning backdrop for the perfect couples selfie.
After stopping at the Plaza de la Constitución, walk to the Bridge of Lions and look back to the city. The reflection of the lights sparkling on the water is breathtaking!
Where to Eat In St. Augustine
St. Augustine is a foodie paradise! And almost any kind of food you can imagine you can find in St. Augustine. And we love discovering new foodie finds in St. Augustine.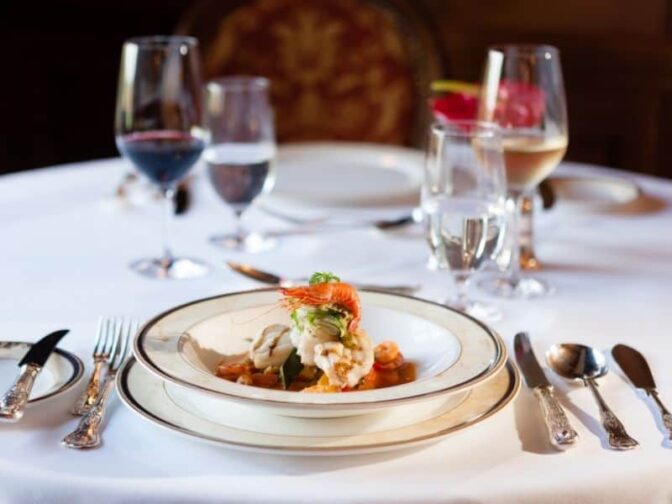 Raintree Restaurant
A staple of the St. Augustine food scene is the Raintree Restaurant. The Raintree is located in a historic. Victorian home dating back to 1879, and offers an intimate dining experience. We love eating outside in their Florida courtyard, but the star of any visit to Raintree is the food. Favorites include the escargot, their fabulous charcuterie board, and their fresh catch.
St. Augustine Fish Camp
St. Augustine Fish Camp, a newcomer, is taking the St. Augustine food scene by storm. With a casual laid back vibe it's perfect for an early dinner as you watch the sun slip below the horizon. The food is fresh, tasty, and nicely presented.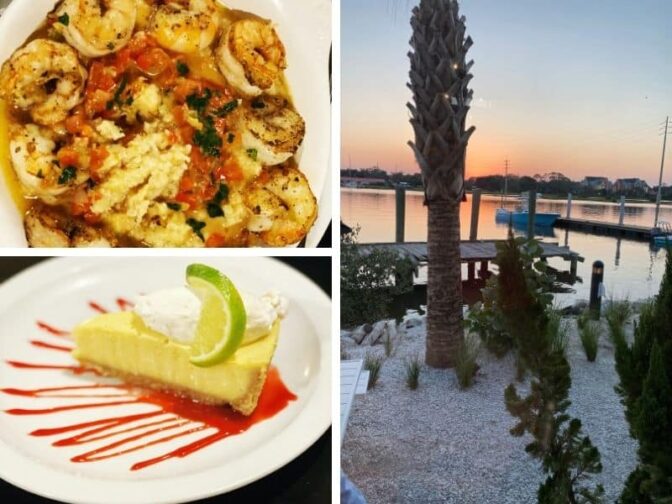 Michaels Steak, Seafood, and Wine
Michaels Steak, Seafood, and Wine is definitely one of our top choices for dining in St. Augustine. Michaels has one of the most extensive wine lists we've experienced, and what is better to accompany a fabulous dining experience than an amazing bottle of wine? Read about Michaels here.
After exploring all the history in St. Augustine and sipping some spirits, a stop by Peace Pie on Aviles Street is needed. Peace Pie is elevated ice cream sandwiches with a layer of pie filling – trust us, you have to taste it to believe how incredibly delicious it is!
What Do Do On Your St. Augustine Coastal Holiday Getaway
Trolley Tours
Explore St. Augustine at a relaxed pace, strolling the ancient brick-paved streets. You'll find boutiques lining the old streets, museums and more.
For an overview and taste of St. Augustine, take a trolley tour of the city. We love the hop-on, hop-off Old Town Trolley tours. The tours give you a wonderful overview of St. Augustine's history, and you can hop on or hop off to explore more.
Distillery Tasting
Take a Tasting Tour or Two
Stop in and take a free tour of the St. Augustine Distillery. We love this distillery – our favorite is the St. Augustine rum – it makes a fabulous cocktail and an amazing rum cake!
City Gate Distillery is offering some unique spirits, and our favorite choice is their Orange Creamsicle moonshine – it makes a delicious martini that transports you back to your childhood.
 This post may contain affiliate links which won't change your price but will share some commission. As an Amazon Associate I earn from qualifying purchases.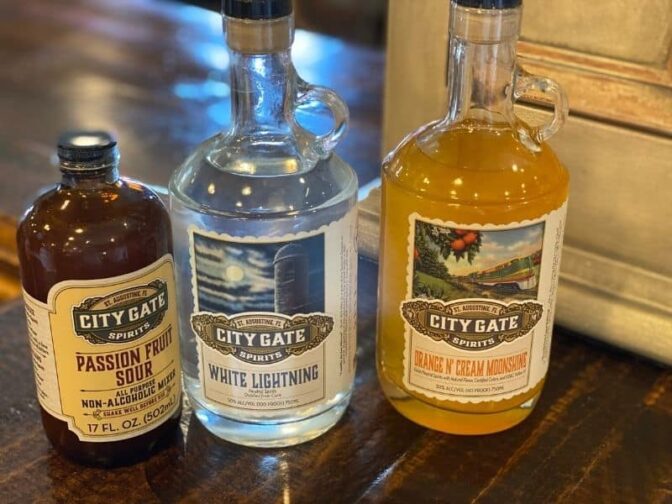 Vintage Cars
Wow! If you adore vintage cars like we do, don't miss out on one of St. Augustine's newest (and coolest!) museums. The Classic Car Museum of St. Augustine was birthed by Sidney Hobbs and his wife. Sidney fell in love with classic vintage cars, and when the opportunity presented itself, they walked through the door.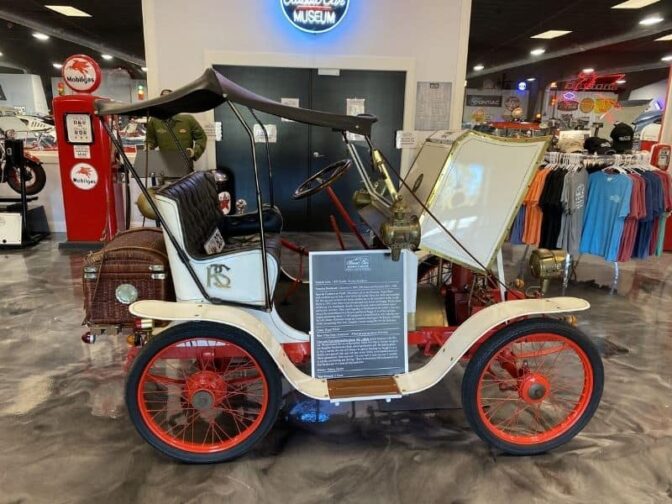 His passion for these four-wheeled classics is evident as he talks. He knows the history of each one, and reason for purchasing them. Take the 1950s classic pink Thunderbird (my favorite by the way). Sidney bought this car for his daughter who is college. She wanted it for sorority rush week.
But the museum is much more than just a big space filled with classic cars. It's a salute to the past with vignette scenes scattered throughout. The museum can also host parties, meetings, and weddings. There's a few more secrets about Sidney and his fabulous car museum, but you'll hear more about that soon.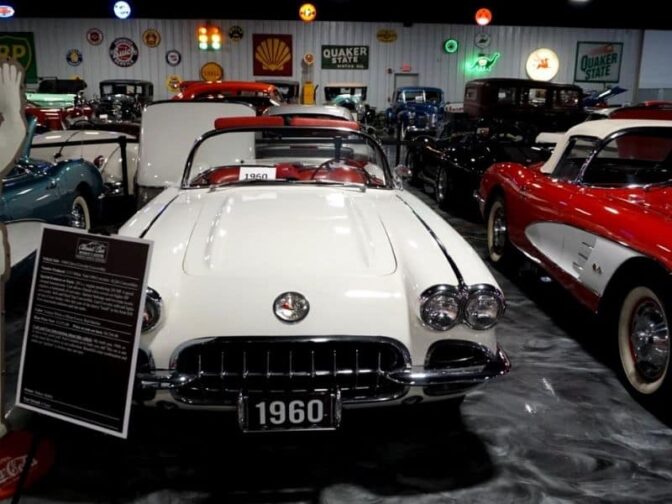 For more St. Augustine coastal holiday getaway sightseeing suggestions, visit Florida's Historic Coast.
What To Bring For A Coastal Holiday Getaway
Sweater or Sweatshirt – With a chill in the air, you'll want to dress warm for a coastal holiday getaway.
Scarf – Perfect for tossing around your neck to keep the chill away.
Sunglasses – I'm a fan of aviator sunglasses. They are perfect for men or women.
Hat – A snazzy sunhat is always in season, and you'll want protect yourself from sunburn / windburn – even during the holiday months.
Comfortable and warm shoes – I love the versatility of these Sperry Angelfish boat shoes – always my go to.
Light weight handbag – I find it difficult to carry a heavy handbag when traveling with my injuries, and have found that a smaller light weight handbag is my go-to.
Both St. Simons and St. Augustine are fantastic choices for a romantic coastal holiday getaway. No matter which you choose, you discover new adventures as you soak in the holiday spirit!
CHECK OUT WHAT'S NEW ON BETSI'S WORLD
Where is your top holiday destination? Drop a comment below and let us know.