Pecan pie is a perennial favorite but is always a welcome addition to a Thanksgiving table. The sweet and gooey center contrasted with a crisp topping is hardly something to say no to!
This pecan pie tart incorporates a slight twist with the addition of maple. The buttery and caramel flavor pairs beautifully with the and fall theme into this delicious pie. The use of a tart pan rather than a regular pie dish makes this a beautiful centerpiece, plus its easy to make into mini tarts as well! This easy recipe will fit perfectly on your holiday table this year.
Where did Pecan Pie Originate?
Pecan pie is a classic American dessert. Did you know that the first record of the recipe dates all the way back to 1870? The first published recipe came out of Texas! The popular use of corn syrup in pecan pie comes from the brand Karo who began printing the pie recipe on the back of their syrup cans.
From there the recipe traveled around the country, becoming the fan favorite it is today!
Can You Make Pecan Pie Without Corn Syrup
I was wondering this myself, since I love real maple syrup. The answer is a bit complicated. If you substitute it 1 for 1 for the corn syrup, the pie won't set. This gives you a maple pecan soup instead of a rich custard. However, I stumbled across a recipe that shows you exactly how to make it with the addition of a bit a flour. Read more about that here.
If you aren't looking for that maple flavor, you can, of course, substitute corn syrup for a simple syrup made with sugar and water. Alternatively you may use molasses, brown rice syrup, or honey.
However, if you're in a pinch and still want that delicious maple flavor without the fuss, I recommend using maple flavored syrup. You'll get the right consistency plus that delicious rich taste.
How To Make Maple Pecan Pie Tart
This maple pecan pie tart is a delightfully easy dessert to make. The creamy custard-like filling comes together with just a few ingredients and then you just pop it in the oven!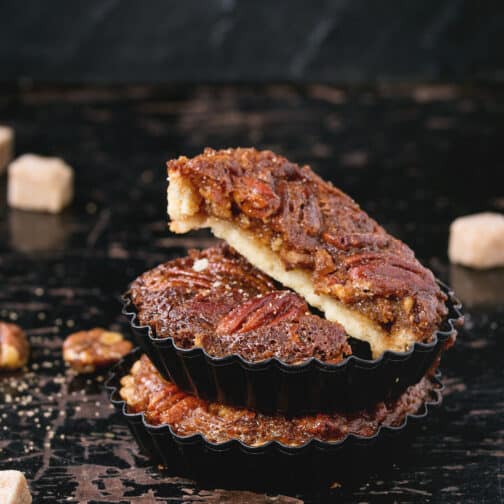 To begin you will need a dough for the pie crust. I used a store bought pie crust dough but feel free to make a homemade one! In a 9 inch tart pan, roll out the dough and fit to the edges. You may have some crust overhang, just cut off the extra.
Be sure to chill the dough in the refrigerator while you prepare the rest of the ingredients.
Ingredients You Will Need
To make the maple pecan pie filling you will need:
Pecans. You can buy whole pecans and chop them yourself or buy pre-chopped. You'll need both smaller chopped pieces, as well as halves and whole ones for decoration.
Butter. Grass-fed, unsalted butter tastes best. We like to use Kerry Gold butter, it has a richer flavor.
Eggs. Make sure that your eggs are at room temperature before you use them. This helps the custard to form and hold up better.
Maple flavored syrup / brown rice syrup/ simple syrup. You can use breakfast pancake syrup for the maple syrup in this recipe. Depending on whether or not you choose to forgo the corn-syrup, you will need to use a substitute. Brown rice syrup will work find, as will homemade simple syrup, which is made by dissolving 1 cup of sugar in 1/4 a cup of hot water.
Brown Sugar. You can use light or dark packed brown sugar. The dark brown sugar will have a bit more of a molasses flavor, I've use light brown in this recipe.
Vanilla Extract. Good quality vanilla extract really makes a difference when you are baking, really enhances the flavors!
Maple Extract. If you decide not to use maple flavored syrup you will need to add some maple extract to get the maple flavor.
Flakey Sea Salt. The contrast of salty and sweet flavors is so delicious, a little sprinkle on top goes a long way.
Assembling The Maple Pecan Pie Tart
With all your ingredients prepared, grab a large bowl and add your maple flavored syrup (or substitute), brown sugar, melted butter, room temperature eggs, vanilla extract, maple extract (if using), and salt. Whisk all the ingredients together until well combined.
Next, grab a cutting board and chop half of your pecans into small chunks and add them to the filling mix. Get your pie crust out of the refrigerator and add the filling. Then, top the pie with the rest of your whole pecans in whatever design you prefer.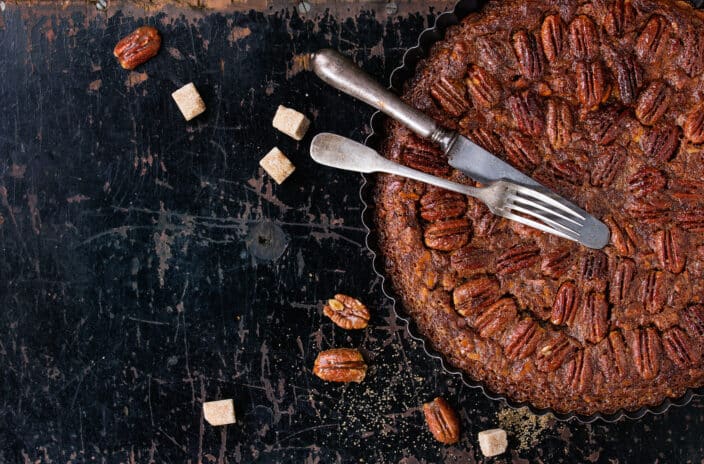 If you would like to make individual servings instead of one big pie, simply split this recipe between your mini tart pans. You may need to double or triple the recipe if you are serving a large crowd personal pies.
Bake the maple pecan pie until the filling is bubbling and the crust is golden. Make sure you allow the pie to cool for 15-20 minutes before cutting into it so that it can set. Sprinkle the flakey sea salt on top.
Serve with some maple ice cream, butter pecan ice cream , or whipped cream!
Tools You May Need To Make This Pie
Tart Pan. Tart pans are a beautiful way to make a dessert stand out. They also give the perfect portion and turn out nice and crispy with a gooey layer in the center.
Mini Tart Pans. Single serving desserts are so much fun to have at the holidays. Having an individually portioned treats for each guest just adds something special to the occasion, plus they look good too!
Bowl. You always need a good bowl to mix all your ingredients together. I like deep, large bowls so that the ingredients don't splash around and make a mess on the counter.
 This post may contain affiliate links which won't change your price but will share some commission. As an Amazon Associate I earn from qualifying purchases.
Whisk. A good whisk is comes in hand for everything from making eggs to fluffing up the batter for desserts. For this maple pecan pie a whisk is perfect for combining the ingredients for the filling.
Measuring Cups. Who doesn't need measuring cups? These measuring cups are beautiful and will certainly come in handy for all the baking coming up this holiday season.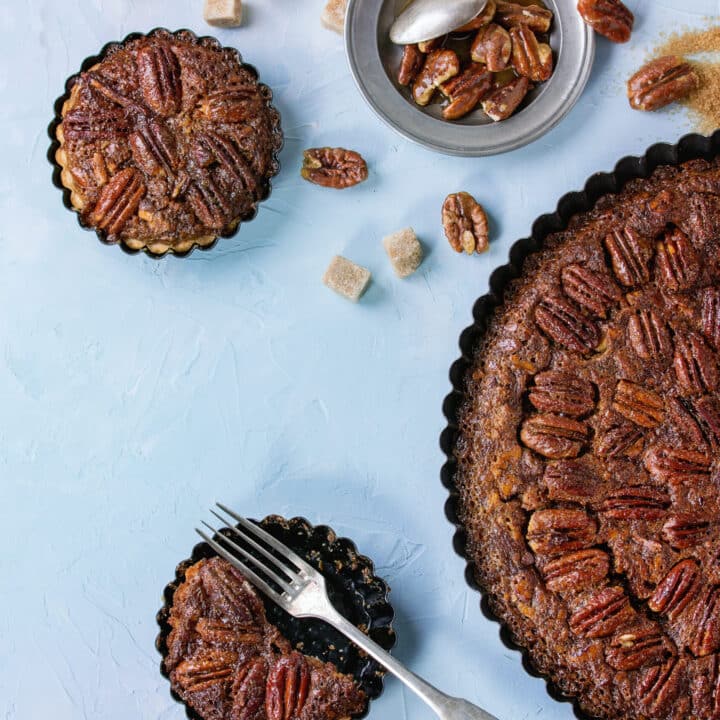 Maple Pecan Pie Tart
This maple pecan pie tart will look beautiful on your holiday table and delight guests with its delicious maple, nutty flavor. Try it as a personal mini tart as well!
Ingredients
1 pie crust
1 1/2 cups of pecans
1/4 tsp of regular salt
4 tblsp unsalted butter, melted
½ cup (171 g) maple flavored syrup (pancake syrup) or simple syrup or brown rice syrup
½ cup (110 g) light brown sugar, packed
2 large eggs, room temperature, beaten
2 tsp pure vanilla extract (use 1 tsp if also using maple extract)
1 tsp maple extract (optional if not using maple flavored syrup)
1 tsp of flakey sea salt (optional for garnish)
Instructions
Preheat oven to 350°F
Place your homemade or store-bought pie crust into a 9-inch tart pan
Remove any extra crust.
Chill the crust in the fridge while you prepare the rest of the ingredients
In a bowl, whisk together maple flavored syrup (or syrup substitute), brown sugar, eggs, melted butter, vanilla extract, maple extract (if using), and salt.
Mix until well combined.
Chop half of your pecans into small chunks. Add them to the filling and fold into the batter until they are evenly distributed.
Pour the filling into the crust and top it with the rest of the pecans in a pretty pattern.
Bake for 45-50 minutes or until the crust is golden and the top is crispy.
Allow the pie to cool for at least 15 minutes before slicing so that the pie can set.
Sprinkle flaky sea salt on top.
Serve it with maple ice cream, butter pecan ice cream, and/or whipped cream!
Nutrition Information
Yield

8
Serving Size

1
Amount Per Serving
Calories

431
Total Fat

27g
Saturated Fat

7g
Trans Fat

0g
Unsaturated Fat

18g
Cholesterol

62mg
Sodium

478mg
Carbohydrates

46g
Fiber

3g
Sugar

29g
Protein

5g
This maple pecan pie tart is sure to be a hit on your Thanksgiving and holiday table this year. Try making the personal pies as a fun treat for your guests. Add an ice cream bar and let your friends and family decorate their pies just how they want them!
If you're looking for another great Thanksgiving dessert try our Pumpkin Mousse, it will have everyone clamoring for more.
CHECK OUT WHAT'S NEW ON BETSI'S WORLD
Did you try this recipe? What kind of fun twists do you add to classic recipes? Let us know in the comments below!