Boating trip season is upon us – those wanting to leave the cold weather up North behind are heading down to Florida and then the Bahamas or the Caribbean. Here is the perfect packing list, so that you don't forget a thing as you head for warmer weather and all the fun activities that await!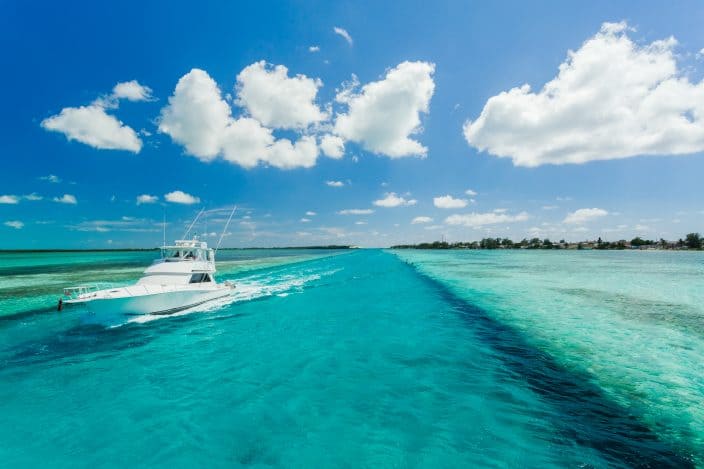 COVID-19 Update for the Bahamas
Each Caribbean island has their own COVID-19 protocol and restrictions. The latest updated information from The Bahamas (11/13/2020) states that entry requirements for The Bahamas is subject to change due to COVID.
Restrictions and regulations can change with little or no advanced notice; before traveling carefully and regularly review the guidance directly from the Bahamian government at the Office of the Prime Minister's webpage and Facebook page, the Bahamas tourism page (and particularly that page's FAQs), and your travel vendors (airlines, hotels, etc.)
For the most up-to-date information, please check the travel restrictions via the US Embassy in The Bahamas. Some of the islands have curfew restrictions, which are updated on the US Embassy Bahamas site.
US Citizens are allowed to travel to The Bahamas:
Before traveling, each traveler must go to travel.gov.bs, select "International," and submit a Travel Health Visa Application. The application will require a negative RT PCR nasal swab COVID-19 test result (see below).
Applications take up to 72 hours to process, after which each traveler will receive a confirmation regarding their application's approval.
Each traveler must present their final confirmation document of their Travel Health Visa application, along with their negative RT PCR COVID-19 test results, upon boarding flights to The Bahamas and again upon arrival in The Bahamas.
For questions, contact the Ministry of Tourism COVID-19 Travel Compliance Unit at +1 (242) 502-0829 or

[email protected]

.
Entry Requirements:
Is a negative COVID-19 test (PCR and/or serology) required for entry? YES

Each traveler* must present a COVID-19 RT PCR (molecular swab) test with a negative result in order to apply for the Travel Health Visa Application (see above) needed to enter The Bahamas. The test sample must not have been taken more than five (5) days prior to the date of arrival. No other type of COVID-19 test is acceptable. The name and address of the lab where the test was taken must be clearly displayed on the test result.
Each traveler must upload evidence of their negative result when completing the Travel Health Visa Application prior to arrival (see above).
For testing locations in the United States, contact your local or state health department.
*The following travelers are exempt from presenting a COVID-19 test: Children under the age of 10, pilots and crew who will remain in The Bahamas for not more than one night.
On Day 5 of the visit (unless departing on Day 5 or sooner), a COVID-19 Rapid Antigen Test must be taken. More information is available here.
Covid-19 Health Insurance
Mandatory COVID-19 health insurance: Effective November 14, 2020, all visitors are required to opt-in to mandatory COVID-19 health insurance when applying for their Travel Health Visa. The insurance covers travelers for the duration of their stay in The Bahamas. Fees for the Bahamas Health Travel Visa, inclusive of Day 5 Rapid Antigen Test and mandatory health insurance, are:

$40 – Visitors staying up to four nights and five days.
$40 – Citizens and returning residents.
$60 – Visitors staying more than four nights.
Free – Children 10 years and under

Coverage includes:

Medical expenses incurred on-island due to COVID-19, up to $50,000 USD
Trip interruption/delay for necessary quarantine or isolation due to COVID-19, up to $500 USD per day/$7,000 USD max
Medical evacuation due to COVID-19, and subject to medical necessity, up to $50,000 USD
Entry By Sea
Entry by sea: Every port of entry in every Family Island shall be closed with the exception of any port which is a public dock. All individuals entering by boat must follow all entry requirements above, plus must stop at the port of entry of their intended destination and deliver a copy of their negative RT PCR test results not more than 5 days old and a copy of their valid Travel Health Visa.

If a visitor traveling by boat is symptomatic, they must go to the first port of call and submit to RT PCR COVID-19 test and mandatory quarantine until the test results are available. If the RT PCR COVID-19 test result is positive, the individual must remain in mandatory quarantine for 14 days or the duration of stay, whichever is shorter.
What to Pack for Your Boating Trip
Since space on the boat is likely to be a bit tight, this Sailor Bag Duffel s a perfect choice for sailing through the islands of the Bahamas or Caribbean. Made of dacron polyester, this bag easily holds a week's worth of clothes. Interior pockets hold small items and there is an outside pocket for extra storage. Definitely, a must have for your next boating trip! Once you've unpacked on the boat, just tightly fold the duffel and store it away until you are ready to head home.
Packing in a duffel for an extended period of time means you need to make maximum use of your space. Packing cubes are essential to help you with this! I love this set of 6 packing cubes for their versatility!
To save even more space, use the smallest packing cube for your cosmetics – no need to buy another bag!
Coupled with packing cubes, sometimes you need to add compression bags to really fit all you need into your duffel. This set of 3 compression packers by Lewis N. Clark is perfect for bathing suits, coverups, dresses, and shorts! You can pack more, using these to compress your clothes, leaving space for other items in your duffel.
Packing for Your Boating Vacation – Essentials
Space on a boat is at a premium, so I adore these wonderful Turkish towels! They are thin so they don't take up a ton of space, but they are super absorbent and dry quickly in the warm sun and tropical breezes of the islands.
Onboard Saltwater Gypesea we carry 15 Turkish towels, and they fit in the space of three fluffy cotton towels – a win-win on a boat with limited space!
Being on a boating trip means that you will most likely be taking your dingy to go ashore and explore or dock in town. Therefore, a dry bag is the perfect solution for carrying your valuables to shore and keeping them dry. Your drybag can also double as a purse when you are shopping in town – another win-win! I love things that do double duty on the boat! The 10 L bag is perfect because I can fit my phone, camera, towel, sunscreen, sunglasses, and wallet inside. The prints and colors that this dry bag comes in are gorgeous!
You
will want to make sure you don't bring your favorite and best pair of sunglasses when you are boating just in case you lose them overboard or they fly off your head. I love a pair of polarized sunglasses, so we secure ours with a strap or cord. Jim loves his Cablz – they've never broken or failed, and they hold up to the harsh UV of the sun.
Water shoes are a necessity when boating through the islands. Jim and I both love the lightweight feel of these WateLvs shoes and the way they grip rocks. Because of their lightweight flexible design, you can fold them and tuck them into a corner of your duffel bag. They are great for walking on the beach, swimming or walking in the water.
Packing for Your Boating Trip – Clothing
When packing for a vacation on the boat nothing beats light clothing! I also like clothes that serve multiple purposes as space is limited.
A hat is an absolute necessity on a boating trip. I carry two, and both can be used in the water. My first choice is a ball cap. I wear it when I'm up on the bridge and we're underway, or when we're riding our bikes. I've been known to jump in the water with it, and it's great for paddleboarding or kayaking. My favorite thing about this cap is that all I have to do is rinse and hang it, and it dries within a couple of hours.
 This post may contain affiliate links which won't change your price but will share some commission. As an Amazon Associate I earn from qualifying purchases.
I also pack a wide-brimmed hat with UPH protection. My go-to for this is Coolibar's Aquacade Swim Visor. I wear this hat in the pool, in the ocean, and just relaxing poolside or beachside.
Don't forget polarized sunnies! Having polarized sunglasses is a must when we're boating.
Both Jim and I wear sun protective tops when we are on the boat. We have found that they are the best sun protection whether we are on the boat, in the water, or on our paddleboards. An essential for your sunny boating trip!
Easy to wear clothing is a must on the boat, and that's why I pack a lot of skorts. I have the convenience of shorts, but can wear skorts for a night out.
Foul weather jackets are a necessity, even in warm climates. We love these Helly Hansen foul weather jackets – we've had ours for 8 seasons. These are a must when packing for a boating trip!
---
CHECK OUT WHAT'S NEW ON BETSI'S WORLD
Don't let COVID stop you from exploring the oceans blue on a fabulous boating trip. A boating vacation is a great option in the winter because it is outdoors and can be socially distanced. Where are you planning on sailing this season? Let us know in the comments!
Other Packing Tips and Tricks You May Enjoy