The Best Gifts for Travelers
Travel gifts will always be welcomed by the jetsetters in your life. This holiday season, give your traveling friends gifts that they will use time and time again on their adventures!
Not sure where to start? We've rounded up a list of 15 holiday travel gifts for those frequent flyers in the your life.
Unisex Gifts for Travelers

This cashmere blanket is a must have for long flights! We all know how cold airplanes can get, so this is the perfect to stay cozy and warm for hours. Grab this gift for the international traveler!

This waterproof cellphone case is a great gift for that friend who loves adventure! The clear bag keeps your phone safe from water when in the ocean snorkeling or swimming. It's perfect for that person who loves to capture action shots on their phone during their travels.

This Polaroid Camera is such an awesome gift for travelers. This camera is small and compact, making it easy to travel with. The kit includes a carrying case, extra film and a lens cleaner. Because its a polaroid camera, your gift recipient can grab their shots in real time. Instant gratification!

These waterproof hiking boots are so comfortable when taking on rough terrain! The sole of these boots is flexible and gets great traction with every step, so you'll never slip and fall. Gift these awesome boots to the avid hiker in your life!

This scratch off travel map is the perfect way to track your travels! This map is not only gorgeous but a great gift for any domestic traveler you know. This map doubles as way to track your adventures and as art on the wall. Scratch away the gold foil to reveal beautiful water colors.
Beauty Travel Gifts
Sleeping Mask Set and Eye Mask

This hydrating sleeping mask by Glow Recipe is the best to combat dry airplane skin! The hydrating jelly is made with watermelon extract, so it looks and smells amazing. This kit also includes a sleeping mask to block out those pesky lights on your flight. Gift this awesome beauty kit to your traveling skin care lovers!

This travel shave kit is a wonderful gift for any male in your life. The shaving kit comes with a double-edged safety razor that disassembles into 3 parts, a shaving brush, and sandalwood and shea-butter shaving soap. The leather carrying case makes this a stylish and convenient gift for any male traveler.

This travel clothing shaver will keep anyone's clothes in tip top shape. The shaver keeps pilling and fuzz at bay . Therefore, it's the perfect gift for traveling professionals who always need to look presentable!

This kit has everything for haircare on the go! The hair essentials kit from Dry Bar comes complete with shampoo, conditioner, dry shampoo, and prep and prime for styling. Your jet setting female friends will thank you for keeping their hair looking perfect on their trips!
Travel Gifts that Organize
Personalized Travel Jewelry Case

This travel jewelry case is a must for female frequent flyer in your life. Personalize this gift with the monograming option for no extra charge! This jewelry case comes with multiple compartments, each with a zipper closure so your valuables stay safe.

A necessity for any traveler, these packing cubes make organizing your luggage a breeze! These packing cubes are colorful and clearly labeled, making finding your items quick and easy. Your friends and family will endlessly thank you for giving them this gift.

This passport holder is a beautiful way to keep one's passport safe and clean. The passport holder is made with Saffiano leather and embellished with gold Kate Spade lettering. Perfect for the stylish traveler in your life, this gift is sure to impress!
Luggage Gifts for Travelers
20" Lightweight Carry-on Spinner Luggage Bag

This carry-on spinner luggage is a wonderful gift for a frequent flyer. It features 360 degree spin, is durable, has tie-down straps, and mesh zippered pockets. Therefore, it is perfect for those who are looking for luggage that can sustain wear and tear.
 This post may contain affiliate links which won't change your price but will share some commission. As an Amazon Associate I earn from qualifying purchases.

This Herschel Duffle Bag is great for anyone who does short-trip traveling or an athlete. The duffle bag is made from durable fabric and comes equipped with top handles and a long shoulder strap. This duffle bag is both stylish and a great deal!

This laptop case is a must have for the traveling business man or woman in your life. The laptop case is equipped with multiple pockets for keys, coffee, laptops, and pens, and therefore is the perfect carry-all for on the go! It also has a padded long strap so your shoulder is protected from heavy loads. Grab this gift soon, its sure to sell out fast!
---
Whether you have an international, domestic, business, or pleasure traveler in your life, we are sure that at least one of these gifts will be perfect for them. Get a head start on your holiday shopping and grab these travel gifts!
CHECK OUT WHAT'S NEW ON BETSI'S WORLD
Which of these items will you be picking up for your friends and family? Let us know in the comments below!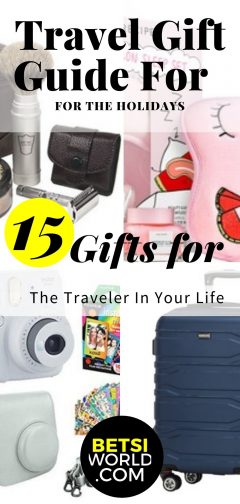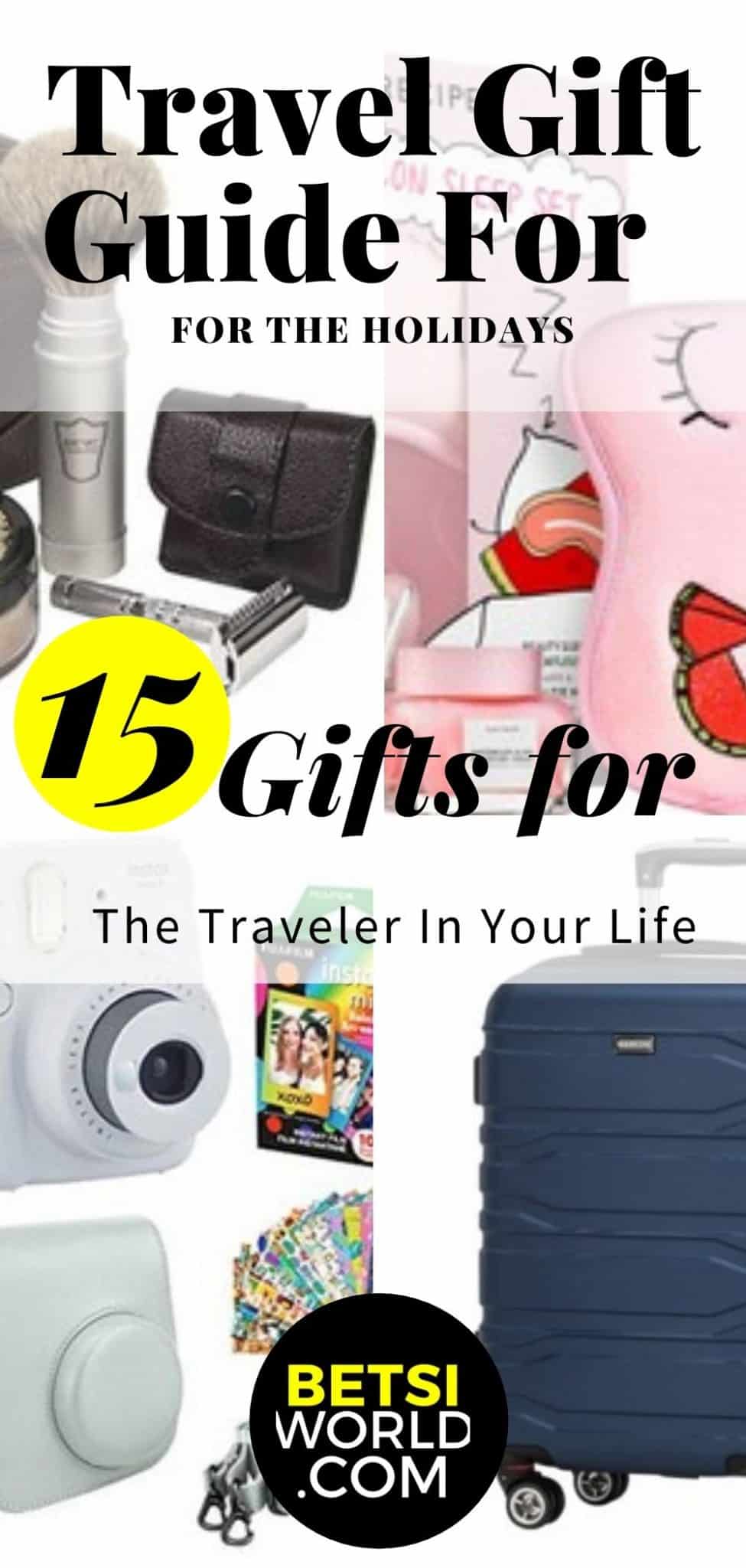 Other Gift Guides You May Like