Must Have Flight Essentials
Travel essentials make flying with the whole family so much easier. Taking a trip with your family is a great way to make some great memories, but airplane rides with kids may result in some bad memories if you aren't prepared.
Flying can be especially tricky this year due to COVID-19, but there are few travel must-haves that are sure to make your plane ride smoother and safer. These 15 family plane ride essentials will entertain your kids, keep you and them safe, clean and comfortable.
15 Travel Essentials For Kids and Adults
Drinks
You can be sure you'll hear the words "I'm thirsty" from your kids minutes after take-off. Be prepared by packing some water bottles in your carry-on. Keep the bottles empty until you pass through security, then fill them up before you get on the plane. This water bottle is great because it is collapsible and leakproof. That means it doesn't take up much space in a bag and you won't have any unexpected spilling!
Snacks
Hungry kids can get cranky quickly, so be sure to be prepared for snack time by stocking your carry-on with your kid's favorite snacks in some reusable snack bags. This reusable bags can be used in so many different ways: you can clean them in the dishwasher, boil them, freeze them, and microwave them.
Blankets
If you're lucky, your kids will sleep on the plane. Be sure to bring their favorite blanket or grab them a special new blanket, especially for the trip. There's nothing better than feeling warm and comfy on a plane. This blanket will help make your kids (and you) ready to drift off to dreamland.
Travel Pillow
Make sure your kids are totally comfortable by giving them a nice travel pillow for them to rest their heads on during the flight. This travel pillow is the best because it wraps far enough around your head and neck to also support your chin! There's nothing worse than falling asleep on a neck pillow that's not supportive enough and waking up with a crick in your neck!
Flight Entertainment For Kids
Kid-Friendly Headphones
You (and your neighbors) will be happy you packed a set of kid-friendly headphones in your carry-on to save you from listing to another round of Baby Shark on the plane. These headphones automatically protect kids ears by limited how high the volume can go. Plus, they come with a handy carrying case, so the headphones stay safe! This is definitely a family plane ride essential.
Activity Books
Another great way to keep your kids entertained on long flights is with activity books. Younger kids may be happy with a coloring book while older children would have more fun with a variety of activities, like word searches and mazes. And don't forget to add some crayons or markers to your bag so they can use the books once you're on the plane. This activity book comes with 365 different activities!
Tablet
Put those screen time limits on hold for a little while for the sake of your sanity and give your kids their tablet after the plane takes off. Be sure to load it with reading material, a kid-friendly movie, or fun games to keep them entertained on the flight. This is a flight essential that's fun for both kids and adults!
Baby Travel Essentials
Changing Mat
Those airport bathrooms are gross. Make sure you have a safe place to lay your baby on during diaper changes by tossing this great changing mat into your diaper bag before you leave. This changing mat is amazing because it has a Velcro closing strap that unfolds to reveal the changing mat, a compartment for holding diapers and a compartment for 100 baby wipes! Additionally, the changing mat is made of waterproof materials and is super easy to wipe clean! This isn't just a flight essential, its a life essential.
Baby Wipes
Kids are messy everywhere they go, so without a good place to clean them up, you'll need a stash of baby wipes on hand in case of a mess emergency. You can never have enough baby wipes and these are especially gentle and refreshing. Baby wipes are a travel essential that always comes in handy.
COVID Travel Essentials
Zip-Top Bags
From packing up dirty diapers to taking care of air-sick kid, you can't go wrong packing a few plastic zip-top bags in your carry on. They're sure to be needed at some point on your trip.
Face Mask
Face masks are essential during these times and mandatory for flights. Having a cute face mask for kids makes it more likely that they will keep them on! These masks have beautiful embroidery on them so your kids look extra stylish. Tip: practice wearing a mask with your toddler before you leave on your trip. Airlines will not let you or them fly without them on.
Hand Sanitizer
With all the extra germs flying around, hand sanitizer is definitely a family plane ride essential! These little hand sanitizers can hook onto purses or bags for easy access. Plus, the formula is gentle enough for frequent use!
Wet Wipes
Before, during , and after your flight, you will probably want to sanitize any area you and your family are spending long amounts of time in. They are delicate enough to clean hands without drying out your skin. Wet wipes are essential to keep you and your family safe during travel.
Gloves
 This post may contain affiliate links which won't change your price but will share some commission. As an Amazon Associate I earn from qualifying purchases.
Disposable gloves are a good thing to have around when traveling. Put them on when going into a high traffic area like an airport bathroom and dispose of them when you are done! Gloves are just another easy safe guard for you and your family while traveling.
Gum
Let's face it, we've all experienced "mask breath". If you have to wear a mask for hours on a flight, it would be nice to smell something delicious. That's why gum is on our list of travel essentials! I love this brand of gum, the flavor lasts a long time and tastes great!
Travel Size Hand Cream
Constantly sanitizing your hands can lead to dry skin. That's why this travel size hand cream is a necessity! Besides, everyone knows airplane air is the driest air that exists. Arrive at your destination with your hands feeling silky smooth.
---
Flying can be as tiring and stressful as it is exciting! Traveling to get to your final destination should be as fun as the actual vacation. Enjoy your family plane ride more with these travel essentials, you'll be glad you did. If you need some more tips for holiday travel check out my post Tips For Holiday Travel This Year.
CHECK OUT WHAT'S NEW ON BETSI'S WORLD
What are your in-flight must haves? We'd love to hear from you in the comments below!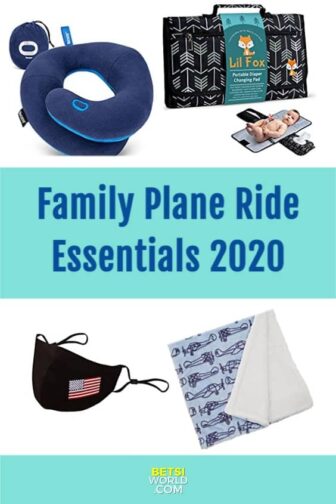 Other Packing Tips and Tricks You May Enjoy