Healthy Ways To Use Pumpkin
Pumpkin healthy recipes are a must try for the fall season. You can't go through autumn without being exposed to the season's favorite produce!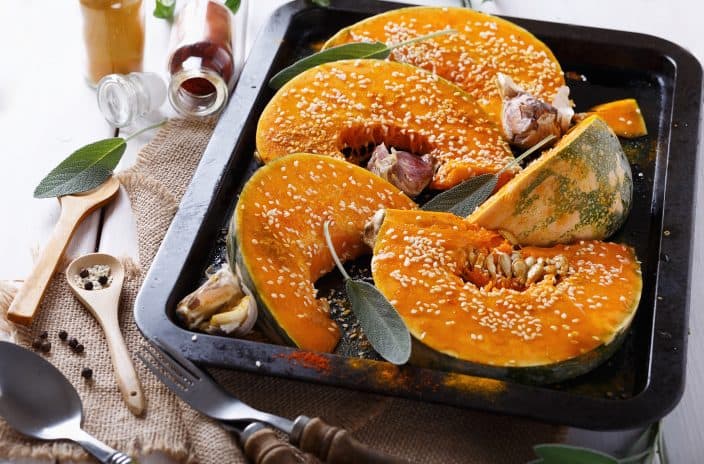 There are many healthy pumpkin muffin recipes, pumpkin pie recipes, as well as pumpkin spice lattes to indulge that substitute healthier ingredients for the traditional ones. This way you can still celebrate this seasonal fruit but maintain a healthy diet. To get you started, we've included tips for making pumpkin healthy recipes, as well as fun and interesting facts about pumpkins!
Pumpkin Seed Benefits For Health
There are many benefits to eating pumpkin seeds for good health. Pumpkin seeds have a lot of health benefits packed into a tiny punch! Although, they are very healthy, be aware that they do have a lot of calories, so be conscious of your consumption rate.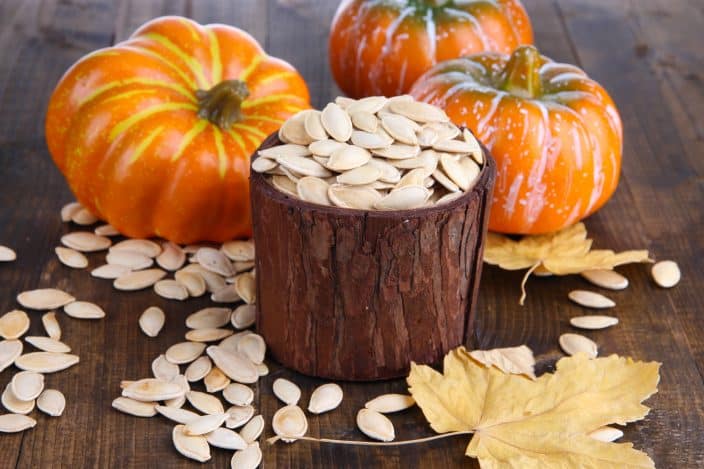 First, pumpkin seeds have anti- inflammatory properties. This is due to the fact that they are packed with anti-oxidants, which help to fight against the process of oxidation of your cells. When oxidation occurs, free radicals are produced which can cause damage to your cells. Preventing this damage helps protect against cancer and a variety of other diseases.
Pumpkin seeds are high in fiber. Fiber plays a crucial role in many bodily functions, but it also helps to keep your blood sugar levels stable, lower your cholesterol, and can help you lose weight!
These delicious seeds are also high in Magnesium which helps to lower and regulate blood pressure, which reduces your risk for heart attack and stroke.
Pumpkin seeds may even help you to sleep better. The seeds contain the amino acid, Tryptophan, which can promote sleep. Try eating a handful before bed!
Health Benefits Of Pumpkin
In addition to how delicious it tastes and how versatile pumpkin is, there are also some great benefits to choosing this vegetable in the fall. Here are some top benefits:
Flavor
The great thing about pumpkin is that it can be a really neutral ingredient to add to your meals, but can be spiced up to work in sweet as well as savory dishes. Canned or cooked pumpkin goes a long way in desserts, soups, and so many different foods and drinks. You can add it to smoothies or use canned pumpkin in your cake mixes.
Low In Calories
One cup of pumpkin is only 30 calories! This means you can have a good amount of this veggie and all its immense flavor with a low amount of calories.
High Nutrient Content
Pumpkin is loaded with nutrients. In addition to the lower calories and just great taste of pumpkin, enjoying it in the fall can increase the nutrients you are consuming. Some of the nutrients also vary based on whether you are eating the meat inside the pumpkin, or the actual pumpkin seeds. Here are some nutrients you will get:
Potassium – To start with, your pumpkin meat will contain potassium, which is great for helping to lower your blood pressure and boost your heart health.
Beta carotene – Beta carotene is found in fruits and vegetables that are an orange color, and that includes pumpkin.
Vitamin C – If you need more vitamin C, but aren't a fan of citrus fruits, you can get a good amount of it in your pumpkin meat. This is not only a beneficial vitamin on its own, but it can help you to absorb iron.
Nutrients in Seeds – As for the pumpkin seeds, you will get vitamins like zinc, omega 3s, magnesium, and tryptophan.
Pumpkin Healthy Recipes To Try
Looking for some healthier ways to enjoy your pumpkin? Here are some quick ideas:
Pumpkin soup. Making a soup out out pumpkin is a great way to use up extra pumpkins you may have left from visiting a pumpkin patch! Soups are easy to make healthy, you can customize them to your liking.
For example, if you crave a creamy soup, simply roast the pumpkin in the oven and add the softened pieces to a food processor. Add coconut milk to increase the creaminess and the healthy fats! Or, use a vegetable broth as a base to make it a lighter soup. Add spices to your liking and top off the soup with some roasted pumpkin seeds for a nutrient packed topping!
Try this awesome recipe:Pumpkin Cauliflower Soup With Ginger by Salt And Lavender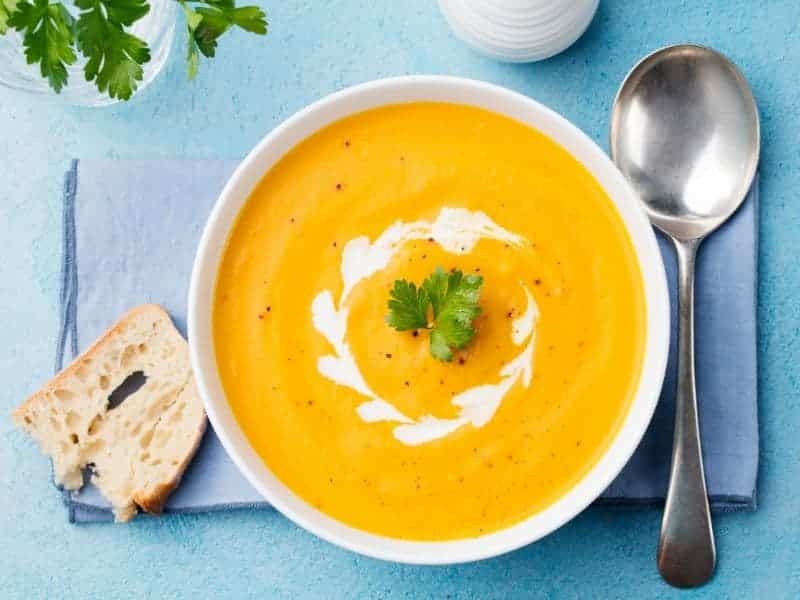 Pumpkin waffles. Who doesn't love waffles? It is easy to add pumpkin to waffles to make a healthier breakfast option. Pumpkin puree makes the waffles so soft and fluffy, add some pumpkin pie spice and you've got the most delectable treat!
If you want to make this a lower carb recipe, simply change out the whole wheat or gluten free flour for almond and coconut flour! Then for the sweetener try using a substitute like Monk Fruit or Stevia.
Here's a healthy version that both kids and adults will love: Healthy Baked Pumpkin Waffles by Amy's Healthy Baking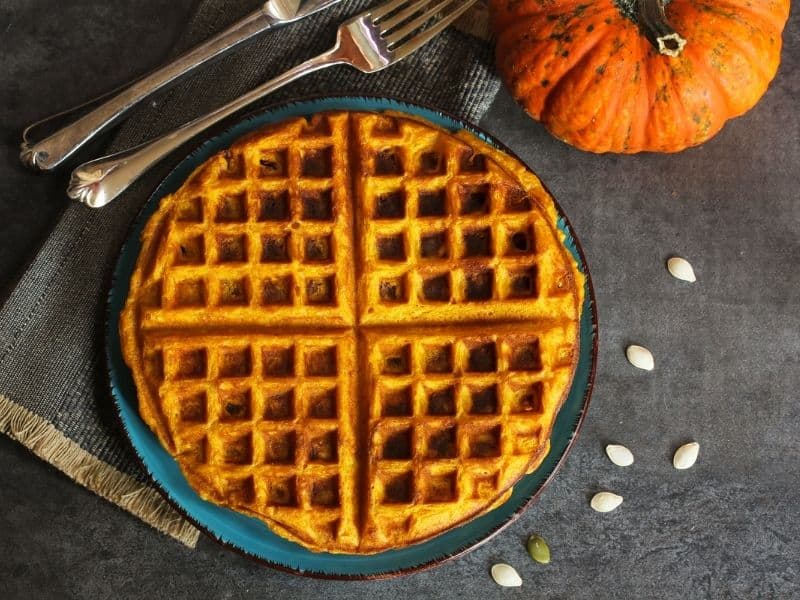 Healthy Pumpkin Drink Recipes
Pumpkin smoothies. Super easy and delicious for breakfast, lunch, or a snack! Pumpkin smoothies are such a treat. They are easy to add protein to, just pop in a scoop of vanilla protein powder or some vanilla collagen powder.
If you'd rather not add powders but still want the protein, opt for Greek yogurt instead. The Greek yogurt makes the smoothie taste just like pumpkin cheesecake! Try this Pumpkin Pie Smoothie by The Worktop.
Pumpkin spice latte. The classic fall drink. We had to include this on the list! The Starbucks version is packed with sugar, but your homemade latte doesn't have to be. Try our easy to make, copycat pumpkin spice latte.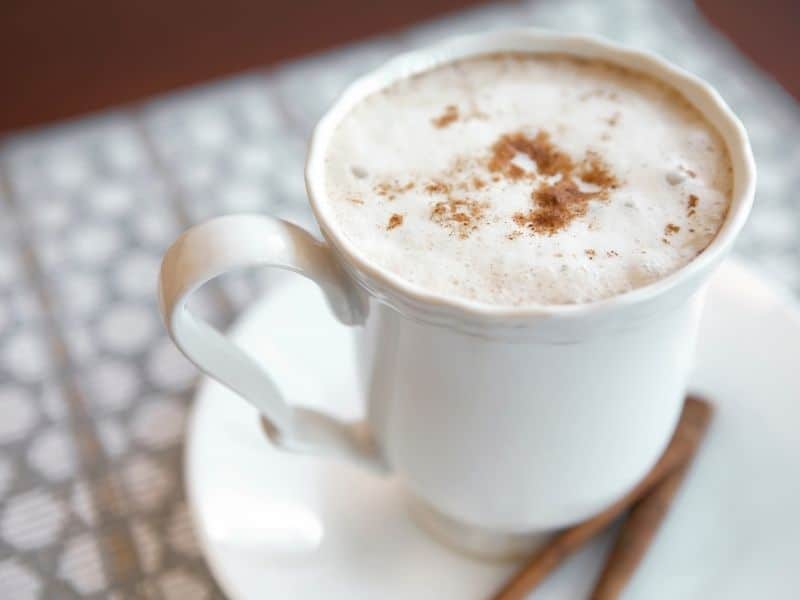 Pumpkin is a food that is often overlooked but is filled with health benefits and it's tasty too! This fall season, try a healthy twist on autumn classics!
If you love all things pumpkin, you'll definitely want to try our Pumpkin Mousse, it's a great Thanksgiving dessert!
Other Recipes You Might Like