These grilled vegetable recipes are a great excuse to break out your grill this summer. Grilling is an amazing way to enhance the natural sweetness of summer garden vegetable.
Grilling vegetables is not only healthy, but an easy way to add volume and flavor to any meal! This delicious side dish doesn't have to be boring, there are many marinades and sauces you can put on the veggies to spice them up. Grab the recipes below for some of my favorite grilled summer vegetables and try them out for your next barbecue!
The Best Vegetables For Grilling
For these grilled vegetables recipes I choose to use summer veggies like zucchini, yellow squash, bell pepper, and red onion. I find it best to use in season vegetables, as these typically taste the best and are easy to find for a good price. However, you can choose to use whatever your favorite vegetable is. Asparagus, carrots, and mushrooms are also great vegetables for cooking on the grill.
The flavor of these kinds of veggies becomes more complex and really shines through when tossed on the grill. They are even great to grill plain with a little bit of salt and pepper! However, I like to jazz them up even more with a good grilled vegetable sauce or marinade.
How To Make Grilled Vegetables
To prepare the veggies, first wash them well and dry them thoroughly. To ensure the best results, cut all vegetables to a uniform thickness and angle your cuts to ensure the largest surface area possible. For the unmarinated veggies, brush both sides of each vegetable section with extra virgin olive oil and place them on grill. For the already marinated vegetables, you can just place them on the grill as they are already coated in olive oil.
Grilling Methods For Vegetables
Prepare grill by brushing grates with a wire brush. Set heat to medium. When ready, temperature should be between 350-450 degrees.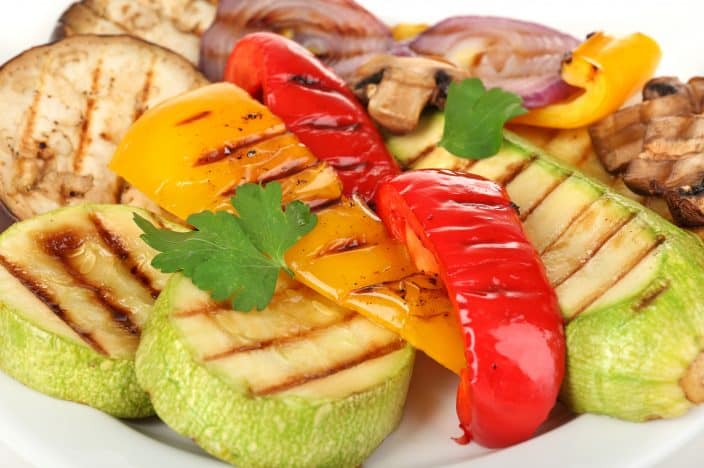 Some people prefer to make grilled vegetable skewers where you thread each slice onto a bamboo or metal skewer. Grilling vegetables this way is great for easy clean up and pick up. With the skewer method, you don't have to worry about vegetables falling through the grates. However, you won't get those lovely grill marks on the larger surface area of your veggies.
Another method is grilled vegetables in foil. With this method you make little packets stuffed with the vegetables and seasoning and cook them. This way is the easiest, with minimal cleanup and no loss of season. Of course, again you won't get those grill marks, but they still taste great.
For this grilled vegetable recipe I've placed the vegetable slices directly onto the grill to get the maximum flavor and aesthetic grill mark effect! However, I urge you to use the method that suits your lifestyle and tastes.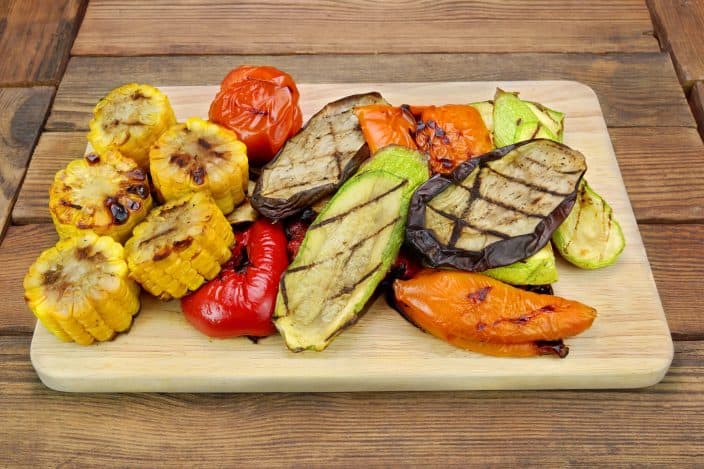 Once you've decided on your method, cook the vegetables on medium, direct heat until vegetables are crisp tender. For zucchini and yellow squash, this should take about 5 minutes. Onion and bell pepper will take approximately 10-12 minutes, maybe slightly longer. Make sure to turn the vegetables at least once while cooking. 
After the vegetables are done on the grill, add a pat of the herbed butter to the plain veggies. The previously marinated vegetables will be ready to eat immediately!
Marinade For Grilled Vegetables
Balsamic Herb Marinade
This first grilled vegetables marinade is tangy and savory. It has a balsamic vinegar and olive oil base, enhanced with Greek or Italian herbs (oregano, basil, thyme, rosemary), pecorino romano cheese, salt and pepper. This vegetable marinade tastes a bit like a rich Greek dressing and is so good on the grill.
Lemon Garlic Marinade
The next grilled vegetables marinade is a classic lemon garlic marinade for garlic lovers. The lemon adds brightness while the fresh garlic and garlic powder give it the kick it needs. Add a liberal amount of cracked black pepper and salt to round out the flavors.
Herbed Butter For Grilled Vegetables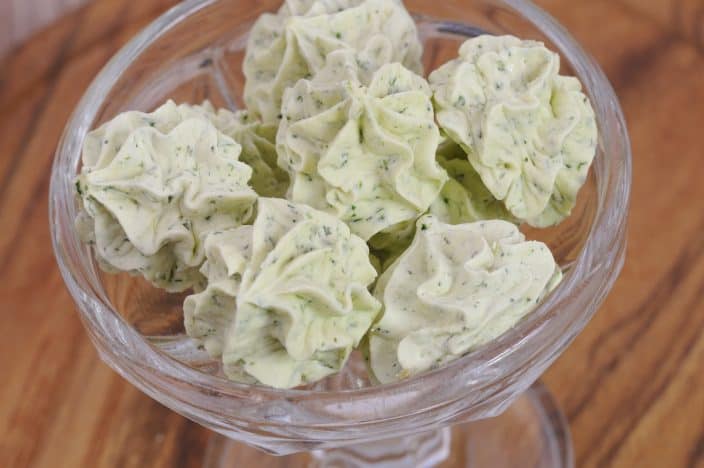 Sometimes a delicious herb butter is just the right topping for grilled vegetables. Simple and delicious. To make it, simply combine softened butter with chopped chives and salt in a bowl and mix. I like to use chopped chives for a garlicky and fresh flavor, but you can use any fresh herb. Another great herb would be thyme. After it's combined, scoop the butter into clear wrap and shape it into a log. Leave it in the fridge to firm up and harden, if you desired. After its firm, you can top your grilled veggies with a slice or two!
Tools You May Need For This Recipe
Knife. Grab a good sharp knife to get a nice even slice on your veggies.
Cutting board. Use a cutting board to cut on and to present your grilled vegetables. It makes a beautiful serving platter!
Whisk. Using a whisk to mix your marinades will help them come together and emulsify easily!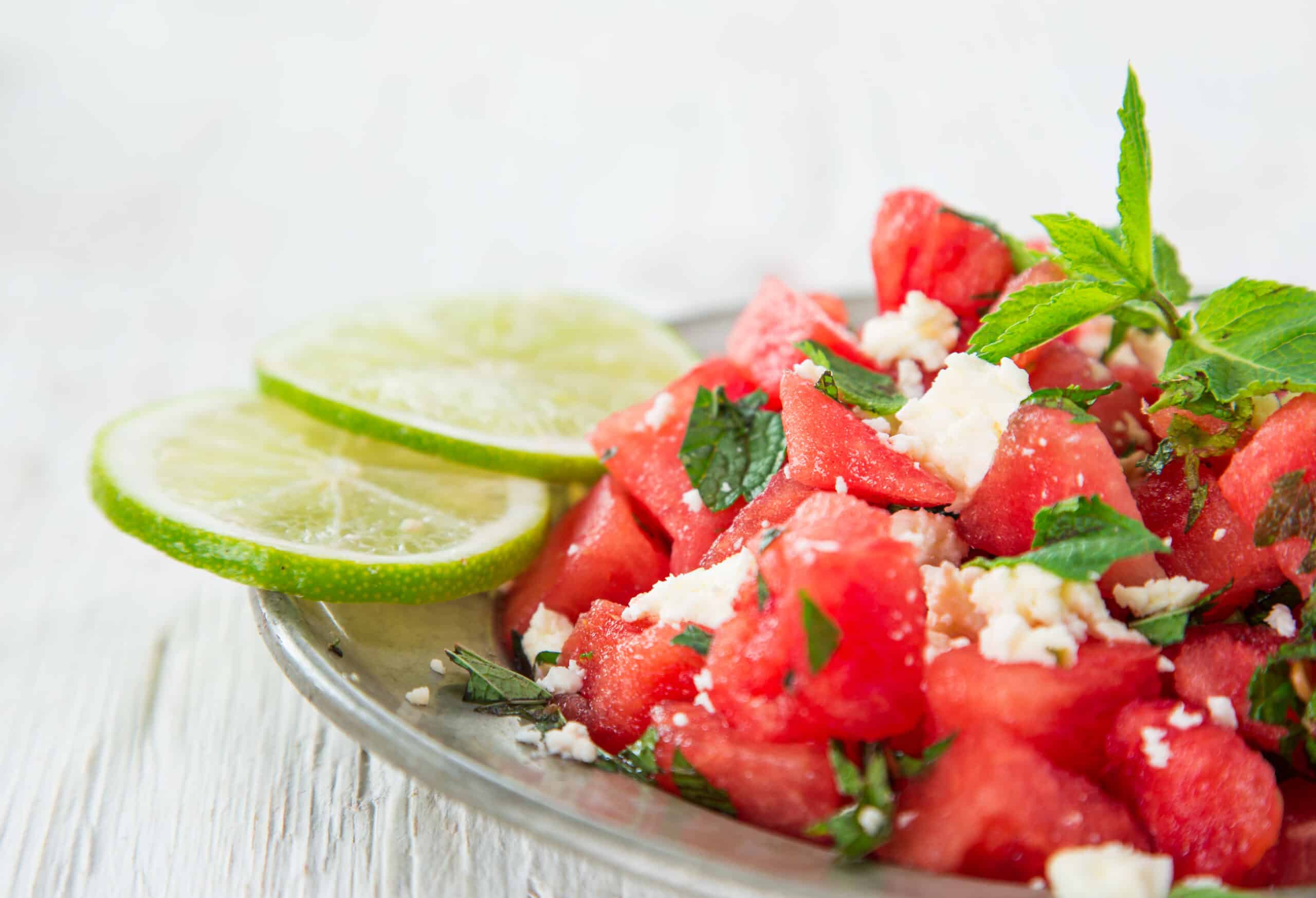 The Best Watermelon Feta Salad For Spring and Summer
Watermelon and feta cheese make such a perfect pair. The saltiness of the feta is the perfect complement for the inherent sweetness of watermelon. When paired with the peppery taste of fresh arugula and the tangy goodness of a homemade lime-cilantro vinaigrette, you've got an incredible taste sensation that is sure to become a summer favorite. 
Ingredients
Salad Ingredients:
1 small round seedless watermelon, cut in half with flesh removed
3 oz. feta cheese, cut into evenly sized pieces
3 cups fresh arugula, cleaned and dried
Lime-Cilantro Vinaigrette Ingredients:
2 T. fresh lime juice
3 T. fresh cilantro, washed, dried and chopped into small pieces
3 T. grapeseed oil
1 t. Dijon mustard
1 T honey
2 t. ground cumin
2 t. sea salt
½ t. pepper
Instructions
If possible, make the lime-cilantro vinaigrette in advance to give the flavors a chance to meld. Combine all ingredients in a small glass bowl and whisk to combine thoroughly. Taste and adjust seasonings as desired. 
Cut small watermelon in half, then remove and reserve flesh in a glass bowl. Pat the inside of each empty watermelon rind with a paper towel to dry. Set aside to use as serving bowls for the finished salad. 
Add feta and washed arugula to glass bowl along with the watermelon. Top with vinaigrette and toss to combine. Season with salt and pepper, to taste. 
To serve, add watermelon feta mixture to reserved watermelon rinds and garnish with sprigs of fresh cilantro. 
Nutrition Information
Yield

4
Serving Size

1
Amount Per Serving
Calories

223
Total Fat

17g
Saturated Fat

4g
Trans Fat

0g
Unsaturated Fat

11g
Cholesterol

19mg
Sodium

1480mg
Carbohydrates

16g
Fiber

2g
Sugar

12g
Protein

5g
The Perfect Healthy Summer Side Dish
These grilled vegetables are an amazing and flavorful side dish to any meal. They are even delicious enough as a dinner for those who enjoy vegan or vegetarian food. Try mixing it up with batches of various vegetables marinated in different sauces. You can also experiment with new and interesting herbs for the herb butter. The ideas are endless when it comes to making these grilled vegetables. You never have to worry about boring veggies again!
If you're looking for a main dish to go with your veggie side, try our BBQ Pork Sliders!
Did you try this recipe? How do you prepare your grilled vegetables? Let us know in the comments below!
Other Recipes You Might Like