Greek salad skewers are a easy, crowd pleasing appetizer ideal for warm weather. With family gatherings and outdoor summer parties becomes more frequent, you'll need some fresh ideas for delicious finger food. These Greek salad skewers have the refreshing taste of a salad without the mess or hassle!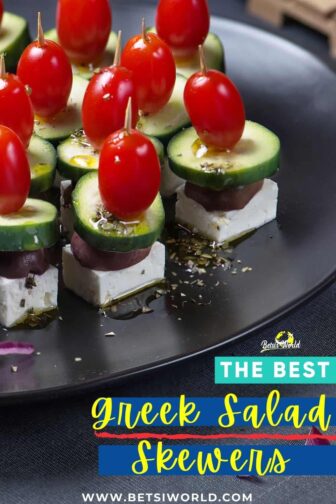 This post contains affiliate links. When you make a purchase through these links Betsi's World receives a small commission at no additional cost to you. As an Amazon Associate, I earn from qualifying purchases.
The combination of crunchy cucumber, juicy tomatoes, creamy feta cheese, and briny olives, makes this appetizer a hit for every occasion. If you're a fan of refreshing, quick, and beautiful appetizers this Greek Salad Skewers recipe is for you!
How To Make Greek Salad Skewers
These Greek salad skewers are so simple and only require a few ingredients!
You'll need:
1 small organic cucumber, cut into 12 equally thick slices
8 oz block of Greek feta cheese, cut into 12 equal-sized chunks
12 grape or cherry tomatoes, any color
12 large Kalamata olives, pitted
High-quality extra virgin olive oil, for drizzling
½ t. dried Italian seasoning
Sea salt and black pepper, to taste
First, slice your cucumber, I chose organic because I think it tastes better, but feel free to use conventional cucumbers! Then, remove your feta cheese from the water and cut it into cubes about 1 inch across.
Then, arrange the cucumber slices on a serving platter and top each with a chunk of Feta cheese. Gently press the flat end of a wooden skewer through the cheese and cucumber until secure, then add a tomato, followed by a Kalamata olive to top each skewer.
Right before serving, drizzle extra virgin olive oil over the skewers and sprinkle with Italian seasoning.
If you don't have Italian or Greek seasoning, you can make it yourself! It is typically a mix of thyme, oregano, basil, marjoram. Season with salt and black pepper, to taste, and enjoy!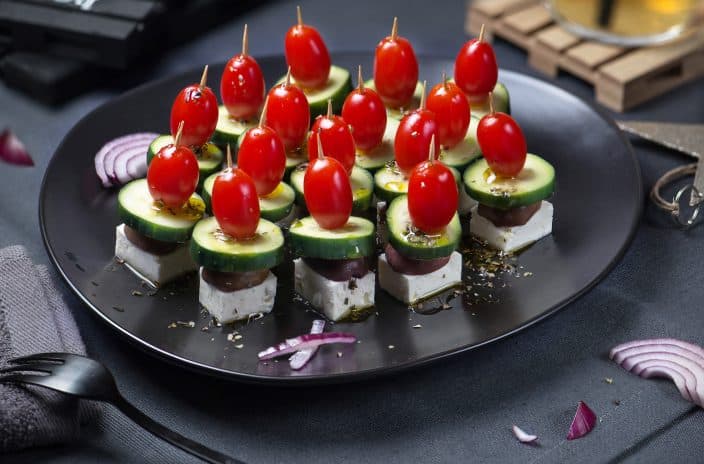 What Kind Of Feta Should I Use
There are many uses for feta cheese and this is one such occasion! Feta gives these Greek salad skewers a delicious salty and creamy bite. Of course, not all feta cheeses are made equal. Most local grocery stores sell feta cheese, either their house brand or the crumbled kind.
However, feta can have many origins. There is Greek, Bulgarian, and French feta cheese. Greek feta is the most flavorful out of the bunch and the most commonly found.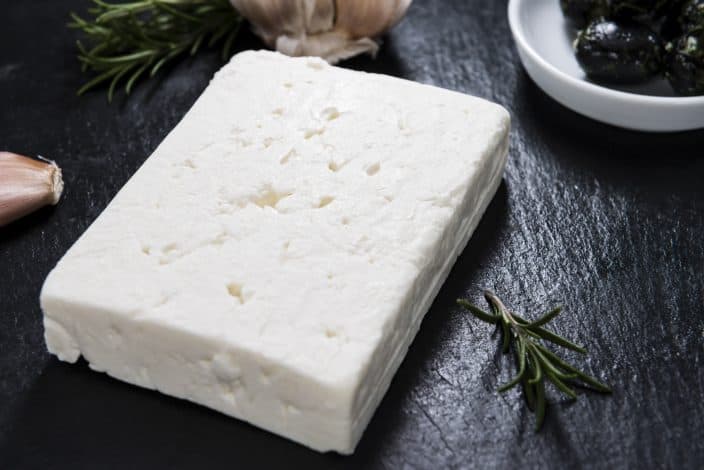 For this recipe you will need, you guessed it, a large block of Greek feta cheese. Choose Greek feta that comes in a tub filled with liquid, usually salt water. This helps the feta to last longer and also preserves and adds to the flavor!
Choosing The Right Olives
Olives are a tricky ingredient, that elicit either a disgusted or loving response. I have found that the type of olive makes all the difference. Some people love black olives, like the ones you get on pizza, while others despise them. Of course, many varieties of both "purple" and green olives also exist. In my opinion, marinated green and purple olives taste the best.
For this Greek salad skewer recipe I used Kalamata olives (they have a brown/ purple hue). Kalamata olives are the most flavorful of the Greek olives and are often found in authentic Greek salads.
Make sure you get pitted Kalamata olives, otherwise you'll have quite a tough time wrestling it onto a skewer!
Can I Make Greek Salad Skewers Ahead of Time
These Greek Skewers are great if you're in a pinch, however if you have plans to make them before, I recommend marinating the feta cheese in olive oil, fresh herbs and garlic. Using a high quality olive oil, coat the feta cheese, add fresh thyme, oregano, basil, marjoram, and a couple crushed garlic cloves. Store it in the fridge overnight and when you remove it, the feta cheese will be wonderfully flavored and ready to be used in your Greek salad skewers!
Store them in the fridge so they are nice and cold, perfect for a hot summer's day!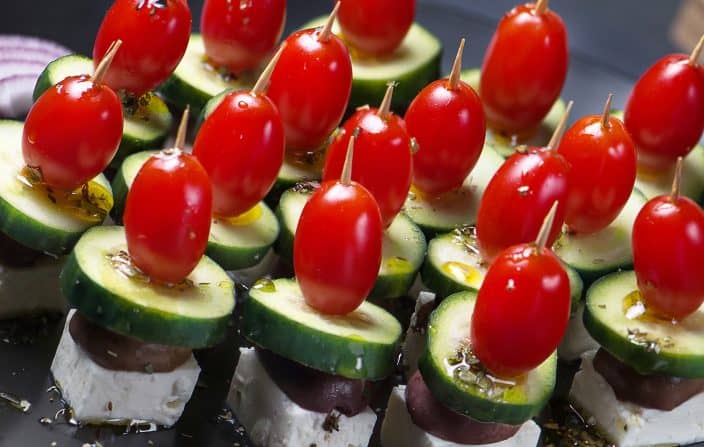 Tools You May Need To Make Greek Salad Skewers
Bamboo Skewers. These are easy to thread your ingredients onto and aren't too thick that your feta cheese will split in half!
Knife. A good knife ensures that you will get clean cuts and beautiful feta cubes for your Greek salad skewers!
Cutting Board. I love this beautiful bamboo cutting board for its aesthetic looks and functionality!
I love to serve these alongside our BBQ Pulled Pork Sliders! They are a great refreshing contrast to the smoky, rich flavor of the pulled pork.
If you're looking for other easy appetizers for a party, try out our Bacon Wrapped Water Chestnuts, they are sure to be a popular dish!
What did you think of this recipe? Have you ever made salad skewers? Let us know in the comments below!
Other Recipes You Might Like
Other Recipes You Might Like