This roasted pear and blue cheese salad is another example of a simple salad with outstanding flavor. I love to make this for lunch or as an appetizer for a dinner date!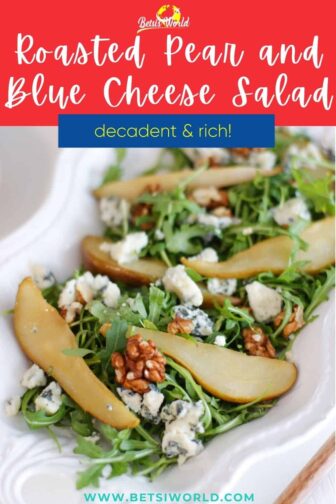 This post contains affiliate links. When you make a purchase through these links Betsi's World receives a small commission at no additional cost to you. As an Amazon Associate, I earn from qualifying purchases.
Pears are the perfect compliment to a creamy, salty, blue cheese, especially when they are roasted in the oven. Drizzled with a thick, homemade balsamic glaze, this salad is incredibly delicious! Its the perfect appetizer for your next dinner party or date night!
How To Make This Roasted Pear and Blue Cheese Salad
This pear and blue cheese salad is such a lovely treat for when you don't want to go out, but still want a dish that feels rich and delightful.
First, you'll need some pears. There are 3 main types: Bartlett (green) , Bosc (brown) , and Anjou (green or red). I like to use Bosc pears for this recipe because they are a bit crunchier and less sweet. Since they are roasted in the oven, they will become sweeter and less soggy then their counterparts. However, if you prefer a different type, the salad will be just as delicious!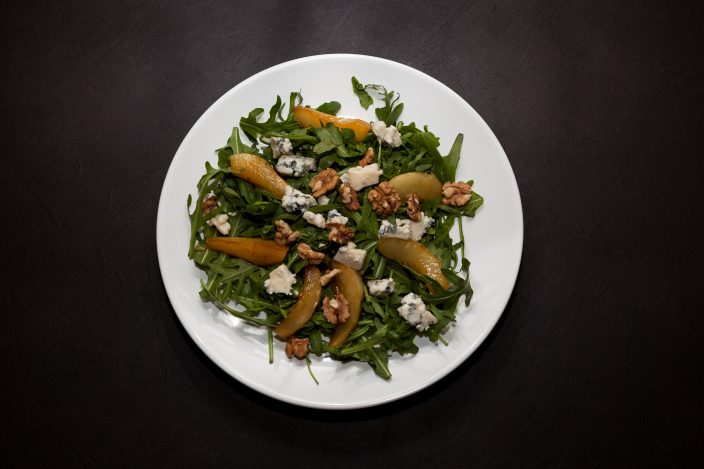 Roasting The Pears
To prepare the pears preheat your oven to 375 degrees. Then, line a baking sheet with parchment paper or aluminum foil (or spray with non-stick cooking spray). Arrange the pear slices on sheet, leaving space in between to prevent overcrowding. Lightly brush each pear slice with olive oil and sprinkle with salt and pepper.

Place the pears in the oven and roast for approximately 20 minutes. Remove from oven and flip each pear slice. Then return the baking sheet to oven and continue roasting until they are evenly browned and soft, approximately 10 – 15 minutes. (Keep an eye on them the first time you make them as oven roasting times will vary). You can then remove them from oven and allow the pears to cool slightly.
Next, grab your blue cheese of choice and cut it into cubes. If you prefer to use crumbled blue cheese, that will work as well. I recommend a thicker, creamy type like Saint Agur French Triple Cream.
To serve, divide arugula, roasted pear slices and blue cheese between 4 plates. Top with some walnut for crunch, if you desire! Then, drizzle with balsamic glaze and extra virgin olive oil and serve immediately with fresh-cracked black pepper and sea salt.
How To Make Balsamic Glaze
To make the dressing for the pear and blue cheese salad, add 1 cup of balsamic vinegar to a small sauce pan over medium-high heat. Keep an eye on the liquid and stir frequently until it begins to boil.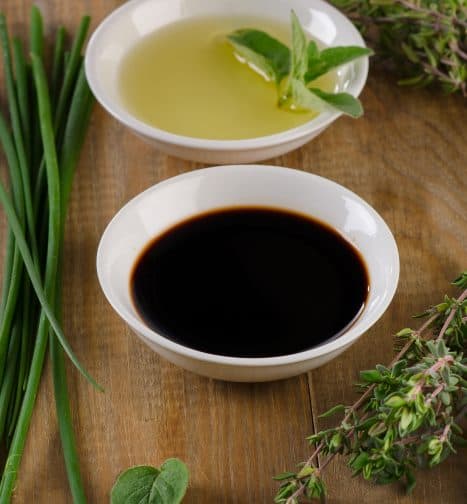 Reduce the heat to simmer and continue stirring until liquid is reduced to 1/3 of its original volume. Liquid will become thick and syrupy when it is ready. If you don't want to make it yourself, you can also buy it in the store!
How To Store Roasted Pear and Blue Cheese Salad
In order to store this pear and blue cheese salad properly, you'll want to house all the ingredients separately. Put the left over sliced pears in a storage container and the blue cheese in another. Since the pears have already been roasted, you don't have to worry about them browning! You can put your homemade balsamic glaze in a glass or empty salad dressing bottle.
You may also choose to dress the salad after it has been plated, instead of in the serving dish. That way, in the event that you have any leftover salad, the ingredients can be stored without getting soggy from the dressing. This salad will store best for a few days. The dressing can be kept for weeks!
Tools You May Need To Make Pear and Blue Cheese Salad
Sharp knife. A good sharp knife comes in handy to slice your pears evenly and to chop the blue cheese into blocks.
Sauce Pan. A non-stick sauce pan, like this one, will work best for making your homemade balsamic glaze!
A Rich Salad For Lunch Or Dinner
This roasted pear and blue cheese salad tastes as decadent as it is gorgeous. I love interesting salads, different from the traditional Greek, Caesar, or plain house salads. This salad kicks things up a notch and stuns on your dinner table. Plus, you'll have a rich homemade balsamic glaze to use on other salad recipes!
Try the balsamic glaze out on the sweet version of our Warm Goat Cheese Salad, its the perfect compliment to the tangy flavor of the goat cheese!
Did you try this recipe? Let us know what you thought in the comments below!
Other Recipes You Might Like
Other Recipes You Might Like