These cheese stuffed mini peppers are a great go- to appetizer recipe when you are in a hurry! The great thing about this recipe is that you can customize it to your tastes.
I like to make a variety of versions of this stuffed mini pepper appetizer. It's great for vegetarian, vegans, and omnivores alike!
How To Make 3 Cheese Bacon Mini Stuffed Peppers
This mini stuffed pepper recipe is so simple, anyone can make it. You can make these as a snack or or use them as an appetizer for your dinner party. I love the way the peppers increase in sweetness as they cook in the oven, its the perfect counterpart to the salty cheese stuffing.
First, you'll need a bag of mini peppers. I prefer to use an organic mix of multiple colors, but if you prefer one color over the other, stick to that! Take out your cutting board , wash and dry the peppers. Then, cut them in half lengthwise and remove the seeds and membrane. If you leave too much of the white membrane, your peppers will be more bitter in taste.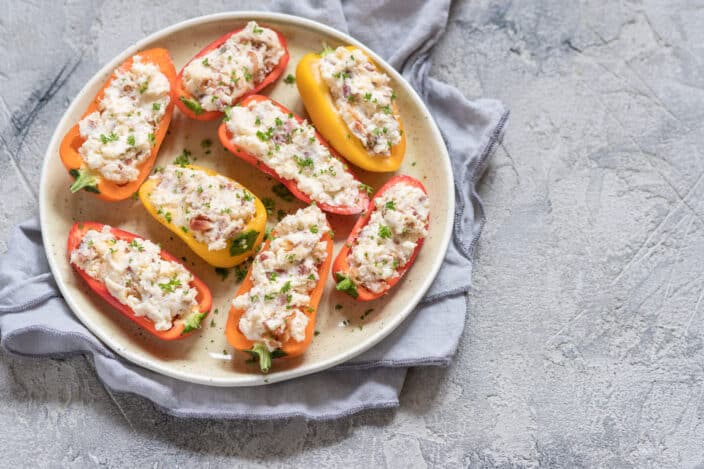 The next step in this stuffed pepper recipe depends on your preferences. If you like a crunchy bite to the stuffed peppers, set them aside. If you prefer a sweeter taste and softer texture, place them on a baking sheet and pop it in the oven. Roast the peppers for about 5 minutes with a little bit of olive oil inside them.
How To Make The 3 Cheese Filling for Stuffed Peppers
For this mini stuffed pepper recipe you'll need a variety of cheeses. I love using a mixture of goat cheese, ricotta cheese, and parmesan cheese. Then I add some spices to make the cheese mixture extra flavorful. I chose to use thyme in this recipe, it goes wonderfully with the ricotta and goats cheese.
Next, for extra richness I cooked up a few strips of bacon and cut it into crumbles. Combine the goat cheese, ricotta cheese, bacon, thyme, salt and pepper in a bowl. Mix the ingredients well with a spoon. Grab your mini pepper halves and fill each side with the cheese and bacon mixture. Place the stuffed mini peppers on a lined baking sheet and sprinkle parmesan cheese over the top of each.
Pop the peppers into the oven on broil and remove when the cheese begins to brown and the peppers start to blister. Now, arrange them on a plate and serve as a decadent appetizer!
Variations In Filling
For the stuffed mini pepper filling, you may like other cheeses, therefore I encourage you to experiment! Another good variation would be cream cheese with sharp cheddar and parmesan. This mixture is similar to a jalapeño popper recipe. If you want to make jalapeño poppers but don't want the spice of the jalepeno, you can substitute the peppers! Then wrap them in bacon, secure with a toothpick and bake them.
For a vegetarian version you can skip the bacon, of course, and just use the cheese filling. Those that prefer a lighter version might try some olive oil, a few feta crumbles, and some Greek herbs. The herbs and the feta go beautifully with the roasted mini peppers. Don't forget to sprinkle some herbs on top when they come out of the oven!
 This post may contain affiliate links which won't change your price but will share some commission. As an Amazon Associate I earn from qualifying purchases.
Tools You May Need To Make This Stuffed Pepper Appetizer
Sharp Knife. A good knife comes in handy when you're slicing the mini peppers and taking out the seeds and membrane.
Cutting Board. This cutting board is great for all your chopping needs, its also naturally antibacterial, because its bamboo!
Bowl. Grab this great bowl to mix up your cheese filling for the stuffed mini peppers.
Baking Sheet with parchment paper. You'll need a baking sheet to broil the peppers in the oven! This one is easy to clean and non-stick!
3 Cheese Bacon Stuffed Mini Peppers
Need a last minute appetizer? This versatile recipe comes together in under 15 minutes, but looks and tastes like it took a lot longer. 
Ingredients
1 bag mini sweet peppers in assorted colors
6 oz. goat cheese
6 oz. ricotta cheese
3 T. fresh thyme leaves, stems removed
4 strips thick-cut bacon, cooked and crumbled
salt and pepper, to taste
1 oz. hard Parmesan cheese, freshly grated
Instructions
Wash peppers and pat dry. Cut each pepper in half lengthwise, leaving the stem intact.
Remove seeds and membranes from each pepper half and discard. Set aside. 
In a small bowl, combine goat cheese, ricotta cheese, thyme leaves and bacon and sprinkle with some salt and pepper. Combine ingredients thoroughly.
With a small spoon, fill each pepper half with the cheese and bacon mixture and arrange on a rimmed baking sheet covered with parchment paper.
Top each stuffed pepper half with grated Parmesan cheese and pop into the oven under a preheated broiler set to 'high.' 
Broil for approximately 5 minutes or until the cheese begins to brown and peppers start to blister.
Remove from oven and place on a serving plate. Serve immediately.
Nutrition Information
Yield

8
Serving Size

1
Amount Per Serving
Calories

131
Total Fat

9g
Saturated Fat

5g
Trans Fat

0g
Unsaturated Fat

3g
Cholesterol

25mg
Sodium

321mg
Carbohydrates

2g
Fiber

0g
Sugar

0g
Protein

9g
A Quick and Delicious Appetizer
This 3 cheese and bacon stuffed mini pepper recipe is one of my go-to appetizers when I'm in a pinch with not a lot of time. It is always satisfying and is so simple to put together. The combination of the freshness from the peppers and the creaminess from the cheese is such a great combination. Try it out for your next get together, I'm sure it will be a hit!
If you're looking for other great appetizer recipes try our Low Carb Coconut Shrimp or our Bacon Wrapped Water Chestnuts!
CHECK OUT WHAT'S NEW ON BETSI'S WORLD
What did you think of this recipe? What kind of variations of stuffed mini peppers have you tried? Let us know in the comments below!
Other Recipes You Might Like