Romantic mountain getaways are the perfect opportunity for couples looking to spend some quality time together and reconnect. Romantic getaways are like extended dates that help to strengthen and breathe new life into relationships. Even if you can't get away for a long time, a weekend getaway is enough for a refresh.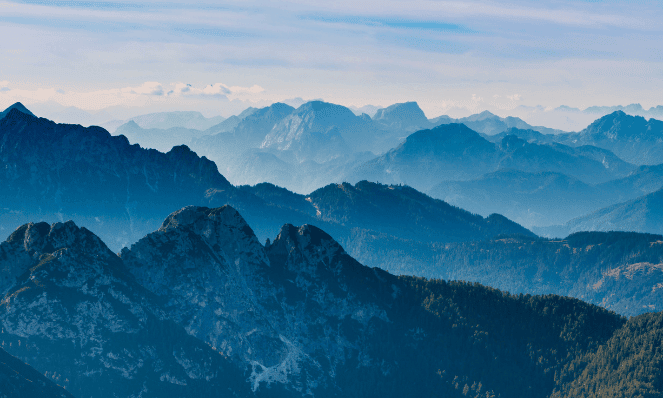 Summer is the perfect time to get away with your loved one, especially if you want to spend your time in the mountains. With sun-soaked bright, clear blue skies, and enchanting scenic beauty, the mountains are where you should be heading this summer.
If you are wondering where to plan your next romantic getaway into the mountains, look no further than the South! You will not only get to experience that iconic southern charm, but the region also has many mountainous areas. To help you plan your next romantic mountain getaways, we have compiled a list of 5 destinations that we think are worth the visit!
5 Beautiful Mountain Getaways For Couples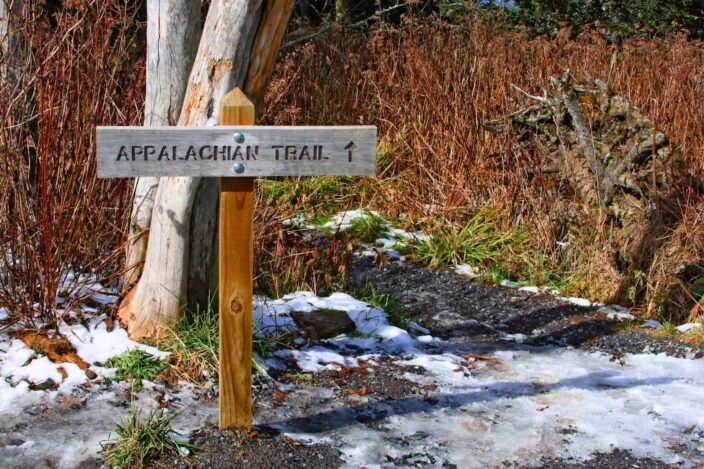 Mountain Getaways In North Carolina
For an unforgettable mountain retreat, North Carolina is a great choice. This state in the southern region of the United States has some of the most awe-inspiring mountain vistas that will surely take your breath away. 
The western part of North Carolina houses some of the most beautiful mountain ranges in the south. These include the famous Blue Ridge Mountains and The Great Smoky Mountains among other ranges along the Appalachian Trail. 
Where To Stay In North Carolina
While there are plenty of places to stay in North Carolina, from high-end to affordable bed & breakfasts, these are our top picks if you looking for the ultimate mountain retreat.
The Omni Grove Park Inn
The Omni Grove is a luxurious mountain resort located in Ashville, North Carolina. The hotel has a breathtaking view surrounded by mountains and pine trees. You also get outstanding service, a fabulous dining experience, and other world-class facilities during your mountain retreat here. 


Harrah's Cherokee Casino Resort
This fun mountain resort is located along the Smoky Mountains Range in North Carolina. Ideal for those who like to get a little gambling in between exploring the mountains Harrah's is a great option. The hotel opens up to beautiful views of the green mountains and houses a buzzing casino with several restaurants that serve a variety of delicious food.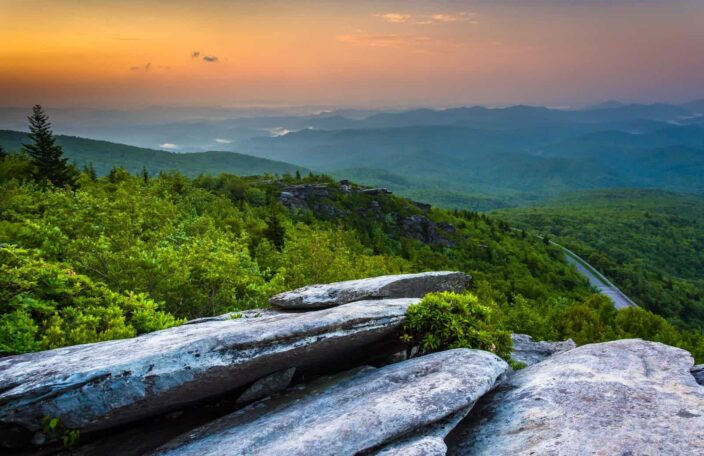 What To Do And Where To Go In North Carolina
While you can just enjoy the beautiful view of the lush green mountains all day, there are many other things that you can do here.
The Tail of the Dragon:
Take a drive through one of the most beautiful roads in America. The Tail of the Dragon is an 11-mile curvy road that looks like a Dragon's tail. Along the route, you will find plenty of gorgeous views of the trees and the mountains. 

The Great Smoky Mountain, National Par
Well, this is the ultimate mountain retreat we have been talking about. The Great Smoky Mountain, National Park is best for hiking trails. Along the way, you will get to explore the real beauty of The Great Appalachian trail and interact with the preserved wildlife as well. 
Asheville and the Foothills
A city located in North Carolina's Blue Ridge Mountains, Asheville is quite famous for its vibrant arts scene and breathtaking landscapes. While you are there, try hiking or ziplining! Ziplining through the mountain landscape is a thrill all its own. Don't forget to bring you camera, the Blue Ridge Parkway is a great place to take pictures. If you're looking for a romantic night out on the town, Asheville has a bustling night scene.
High Country
High Country is another place that should be on your list to visit during your romantic getaway. Filled with breathtaking mountain views, you can visit the Grandfather Mountains and enjoy a panoramic view of the mountains Swinging Bridge. Or, you can visit the many North Carolina Wineries, a staple of the region. 
Some of the other lesser-known ranges include the Bald, Balsam, Black, Brushy, Iron Pisgah, Stone, and Unaka. North Carolina is truly a diverse vacation spot, with almost 40 mountains that rise up to 6000 feet, mountain travel and hiking are such an invigorating experience. 
Along with these beautiful mountain ranges, you will find many state parks, luxurious mountain resorts, and plenty of opportunities to spend an unforgettable time with your partner.
North Georgia Mountain Getaways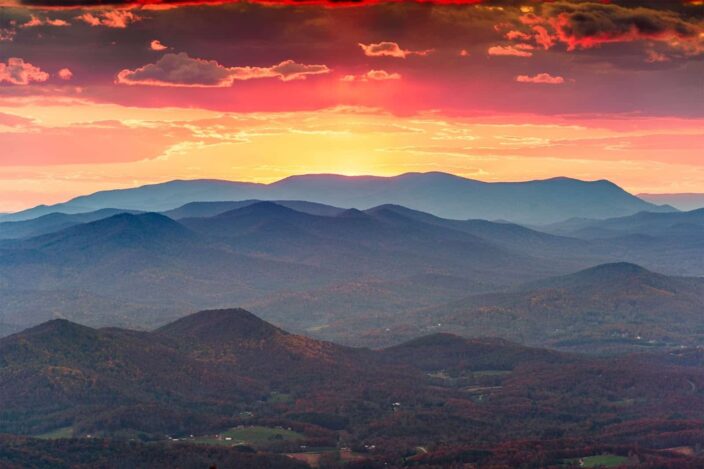 A continuation of the Blue Ridge Mountains which end in Georgia, the North Georgia Mountains are ideal for mountain travel, retreats, and romantic getaways that you and your partner will never forget. 
With beautiful sights and plenty of opportunities for some adventure around the mountains as well. There a lot of camping sights, state parks, sights of hiking, and even mountain biking in the area. You can also take a dip in the cool North Georgia Lake to beat the heat.
Where To Stay In North Georgia
While there are many places where you can stay on your visit to the North Georgia Mountains. Here are our picks that would suit your next romantic getaway and mountain retreat the best.
Lucille's Mountain Top Inn & Spa
Overlooking the Sautee Valley and the Blue Ridge Mountains this luxurious mountain resort is one of the best places to stay while you are in North Georgia. Along with splendid views, Lucille's offers you immaculate service and plenty of fine dining options during your stay here. The facility also has a spa to provide the ultimate breather during your mountain retreat. 
Cedar Creek Cabin's
Cedar Creek Cabins are a great alternative to staying in a hotel. Overlooking the Blue Ridge Mountains these luxurious rental cabins offer the opportunity to choose lodging that is suitable for you. Ranging in number of bedrooms, size, and amenities like spa bathtubs and Jacuzzis you can craft your perfect romantic getaway. The aesthetic wooden interior of these lodges is ideal for amazing romantic mountain cabin getaways. The cozy cabin adds a warm and comfortable feel that adds to the unforgettable vibe of the area.
What To Do and Where To Go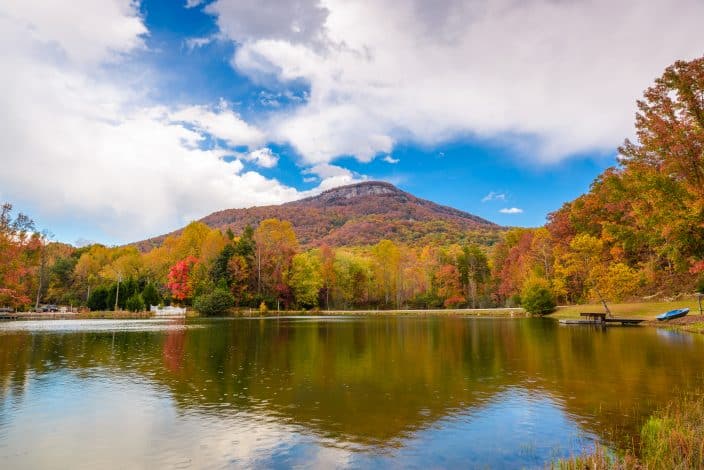 Cloudland Canyon State Park
Mountain travel is all about hiking through beautiful mountains and experiencing nature in its purest form. While you are in North Georgia Mountains, the Cloudland Canyon State Park is your perfect escape into the wilderness. 

Visit The Many Wineries
North Georgia is home to almost 25 wineries that produce lesser known, but great wines. You can visit any one of the wineries to get a taste of those special Georgia grapes. Grab a bottle for your romantic evening away or try a wine tasting!
North Georgia Wildlife Park, Cleveland
Cleveland is known for its arts and unique culture. Apart from the usual attractions the city has a beautiful wildlife park as well. At the North Georgia Wildlife Park, you will get to interact with many Kangaroos, foxes, hedgehogs, and sloths among other adorable creatures. The park also has some great sightseeing opportunities with lush green trees and a naturally flowing river surrounded by mountains. 
Mountain Getaways In Virginia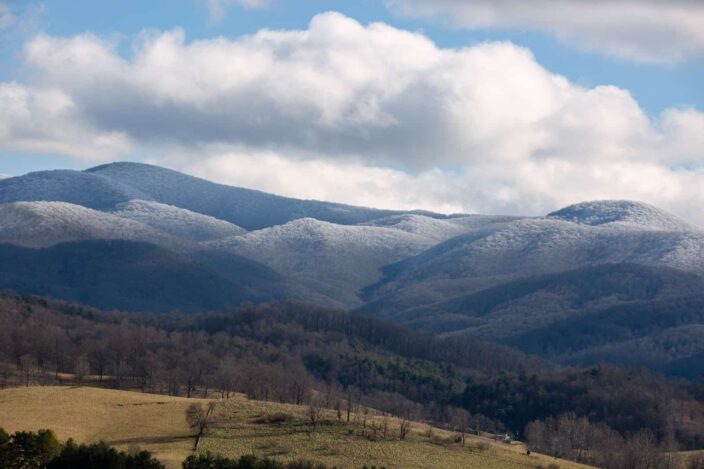 Another great destination for the ultimate mountain retreat or an unforgettable romantic mountain getaway is Virginia Mountains. The Appalachian trail along with the iconic Blue Ridge Mountains continue until North Virginia. 
Where To Stay In Virginia
The Inn at Forest Oaks
The Inn at Forest Oaks is located in the Shenandoah Valley and is a historic, now restored, manor. The majestic feel of the area is perfect for a romantic getaway with your sweetheart. You'll get a superb view of the Blue Ridge Mountains, surrounded by lush green forest. This bed & breakfast is all about having a peaceful and serene experience, ideal for decompressing after a stressful year. While there you will also encounter superb service and delicious fine dining.

Things To Do In The Virginia Mountains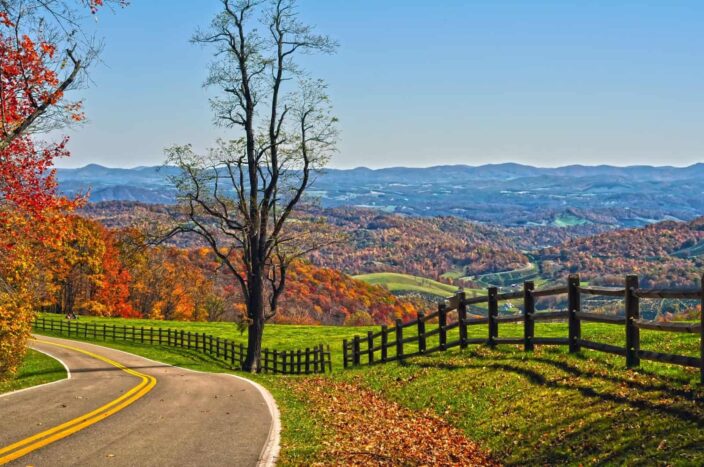 Mabry Mills and the Blue Ridge Parkway
The Blue Ridge Parkways is one of the most popular parkways in the world. It starts in Ashville, North Carolina and extends into the Virginia Mountains through the Blue Ridge mountains.
Mabry Mill is a very popular structure along the parkway that is located in Virginia Mountains. The site is well known for harboring Appalachian crafts. If you love mountain travel this is something you should experience at least once in your lifetime. 
Shenandoah National Park
Shenandoah National Park is considered one of the most beautiful national parks in the world. The park has an enormous area of more than 200,000 acres with breathtaking scenic vistas, waterfalls, and hiking trails. You can also take part in recreational activities like camping during your visit to the park as well.
Mountain Rogers
Among the 8 mountain ranges and 5 peaks, Mount Rogers is the highest mountain in Virginia. 
It stands at 5729 feet and provides you with breathtaking views of the city and the iconic Appalachian mountains. There is also a recreational area where you can embark on a hiking trail, horseback riding, biking, and camping adventures.
With more than 38 state parks and 21 National Parks, Virginia is the perfect destination if you love mountain travel or are just looking for a romantic mountain getaway.
West Virginia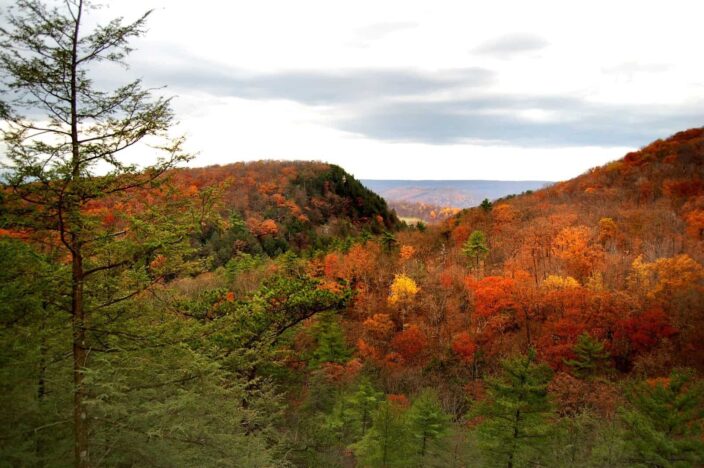 Another great destination for your romantic mountain getaway is West Virginia. Known as the "Mountain State", this is the only state which falls entirely in the Appalachian region. If you love mountain travel, West Virginia should be on your bucket list for summer destinations. 
With breathtaking scenic beauty, West Virginia is home to four provinces in the Appalachian Mountain System. These include The Blue Ridge, The Allegheny Plateau, The Allegheny Mountains, and The Ridge and Valley, leaving you with plenty to see and explore over here in this southern state.
Where To Stay In West Virginia
Adventure on the Gorge Resort
For a divine experience and an unforgettable mountain retreat, try staying at the Adventure on the Gorge. This luxurious mountain resort is located in the New River Gorge Nation park. Overlooking fabulous views of the mountains and the river, this high-end resort has plenty of other facilities as well. 
Try water sports along the river, like white water rafting! The resort regularly holds different types of events and festivals as well. Other amenities include a swimming pool surrounded by gorgeous trees, a bar, and restaurants.
 This post may contain affiliate links which won't change your price but will share some commission. As an Amazon Associate I earn from qualifying purchases.
Where To Go In West Virginia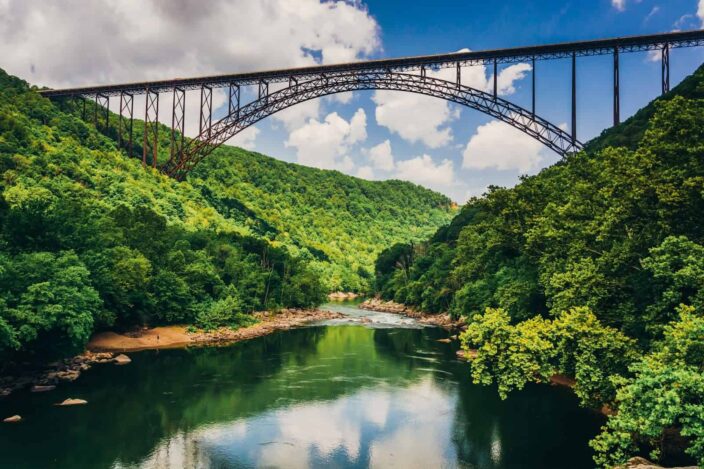 River Gorge National Park & Preserve
Cutting right through the mountainous Appalachian plateaus, River Gorge is one of the oldest rivers in the region. If you love mountain travel this state park will leave you with mesmerizing scenic spectacles that you will remember for a long time. Don't miss out on the New River Gorge Bridge!
While you're there try one of the many recreational activities available. These include everything from kayaking and canoeing to hiking, ziplining, birdwatching, and camping along the Appalachian Plateaus. 

Blackwater Falls State Park
This state park is known around West Virginia for its natural scenic beauty. Located in the Allegheny Mountains the state park covers most of the areas of the Canaan Valley and Blackwater river. 
One of the state park's most famous attractions is the Blackwater falls. This is where the Blackwater enters the Canaan Valley and the contrast of the Blackwater with golden-brown stones is truly one of the most unique scenes in the world.
The Hawks Nest State park
The Hawks Nest State Park is considered the most beautiful state park in West Virginia. From hiking trails to playing golf on the 9-hole course, there is plenty to do. If you are just in it for the views, you can take a ride on the aerial tram which provides breathtaking views of the mountains. 
Mountain Getaways In Tennessee
Another great romantic mountain getaway destination is Eastern Tennessee. The state is home to the eastern segment of the High Appalachian mountains. The mountain range that falls in Tennessee is called the Great Smoky Mountains which continues into North Carolina. 
Where to stay in Eastern Tennessee
Blackberry Farm
Blackberry Farm is located in Walland, Tennessee, and is just 10 minutes away from the foothills of the Great Smoky Mountains National Park. This luxurious mountain resort is another fine accommodation option for its exceptional service, luxurious rooms, and simply a breathtaking view. 
During your romantic mountain getaways here, you will find plenty of activities to pass your time with as well. These include horseback riding, archery, hiking, and much more all offered by the resort. The establishment also houses great restaurants, bars, a swimming pool, and a spa as well. 

What to do and where to go in Eastern Tennessee
Eastern Tennessee is known for its exceptional natural beauty, enchanting mountains, and the best whiskey. While there are a lot of things to do, explore and marvel at during your next mountain getaway trip to Tennessee, these are a few places that should definitely be on your agenda.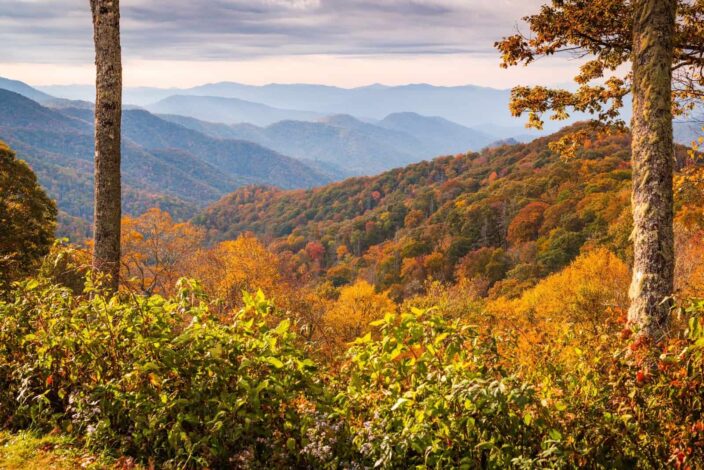 The Great Smoky Mountains National Park
To get the most exquisite views of the mountains, take a seat on the chairlift for a breathtaking aerial view. Or, you can enjoy the view from Clingmans Dome and its 6000+ feet high observation tower. The National Park is also a great place for those who enjoy a challenging hike.
Gatlinburg
Apart from easy access to the Great Smoky Mountains National Park, Gatlinburg has plenty of other sweet spots as well. The Gatlinburg Sky Bridge is a popular tourist attraction and overlooks a lush valley from the height of almost 680-feet. 
Another popular spot in the city is the Anakeesta. It is an adventure hub located in the surrounding lush green mountains of Gatlinburg.
Gatlinburg has plenty of other attractions for you and your family, such as the Ripley Aquarium of the Smokies, which houses some of the most exquisite marine life in the country. Then, checkout downtown Gatlinburg to experience charming city life filled with restaurants and shops.
---
Romantic mountain getaways are the perfect way to reconnect and decompress with your loved one. While there are mountains across the States, the South has lots of options for a romantic mountain getaway, all of which are beautiful and available to be visited any time of year. We hope you consider some of our favorites for your next affordable romantic getaway!
Looking for some other great hiking spots? We've round up some of the best hiking spots in Colorado for you and the family!
Which of these destinations would you most like to visit for your romantic getaway? Let us know in the comments below!
MORE ROMANTIC GETAWAYS
Anniversary Vacations In The South For Couples
Alabama Romantic Getaway For Two
Romantic Vacations In The Southeast
CHECK OUT WHAT'S NEW ON BETSI'S WORLD
Romantic Getaways in the South