When you think of a romantic getaway — Arkansas, what do you imagine? Maybe an intimate spa retreat in the mountains with cozy chalets and stunning views? Or a romantic hotel with a view of the beach and romantic restaurants within walking distance? 
Perhaps a hot springs resort where you can enjoy a quiet evening and watch the sunset? Or to experience charming hospitality, history, and culture right in the heart of Little Rock, its most populous city.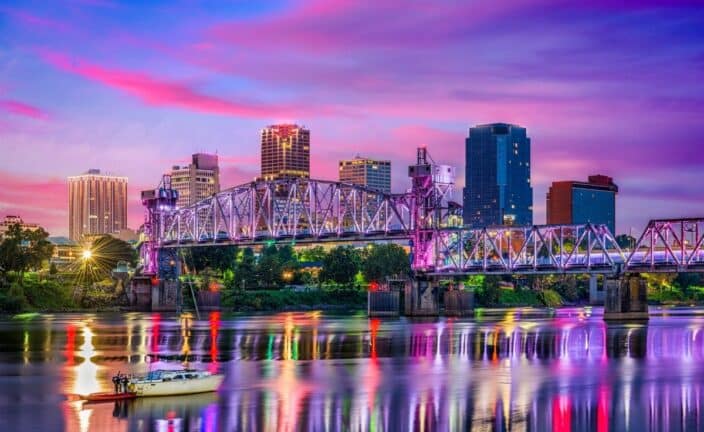 Whatever your idea of romance, a perfect getaway is one of the destinations for Arkansas vacations! After all Arkansas doesn't bear the nickname "the natural state" for nothing! These are some of our top recommendations.
Eureka Springs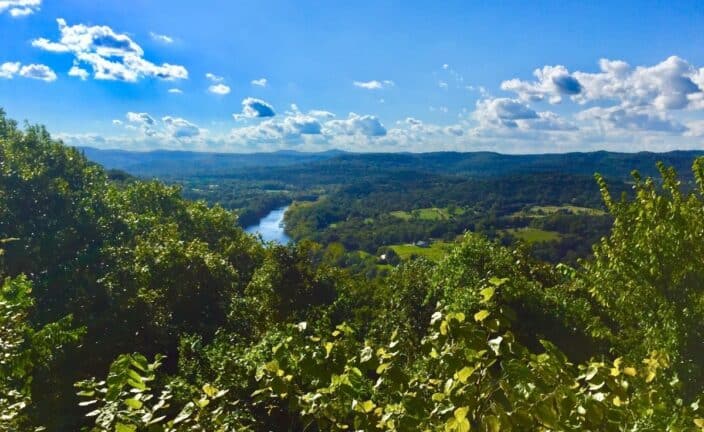 One of the best weekend getaways in Arkansas is downtown Eureka Springs. Eureka Springs is a beautiful small town located in Northwest Arkansas along picturesque Beaver Lake. It features natural hot springs that flow over 45 million gallons of water per day.
If you're visiting Eureka Springs during the warmer months, be sure to check out the trails for biking, hiking, or horseback riding. This allows you to take in the natural wonders of the Ozark Mountains. You'll find over 50 miles of trails throughout Beaver Lake. 
Try Devil's Promenade trail for spectacular views of Beaver Lake and downtown Eureka Springs. 
After taking in the natural beauty outside the Fayetteville Street trailhead, enjoy a picnic lunch in one of the pavilions overlooking the lake before heading back into town.
Eureka Springs also has a vibrant downtown area that features unique shops, cafes, and art galleries.
In addition to being known as a romantic getaway destination that offers natural beauty and outdoor adventure activities, Eureka Springs offers cozy beds & breakfasts for a relaxing stay directly in the heart of the historic downtown district.
Where to Stay
Oak Crest Cottages
Oakcrest Cottages is a beautifully restored Queen Anne Victorian Mansion in Eureka Springs. Full of charm and elegance, it was built in 1897. Oakcrest has been lovingly renovated with modern conveniences to make your stay as comfortable as possible. 
In addition to the six luxury cottages onsite, guests can enjoy a king-size bed, a private cottage garden with a fireplace for relaxing after a long day exploring Eureka Springs, or before heading out for a sumptuous dinner at one of the fine dining restaurants downtown.
Hot Springs National Park
Enjoy one of the most stunning views in Arkansas. This state park is also home to numerous hiking trails and hot springs.
If you visit Hot Springs National Park during the summer months, be sure to take a dip at least once in one of its many natural hot springs! 
These hot springs are not only famous for their healing properties that have been enjoyed by kings and presidents alike. But they are also known as romantic spots where couples can enjoy time together under mystical moonlight.
Hot Springs is the ideal place to unwind. You can enjoy strolling through Bathhouse Row and soaking in a natural spring hot tub in a historic bath house.
As with most national parks in Arkansas, Hot Springs National Park is an excellent spot for fishing! Grab a rod and catch some bass, bream, or catfish while enjoying the view.
There are several local restaurants in Little Rock where you can start your day with a gourmet breakfast and end it with a nice romantic dinner for two.
At night, you can enjoy strolling through Bathhouse Row or soak in a hot tub in one of many natural hot springs located throughout the historic bath houses that line Bath House Row.
The Arlington Hotel
When you think of romantic getaways in Arkansas, chances are the first thing that comes to mind is being pampered in a luxury spa. If this sounds like your ideal getaway, check out The Arlington Hotel, located in Hot Springs !
The Arlington Hotel has been serving guests with elegant accommodations and impeccable service for years. Choose from one of their 5 rooms or suites with amenities like a spa, incredible dining options, as well as their award-winning lobby bar.
Hotel Hale
The Hale Bath House, also known as the Hotel Hale, is Bath House Row's oldest building, built in 1892. Its mid-century modern design has recently been converted into a historic boutique hotel. Reap the benefits of the hot spring mineral water and relax in the large soaking tub. This hotel is ideal for sightseers to explore lovely Downtown Hot Springs and the Hot Springs National Park.
Western Arkansas' Mountain Frontier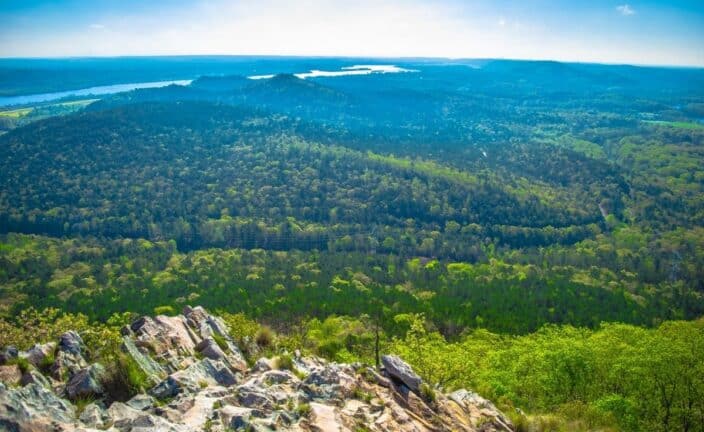 If you want to get away from the hustle and bustle of city life, then this is the place for you! Western Arkansas' Mountain Frontier is one of the most underrated spots in Arkansas.
There are many family-friendly activities throughout the area. Tour an 18th-century log cabin or go on a scenic hike. Spend your day browsing local boutique shops or taking a steam locomotive train ride.
Like Eureka Springs, there are many opportunities to soak in a hot tub of natural springs located throughout Arkansas, perfect for relaxation after a long day hiking trails through Mount Magazine State Park, which features some of the highest peaks in Arkansas.
The Bridgeford House
Although there are several romantic hotels to stay in, The Bridgeford House offers a old Victorian and cozy feel. The Bridgeford House offers a quiet retreat for couples. Choose from a continental breakfast or a gourmet chef's choice breakfast to start off your day.
Buffalo National River & Kings River National Park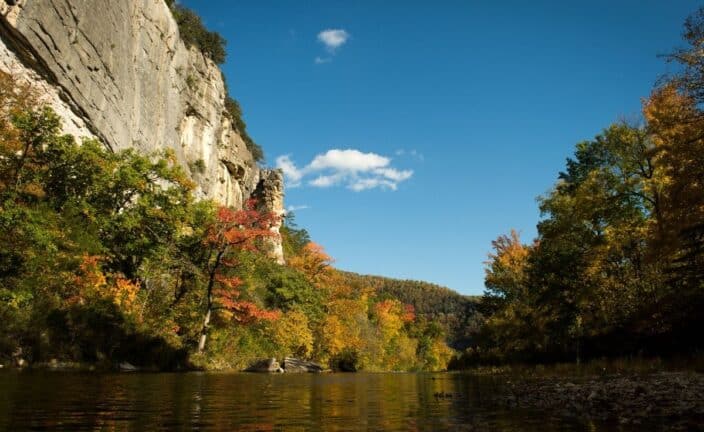 The Buffalo & Kings Rivers are two of the most well-known rivers. They offer miles upon miles of scenic views, cascading waterfalls, and wildlife.
You can go for a day trip or stay overnight at one of the local resorts along the river's edge. Take an adventure in a canoe or kayak to see these waterways up close! You can take a ride on an authentic riverboat!
Buffalo River Outfitters B&B
If you're looking for a cozy, rustic getaway, then this is the place to stay! Buffalo River Outfitters B&B offers a mountain retreat in a historic log cabin with a breathtaking view of the mountains.
You can wake up to a fantastic view of the Buffalo River or go to bed at night with the stars twinkling above you.
Mountain Ecstasy Cabin
The Mountain Ecstasy Cabin is a romantic hideaway with panoramic views of the Ponca valley and the peaks beyond. Whether you're celebrating an anniversary or relaxing in a bedside bathtub, the Mountain Ecstasy cabin is ideal. Leave your modern life behind and enjoy a rainfall showerhead in the slate-stone shower.
The Ozark Mountains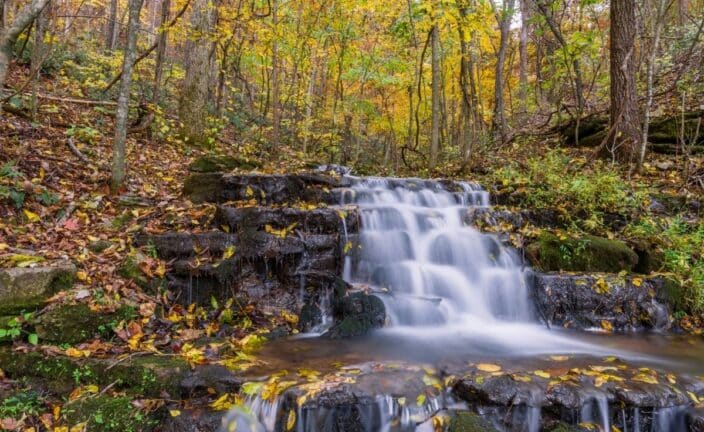 Another popular romantic escape is The Ozark Mountains Region of Arkansas. Featuring a series of limestone bluffs and cliffs overlooking pristine lakes, The Ozark Mountains are an excellent spot to get away from the hustle and bustle of urban life. 
See the Ozark National Forest and enjoy a variety of outdoor recreation opportunities from canoeing to mountain biking and hiking.
Kings River Deck House
If outdoor adventure is what you're looking for, then take advantage of the many options to choose from at Kings River Deck House. You and your partner can go on a hike or explore caves and rock formations along the river's edge. 
Hike along the trails and enjoy the panoramic views of the Ozark Mountains! Or you can go fishing in one of the four man-made lakes located on the property.
The Ouachita Mountains and Lake Ouachita
One more entry to excellent romantic getaways is the Ouachita National Forest. The Ouachita Mountains are known for their rugged beauty and untamed wilderness that attract visitors from all around the country! 
If you visit in the winter, you can even see a working cattle ranch where you can enjoy watching cowboys rounding up cattle on horseback.
This region also features several opportunities for white-water rafting and kayaking among spectacular mountain views. Go mountain biking or explore one of America's longest caves, Blanchard Springs Caverns, which spans over 5 miles of caverns filled with crystal formations.
The Lake Ouachita area can be considered Arkansas' version of Hawaii, with lush greenery surrounding its clear blue waters. If you're looking for a tropical paradise at home, this is it!
Lake Ouachita features several marinas and large ships that offer boat tours to view the region's natural beauty, including historical artifacts. You can also take a relaxing ride on the Hot Springs Boat Dock Trolley. The ride takes you to see beautifully-decorated Victorian homes built in this region during the 1800s.
Lake Hamilton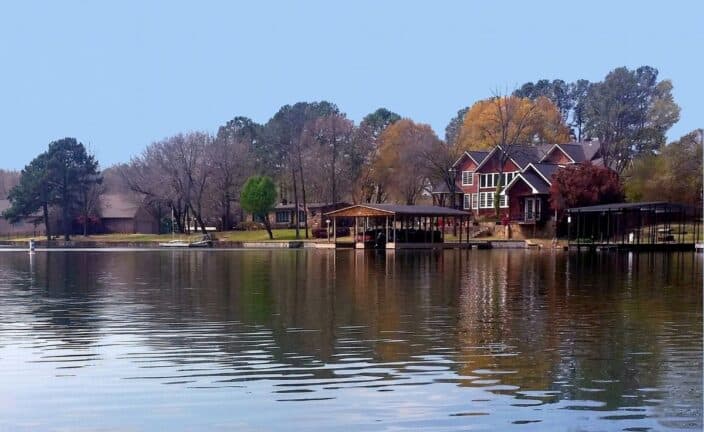 While you can't go wrong with any of the beautiful lakeside views throughout Arkansas, Lake Hamilton is one of the most popular destinations for an idyllic romantic getaway! The lake's scenic shores offer plenty of opportunities to enjoy various outdoor activities, including water sports, hiking trails, as well as canoeing.
Camping is also a popular activity at Lake Hamilton as many sites feature shaded areas perfect for pitching a tent. This area also offers excellent fishing on both public and private docks. In addition to freshwater options, you'll find several marinas that offer rentals as well as guided tours through some local favorite fishing spots!
Lookout Point Lakeside Inn
Lookout Point Lakeside Inn is located in the heart of this stunning region and features cozy, waterfront rooms overlooking Lake Hamilton. The rooms at this lovely Inn are stunning and expertly designed, each with their own unique style. Sit out on the private porch or balcony and relax on the rocking chairs and take in the gorgeous views.
For breakfast, indulge in their homemade options like lemon ricotta pancakes and Greek frittatas! The newest addition to Lookout Point Lakeside Inn is a lovely firepit where you can roast smores and drink cocktails for a great end to your romantic evening.
The Gables Inn Bed & Breakfast
Another great location for romantic getaways on Lake Hamilton is The Gables Inn Bed & Breakfast.
Choose from one of four Victorian style suites, all packed with modern amenities. Look out for those suites with a heart-shaped whirlpool style tub- its the perfect addition to your romantic getaway.
Add on special touches to your romantic stay with champagne flutes, spa packages, roses, and chocolate covered strawberries!
Want to explore the surrounding area during your trip? The Gables Inn & Suites is located close to local attractions such as the Oaklawn Racing and Gaming center, the Hot Springs, and the Clinton Residential Library!
Crater Of Diamonds State Park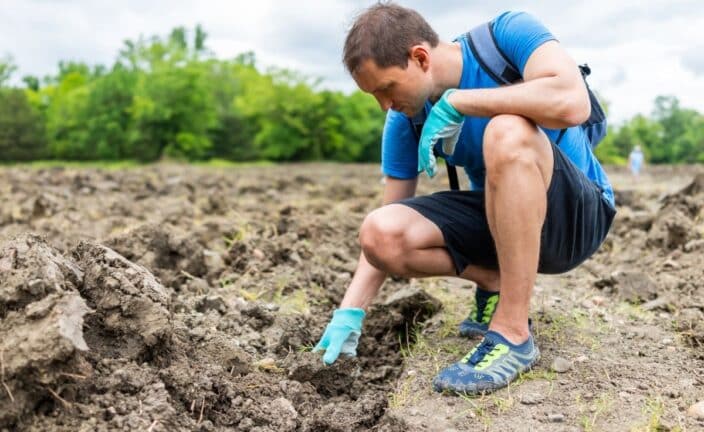 If you and your partner desire exploring nature and hunting for diamonds and other gems, look no further than Little Rock, Arkansas' Crater Of Diamonds State Park! This park was formed after a volcanic eruption millions of years ago, revealing the sparkling treasures hidden inside. 
You can make memories together while searching for hidden gems like tiny diamonds or even large rough stones that you could turn into custom jewelry pieces.
This region features several opportunities for white-water rafting and kayaking among spectacular mountain views.
Diamond Oaks Inn
Diamond Oaks Inn is a quaint bed and breakfast perfect for a quiet retreat. It offers several rooms to choose from, including one with its private balcony overlooking the forest!
This resort offers many amenities, including an outdoor pool and hot tub, plus plenty of opportunities to get close and enjoy nature. The beautiful trails offer silence and serenity while reminding you of God's creation.
Special activities at this resort include a variety of biking and hiking trails, a Zipline tour through the forest, horse riding opportunities, fishing in stocked ponds, and much more!
Garvan Woodland Gardens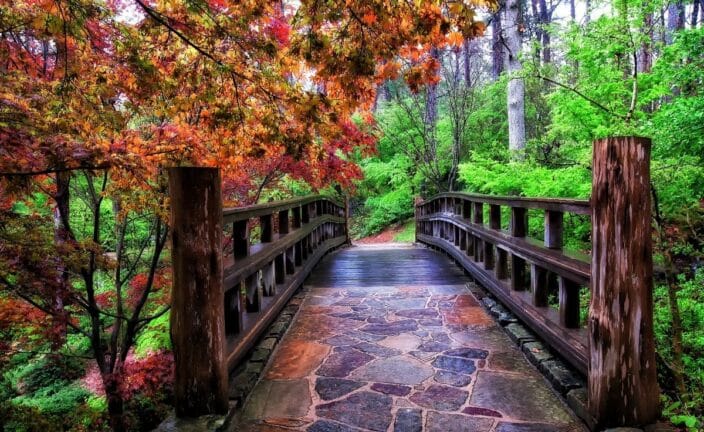 The Garvan Woodland Gardens is a popular destination for Little Rock romantic weekend getaways. These gardens feature over seven miles of trails to explore while admiring the landscape and scenery of this natural area. 
You can relax together watching the butterflies flutter by, listening to birds chirping in nearby trees, or spotting some native wildlife up close!
Hilltop Manor Bed and Breakfast
Hilltop Manor Bed and Breakfast is historic luxury bed and breakfast located in the heart of Little Rock. It has been awarded "Top 10 B&Bs" by bedandbreakfast.com for 3 years!
Choose from one of 5 rooms, each styled with wooden accents, gorgeous stone, leather chairs, and drapes. If you're celebrating something special, Hilltop Manor Bed and Breakfast has plenty of great Travelers visiting Hilltop Manor Bed and Breakfast agree that the inn is cozy and romantic!
Other Accommodations For Your Romantic Getaway Arkansas
Check out these other awesome accommodations for your one perfect romantic getaway — Arkansas or recurring vacations in this destination.
Capital Hotel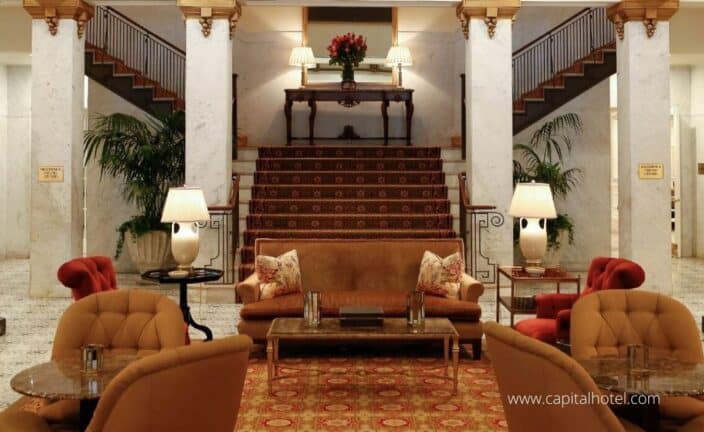 The Capital Hotel is the place to be for top notch amenities and a truly wonderful getaway.
Located on Markham Street, Capital Hotel is just a short carriage ride away from The River Market, where you can enjoy the shopping district of Little Rock.
Don't forget to visit One Eleven at Capital Hotel! Its a fine dining restaurant with an elegant ambiance and an exquisite menu. Start with a gourmet breakfast here, and you are sure to have a wonderful experience during your romantic getaway!
Wildflower Bed and Breakfast
This bed and breakfast is located next to the Arkansas River. Wildflower Bed and Breakfast features a variety of lodging options, including historic cottages perfect for romantic getaways with your significant other. This option also includes a great view of the river. One guest noted it's "romantic as can be!"
Located just minutes from downtown Little Rock, Wildflower Bed and Breakfast in Mountain View (known as the world's folk music capital) is a beautiful place for a romantic escape any time of year!
Hilton Garden Inn — Downtown Little Rock
 This post may contain affiliate links which won't change your price but will share some commission. As an Amazon Associate I earn from qualifying purchases.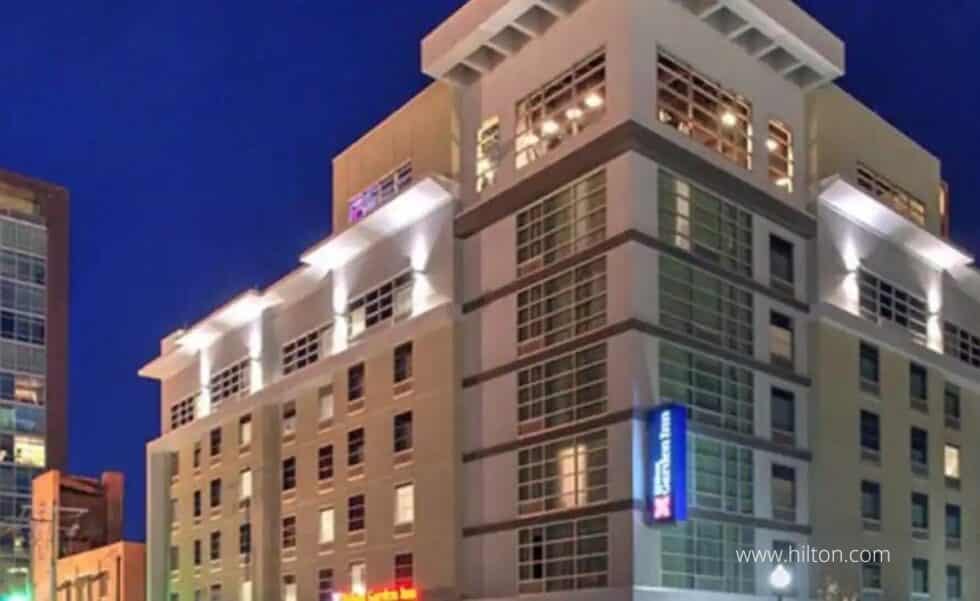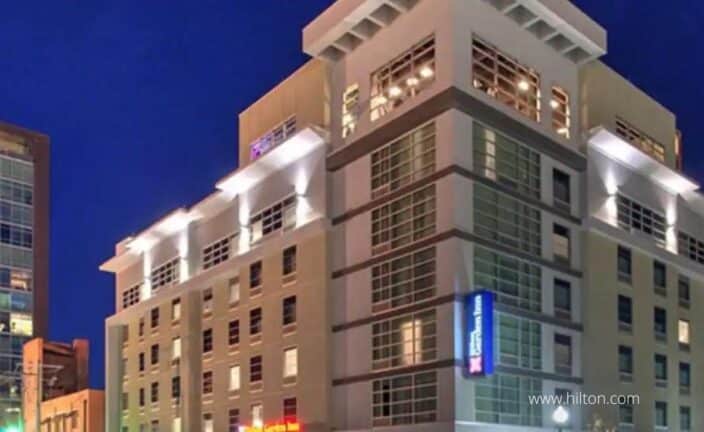 The Hilton Garden Inn is a great hotel to stay in if you're planning a romantic escape to Little Rock with your significant other. This all-suite hotel features kitchenettes for couples who want to dine in and enjoy private moments together. 
The on site restaurant also offers delicious plates of American fusion cuisine perfect for an evening meal before heading out for a night together.
1886 Crescent Hotel & Spa
Known as America's most haunted hotel, 1886 Crescent Hotel & Spa, is a must visit for history buffs. Take one of their nightly ghost tours to learn all about the hotel's checkered past.
New Moon Spa, its onsite spa, offers a variety of services and treatments that will leave you refreshed and rejuvenated after your romantic getaway! Spend time in one of their "relaxation spaces" or build your own spa package complete with massages, facials, and body treatments.
Palace Hotel and Bath House
Palace Hotel and Bath House is a historic, romantic destination that offers visitors the opportunity to experience life in Eureka Springs during its early days. Upon entering, you will feel like royalty with the hotel's attention to detail in its luxurious styling.
The Palace Hotel also features spas called bathhouses, including mineral baths, aromatherapy baths, and massage services for your enjoyment.
The Burgundy Hotel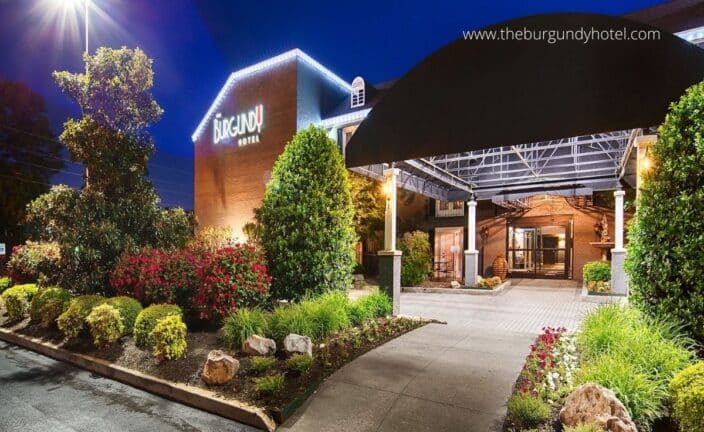 Located in the heart of Little Rock's entertainment district, The Burgundy Hotel is one of the finest boutique hotels in the area. This luxurious hotel is perfect for travelers seeking convenience and luxury, including in room chandeliers, fireplaces, or whirlpool tubs!
Just a short ride from the River Market Center, you can shop and dine with ease and then head back to your suite for some relaxation.
Arsenic and Old Lace Bed & Breakfast
The Arsenic and Old Lace Bed & Breakfast is a lovely setting for a romantic retreat at any time of year. Plus, its only a few minutes from downtown Little Rock.
Arsenic and Old Lace Bed and Breakfast has five rooms with vintage furnishings to help you escape into its historical charm. For an unique escape, try their tree-top suite which puts you right into the beautiful Ozark tree-tops!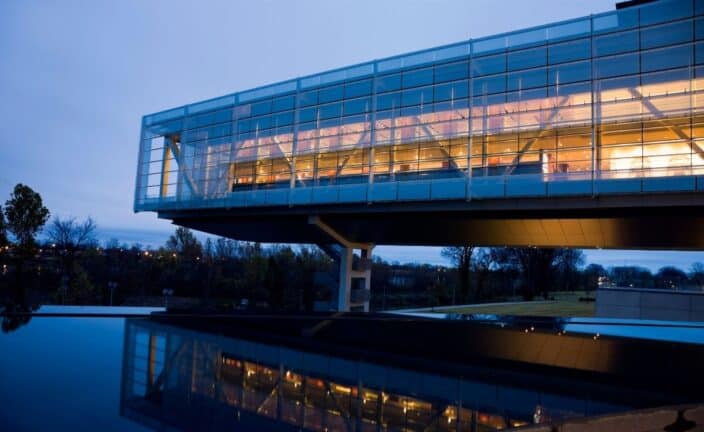 There are plenty of romantic weekend getaways in Arkansas for couples to enjoy throughout the year. Whether you're into hiking through mountains,  visiting the Clinton Presidential Library and historic places, or relaxing on a beach at one of the many marinas in this state, there's something for everyone during every season of the year!
There are so many different things to do for romantic weekend getaways in Arkansas! They're sure to rekindle the romance and remind you just why you fell in love in the first place. Arkansas truly is where memories are made!
CHECK OUT WHAT'S NEW ON BETSI'S WORLD
Have you ever been to Arkansas? Where would you like to visit first? Let us know in the comment below!
Romantic Getaways in the South