Kissimmee is the gateway to theme park fun and adventure with its close proximity to Disney World, Legoland, SeaWorld, and Universal Studios less than two hours drive away. But Kissimmee has another facet as well. Bok Tower Gardens, high flying balloon fun, a drive-through safari experience, golf, airboat rides, ATVs,  and more are part of Kissimmee's fun side.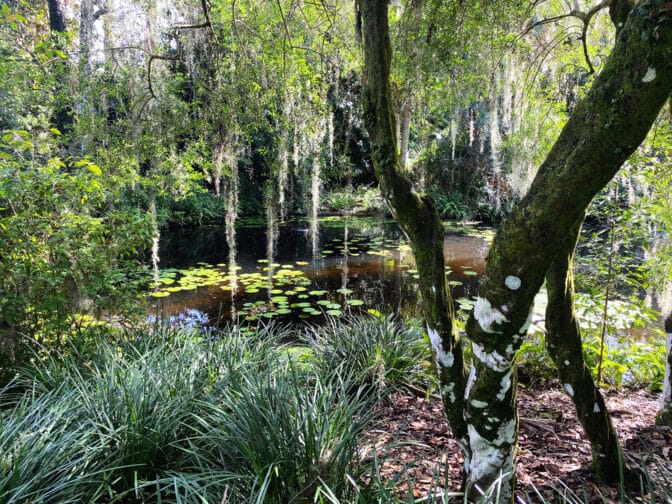 In Kissimmee you can choose a resort for a pampered experience, or a vacation home for the entire family to hang out and experience all that Florida's gateway to fun offers.
What To Do In & Around Kissimmee
Theme Parks
You can't go to Kissimmee and miss out on the magic of Disney World, especially if you have kids! There are 4 main parks to visit: Animal Kingdom, Magic Kingdom, Hollywood Studios, and Epcot. For food from around the world, don't miss out on Epcot, it's the ideal spot for foodies!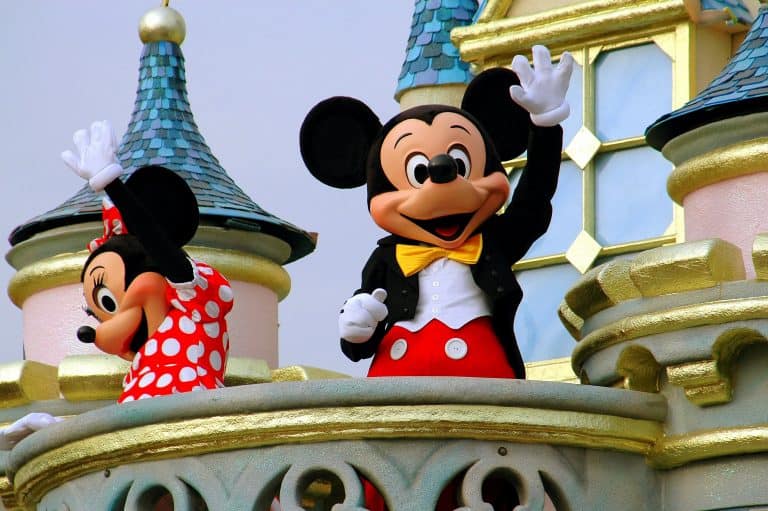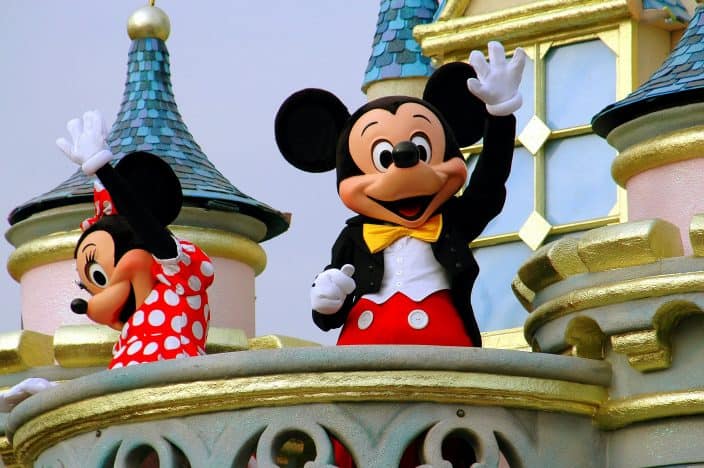 Are you an animal lover? Then Animal Kingdom is for you! Take a safari and see wild animals roam around you. Magic Kingdom is the park with the iconic Cinderella Castle. Fun for adults and kids, you can spend hours riding rides, watching parades, eating delicious bites. Hollywood Studios will take on an adventure through your favorite movies, like Star Wars!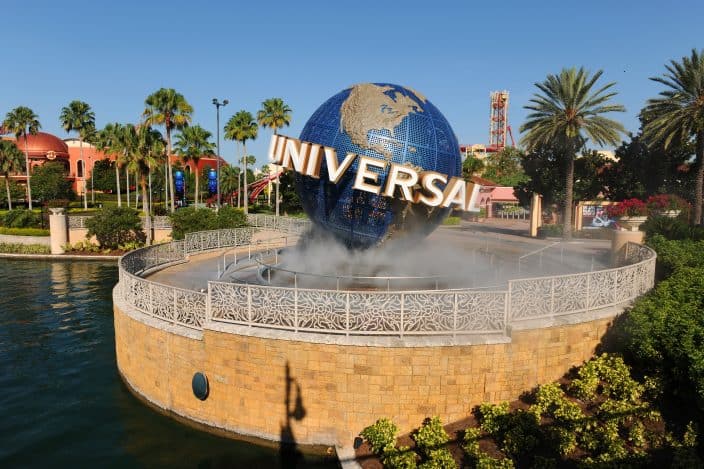 A trip to Universal Studios is always a fun time. The park is geared a bit more towards adults and has some wonderful restaurants and bars to check out. You can spend hours just exploring CityWalk, Universal's hub for amazing food, shopping, and entertainment!
This interactive park brings Legos to life and makes every childhood dream come true. Kids can choose between 50 thrilling rides, interactive shows, and a water park. Stay tuned for fun seasonal events, updated on their website.
If you are a fan of marine life, this the place to be! Explore exhibits full of exotic sea life and enjoy shows with your underwater friends. You can even ride roller coasters inspired by sea creatures.
Shop, dine, and play at Disney Springs with countless shops, restaurants, attractions and shows! If you are a foodie, you will absolutely love the incredible restaurant selection at Disney Springs.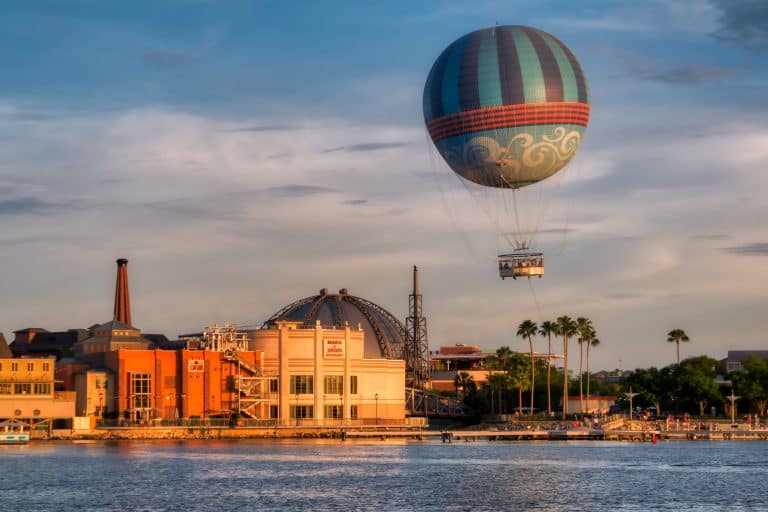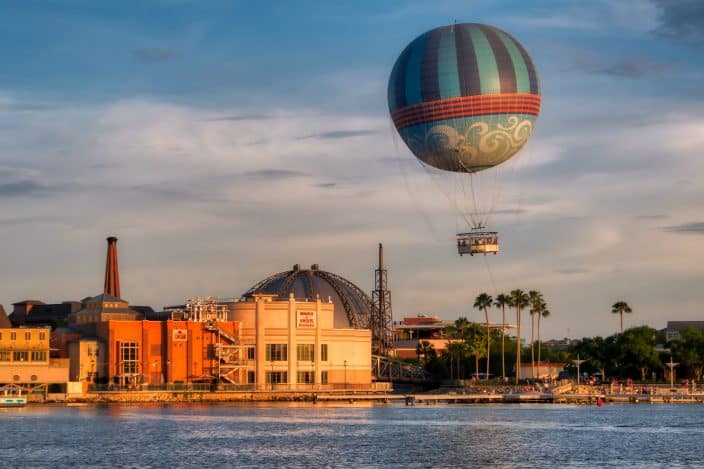 Don't forget to take flight in the Aerophile hot air balloon, you can see for up to 10 miles above the gorgeous Disney Springs.
Lakefront Park
Lakefront Park is the perfect place to relax. It is located right on a beautiful lake. There are plenty of pavilions, spaces to walk and have a picnic in the sunshine. It is also a great place to spot some wildlife like turtles, heron and alligators. There is even a cute little lighthouse, perfect for taking photos!
The Pioneer Village at Shingle Creek is designed to immerse guests in daily life of the early Florida pioneer settlers. The structures of Pioneer Village are authentic and have been gently preserved over the years. The village includes a general store with post office, a schoolhouse, church, train depot, settler cabins, blacksmith shop, citrus packing plant, barn, and a Seminole settlement. Pioneer Village is a great stop for a quarter day trip.
Whether you are 5 or 50 you will fall in love with Wild Florida! Wild Florida is the spot you can spend a half day or an entire day – there is just that much to do! They offer airboat rides, a gator park, and a drive through safari.
Airboat Tour
Though we've taken many airboat rides and tours throughout Florida, we were mesmerized by the raw natural beauty of the headwaters of the Everglades. We saw alligator of all sizes, birds, as well as bald eagles on our tour.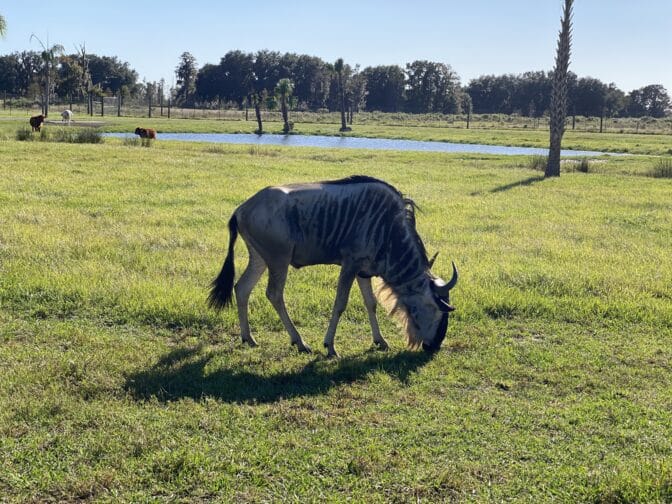 This was by far one of the best things we've done! The animals were able to roam freely through the safari park.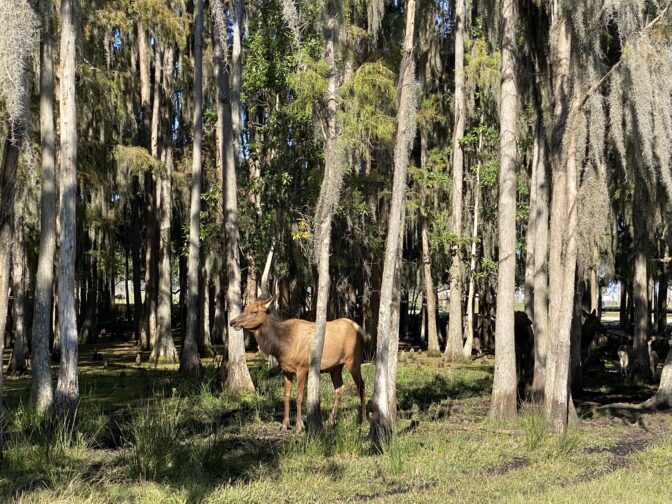 We saw such a plethora of animals from across the globe…it felt like we had been transported to the wilds of places like Africa!
Alligator Park
If you've never seen an alligator up-close, now is your chance! Get to know the animals up close and personal (safely), take photos with them, as well as learn more about exotic species like lemurs, sloths, and bobcats. Its a fun experience for the whole family that promotes wildlife education and conservation.
I was unable to participate in this adventure due to my injuries, but Jim had an absolute blast! This elevated "off road mudding" experience is definitely one he will want to repeat! Zooming down trails and through muddy water filled ruts is definitely an adrenaline pumping rush! Revolution Adventures is a must-experience for a thrill ride!
Peace personified is what you'll find at Bok Tower Gardens! For those who have a green thumb, which I do not, you'll be fascinated by the collection of native flora and fauna that the gardens encompass.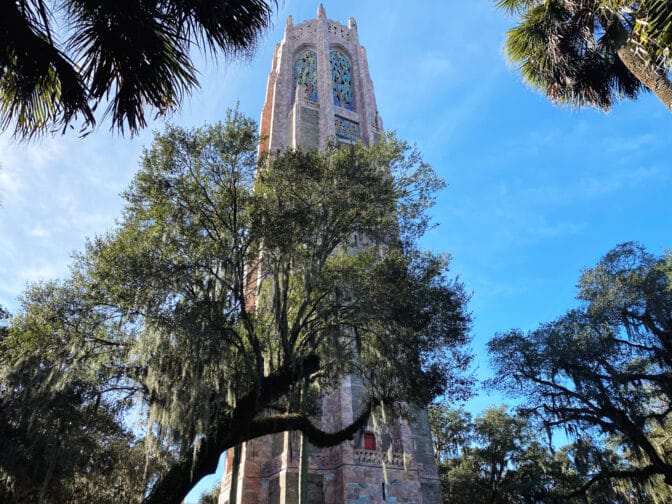 Bok Tower Gardens was the brainchild of Edward W. Bok, publisher, Pulitzer Prize – winning author, and humanitarian. He would winter in Florida near Lake Wales, and fell in love with the area that is now Bok Tower Gardens.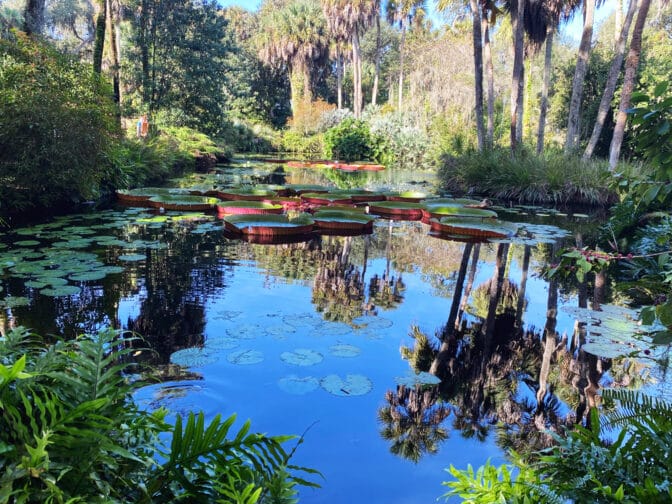 His vision was to create a bird sanctuary and lush gardens with the centerpiece being a 60-bell carillon tower. He wanted this pastoral setting to "touch the soul with beauty and quiet." Mr. Bok, however, did not want to keep this slice of quiet paradise to himself. He wanted to share it with others. So on February 1, 1929 Edward Bok opened the gardens to the public as a gift to the people of America.
Where to Eat Around Kissimmee
If you love Spanish/Cuban cuisine Columbia Restaurant is for you. Decorated in an "old-world" style you'll love the ambience and impeccable service of this famous restaurant.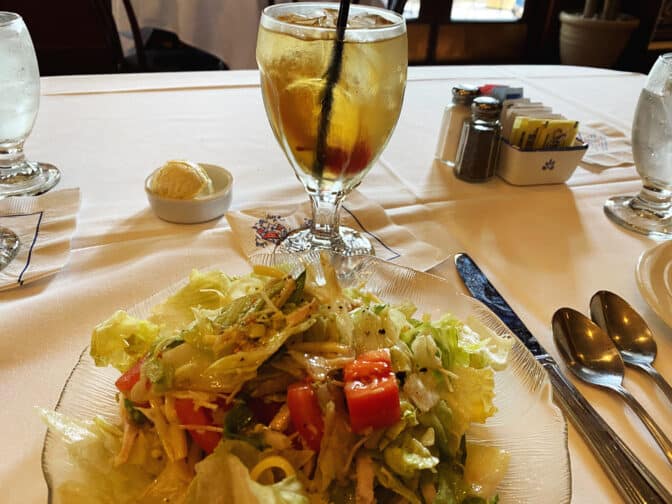 Don't forget to try their amazing 1905 salad- the servers make it tableside!
For delicious bites and excellent wine, don't forget to stop by the Island Grove Wine Company. What's special about this winery is that they specialize in fruit wines, especially blueberry! Their family has been growing Florida blueberries for over 30 years and they've used this fruit as the hero in their business. Other fruit wines available include mango, apple, peach, blackberry and many more. It is a taste you won't want to miss out on!
Their gorgeous garden is the perfect place to indulge in their brunch specials. Pair their house benedict with a refreshing glass of sangria or a bottle of one of their Florida Fruit wines! Plus, they even welcome furry friends! No need to leave your pup at home, they can enjoy the sun and company right alongside you.
Where To Stay In Kissimmee
If you want a customized experience during your vacation, you must rent with VHC Hospitality. They have vacation rentals to match any kind of trip. Vacationing with family, by the beach, or a near a theme park? They have something for every occasion. Simply choose your destination and a large selection of gorgeous homes awaits you!
 This post may contain affiliate links which won't change your price but will share some commission. As an Amazon Associate I earn from qualifying purchases.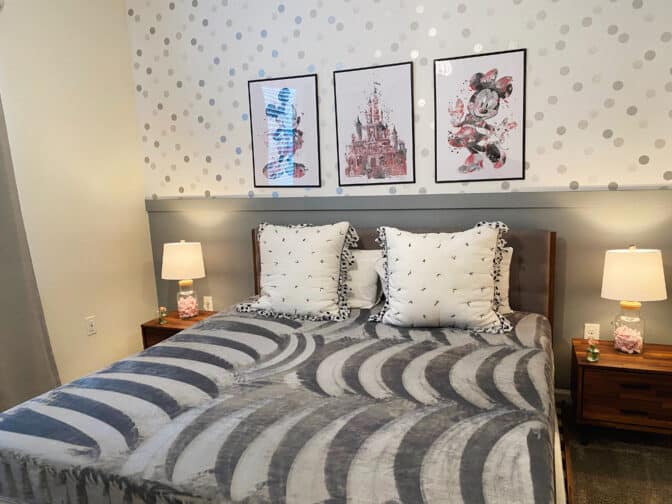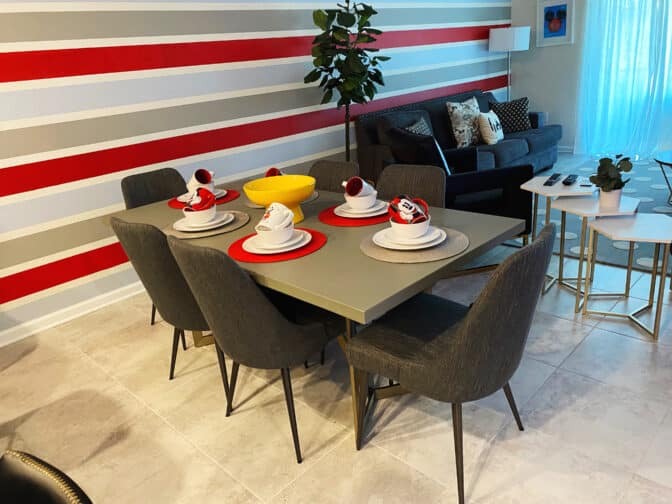 We stayed in a lovely Disney themed home. Everything was beautifully styled and clean. It gave so much personality and whimsy to the trip! Homes like these are perfect for a theme park getaway with the kids.
This gorgeous resort is ideal for everyone- couples and families, alike. It has a wide range of restaurants, pools, and other amenities that let you relax in luxury. The staff treats you like family, ensuring that all of your needs are met and you start and end your day with a smile.
Play a round of golf on one of their two championship golf courses, then get pampered at the spa, or float down the lazy river. There is something for everyone at the Omni Resort.
The Gaylord Palms is a true experience. An incredible resort, it has everything you could possibly need for an incredible vacation. Explore the resort and find a water park and multiple resort pools where you can rent a cabana for private lounging, 9 restaurants and sports bars for delicious bites, an award winning spa to be pampered in, and so much more.
The rooms and suites are spacious and clean, ensuring you have a restful stay every night. While you aren't out exploring Kissimmee, you can tour the expansive resort and learn about the towns they highlight in their resort!
---
There are endless possibilities when it comes to a trip to Kissimmee, but these are our top reasons why you should plan your next vacation there. With close proximity to the hottest attractions and plenty of beautiful places to stay and eat, there's no reason why you won't love a trip to this lovely Florida town.
Our stay and visit was hosted by Experience Kissimmee, all opinions remain our own.
Looking for some other Florida vacation towns? Take a peek at our recommendations for Top Romantic Getaway In Florida for you and your sweetheart!
CHECK OUT WHAT'S NEW ON BETSI'S WORLD
Have you ever been to Kissimmee? What was your favorite part ? Let us know in the comments below!
More Florida Travel Ideas You May Like