Living in Central Florida puts us so much closer to one of our favorite getaway destinations – St. Augustine. Just over an hour's drive from DeLand, St. Augustine is America's oldest city and is filled with great restaurants, attractions, food tours, history, and top-notch hotels.
This post contains affiliate links. When you make a purchase through these links, Betsi's World receives a small commission at no additional cost to you. As an Amazon Associate, I earn from qualifying purchases.
All of these things make it one of our top getaway destinations. During a recent getaway with a gal pal, we stayed at the Collector Inn & Gardens, and were treated to a level of relaxation and casual luxury that was amazing!
When To Visit St. Augustine
St. Augustine is a timeless city, so it truly is an all-season city. But that said, there are better times of the year to visit than others. We love to visit in the Spring, Fall, and Winter.
Spring tends to be a bit chilly, but still nice for exploring. Fall means kids are back in school, which makes a weekday getaway less crowded. Winter ushers in the Christmas spirit, and there is something magical about seeing the ancient city lit up with millions of tiny white twinkling lights.
No matter which season you choose to visit St Augustine and the Collector Inn & Gardens you will fall in love with America's oldest city!
The Collector Inn & Gardens Offers Relaxed and Casual Luxury
The Collector Inn & Gardens occupies a city block between Bridge Street, Cordova Street, St. George Street, and Palm Row. The Collector offers an immersive stay in a slice of St Augustine's history. The property is a collection of buildings dating back to the 18th century. This boutique hotel is a St Augustine luxury hotel.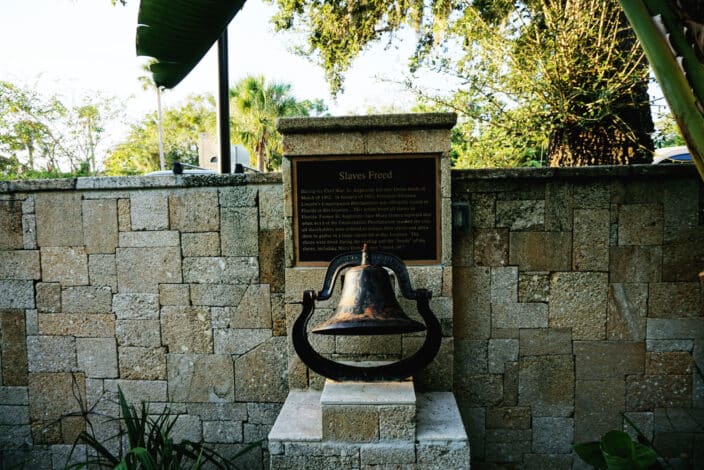 Hidden in the side of the property, behind the glistening waters of the pool, you'll find a bell that commemorates the reading of the 1863 Emancipation Proclamation that freed Florida's slaves. The city block property served as a 16th-century cemetery and hospital, and an 18th-century defense line for the Spanish.
History of The Collector Inn & Gardens
The Murat House, constructed in 1790 is the oldest home on the Collector's property. Kenneth Worchester Dow had an affinity for collecting art and antiques. After spending winters in St Augustine with his grandmother and aunt in the 1930s, he relocated to St Augustine in 1939.
That same year, Dow purchased the 1790 Prince Murat House, which was located on the corner of St. George and Bridge Streets. Over the next ten years, he purchased eight more historic homes, all within the same city block – St. George Street, Bridge Street,  Palm Row, and Cordova Street. 
After his 1956 marriage to Mary Mohan, the couple collected an impressive array of art and antiquities over three decades. The Dows displayed their collection in the Dow Museum of historic houses, located on what is now the Collector Inn & Gardens. The end result of transforming the nine houses into the Collector Inn & Gardens is stunning!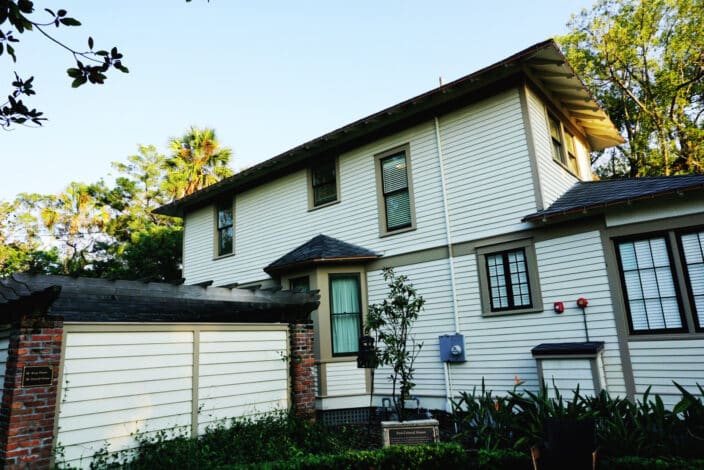 Having personally stayed in one of the rooms of the 1790 Murat House, I can say that the Collector has exceeded the standards of refined, yet relaxed luxury. Opening in June, 2017, the Collector has risen quickly as one of St. Augustine's premier and most sought-after inns.
Catering to an adults-only clientele, the Collector is a unique property in its ability to preserve the history of the property, the buildings, and the vibe of America's Oldest City. The Inn incorporates the amenities and luxury that modern travelers have come to expect – fabulous property, top-notch amenities, relaxed yet upscale luxury accommodations, as well as a bar for a cool drink after exploring the Ancient City.
Luxurious Comfort In St. Augustine
One aspect of the Collector that I fell in love with was the comfortable bed and the luxurious bed linens. The bed was a dream – as soon as I crawled under the crisp cool sheets, I was ready for a restful sleep.
The linens are a high thread count, crisp, and cool. The bed covering was a nice weight, perfect for snuggling under when the evening was quite chilly. The bath linens were thick and thirsty, and they were slightly oversized, perfect for wrapping yourself in after a hot, relaxing, steamy shower.
My room had an open sitting room and kitchenette, separate bedroom and bath. The furnishings were contemporary and comfortable. There was also a Nespresso coffee maker in each room, which was a welcome addition, as I love to begin my day with a nice cup of coffee.
The property is full of lush local plants and flowers. Scattered throughout the property are conversational areas, as well as, some firepits.
The firepits are perfect for the cool late afternoons and evenings that November, December, and January bring. You may even meet a new friend or two! The walkways are brick, and some are quite uneven, so watch your step!
The Well Bar at the Collector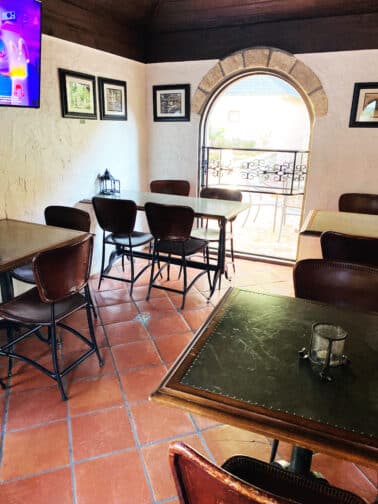 The Well at the Collector is by far one of my favorite places to imbibe. John Radtke, the bar manager is amazing! I am very particular when it comes to cocktails – I am not a fan of sugary sweet cocktails – though I love citrusy cocktails. John is a true mixologist. I gave him the profile of what I prefer to drink, and then he crafted several amazing drinks for me.
The Well Bar is located in the side center of the property, near the pool. The vibe is very casual and laid back, and there are scattered tables inside, as well as an outdoor area. It's the perfect location to unwind after a day of exploring St Augustine!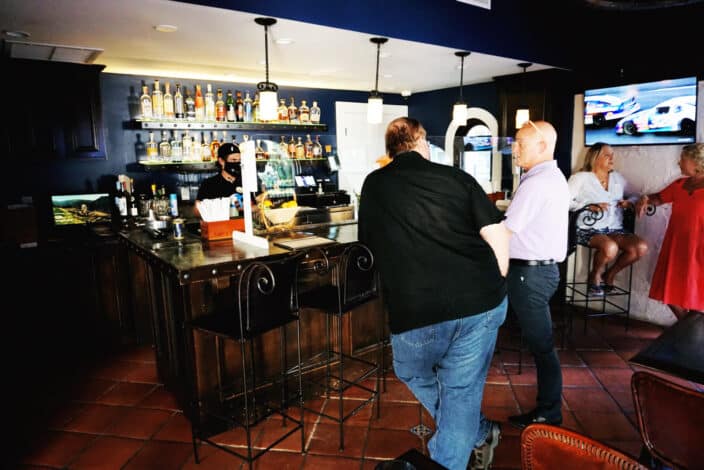 The Well also offers mixology classes, so you'll have an opportunity if you choose, to learn from one of the best mixologists we've encountered! Don't miss this chance to up your mixology skills.
FAQs About The Collector Inn & Gardens
Check-in at 3 PM and check-out 11 AM.
Reservations must be canceled 72 hours prior to arrival to avoid a penalty of one-night room and tax. All reservations must be guaranteed either by valid credit card or by prepayment of a deposit. A deposit equal to one night's stay will be charged at the time of reservation.
The property is adults-only.
Daily European Continental Breakfast is served in the breakfast area of the "General Store" building. The items include fresh baked goods, cheeses, hard-boiled eggs, fresh fruits, cereals, custom roasted coffee, juices, as well as seasonal specialties.
There is no restaurant on site. However, there is a local service that will deliver from area restaurants to your guest room.
All artifacts, statues, as well as, historic markers are authentic. Some artwork is original to the Dow Property.
The Well is the bar on the property, and it opens early afternoon. We have a mixologist crafting custom cocktails alongside a menu of light bites
There are 30 individually appointed guest rooms located in the 9 historic buildings on the property.
The Inn is centrally located to all of downtown – you can walk to the center of downtown in less than 5 minutes.
The Collector is dog-friendly (we can't wait to come back with Zach!). Two dogs are welcome per room, with a maximum weight of 35 pounds for $75 per dog, per stay. A $250 refundable deposit is required. Make reservations through the concierge, 904-209-5800.
The property is smoke-free. However, there are designated smoking areas at the fire pits.
The $35/night resort fee includes: valet parking, property history tours (offered 3x/week), outdoor movies (weather permitting), daily European continental breakfast, wifi, heated pool access, bicycles, lawn games, afternoon snacks, still and sparkling water (available in the Lobby)
What to do in St. Augustine
Whether you lean towards history, outdoor adventure, or culinary fun, there is something for everyone in St. Augustine!
Explore the Castillo de San Marcos, one of St. Augustine's most beloved landmarks. The Spaniards constructed the fortress in 1672 to defend Spain's claim to Florida and her trade route through the Atlantic. Before you go please check the NPS website for COVID-19 updates.
The Lightner Museum is the former home of Standard Oil and railroad tycoon Henry Flagler's Hotel Alcazar. Built in 1889 this grand dame of the Gilded Age is filled with priceless art, Tiffany glass, and incredible architecture.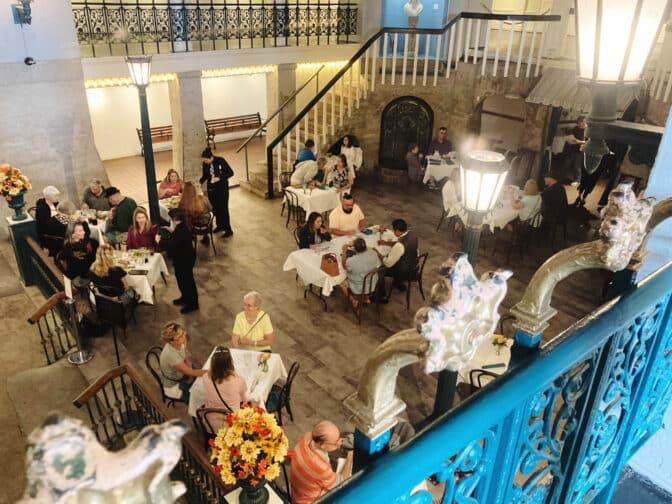 While you are visiting the museum, be sure to head down to the former pool area on the bottom floor and have a bite at the Alcazar Cafe.
For the most spectacular views of the Ancient City, you'll need to head over to the St.Augustine Lighthouse. With a 360 degree panorama, it is breathtaking! There are 219 steps to get to the top of the lighthouse, but that view…. is worth every single step!
Take a ride on the trolley to get a great overview of St. Augustine.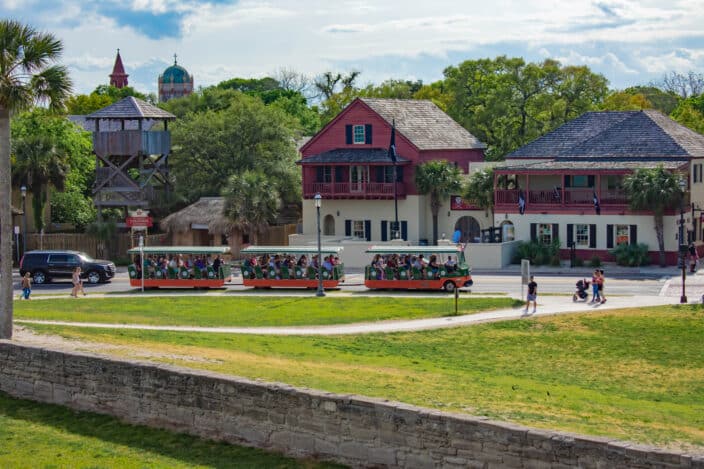 A stay at the Collector Inn & Gardens in St. Augustine is always an excuse for a Florida getaway! And when you add in the Well Bar, the history of St. Augustine and all there is to do, a visit to America's Oldest City will have you returning time and time again!
Part of our stay and visit was hosted by FloridasHistoriccoast.com and the Collector Inn & Gardens. However, all opinions remain my own.
Other Hotels You Will Love