I have lived in the South my entire life, but I'm afraid I don't embody the ideal of the genteel Southern lady. I'm more comfortable in jeans, sandals, and t-shirts than I am in pearls, heels and a hat (can I just confess I have not worn a dressy hat since I was 10?). The last time I went to an afternoon tea was when I was barely in my teens. So, while in Memphis I went to afternoon tea at The Peabody Memphis.
Afternoon Tea At the Peabody Memphis Hotel
"We haven't had any tea for a week. The bottom must be out of the universe." — R. Kipling
Coming to Memphis for a conference seemed the perfect opportunity to relive this grand old Southern tradition that generations of girls have grown up with. So, armed with my luggage, and wearing jeans, wedge heels and a cute top I navigated my way to the Peabody Memphis. I'll admit I had not planned on having afternoon tea. So it was a spontaneous decision. After checking in, and storing my luggage, I tossed my hair, threw my shoulders back, stood up ramrod straight and made my way across the lobby of the Peabody Memphis to Chez Phillipe.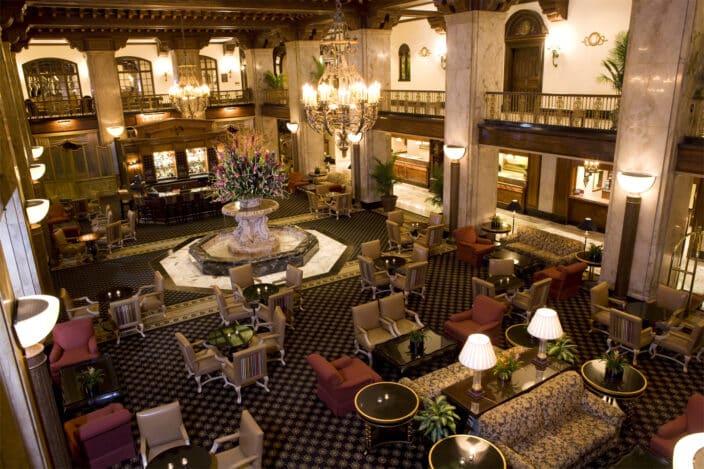 Sometimes I think it is not the clothes we dress in but the attitude we project to others. This day, in this grand hotel of the South, I walked across the lobby of the Peabody hotel like a lady dressed in her finest dress, heading for tea at Chez Phillipe. As I was seated in the plush crescent-shaped booth, the serene atmosphere began to permeate my spirit, and the Southern experience began.
Tea in Chez Phillipe
Entering the doorway of Chez Phillipe you leave the hustle and bustle of the lobby behind. Stepping from behind his podium the host greets me by name and leads me to my table. The tables are dressed in crisp green linen and topped with a bright white linen cloth. Decorative columns act as a divider between two levels. As I look around I see towering trays of delicious little sandwiches and desserts. My mouth begins to jump for joy at the sight.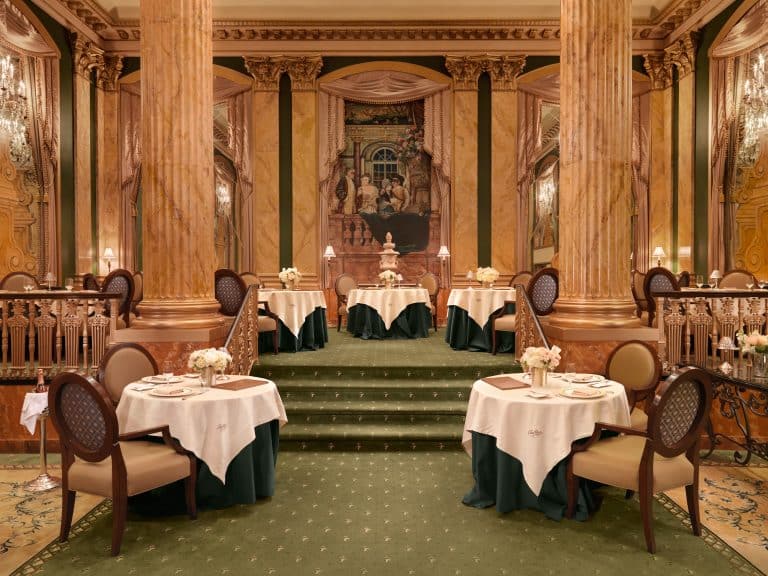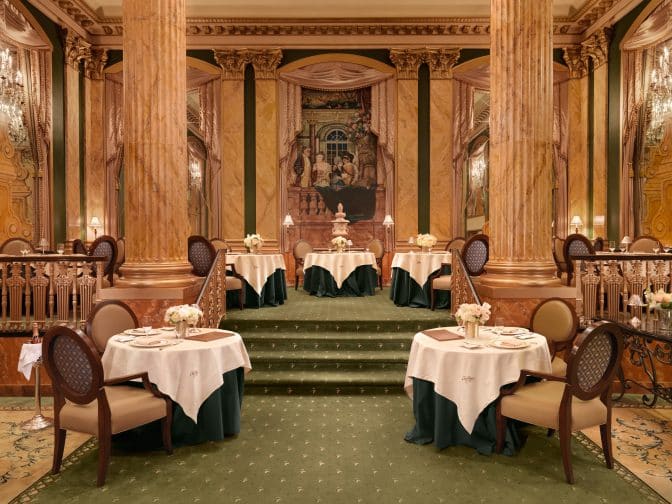 What is Served at an Afternoon Tea
My waiter described each tea choice, and I chose the Scarlet tea, a lovely fruity herbal tea. The first course, savory, of course, was a selection of petite sandwiches artfully arranged on a tiered tray. The day I was there the sandwiches were chicken salad, a prosciutto ham with apricot preserves, salmon and cream cheese, and cucumber. I was a bit apprehensive about how to eat the sandwiches – transfer them to my plate and eat them with my fork? Pick them up and eat them? I chose to use my fork (and knife). I literally imagined that I was in a proper English tearoom, wearing my finery, and just went for it.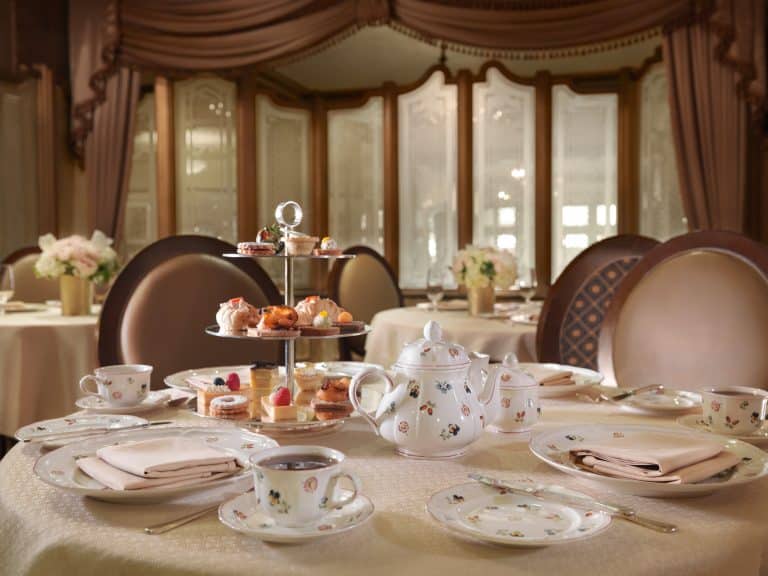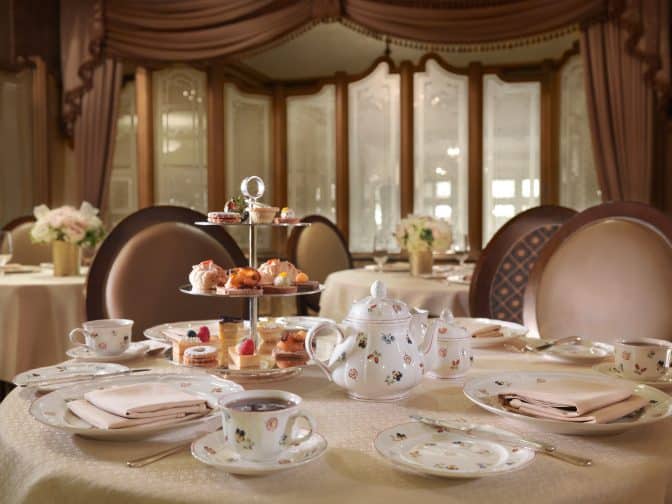 This post may contain affiliate links which won't change your price but will share some commission. As an Amazon Associate I earn from qualifying purchases.
After finishing the savory sandwiches, it was time for a bit more tea and a scone. The day I was there the scone was a full-size blueberry scone, served with raspberry jam and a divine Devonshire clotted cream. The scone was definitely a bit larger than I am used to but coupled with the jam and the clotted cream, it was heavenly!
The third and final course came with a change of tea. For the dessert course I chose the Earl Grey Supreme. The desserts were about the size of a petit four – a selection of deliciousness. The selection included an opera cake, a citrus tartlet, pistachio tart, lemonade cheesecake,  and chocolate dipped cream puff. I am not going to lie – they were all delectable!
The Afternoon Tea at the Peabody Memphis is definitely a special occasion experience. I hope that Southern mamas continue to uphold this grand old tradition and take their daughters to experience afternoon tea – maybe even at the Peabody Memphis. It would also be a treat for daughters to take their mamas and grandmamas to.
You be the judge and make a reservation to go to Afternoon Tea at the Peabody. I'd love to know how you enjoy this old Southern tradition at the Peabody Memphis or a tearoom in your hometown!
Afternoon Tea at the Peabody Memphis Hotel
Afternoon Tea at the Peabody Hotel
Wednesday – Saturday 1:30 pm to 3:30pm
$35 Chez Phillipe Tea
$45 Peabody Tea (includes a glass of bubbly champagne)
149 Union Avenue
Memphis, TN 38103
CHECK OUT WHAT'S NEW ON BETSI'S WORLD
Have you visited the Peabody Memphis Hotel & Had Afternoon Tea?
Many thanks to The Peabody Memphis Hotel, Memphis Tourism and Mediavine for helping to host our stay. As always, all opinions are our own.
Other Getaways You May Enjoy