Bliss in Barbados: Sandals All-Inclusive
Looking for a fabulous way to reconnect with your significant other? Want to find your bliss again? Try Sandals Barbados all-inclusive resort! Wow! From the moment we drove onto the property, we were completely overwhelmed. We wanted to be skeptical. Could Sandals really be an all-inclusive resort? Everything, even top shelf liquor, is included? Airport transfers? Yes! Everything is included on the property. The only exclusions are any excursions that you might choose.
This post may contain affiliate links which won't change your price but will share some commission.
Jim & I were looking forward to time alone together, to reconnect. We had had a busy and stressful summer, and Sandals provided the perfect backdrop for rekindling our bliss – in Barbados!
Sandals Barbados Resort: Bliss from the Start
As the taxi from the airport entered the property, the differing hues of green were everywhere, and amongst the green foliage were bougainvillea and other native flowers, full of color. The lobby was spectacular, with a fire and water feature that takes your breath away. Rising from the turquoise tiled pool are columns of fire that create the illusion of the pool being on fire. Everyone we encountered, from the bellman to the front desk clerk to the housekeeper exudes joy, and that contributes to the guests having a memorable vacation.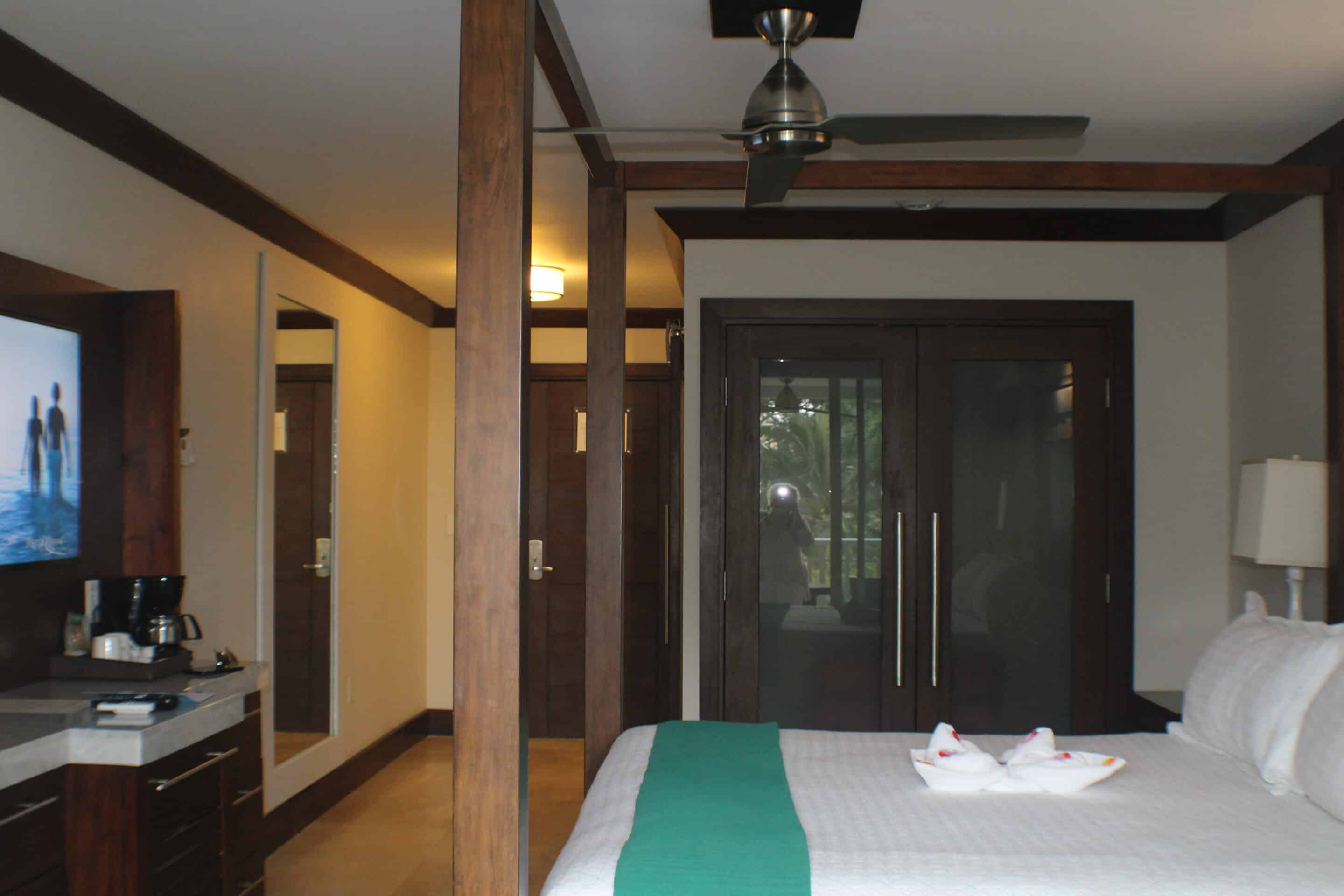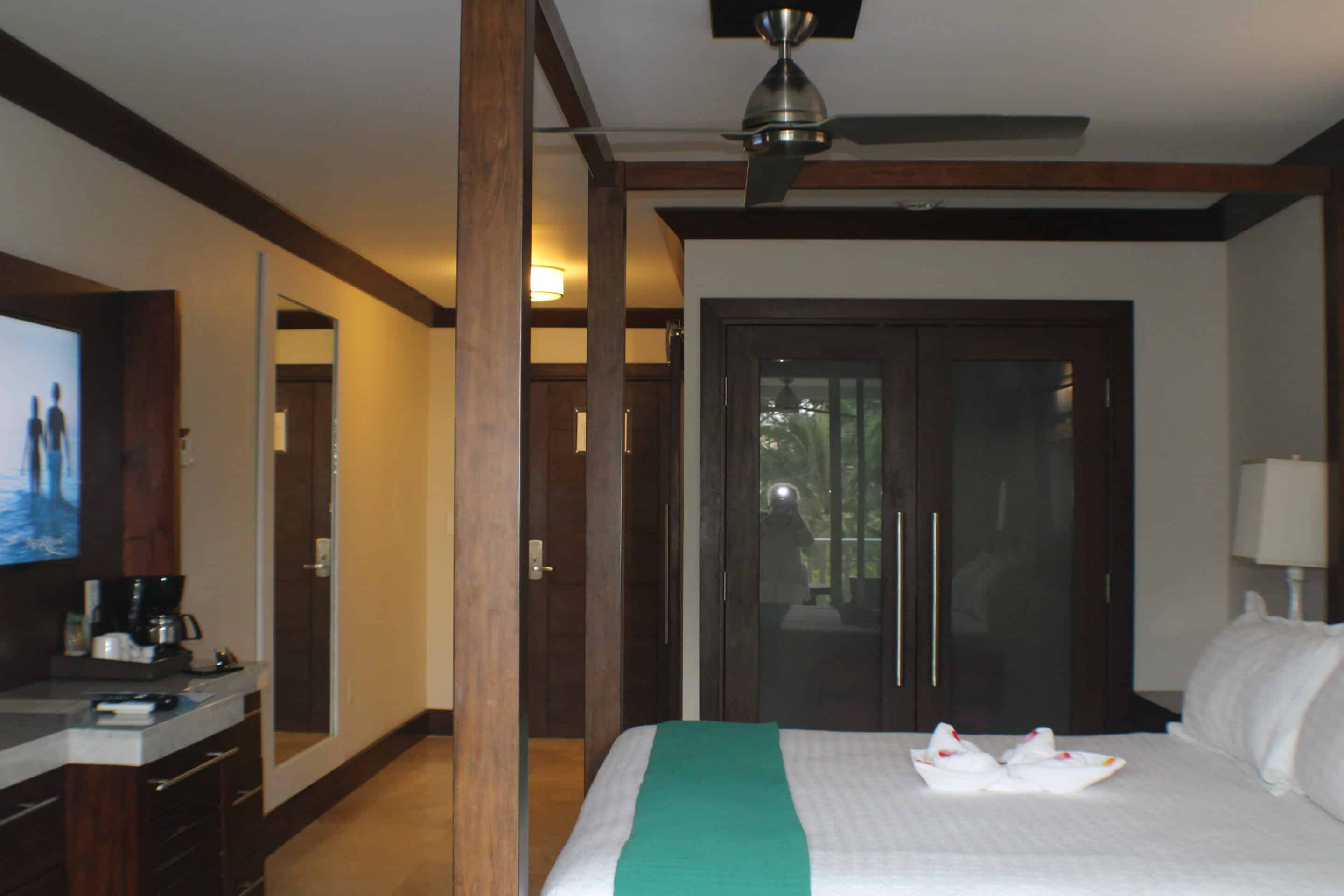 Our room was luxurious! Filled with deep, dark mahogany wood, it created a feeling of intimacy and romance. I loved the bathroom! Spacious and bright with modern fixtures, it was a delight! A deep soaking bathtub with a rain head shower was a welcome touch, and much appreciated by this writer. A simple but elegant desk and chair, and a sitting chair next to the bed complete the room.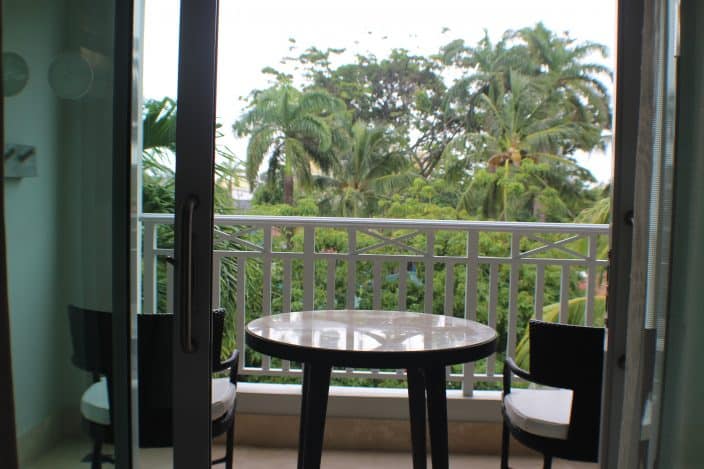 The birds were everywhere, flitting from tree to tree. Their songs, coupled with the slight breeze rustling through the palms, set the tone for our time in Barbados. Pulling ourselves away from the beautiful scenery, we began our exploration.
Smiles, Smiles, Everywhere You Look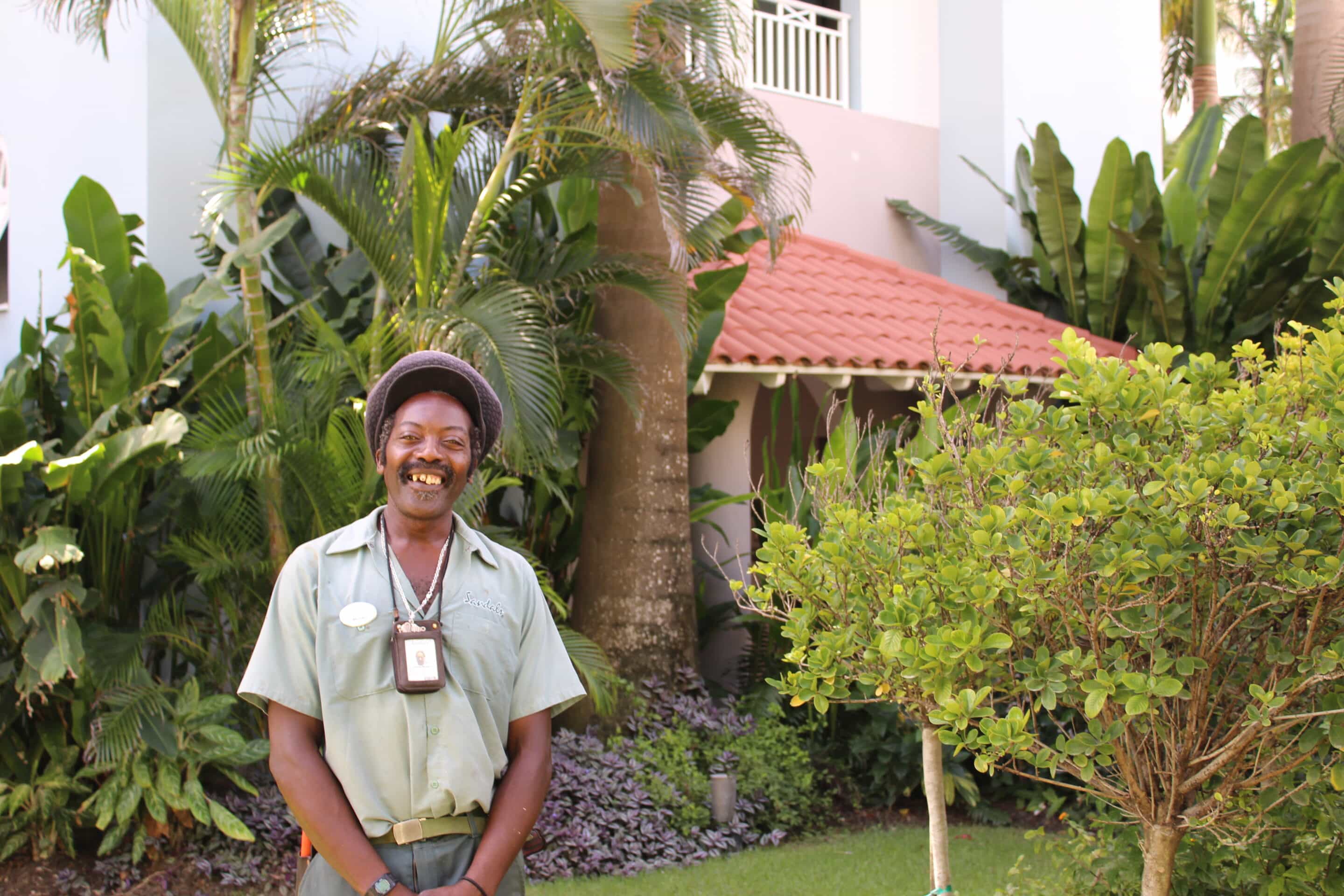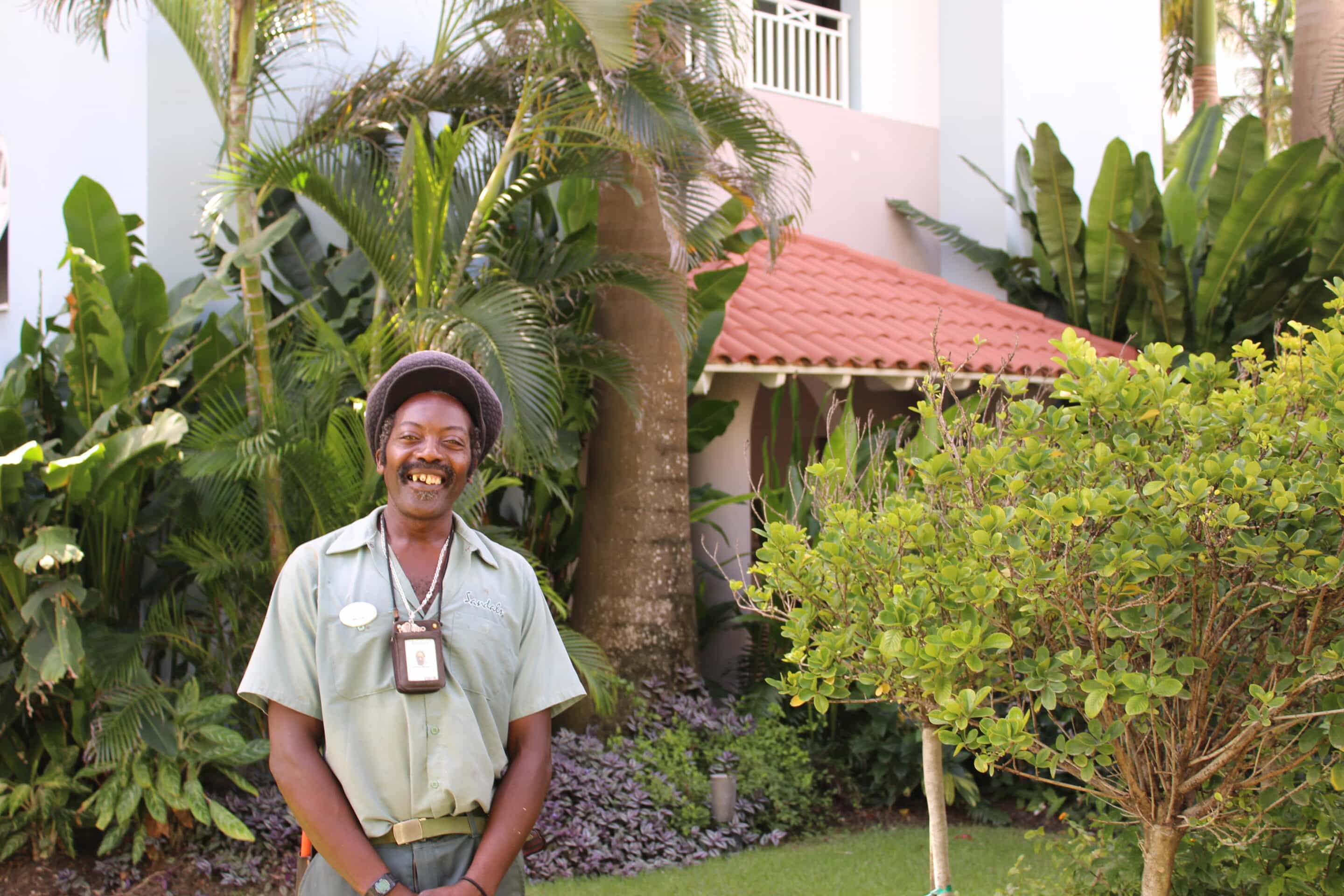 We're greeted by a grinning, singing gardener as we step off the elevator, "I love working outside mon. The plants are my passion," he shares. We chat a bit and learn that he is from Jamaica, but loves working at Sandals Barbados. Moving down the sidewalk, heading towards the main pool and beach area, one of the butlers greeted us with a smile and asked how our stay was going. Reaching the main pool area, we stopped by the bar for a cocktail. "How is your day so far?" the female bartender asked. A conversation quickly ensued, as she crafted our cocktails. The people of Barbados are warm and open, and welcome visitors to their island nation with a smile.
 
Find Your Bliss on the Beach and at the Pool
We love the beach in Barbados! For the water lover, there is almost anything you could want – kayaks, paddleboards, Hobie Cat sailboats, boogie boards – all available at no additional cost. There are plenty of beach umbrellas and chairs to go around, so no fighting over beach chairs is necessary. We loved playing in the warm waters of Dover Beach. The water is an incredible turquoise blue and just beckons you to come on in and play. The temperature is like bathwater – perfect for swimming and playing. If you love to be under the water, and not on the water, you have complimentary dives offered every day (you must be a certified diver).

Sandals Barbados has three pools if the beach is not your style. Grab your book, and a lounge and relax the day away. Oh! And don't forget to grab a rum punch from one of the poolside waiters!
Food, Glorious Food!
There are thirteen different restaurants on the property, and Chef Desmond Marshall oversees all of them. There is truly something here for everyone, no matter how picky. Italian, Japanese (Tepanyaki and sushi), a steakhouse, Indian, English Pub, Pizza, Burgers…..you name it. We are foodies and particular, and we loved every single restaurant. The steakhouse was a surprise. The steaks were tender and juicy and delicious. The most fun, however, is Kimonos Tepanyaki, where you will laugh non-stop at the chef's antics as he prepares your meal.
Value
We've cruised extensively and found that the all-inclusive resort is a better value choice for us. Though cruises may seem less expensive, they are not truly all-inclusive. You are purchasing your drinks, your wifi and if you choose to dine in a specialty restaurant, there is an added cost. With Sandals, you a paying a little more, but everything is included, even wine, beer, and top-shelf drinks. When you cruise, you have the bonus of changing scenery every day or two. At an all-inclusive resort, you are in one place. For us, this is an advantage because we get to know the staff and our fellow guests.
All Photos by Jim Hill