New Smyrna Beach makes a great Florida getaway. A stay on New Smyrna's beautiful beach is optimal! Marriott's Springhill Suites is a gorgeous property that allows you to walk out of the hotel, down a small walkway, and find the perfect spot to catch some sun and relax.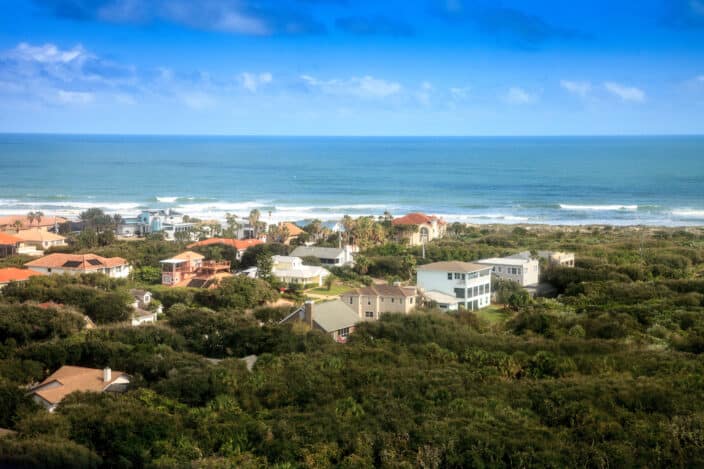 Springhill Suites New Smyrna Beach is a fresh new property and is within walking distance of all the fun shopping and wonderful restaurants on Flagler Avenue. In our opinion, this is one of New Smyrna Beach's best hotels.
Getting to New Smyrna Beach, Florida
New Smyrna Beach, Florida's closest airports are Daytona International Airport and Sanford Orlando International Airport. Both are within an hour and are easily navigated. 
Daytona is the closest airport to New Smyrna Beach. Only a short 25-minute drive and you'll be at the beach having a ball. American, Delta, and Sunwing fly into Daytona International Airport. 
Sanford Orlando is a 48-minute drive to New Smyrna. Allegiant, Flair, Swoop, and Sun country fly into Sanford Orlando.
New Smyrna Beach Florida: Springhill Suites by Marriott
Marriot's Springhill Suites dominates the end of Flagler Avenue and is directly on the beach. The colors of the property's buildings are fresh, and not bright; a pale yellow exterior with white trim complements the surroundings. It's got a luxuriously relaxing beach vibe.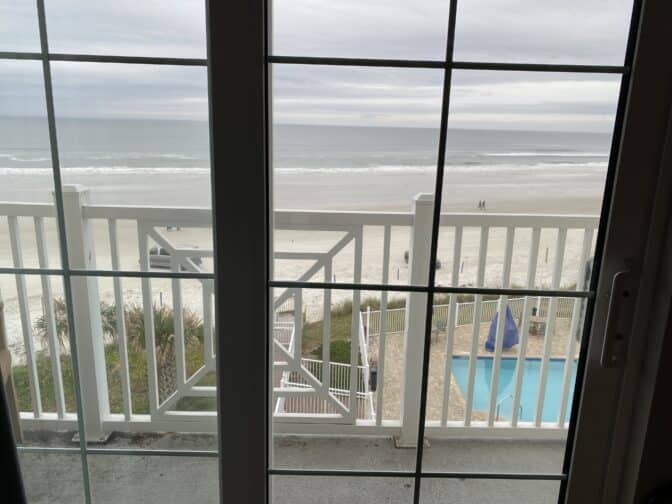 Walking into the lobby I was struck by how enormous the space is! The check-in was smooth and quick. The Barefoot Cafe sits against one wall, and they offer Starbucks coffee, free buffet breakfast, lunch, and cocktails.
Heading up to our room we noticed that the elevator was clean, the carpets were clean, and the hallways smelled clean. They are taking COVID precautions, and there are signs throughout the property reminding guests to sanitize their hands. They have sanitized all guest rooms, as well as remotes.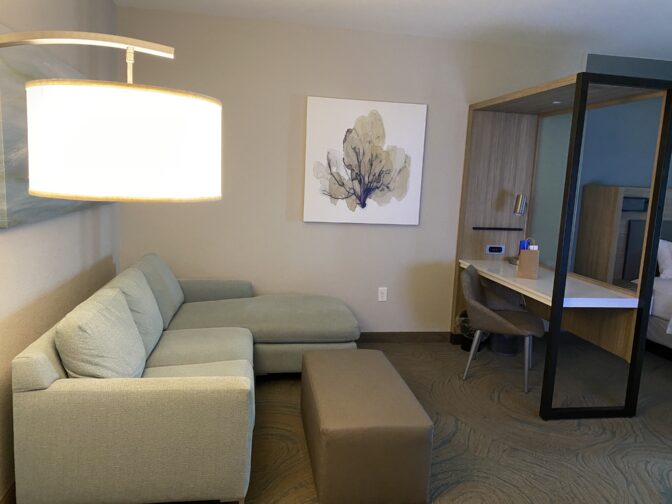 I was in heaven when I walked into our room! The rooms are expansive and tastefully decorated in a relaxed beachy style. I appreciated the small desk area and all of the outlets for our electronics. 
The pool area is nice and large, allowing room to spread out. The pool is clean and really large for a beach hotel property. Off of the pool deck, there are firepits and scattered seating areas. This is a great location to wind down a day on the beach while sipping a cool drink and watching the sunset.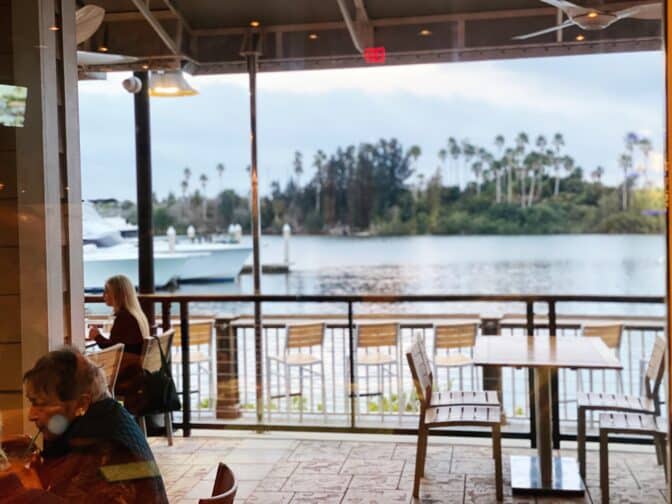 The staff interaction was courteous and knowledgeable. They know the beach areas and are happy to recommend some great local restaurants and shopping.
This property also boasts a parking garage – a big plus as parking in New Smyrna Beach can be challenging, especially during the summer months.
7 Best Attractions in New Smyrna Beach, Florida
Head to the Beach
NSB offers one of the best beaches on Florida's east coast. There are over five miles of hard-packed sand, ideal for driving on the beach.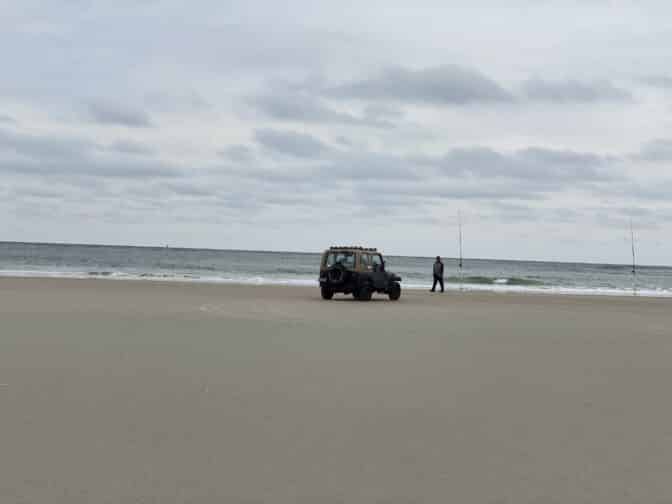 If relaxing on the beach is more to your liking, you'll fall in love with the beaches of New Smyrna, Florida! There are over 17 miles of gorgeous beaches to choose from. We're partial to Smyrna Dunes Park and Canaveral National Seashore. Both of these beaches have lots of natural unspoiled beauty.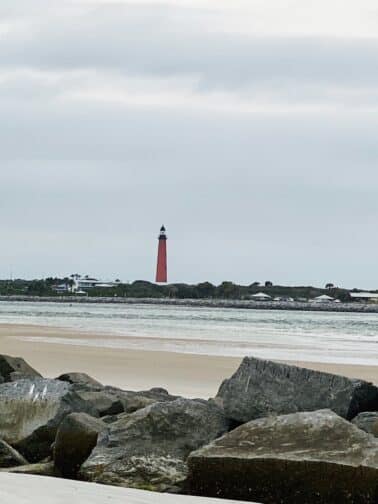 Canaveral National Seashore National Park boasts 57,000 acres. It's tucked between the Atlantic Ocean and the Indian River. Be sure and check out Playalinda Beach, one of the area's few undeveloped beaches. Playalinda is where many endangered species have found a home.
Always wanted to surf? Well, New Smyrna is a mecca for surfers – no matter what their skill level. The surf breaks at New Smyrna offer consistent wave patterns and the breaks are far enough offshore to provide a great ride.
Try your hand at a surf school – you have lots to choose from. One of the top-rated is Jimmy Lane's Surf School. While you're checking out the NSB surf scene don't forget to stop into the New Smyrna Museum of History and check out their NSB surf museum section – it is amazing to read the stories of the world-class local surfers!
New Smyrna Diving
There are over a dozen wrecks offshore. Outside of the Florida Keys and the Treasure Coast, NSB offers some fantastic diving!
The local diving companies set you up with equipment and tours. And don't worry, for the non-divers, these companies also offer snorkel tours.
Marine Discovery Center
Don't miss out on a visit to the Marine Discovery Center in New Smyrna Beach. This small but mighty marine center is chock full of cool things that the whole family will love!
The Marine Discovery Center also offers a choice of eco-tours that captivates all ages. They offer boat, kayak, as well as walking tours.
The Hub on Canal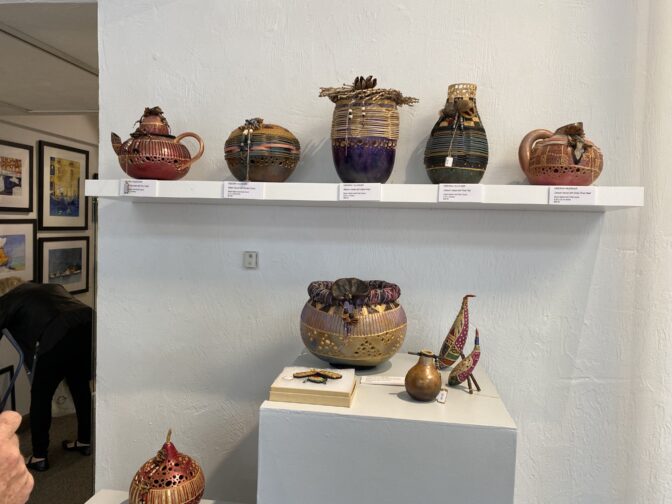 Jim and I love to shop for art, and hands-down the best places to find art are in art co-ops. The Hub on Canal is a fantastic NSB find for art lovers – particularly if you love all different types of media.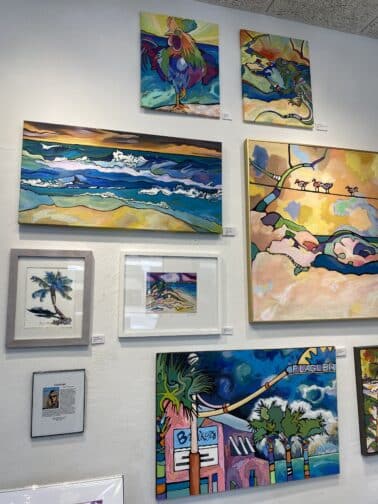 They have eye-popping photography, photography transferred to glass, jewelry, and textiles just to name a few. The artists are constantly rotating, so this is a regular stop for us.
Shopping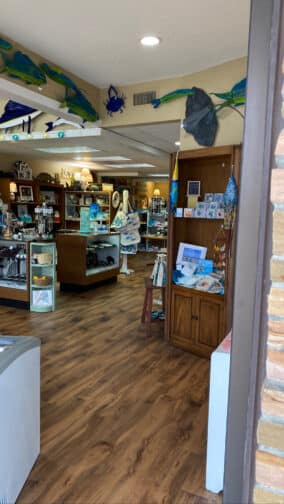 I love the fun and funky shopping that NSB offers – from the unusual to the traditional, decor to clothes on Canal Street, to the boutiques filled with beach casual chic and fun beachy jewelry, the shopping on Canal, and Flagler Streets will fill an afternoon or a day.
Sugar Works Distillery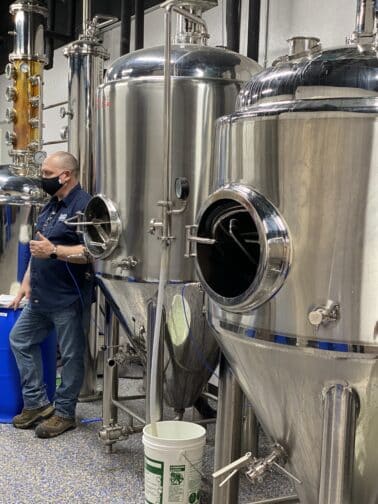 Sugar Works Distillery offers tours, tastings, and events. Every visit they've added something new!
Be sure to check their page for upcoming events including cocktail classes, pizza nights, cocktails & music, food truck nights, pairings, and more. I personally love their spiced rum for making Rum Cake!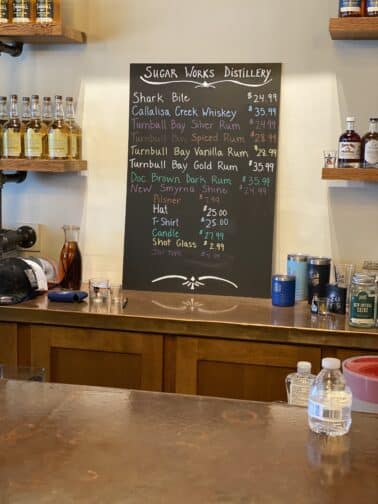 Sugar Mill Plantation
In 1804 a 12-acre portion of a land grant was awarded to Patrick Dean for growing sugar cane, cotton, as well as rice. In 1830 Sara Petty Anderson Dunn purchased Patrick Dean's plantation and renamed it Dunlawton Plantation. The plantation produced sugar and molasses and sugar.
In December of 1835, the Second Seminole War began, and during the conflict, the mill was burned. With no money to rebuild the mill, it was left in ruins until it was sold again.
In 1856, during the Third Seminole War, the mill was burned down again. The property was used as a camp headquarters for the St. John Rangers during the Civil War. Following the Civil War, the property was subdivided and sold off into smaller lots. 
Then in 1939 it became a tourist site. In the 1940s and 1950s, it was turned into an amusement park, Bongoland. Bongoland featured an Indian village, animals, a train, and a monkey named Bongo. Once Bongoland closed, the property sat vacant and neglected.
In 1985 the property was transformed into the Sugar Mill Gardens, with native plants, and several different gardens.
Restaurants in New Smyrna Beach, Florida
Corkscrew Bar & Grille
Stop in for a bite at Corkscrew Bar & Grille and don't forget to order a glass of wine. Corkscrew has an extensive wine list with some of our favorites. It is our NSB go-to spot!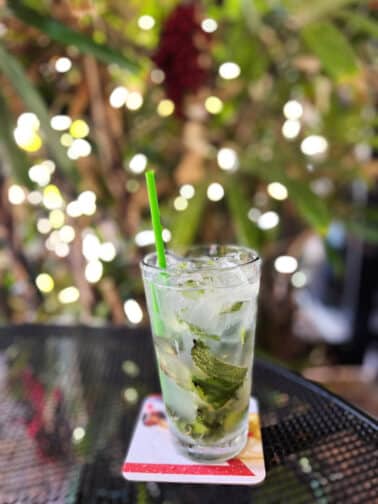 Dinner With A View
For a change of pace, have dinner on the deck at Outriggers. They don't have an extensive menu, but they offer something for everyone.
The drinks are perfectly crafted and balanced, and they have a nice well-rounded wine list. As you dine you are treated to the activity on the water.
Bonus? They are dog-friendly! Zach loves to visit Outriggers …. I'm sure it's because he loves the restaurant and the staff spoils him!
 This post may contain affiliate links which won't change your price but will share some commission. As an Amazon Associate I earn from qualifying purchases.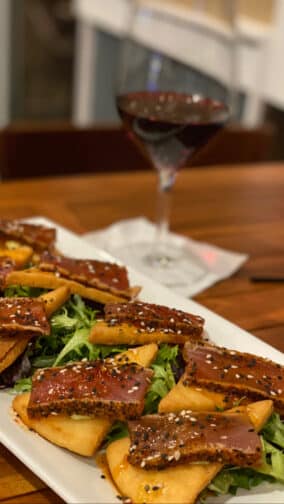 Riverpark Terrace
As soon as we began walking up to the entrance of Riverpark Terrace I was hooked. It's one of those funky, out of the way places that has such an incredible atmosphere that you are drawn to it again and again.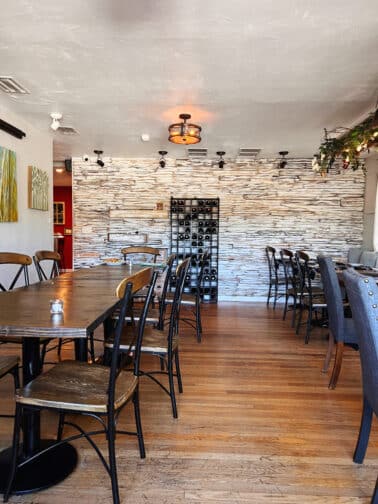 With an eclectic scattering of tables and chairs, some with umbrellas for shade as well as others under the gorgeous live oak trees, it's a great outdoor dining space. The interior has managed to meld the original brick with sleek modern farmhouse tables and touches like striped napkins that bear similarity to flour sack napkins. It is casual, understated elegance that allows the food to take center stage.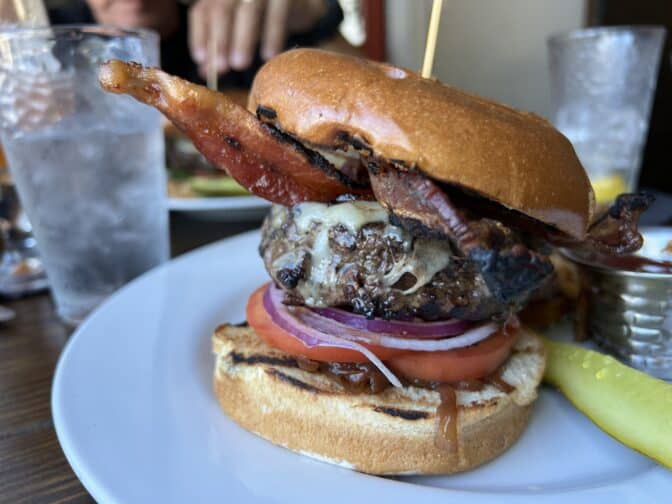 The spotlight is truly on the food at Riverpark Terrace. We ordered simple cheeseburgers that were anything but simple or ordinary. They were extraordinary! 
They were healthy size, approximately 8-10 oz of pure Angus beef, topped with an onion jam that was to die for, gruyere cheese, as well as 2 thick slices of smoked peppercorn crusted applewood smoked bacon. Oh my goodness – this burger was heavenly! 
Truly, we cannot wait to come back to Riverpark Terrace for dinner!
With so many options, New Smyrna is a great choice for a Florida getaway. Bring your family or escape for a romantic getaway there is always fun to be found in New Smyrna Beach!
Parts of our NSB visit were hosted by Visit New Smyrna Beach. All opinions remain my own.
CHECK OUT WHAT'S NEW ON BETSI'S WORLD
Other Hotels You Will Love