The Folding Electric Bike from Defiance Tools is ideal for storing in tiny spaces, and rides like a dream!
Defiance Tools Electric bike is undoubtedly a gamechanger for us! It is well built, and when folded, the footprint is so small that we can easily store it onboard Saltwater Gypsea for our boating adventures.
Why A Foldable Electric Bike?
When you are boating, you will inevitably run out of something and need to run to the store. So let's paint a picture. It's steamy hot, teetering in the high 90s, with humidity at 80%. It's a gorgeous, bright sunny day, with the sun high in the sky, and beating down on you. But you have to make the slog to the store, which is a good mile walk. And if you are walking with your wife, who is menopausal? Game over. Not going to happen. It's bad enough to have to walk in the hot, humid, steamy weather. But if you are menopausal, then that hot, steamy walk just became the longest mile walk in the Sahara desert, as your face turns red, and sweat doesn't just roll down your face, it runs in rivers down your face and your entire body. By the time you walk to the store and come back with your groceries you will look like a drowned river rat …. oh wait! The drowned rat will probably look better than you. And let's talk about what that walk in the heat does to your personality. You become like a monster, because, well, you just feel like a monster.
I know this story really, really well. That's why Jim & I have a deal – he goes to the store, and I stay on the boat. In the cool. So I'm nice – I'm choosing to keep my "inner monster" at bay. But Defiance Tools Electric Bike has changed all that. Shoot, I'll go to the store. I'll even go a mile or two out of the way to have dinner at that cute little tiki bar down the road that serves killer cocktails. Why? Because I don't have to walk across the Sahara to get there! I can bike in style on my electric bike.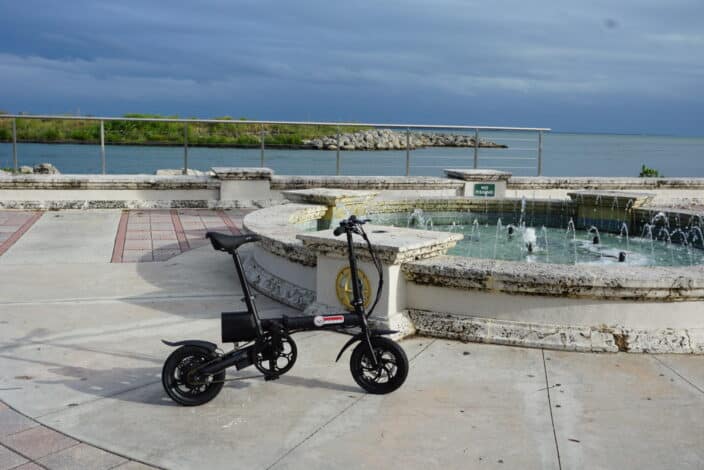 Why An Electric Bike?
I love to ride bikes, I do. But my short little legs have to work overtime when I'm riding against the wind. And I probably look like Ms. Gulch from the Wizard of Oz as she rode her bike in the face of the wind from the tornado. The electric bike from Defiance Tools makes pedaling against the wind a breeze with their pedal assist. You still pedal, but when you need it, you can kick in the electric motor, and off you go with pedal assist. You may not need the pedal assist very often, but for the times you do, it can't be beat!
We've taken our electric bike to the beach, to the downtown area of Fort Pierce, and it's super fun biking. Now, the tires are a bit on the small side, but you can still get moving on this bike. Jim was tearing it up as he sped through Marina Square in downtown Fort Pierce. He had the bike up to 15mph.
Defiance Tools Electric Bike – Small Footprint, Easy to Store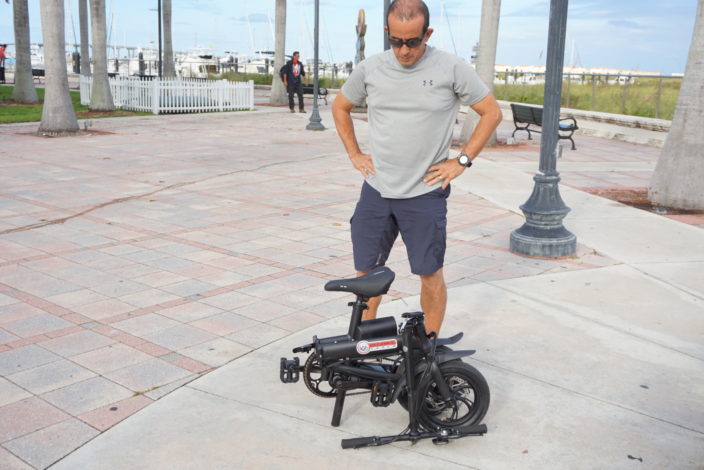 One of the reasons we've not carried bikes onboard before was the weight and the size. Defiance Tools has overcome that with the electric bike. It's lightweight, easy to lift, and super small when folded up. We can fit it in the passageway of one of our cabins. And it's light enough so that I can lift it if I have to. It folds up in less than a minute, so you don't have to fiddle around with taking pieces off and storing them.
The folding electric bike is perfect for RVers too – no more bikes precariously hanging off the back of your RV. No more danger of the bike flying off and hitting the vehicle behind you. Easy to fold, store, and go.
 This post may contain affiliate links which won't change your price but will share some commission. As an Amazon Associate I earn from qualifying purchases.
"You're off to Great Places! Today is your day! Your mountain is waiting, So… get on your way!" –Dr. Seuss
This is what Defiance Tools Electric Bike will do for you – you'll have a whole new world open up as you explore it on the back of a bike….a Defiance Tools Electric Bike.
The Faces Behind the Bike – Rich & Zoé
Meet Rich & Zoé, the husband & wife entrepreneurs of C Larboard and Defiance Tools!
We were provided a complimentary electric bike from Defiance Tools / C Larboard for this post, but all opinions are our own.
CHECK OUT WHAT'S NEW ON BETSI'S WORLD
You Might Also Like:
2018 Holiday Gift Guide for Travelers
Alaska, It's Huge: How to Plan an Alaskan Getaway
St. Augustine: Romantic Getaway to the St. Francis Inn & the 1894 House
A Badass Luxury Getaway at the GunRunner
All Aboard for Dolphin Boat Tours in Orange Beach, Alabama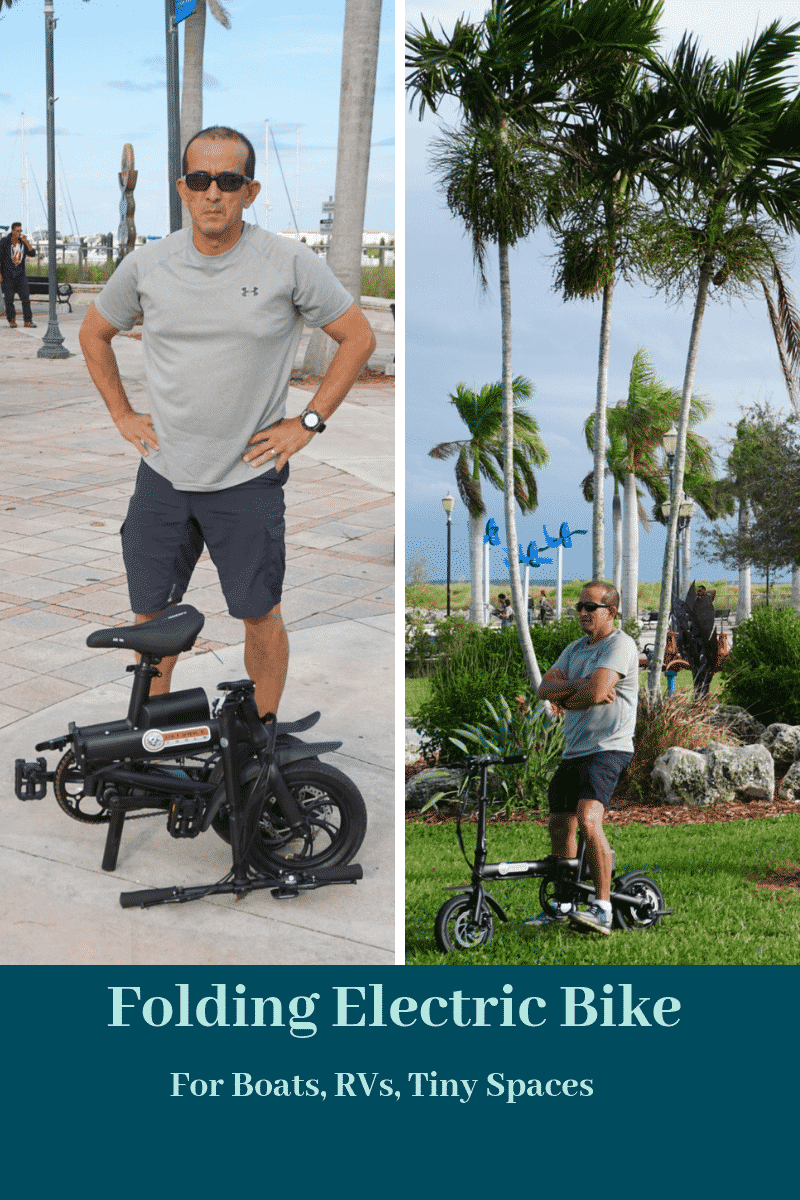 Other Travel Tips And Tricks You May Enjoy