Romantic getaways to reconnect and relax are always needed in our very busy lives. The beauty of the United States is that each individual region has its own unique geography, culture, and climate. The Southeast United States has a lot of romance and beautiful scenery to offer those wanting to rekindle the fire in their relationship.
Couples looking for a romantic getaway, whether they've lived in the US their whole lives or not, will enjoy visiting one of these charming Southeastern states.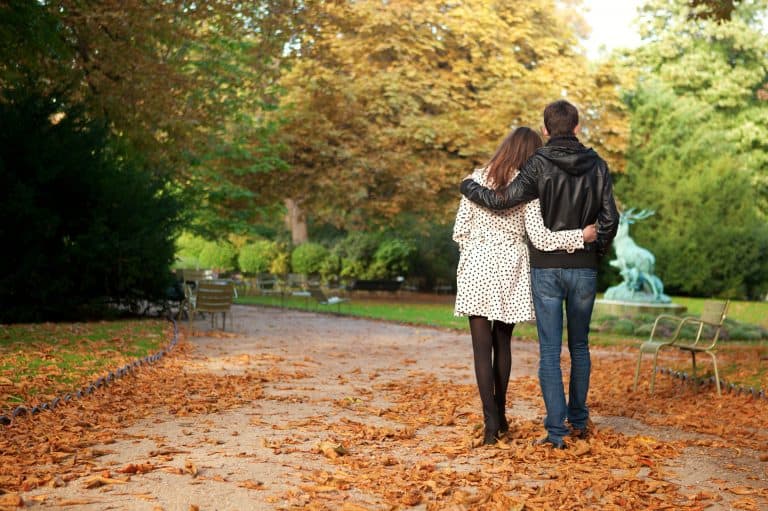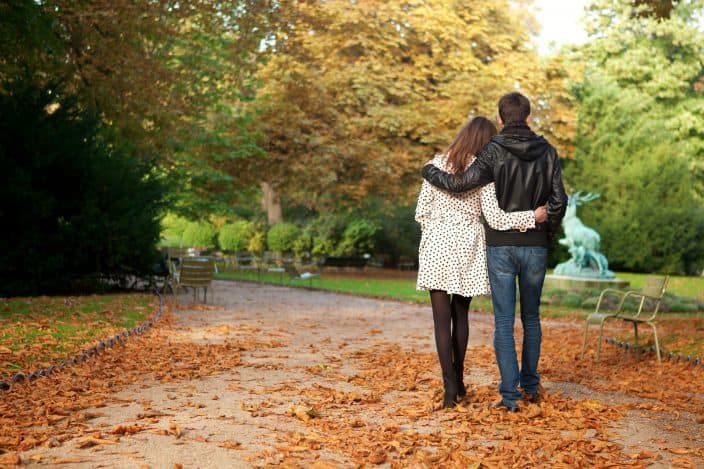 Romantic Getaways in The Southeast
Romantic Getaways in Alabama
In the Southeastern US, Alabama is an eclectic mix of beaches, mountains, ample opportunities for golf and home to some of the most delicious barbeque and seafood in the South. Civil Rights history was made here, legendary music was born here, and it's also the home to the famed US Space and Rocket Center.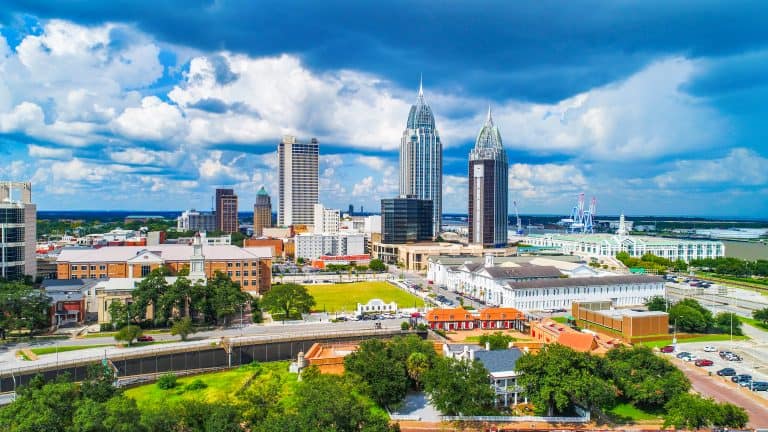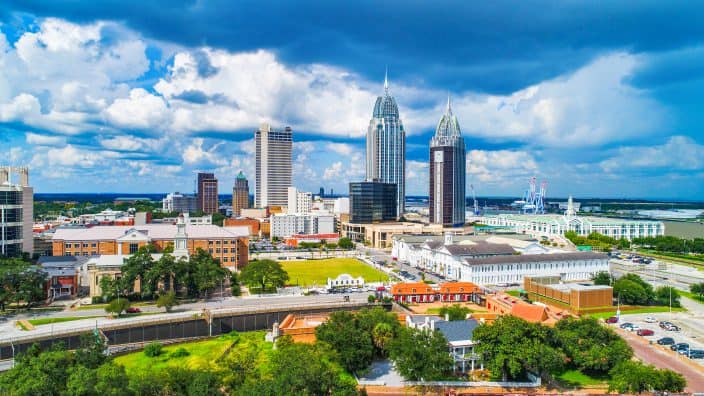 For the ultimate romantic getaway to reconnect in the US consider Mobile, Alabama during Mardi Gras. Streets are flooded with bands, floats, and festivities in the February carnival season. Couples would do well to visit Alabama to experience America's Original Mardi Gras celebration. The small-town charm of downtown Mobile and a stay at the stunning Renaissance Mobile Riverview Hotel coupled with delicious seafood at Felix's Fish Camp makes for the ultimate romantic Mardis Gras celebration. 
Best Romantic Getaways in Florida
For an artsy romantic getaway, visit St. Petersburg, Florida, located between the Tampa Bay and the Gulf of Mexico. The Vinoy Renaissance St. Petersburg Resort & Golf Club is one of the best getaways for art-loving couples. The pink façade of the resort stands out across the harbor and offers plenty of amenities for couples.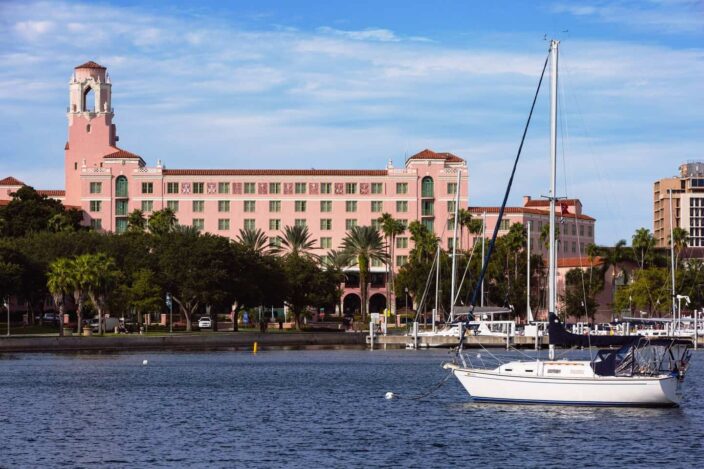 When in St. Petersburg, couples have many options. From exploring the Salvador Dali Museum to spending a day on the water at Fort Desoto County Park, it's the perfect relaxing couples getaway.
Georgia Romantic Getaways
Visitors looking for a romantic getaway in the US should consider Marietta, Georgia at the top of their list. Just a short drive from mid-town Atlanta, Marietta is home to the Gone With The Wind Trail. This trail takes visitors through some of the landmarks of Margaret Mitchell's iconic novel.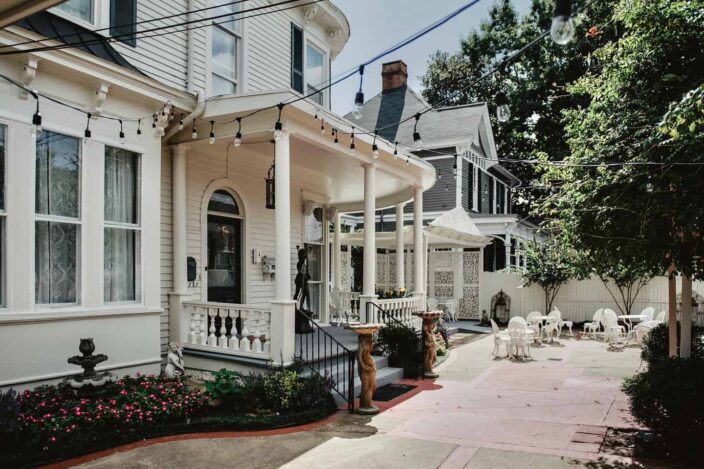 Spanning from Marietta to Jonesboro, Georgia, the trail brings visitors to the Gone with the Wind Museum, Margaret Mitchell House, as well as Road to Tara Museum. Couples looking for a romantic getaway will enjoy the nearby Stanley Inn Bed and Breakfast in the heart of Marietta Square.
Romance In Kentucky
A Storybook Inn, in Versailles, Kentucky is a romantic bed and breakfast; the perfect getaway in the US to spend time with your love. Suites at the inn are named for our classic movie favorites like My Fair Lady, Casablanca and Gone with the Wind.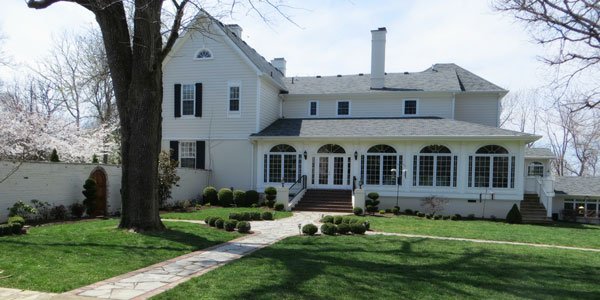 Spend a leisurely breakfast indulging in eggs benedict, fresh fruit and quiche before you set out on a romantic afternoon at the spa for a massage or just perusing the grounds. 
Best Romantic Getaways in Maryland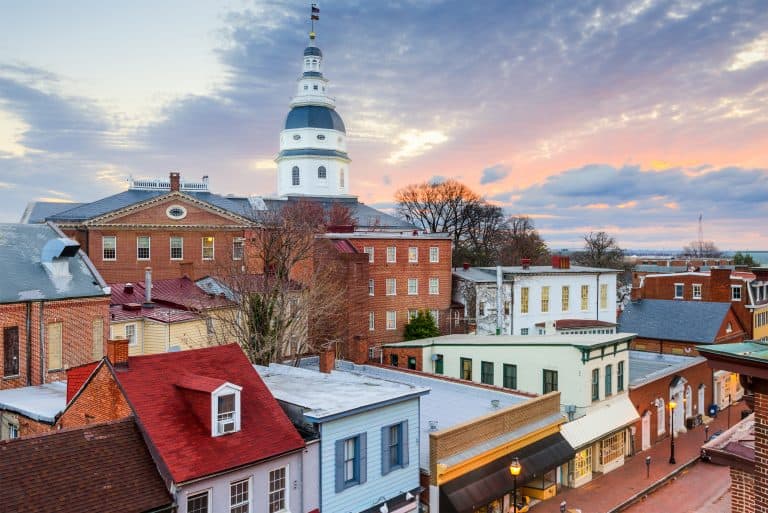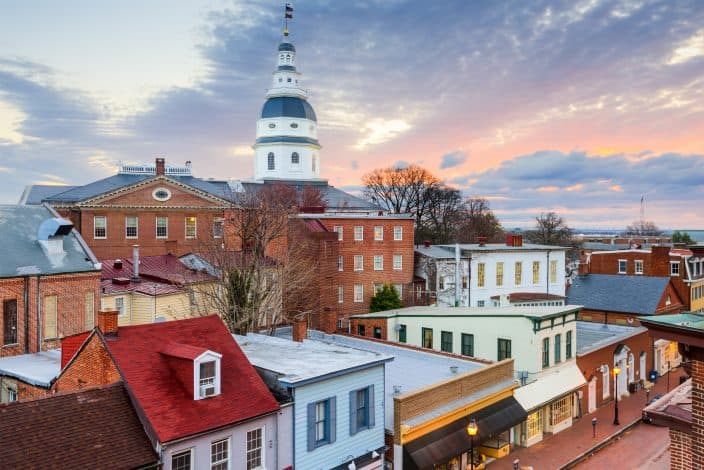 A romantic getaway is perfectly spent just outside of Chestertown, Maryland. The Brampton Inn sits on 35 acres of forest on Maryland's eastern shore. This Inn has been voted best romantic bed and breakfast and is the perfect couples getaway. Couples can reconnect and recharge at this antebellum plantation.
Sip wine in the early evening on the charming Southern wraparound porch at sunset. For a more private retreat consider one of four private cottages on the property. Here you can enjoy the Japanese soaking tubs, outdoor patios, as well as impeccably decorated rooms. It is an incredible option for a romantic getaway to reconnect with your partner.
Mississippi Romantic Getaways Traveling in the US
The Devereaux Shields House in Natchez, Mississippi is a charming, bed and breakfast. It is the perfect home base in the historic downtown Natchez area.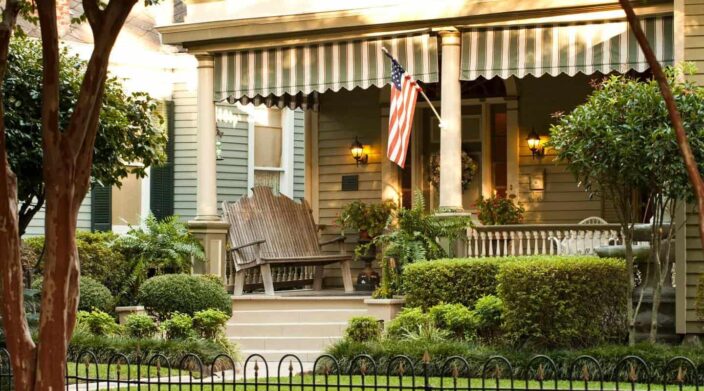 Couples can begin their days with a full Southern breakfast and plan out their romantic getaway by adding on a few local historic or culinary tours. Additionally, downtown Natchez offers a wide array of restaurants, shops, music and activities for a couples getaway.
North Carolina Getaways for Couples
If you're planning a romantic getaway trip to the Outer Banks in the US, consider the Inn at Rodanthe. This oceanside inn, made famous by the Nicholas Sparks novel and movie Nights in Rodanthe, can be rented by the week and is the perfect surprise getaway idea.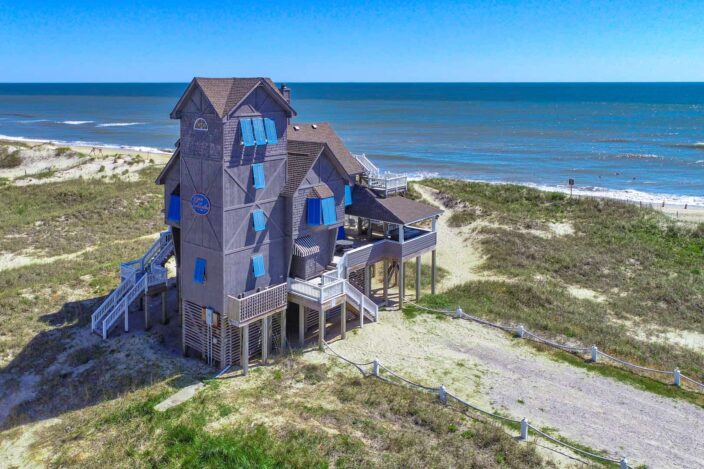 The six-bedroom inn on the ocean offers the perfect relaxing setting for the Nicholas Sparks fan in your life. While you're there, be sure to check out the Nights in Rodanthe movie filming locations trail to see other sites depicted in the film. This is a gorgeous location for a Valentines Day getaway!
Romantic South Carolina Getaways
Upstate South Carolina is home to the idyllic Blue Ridge Mountains, countless waterfalls, as well as, several state parks. Pettigru Place Bed & Breakfast in Greenville is the perfect launching pad for all there is to see and do in the Upcountry.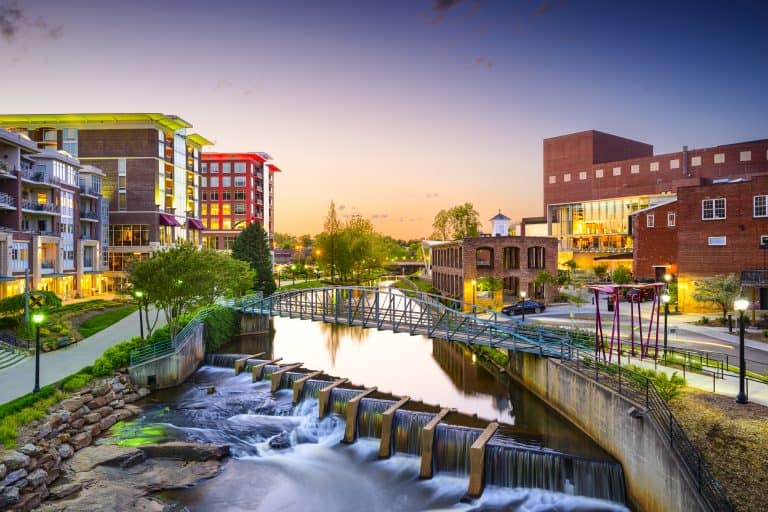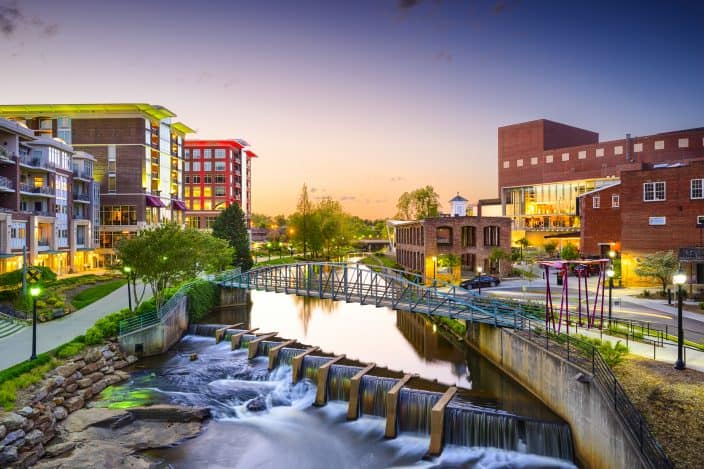 Farms and wineries, antique shops, as well as, art galleries are within close proximity to the inn. Pettigru offers several romantic getaway packages for Valentine's Day, Anniversaries or just because.
 This post may contain affiliate links which won't change your price but will share some commission. As an Amazon Associate I earn from qualifying purchases.
Romantic Getaway Destinations In Tennessee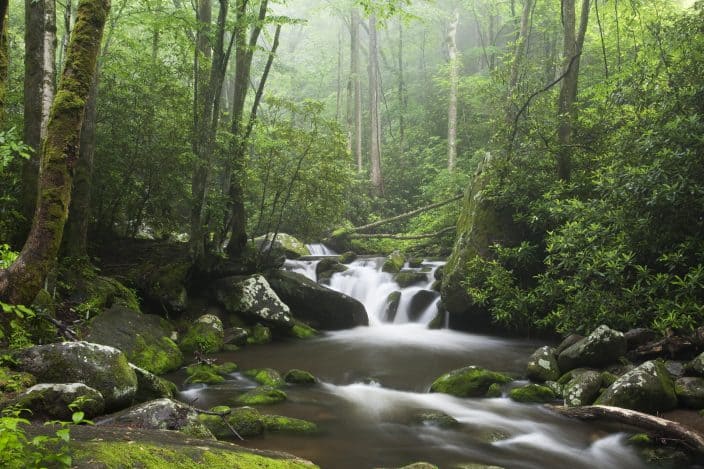 For a remote romantic getaway that you don't hear about often in the US, Blackberry Mountain Farm & Resort, nestled in The Great Smoky Mountains, should not be missed. Spanning 4,200-acres in Walland Tennessee, this luxury hotel includes farm to table dining, wine events and tastings, as well as cooking classes.
Packing Tip: Don't forget a good pair of hiking boots! These have saved my feet many times during my travels!
Accommodations include historic rooms, estate rooms, suites, cottages and on-property rental homes for large groups. Guests can go horseback riding, attend culinary tastings, perform archery, as well as go cycling. There are also clays course, carriage rides, a spa and paddle sports. Blackberry Farm is truly the perfect couples getaway in the Smoky Mountains, where rustic living intertwine.
In the US Virginia is for Lovers
You can't go wrong with a romantic getaway to Virginia. In the US, Virginia is for Lovers', is the state motto. The slogan actually means Virginia is for lovers of all things the state has to offer. Boasting mountains, craft beer, history, beaches and all things people love, Virginia makes for a popular romantic getaway destination.
Because there's so much to see, do and be a part of in Virginia, couples will find something that fits every lifestyle. Colonial Williamsburg, Shenandoah National Park, Luray Caverns, Mount Vernon, as well as Monticello often round out the top list of landmarks and attractions in Virginia.
West Virginia Romantic Getaways for Couples
If you haven't visited many places in the US before, you may want to consider a road trip along some of the main streets and back roads. As John Denver made popular in his hit song, Country Roads, West Virginia is considered the Mountain State.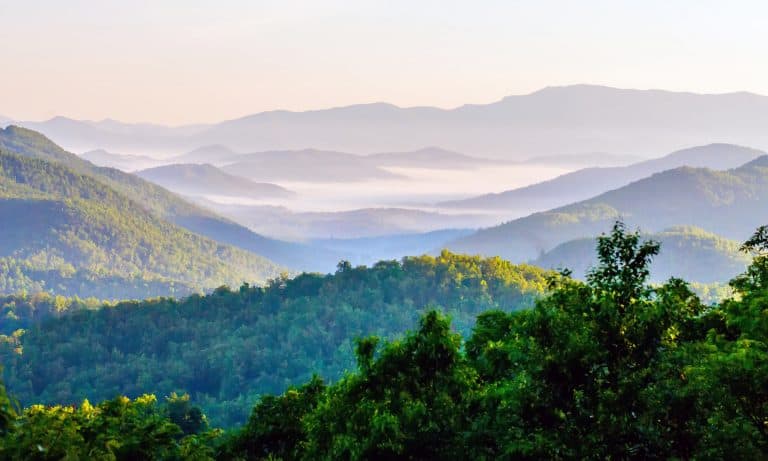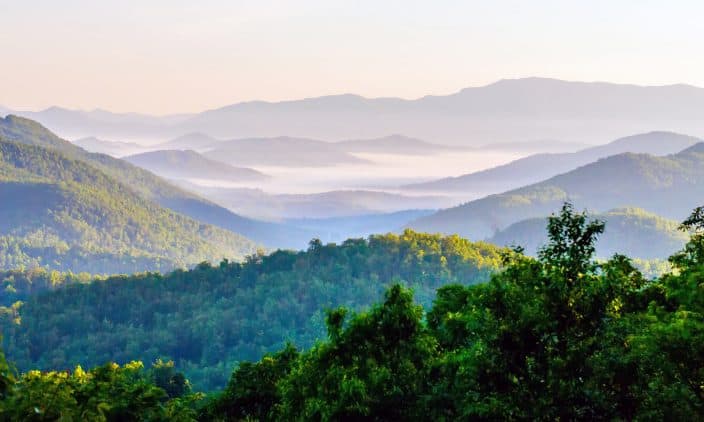 The Appalachian mountain range stretches through the state. It provides a stunning backdrop for a romantic getaway in the US. West Virginia is ideal for outdoorsy couples looking to get away from it all.
Quick Tip: Protect yourself from bugs by making sure you've packed some bug spray! You may also need a small backpack during your outdoor adventures. This one comes in fun colors and is super lightweight. Being prepared is always important when embarking on outdoorsy getaway!
---
Some of the best romantic getaways can be found in the Southeastern US states. Each state offers couples its own unique opportunity to reconnect, recharge and enjoy one another's company in a relaxing, serene beautiful setting.
These places are some of our favorites when it comes to romantic getaways to reconnect. Valentines day is around the corner, so grab your loved one and head out on a romantic getaway perfect for the two of you!
CHECK OUT WHAT'S NEW ON BETSI'S WORLD
Which of these destinations would you most like to visit? Did you favorite romantic getaway destination make the list? Let us know in the comments below!
You May Also Enjoy These Getaways