A family friendly vacation in the summer is best spent in the South! Soak up the sun on the south's beautiful beaches, indulge in theme parks, and take in tons of history with your kids.
There are so many amazing family-friendly destinations in the area, you're sure to find one (or three) places to visit while your kids are on summer break. To help you gather some inspiration for this summer's family vacation, we've rounded up 6 fun destinations in the South.
Fun Family Vacation Destinations In The South
Orlando
Orlando is full of amazing family-friendly activities. From the magic of Disney to the excitement of Universal Studios, there is so much to see and do in this central Florida city. While the city's theme parks are the biggest draw to Orlando, there are tons of other family-friendly options to choose from. The city is home to a great aquarium and zoo for families that love animals.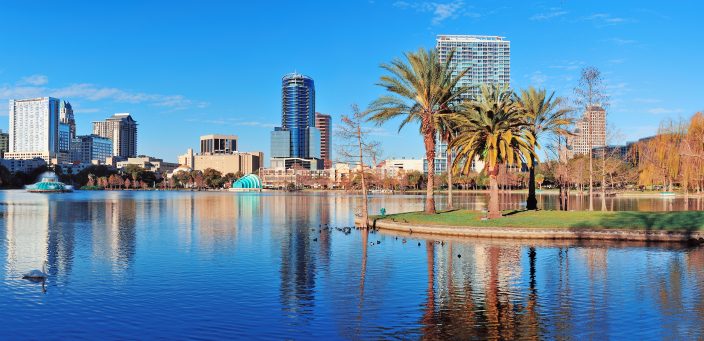 It also houses plenty of educational and cultural options. Experience hands on learning at the Orlando Science Center, or visit the Orlando Repertory Theatre for a great performance! There are also many options for families who love active adventure activities! Try biking the West Orange Trail or embark on a fishing excursion on the Orlando lakes. You and your family can even camp at Makison Island.
A Family Trip to Williamsburg
A family vacation to Williamsburg this summer is a great opportunity to take in some history! This popular Virginia destination will take you and your family back in time as you walk the streets of historic Colonial Williamsburg and see real-life history in action. Your kids can even join in on the fun by renting a costume at the Costume Rental Center. Girls get lovely Colonial dresses, while the boys can dress up in hunting outfits complete with an imitation rifle. For more educational fun, head to the Yorktown Battlefield or the Jamestown Settlement.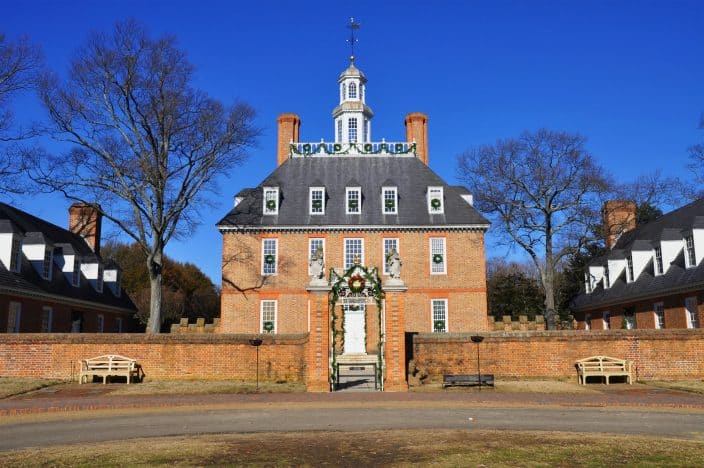 Aside from all the fun educational offerings, Williamsburg also has some exciting activities to choose from. Ride the thrill rides at Busch Gardens or get wet at Water Country USA. Your kids will also have a blast at Kings Dominion, where Peanuts lovers can enjoy rides and attractions featuring their favorite comic strip characters.
New Orleans
While the city of New Orleans may be known for its parties, it is also perfect for a family vacation. This historic southern destination offers plenty of fun tours in charming streetcars. Take your family for a walk along the Mississippi river or enjoy a steamboat ride along this famous waterway. Of course, you shouldn't forget to taste some delicious beignets at Café Du Monde.

But one of the best family-friendly attraction this southern city has to offer is its Audubon-backed attractions. The beautiful Audubon Zoo features a variety of animals and unique habitats to experience. Aquatic lovers will love the top rated Audubon Aquarium. The city is also home to the Louisiana Nature Center and an amazing Butterfly Garden.
Family Fun In Tampa
Tampa is another Florida family-friendly hot spot! From the beautiful beaches to the excitement of Busch Gardens, Tampa has a lot to offer families. One of the biggest attractions, Busch Gardens, is filled with thrilling rides, water slides, and other family-friendly entertainment. For more outdoor fun, check out the famous Lowry Park Zoo! At Lowry Park you'll find tons of unique animals, shows, and engaging activities for both kids and adults.
To escape the Florida heat, consider visiting the popular Museum of Science and Industry which offers kids hundreds of hands-on activities. You can also head to the Florida Aquarium to cool off and view a variety of sharks, penguins, and otters.
 This post may contain affiliate links which won't change your price but will share some commission. As an Amazon Associate I earn from qualifying purchases.
Chattanooga
Another fun and scenic town in the South, Chattanooga is a great destination for a summer family friendly vacation. Train lovers will have a blast at this fun Tennessee mountain town, where your family can ride on the Chattanooga Choo Choo. For more train-centric fun, check out the Lookout Mountain Incline Railway, where you can ride a train car with a glass top and sides up a mountain for amazing views of the city below. You can also choose to spend the night in a real-life train car!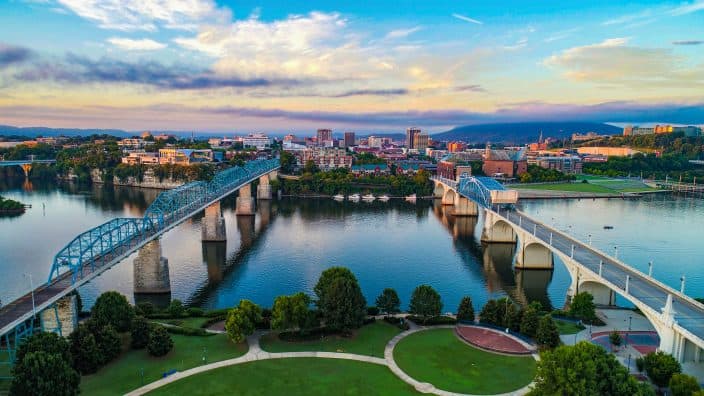 But train fun isn't the only thing Chattanooga has to offer. It's also packed full of amazing outdoor fun. Nature lovers will have a blast a Rock City, where you can view tons of awesome rock formations and travel through a variety of caves. Alternatively, take a hike to Ruby Falls, a beautiful waterfall inside a cave.
A Family Vacation to Outer Banks
For a relaxing beach vacation with plenty of family-friendly activities to choose from, head to the Outer Banks in North Carolina. You'll love the beautiful natural beaches throughout the Outer Banks – some are even home to wild horses! Aside from the beach, this family-friendly southern vacation destination also has a variety of fun indoor activities, like the NC Aquarium, Children at Play Museum, and the Wright Brothers National Museum.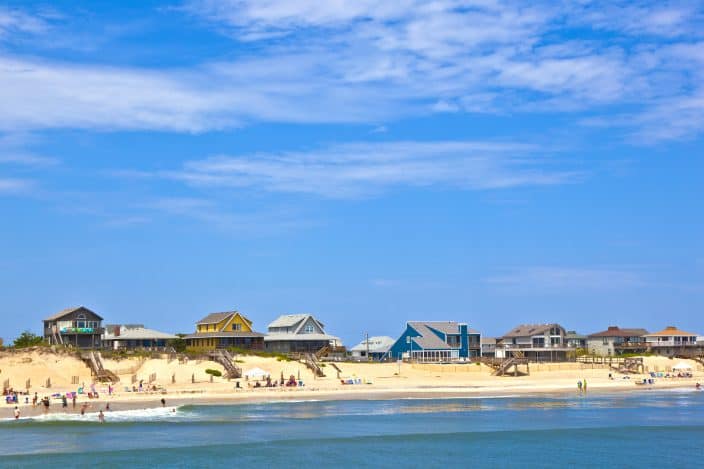 The region is also home to some historic locations your family will enjoy. Head to the Roanoke Island Festival Park to explore the first English settlement in America, which also features a replica of one of the seven English ships that arrived to the settlement in 1585. Island Farm is another fun living history site in the area that interprets daily life on Roanoke Island in the 1800s.
---
The South has tons of beautiful and entertaining family friendly vacation destinations. Whether you're from somewhere else or reside in the south, there is so much to discover in this region of America. So grab your explorer hats, sunglasses, and suitcases and buckle up for some summer fun in the South!
Looking for some other family friendly destinations in the South? Check out 6 Family Fun Day Trips from Orlando, for some ideas on Florida vacation hot spots!
Take a family vacation in the South this summer. These 6 southern towns are family friendly with plenty of beaches, museums, nature and theme parks!
CHECK OUT WHAT'S NEW ON BETSI'S WORLD
Have you ever visited these southern cities? Let us know in the comments below!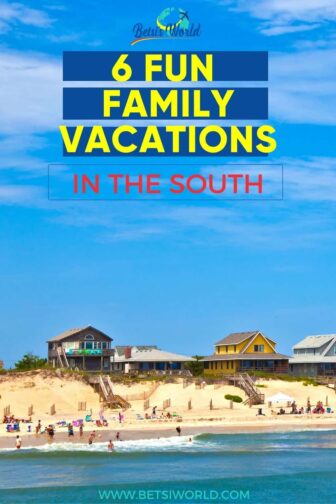 Other Vacations You May Like