A staycation is always a great alternative to traveling and can be just as fulfilling! Whether you're trying to save money, don't feel comfortable traveling yet, or just don't have the time to take a traditional vacation this year, a staycation has a lot to offer.
A staycation allows you to take a break from your daily life and enjoy some time to yourself, without ever leaving your home. Maybe you have small children you can't travel with yet, or you're searching for some quality time with your partner, whatever the reason, we've got you covered! If you're planning a staycation this summer, here are five ways to make sure it's awesome.
How To Plan The Perfect Staycation
Make a Plan
Since you'll be spending your staycation at home, it's easy to fall into your normal routine. To ensure you actually take a break from your everyday life, it's important to make a plan for your time off.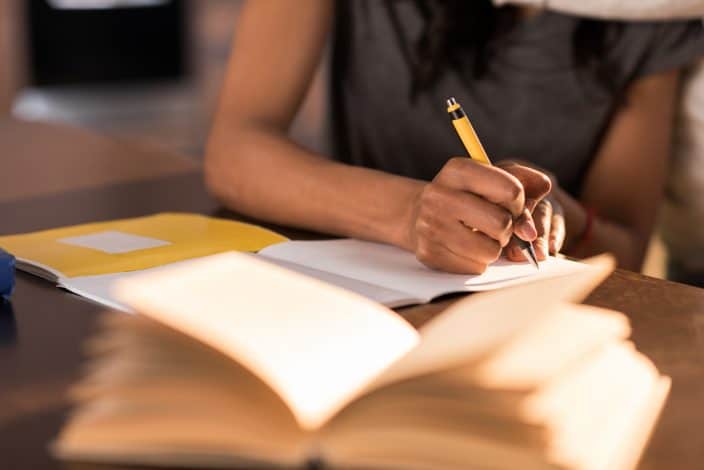 Take the time to sit down with your family to map out exactly what you want to get out of your break together. Try creating a flexible itinerary so that there is something to follow and look forward to. Whether you want to explore your hometown or simply spend time relaxing at home, make sure everyone has an input on your staycation plans.
Get Your House Cleaned
You'll be saving tons of money by not taking a vacation. Why not spend some of that savings on a cleaning service? With a clean house, you won't be tempted to tackle household chores during your staycation. And you'll be much more relaxed when you don't have to worry about doing the dishes or tackling the laundry if all the hard work has already been taken care of by someone else.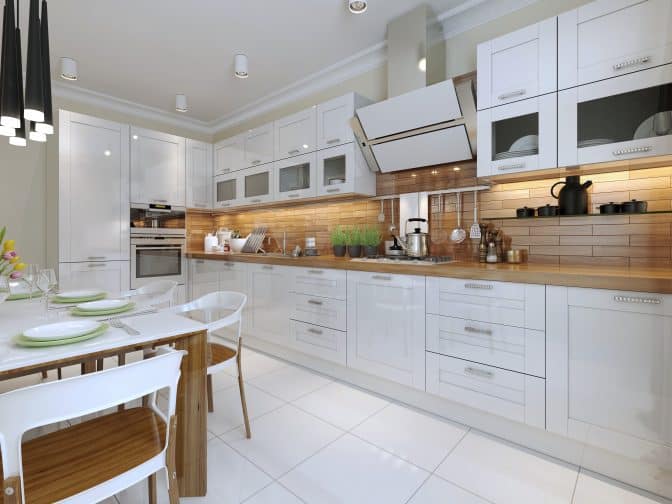 Alternatively, you can treat yourself to an organizing service like Neat Method. The Neat Method is a luxury home organization service that designs and installs customized solutions for your home. Kitchen and pantry feeling cluttered and disorganized? Services like this one will come in and redesign it all for you so you'll never be searching for anything ever again. Plus, they do a gorgeous job. Treat yourself and your family to the organized home you've always wanted!
Create a Resort at Home
One of the best things about taking a trip is relaxing in a resort atmosphere. But there's no reason to miss out on that during your staycation. So, turn your bedroom into a high-end resort! Indulge in some new high thread count sheets and add a few extra accents to the room. Deliciously smelling candles and a vase of fresh flowers do wonders.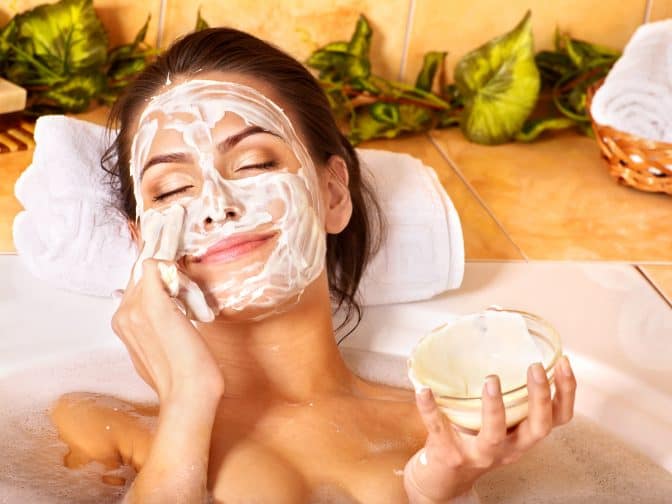 Of course, you can't have a resort with a spa! Create your own spa experience by finally using those bath salts you've meaning to try. Pull your face masks and body scrubs from the cupboards and put them to good use. If massages are your thing, you and your partner can take turns being the masseuse. You'll feel like you're at a real spa in no time!
Eat Well and Have a Wine Tasting
Whether you head out on the town each night to enjoy a new restaurant or make your own gourmet meals at home, make sure you indulge in some delicious food during your staycation. Map out your dinners at different restaurants you haven't tried or head to the grocery store to splurge on some high-end food. Eating well on your staycation will make the experience so much more memorable.
If you've always wanted to learn more about wine try having a wine tasting at home! Experiment with different whites and reds and see which kinds you like best. Alternatively, you can try different brands of your favorite style of wine!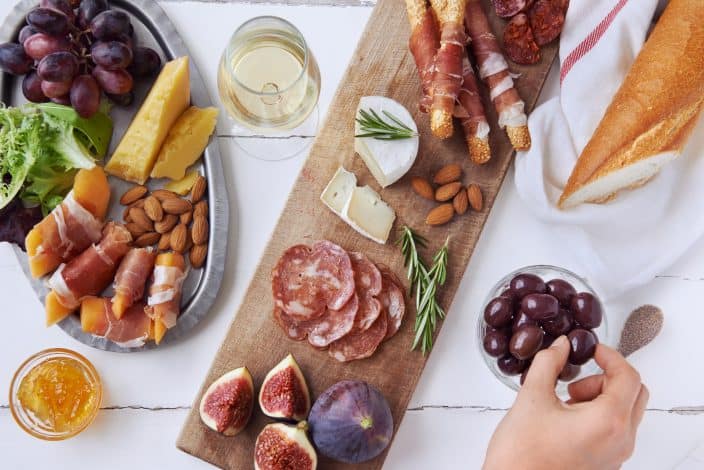 Don't forget to add cured meats and cheeses to make the experience complete. Choose cheese's of differing milks (sheep, goat, cow) and aging for the best combination. Adding cured meats like prosciutto and aged salamis add heartiness and salt to the plate. Finally, for a touch of sweetness, add some honey or dried fruits!
If you're looking for something to present your masterpiece on, I absolutely love this cheeseboard and knife set. Its made from bamboo, so its easy to clean, organic, and non-toxic. It's a beautiful addition to your entertaining collection!
 This post may contain affiliate links which won't change your price but will share some commission. As an Amazon Associate I earn from qualifying purchases.
Head Out on the Town
Although relaxing at home is a great way to enjoy your staycation, spending time getting to know your hometown is also a wonderful way to spend your time. Given the last year of quarantine and closings, it's likely that you haven't been able to go out on the town like you used to. With things opening up again, it is the perfect opportunity to see what's new!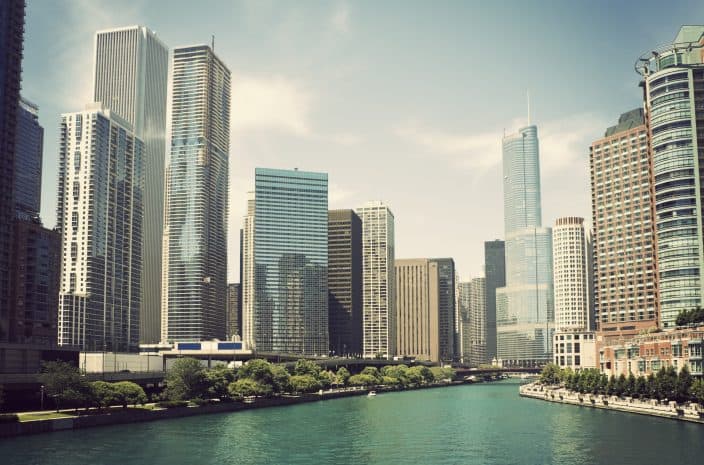 Check out a museum or art gallery, visit a nearby winery, go shopping or simply enjoy a movie at your favorite theater. Use the opportunity to do the things you used to love doing and try new things. Seeing your town from a new perspective just might make you love it even more.
A Staycation Vacation
A staycation doesn't have to boring, in fact, it can be even more relaxing than a traditional vacation. I find that, although I love to travel, sight seeing and exploring the town doesn't leave much room for down time. A staycation can give you exactly that! Intentional time to relax, shut off from life's stresses and have some fun!
If you're interested in other staycation ideas check out our article on Romantic Staycation Ideas for an Anniversary. You're sure to love it!
CHECK OUT WHAT'S NEW ON BETSI'S WORLD
Are you planning a staycation this summer? Let us know in the comments below!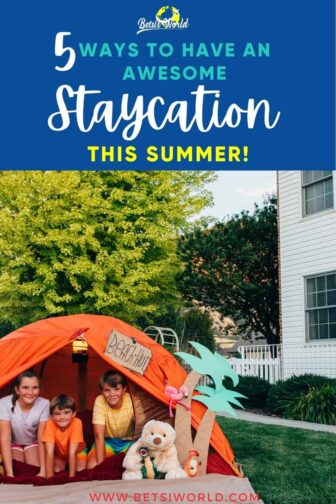 You May Also Enjoy These Getaways