The Best Gifts for Coffee Lovers-Great Coffee At Home
Coffee lovers, coffee snobs, coffee enthusiasts, whatever you call them, you probably have one in your life (or maybe you are one!). Gifts for coffee lovers are some of the most popular things to give during the holidays. This is not surprising, as being able to make the perfect cup of joe can add that extra sparkle to your day. Not only that, it can save money on ordering out too!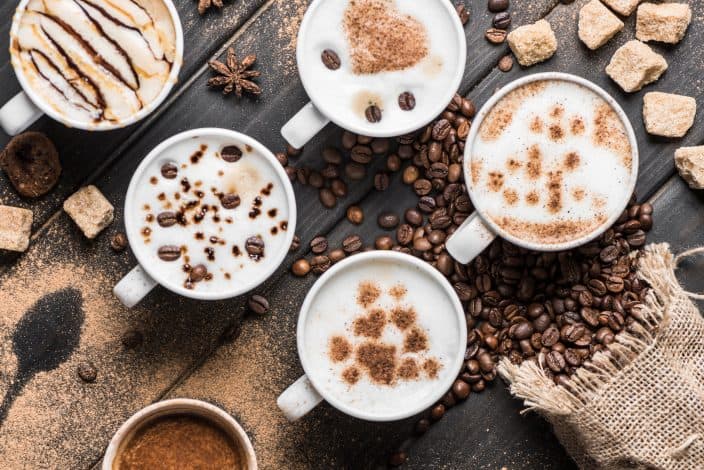 However, making a great cup of coffee isn't as simple as pouring coffee grounds into your coffee machine and pushing start. You need the right ingredients and the right equipment to make a great brew. If you're hoping to learn how to make an amazing cup of coffee, or are looking to give coffee-themed gifts, check out these coffee must-haves.
Coffee Essentials for Coffee Lovers
Whole Beans
A great cup of coffee always starts with whole beans. By purchasing whole bean coffee instead of ground coffee, you're ensuring each cup of coffee is as fresh as it can be.
It is important to grind your beans fresh with every cup or batch. Therefore, the beans or grounds wont lose their flavor and the full amount of essence can be extracted. Fresh beans are always a must-have for anyone looking for a great cup of joe!
A Good Coffee Bean Grinder
To ensure your coffee is fresh every time you make it, you'll need a great coffee bean grinder. When looking for a good grinder, be sure to select one that has a large hopper that funnels the coffee beans into the grinding wheel. A good grinder should also have the option to create fine, medium or coarsely ground coffee.
Different textures of grinds correspond with different methods of brewing (i.e. french press, pour over, espresso machine). Therefore, it is especially important to have these options in your grinder. This is the perfect gift for coffee enthusiasts to step up their game and pairs nicely in a gift basket with whole coffee beans.
Ceramic Coffee Canister
You'll also need to be sure your whole bean coffee stays fresh until you're ready to grind it, which means you'll need to store it in an airtight canister. Choose a ceramic canister that blocks light from entering the container to keep your coffee fresh for days.
These canisters also double as beautiful décor on one's kitchen counter. Choose a container that matches the kitchen aesthetic of your gift recipient to ensure that they will absolutely love it!
Water Filter Pitcher
While the beans may be the most important element to a great cup of coffee, the type of water you use to brew matters, too. To make the best coffee, you'll need to filter your water before brewing, which means you'll need a good water filter pitcher. 
A good water filter pitcher ensure that sediment and minerals that may change the flavor of your coffee are filtered out. This way, your coffee stays pure and robust to the taste! This is one of the most important gifts for a coffee lover, as even the best beans can be ruined by poor water quality.
Coffee Maker
When looking for a great coffee maker, consider how you like your coffee to determine the best option for you. Traditional drip coffeemakers are great for those who prefer a mild brew.
Alternatively, a French press is perfect for those who like a darker cup of coffee. This is the perfect coffee essential to give to those who are looking to branch out from their traditional coffee makers.
For those who love pour-over coffee makers, you'll swoon over this fabulous pour-over coffee maker. The set includes a teakettle with gooseneck spout, coffee mill grinder, and 20 oz. coffee brewer. This is a great gift for those looking for a strong, bold cup of coffee.
Milk Frother
Do you love lattes and cappuccinos just as much as traditional coffee? It's easy to make those drinks at home with the help of an electric milk frother.
You don't need a fancy machine with a milk steamer to get the perfect foam topping. Milk frothers foam up your milk with the help of an electric powered whisk in the bottom of the machine. This gadget makes no mess and is easy to clean. An electric milk frother is the perfect gift to add to any coffee lovers gadget collection.
 This post may contain affiliate links which won't change your price but will share some commission. As an Amazon Associate I earn from qualifying purchases.
Espresso Machine
Serious caffeine lovers may want to take their coffee game up a notch by investing in an espresso machine. With this handy machine, you'll be making delicious espresso drinks in the comfort of your own home in no time.
Espresso machines are fairly easy to use and worth the investment for those who call themselves coffee lovers, enthusiasts, or snobs. Depending on the price range these machines can come with a built-in bean grinder and a milk steamer nozzle. Espresso machines ensure the perfect brew every time and are a great gift for any coffee drinker.
JavaSok
For the coffee drinker on the go, our go-to is JavaSok. JavaSok is an insulated cover that you slip on over your coffee cup. The cover prevents your iced coffee from sweating and protects your hands from a steaming cup of coffee. I love the designs of the JavaSok – very hip and colorful.
Holiday Mugs
What coffee lover doesn't need more coffee cups or mugs for the holiday? This set of 4 holiday mugs is sure to be the perfect gift for the coffee lover on your list. Bonus? It's the perfect size for a delicious cappuccino!
Coffee Gadgets For The Holidays
Coffee tools are always a hit as gifts for the holidays. Whether it is a gift to yourself or to someone special these items always come in handy. Your friends and family will be so grateful to you for making delicious coffee at home so simple!
CHECK OUT WHAT'S NEW ON BETSI'S WORLD
Which of these coffee essentials have you tried and which will you give as a gift? Let us know in the comments below!
Pin this to your favorite gift board