If winter is your favorite season, this winter bucket list will help you make the most of it. Winter doesn't have to mean sitting inside, hiding from the cold, there are plenty of things to do that will elevate your winter experience.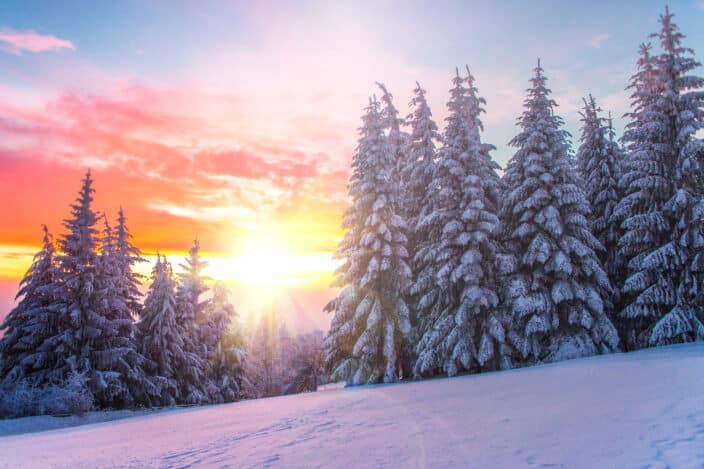 If you're looking for inspiration for things to do with friends, family, or loved ones we've got you covered. From fun activities indoors and outdoors to baking, drinking, and adventuring, this list has it all. The best winter bucket list is just a scroll away!
25 Winter Bucket List Ideas
Indoor Activities
We know winter brings on colder weather and that means that we don't always want to go outside. But being inside doesn't have to be boring! These seasonal indoor activities will keep you having fun and in the spirit of the season.
Take part in relaxing activities. Reading a book by the fire or watching a movie curled up in a soft blanket are both things that are wonderful winter activities. If you live in warmer climate, try taking your book outside in the mornings and enjoying the fresh crisp air with your favorite warm beverage. This season is the perfect time to start a new habit.
Decorate your house with seasonal items. Winter time brings with it such a magical feeling. Why not bring that feeling inside the home? You don't have to use holiday décor to make it feel festive, just bring in your favorite elements from outside. For example, using seasonal florals like poinsettias, berry branches and birch branches as rustic décor will add flair to any area of your home. You can also change out your couch cushions and blankets to reflect the season.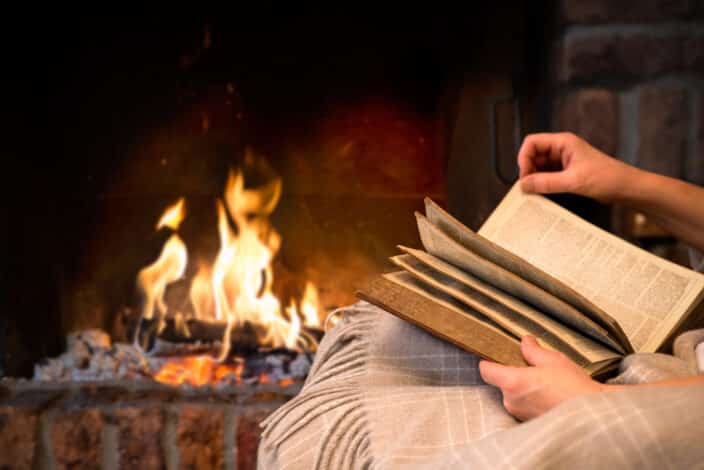 Indulge in classic seasonal treats and drinks. There are few things better than snacking on holiday desserts or warming up with some apple cider. Also, the scent baking leaves behind, perfumes your home for days! Try baking pecan pie or Christmas cookies. For drinks try making some hot chocolate or homemade apple cider. For the adults, try our delicious spiked hot chocolate! There's nothing quite like enjoying a warm cup of hot chocolate on a cold winter day.
Host a Winter Wonderland party. Go all out and decorate your home in festive white and snowy accents. This is especially fun if you live somewhere that doesn't get snow during the holidays. Make winter treats like seasonal soups, spiced cookies, and fun cocktails to share with your guests. A fantastic winter tablescape with a fresh floral arrangement will take the experience to the next level.
Outdoor Activities
Watch the sunset or sunrise at a beach. You can still get some winter sun in the mornings. The fresh cool air provides the perfect wake-up call. Or, head down to your nearest beach to see the sunset. This is especially for those of you that live in sunnier places, like Florida! There's nothing better than taking a sunset stroll in cooler weather. Pack a cozy beach blanket and a thermos with some hot cocoa and watch the painted sky!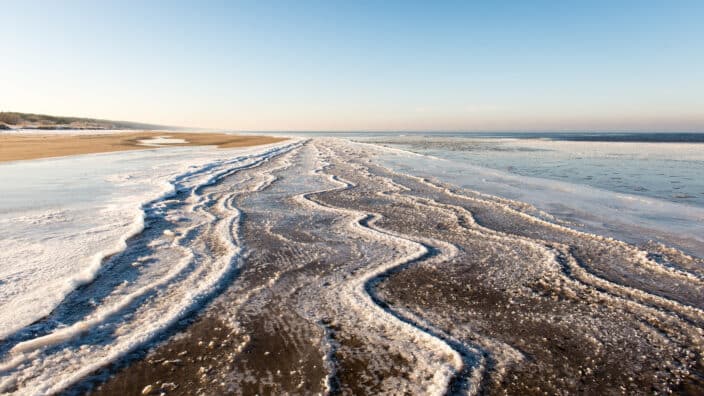 Go out for a hike. Bundle up warmly and enjoy some nature during this snowy time of year. If you live in a location where it doesn't snow, take advantage of the cooler weather to get some steps in!
Go ice skating. Ice skating is a winter classic that's always fun. Try ice skating on a frozen lake, just make sure that it's fully frozen before attempting it! There are plenty of indoor rinks and manmade outdoor rinks available during this time of year. If you've never been ice skating, now is the time to try it!
Build a snow man. This is a classic, must-do winter activity. Have fun with it, it can be as simple or intricate as you want it to be.
Family Winter Activities
Have a Crafting Night. Make winter themed crafts like cards, pillows, and snowflakes or garland for decorating. These projects are relaxing and can also be a great way to show your creativity!
Have a winter photo shoot. This season is perfect for a themed family photo. The outdoor scenery provides the ideal backdrop for a beautiful portrait to send to family and friends.
Have a Picnic. Picnics are always fun family friendly activities. Gather up you favorite treats of the season and pack some park games!
Build a gingerbread house. A classic holiday activity, you can get the premade kits at most stores. Then buy your favorite candies to make the house unique and delicious. You and your family can make a whole village to display on your dining room table!
Go on an ice cream date. Take the family out for ice cream after dinner each night this season. Winter doesn't have to be all about being inside.
Take a walk to look at the Christmas lights. Wear your coziest sweaters and winter accessories and take walks around your neighborhood. Look at all of the holiday lights and decorations while enjoying the weather.
Go sledding. Choose a giant snow-covered hill and let loose! This is definitely one of the most thrilling activities out there.
Winter Activities For Couples
Visit a winery. Wineries aren't just for the fall season. The fresh fallen snow, warm fire, and delicious wine makes a vineyard the perfect place to spend time during this season. Plus, it is much less crowded in the winter, giving you a more intimate experience with your partner. There are plenty of great wineries in the South to visit, meaning you don't have to fly all the way out to Napa just to have a glass. Check out some of our favorite wineries to visit in Winter here.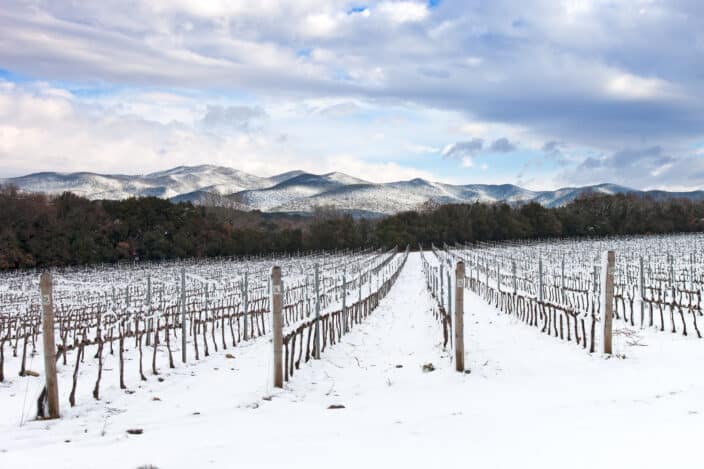 Go on a Romantic Winter Vacation. If you live in a warmer climate, there's nothing more fun than going on a romantic skiing vacation in the mountains. There are plenty of beautiful resorts to choose from in the United States perfect for couples! Don't know how to ski? These resorts have lessons to prepare you for your adventure.
Have a romantic dinner at home. Make your favorite comfort foods and enjoy them by the fireplace or over candlelight.
Make homemade gifts. Bake some cookies, create a winter scrapbook or write your partner a love letter! It is always romantic to bake and cook together while enjoying a season cocktail.
Go on a Hot chocolate date. Take a stroll through your city or town, checking out all of the Christmas lights, and then head to your favorite hot chocolate spot for a sweet treat. Don't like hot chocolate? Substitute it for your favorite warm drink.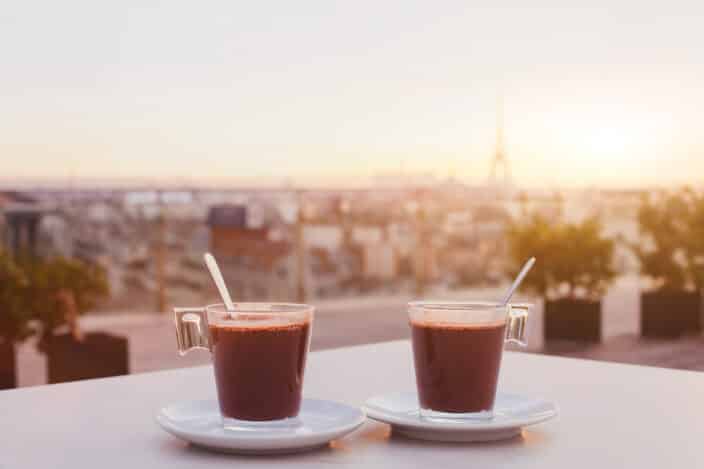 This post may contain affiliate links which won't change your price but will share some commission. As an Amazon Associate I earn from qualifying purchases.
Winter Activities To Do With Friends
Have a Pajama Party with friends. Create cozy winter memories by staying in and having a PJ party with friends or family. Make s'mores around the fire, watch Christmas movies and drink hot chocolate.
Visit a festival or concert. There are many different festivals in the US to choose from, each with their own charm. Enjoy the festive lights, music and food! Concerts and plays are other great ways to enjoy the winter season. There are often many Christmas themed performances around this time of year.
Volunteer at a local shelter to help those in need during the winter season. You'll be doing good for others and helping to make someone's winter a little bit brighter.
Take a winter road trip. The season is a great excuse to get everyone together and have a reunion. Go see the snow capped mountains or just explore a new city. Make sure you pack warm clothes and an extra blanket, plus some fun games!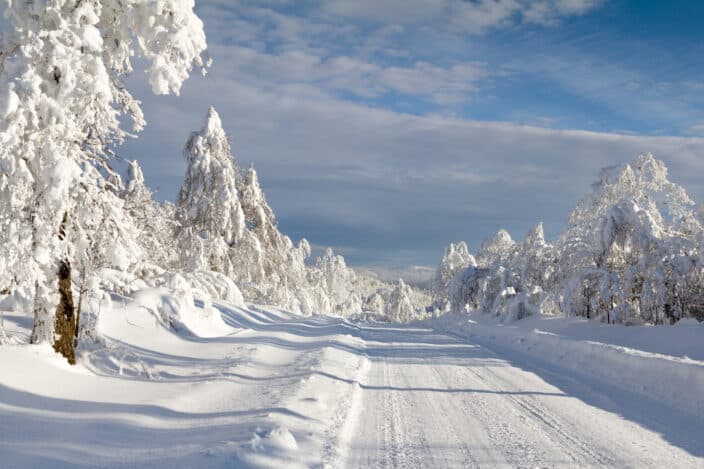 ---
There are so many great things to do in winter! Whether you're looking for some fun, family-friendly activities or something a little more adventurous, there's definitely something for everyone. So get out there and enjoy winter to the fullest!
CHECK OUT WHAT'S NEW ON BETSI'S WORLD
Which of these activities will you be doing this winter? Let us know in the comments below!
Wineries | Travel Destinations | Gifts For The Wine Lover
Travel and gift resources for the wine connoisseur and travel enthusiast.