Misadventures begin in Memphis
Flying into Memphis I was looking forward to meeting my travel companions for the next few days as we hit up a variety of small Southern towns on our way to our ultimate destination of Biloxi, Mississippi.
We did not spend a large amount of time in Memphis, but it is a great jumping off spot to explore Mississippi and the great hometowns that await you!
Exploring Oxford, Mississippi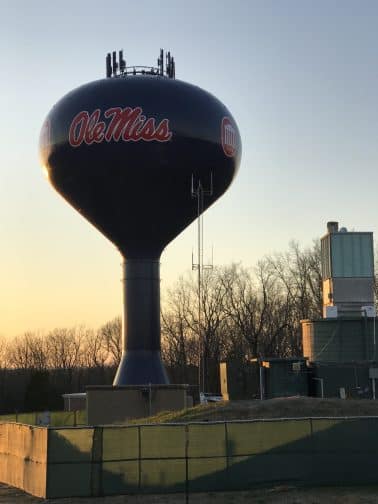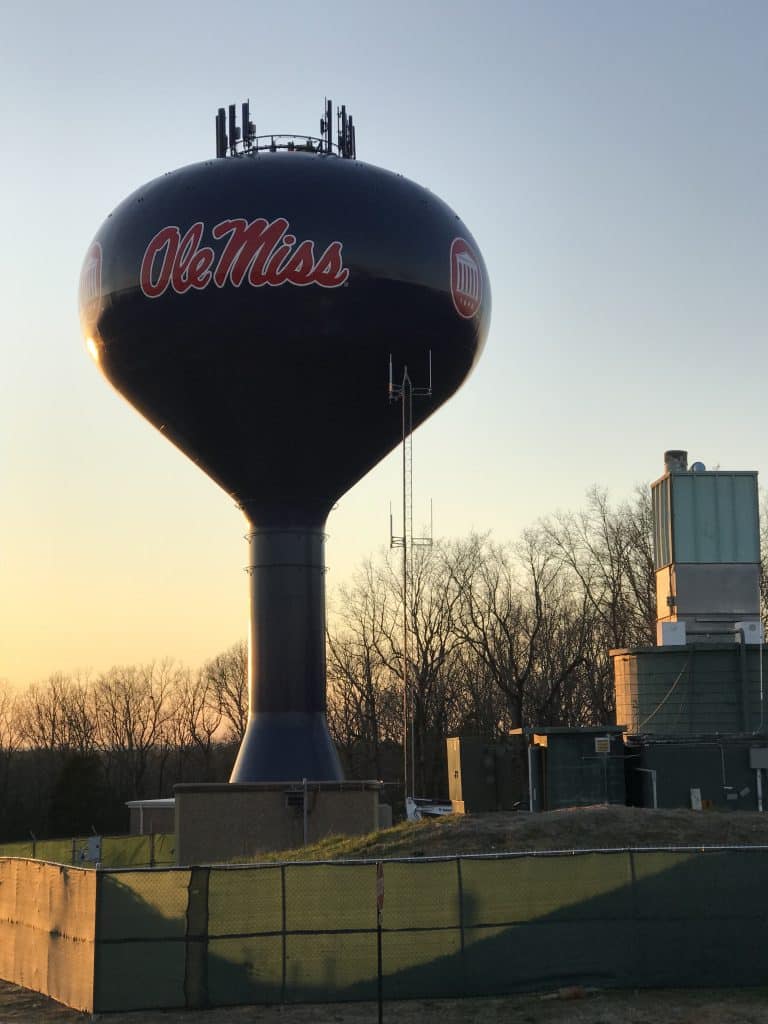 Oxford is home to the venerable University of Mississippi, fondly known by the nickname, "Ole Miss." Opening its doors in 1848, the University fosters a fierce sports tradition – specifically football. Football fans of Ole Miss will take every opportunity to chant and shout the "Hotty Toddy" at their opposition during football games.
HOTTY TODDY
ARE YOU READY???
Hell yes, damn right!!!
hoddy toddy gosh almighty
who in the hell are we…HEY!!!
flim flam, bim bam
OLE MISS BY DAMN!!!
Copyright: Lyrics © Original Writer and Publisher
source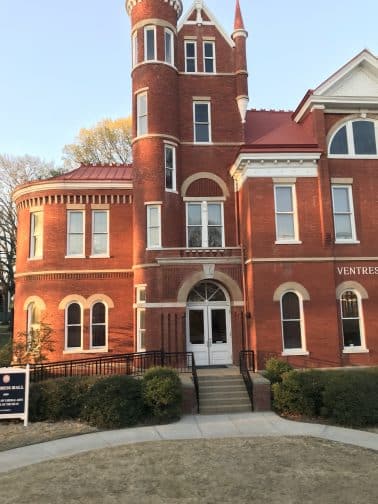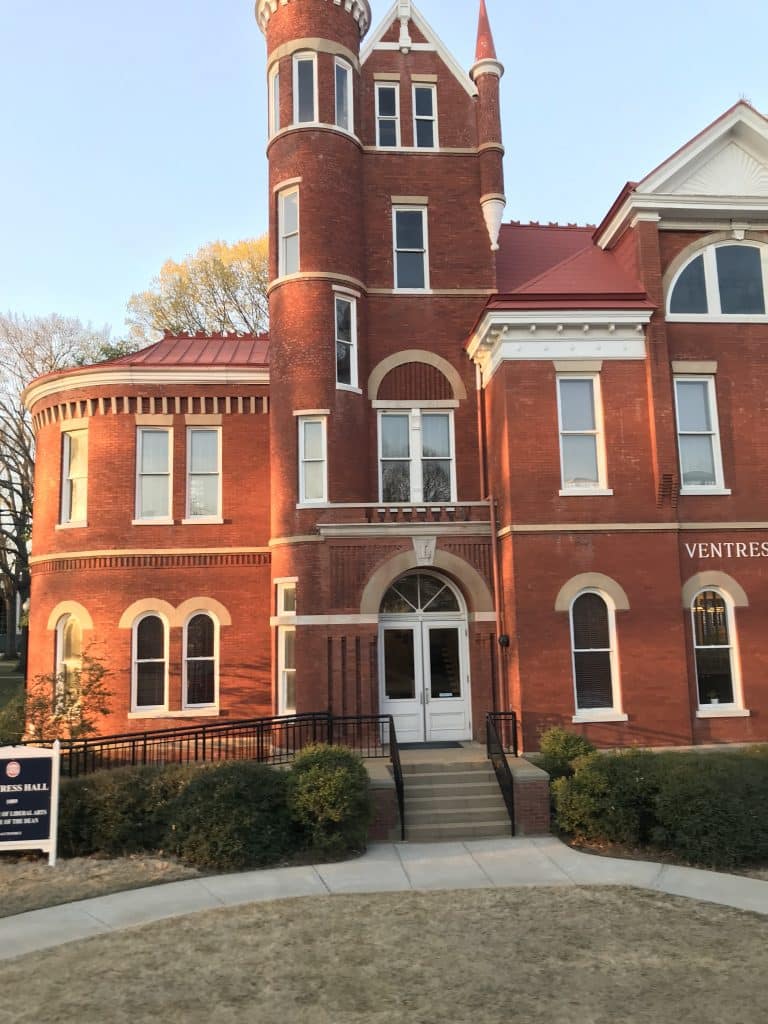 But there is so much more to explore in Oxford!
Explore History in Oxford, Mississippi
Like so many communities in the South during the Civil War, Oxford was nearly obliterated by Union troops as they set fire to the Courthouse, square and surrounding homes.
In 1962 the first African American, James Meredith, entered the University of Mississippi during the Civil Rights movement.
Perhaps Oxford's most famous person is writer William Faulkner. Faulkner moved to Oxford when he was five years old. Leaving for a brief stint during WW I, Faulkner found his way back to Oxford, and in 1930 purchased his home, Rowan Oak. Faulkner and his family lived at Rowan Oak for 40 years.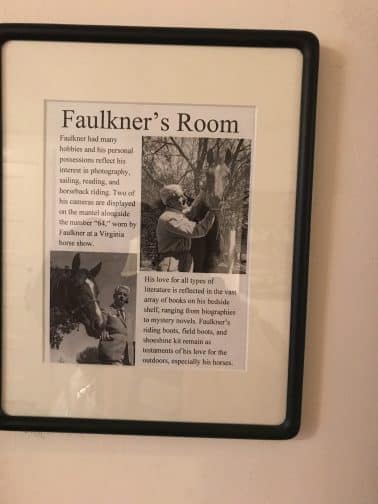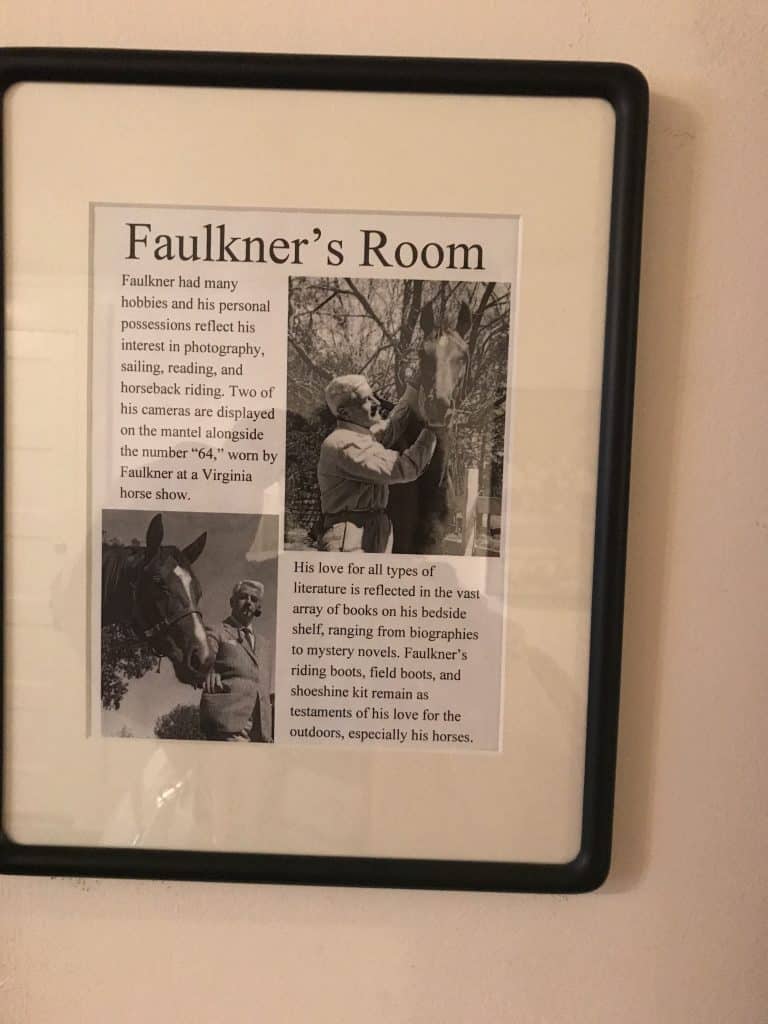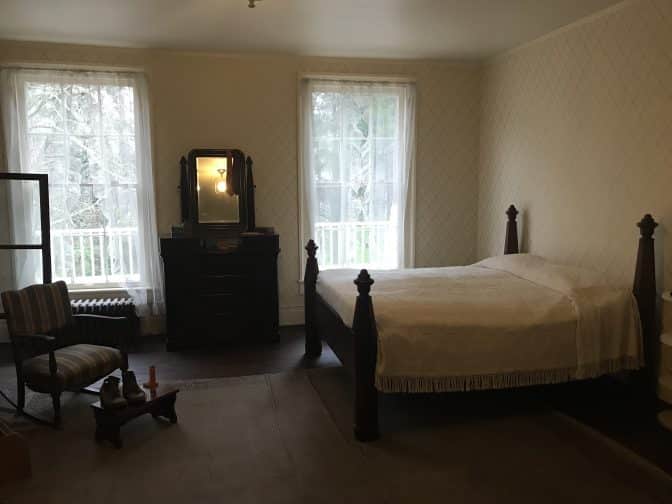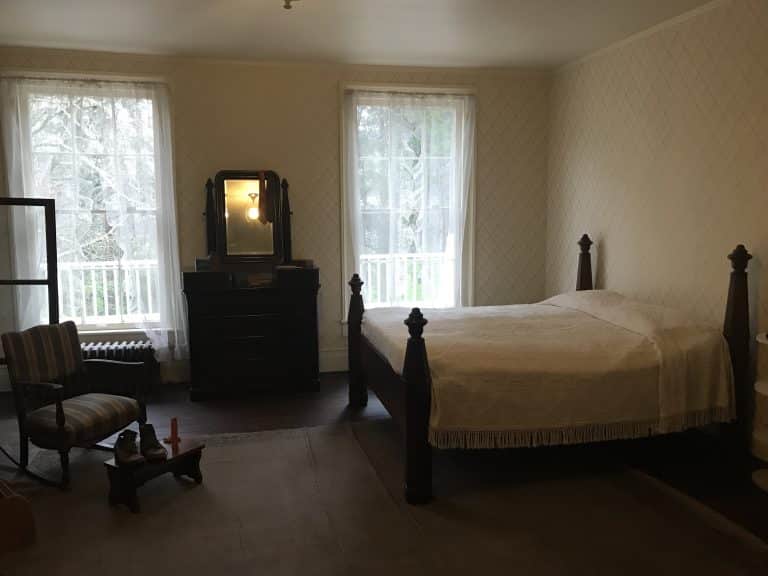 It's no secret that Faulkner had a penchant for drinking. At his grave, in the Oxford Memorial Cemetary, many leave bottles of booze and pennies as a tribute to Mr. Faulkner. Admission is free, so stop by and have your photo taken in front of his grave, or leave a memorial tribute.
Explore Oxford, Mississippi's Downtown
Where to Stay
Hands down the best place to stay when visiting Oxford is The Graduate Hotel. Located on The Square, this chic collegiate inspired hotel is the perfect place to stay whether you lean to a weekend unwinding and relaxing, exploring the nearby area, or are coming for an Ole Miss football weekend.
Speaking of football, Ole Miss, Oxford & The Graduate, the legacy of the first family of Mississippi football, Archie & Olivia Manning and their sons, Cooper, Eli & Peyton, is alive and well at The Graduate! Paying homage to Archie & Olivia is Cabin 82 – which happens to be the address of Manning's cabin on a nearby lake.
Cabin 82 is the cafe/coffee shop located just off the lobby and is decorated in the style of the Neshoba County Fair. With delectable Southern delights like biscuits and gravy with poached eggs and steel cut oatmeal with apple compote, maple syrup and granola to give it some crunch, your mouth and your tummy will be pleased as punch. Of course, there are lunch choices like chicken tenders, creamy good chicken salad and a fabulous blackened chicken salad that incorporates dried cranberries, grapes, pecans and gorgonzola cheese (this is my favorite!)
For those steamy Mississippi nights, cool off at The Coop. Here industrial chic meets updated farmhouse decor (with a chicken theme) which is the backdrop for the real stars – craft cocktails coupled with delicious modern Southern classics. Try the Ms. Ole Miss (Cathead Vodka, St. Germaine, Grapefruite, Soda & Lemon), or the Southwest Sunshine (Jalapeno Infused Reposado Tequila, Mango Syrup, Egg White, Flamed Orange Peel) if you are feeling a bit adventurous. And of course, you can never go wrong with an Old World Old Fashioned (Beefeater Gin, Aperol, House Made Old Fashioned Syrup, Orange Peel). However, it is the amazing views – right over The Square – that steal the show at The Coop!
Accommodations at The Graduate
Walking into The Graduate my immediate thought was "Man, that is a LOT of pink!" The floors are beautiful oak floors done in a wire brush pink stain that just fits The Graduate Oxford like a perfect bow tie.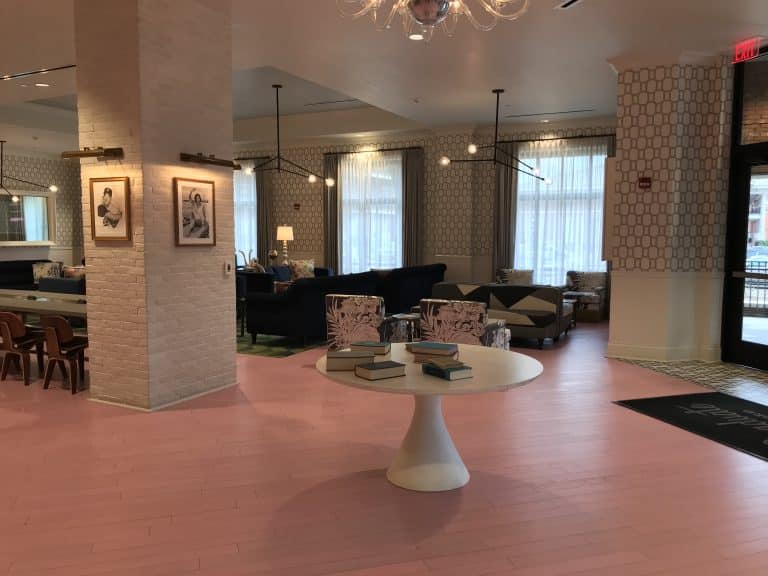 Speaking of bow ties…there is a substantial collection of art, including some modern takes on the simple, but elegant bow tie. They are colorful and kitschy, just the right touch for a boutique hotel in a college town.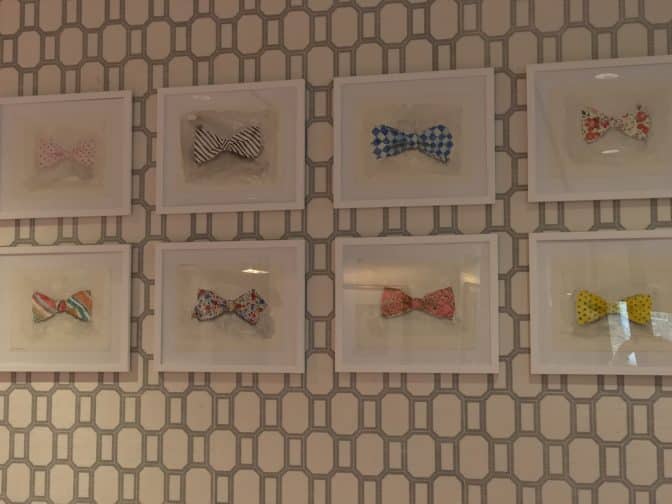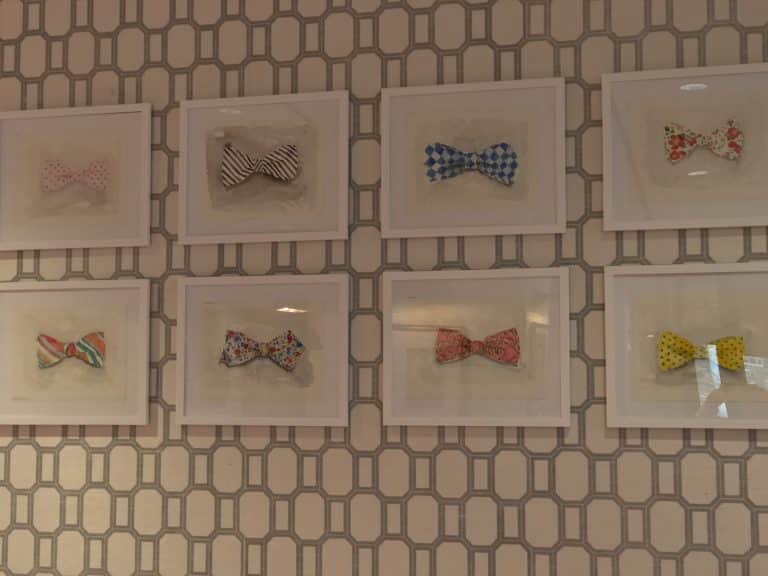 And if you look very carefully at the tiles in the front entrance door, you will see a pattern emerge that pays homage to the "Hotty Toddy!"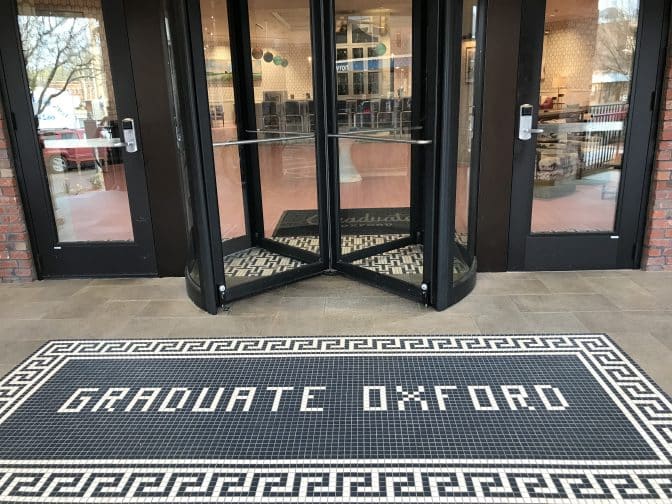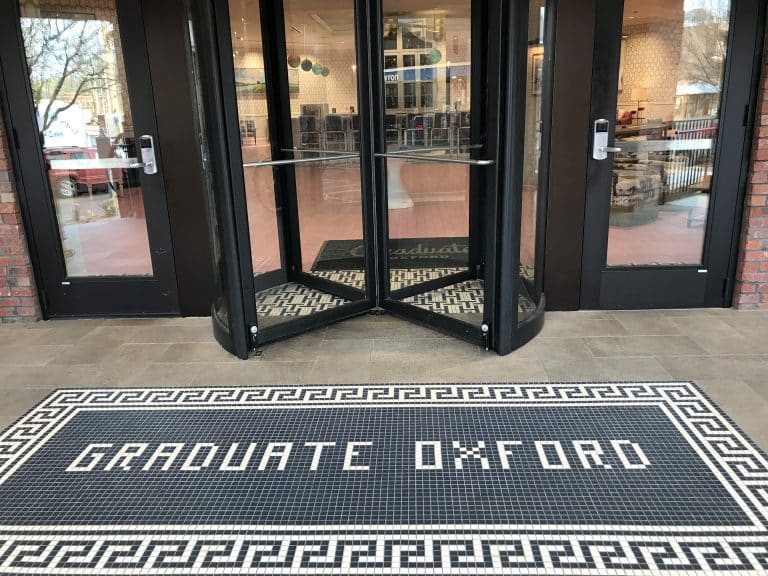 This post may contain affiliate links which won't change your price but will share some commission. As an Amazon Associate I earn from qualifying purchases.
The rooms are reminiscent of dorm rooms, with old-fashioned rotary dial phones that are actually modern, trunks were the bedside tables, and photos of college students on the campus of Ole Miss, from years ago adorn the walls alongside football pennants. Plaid curtains complete the dorm-like vibe of the rooms.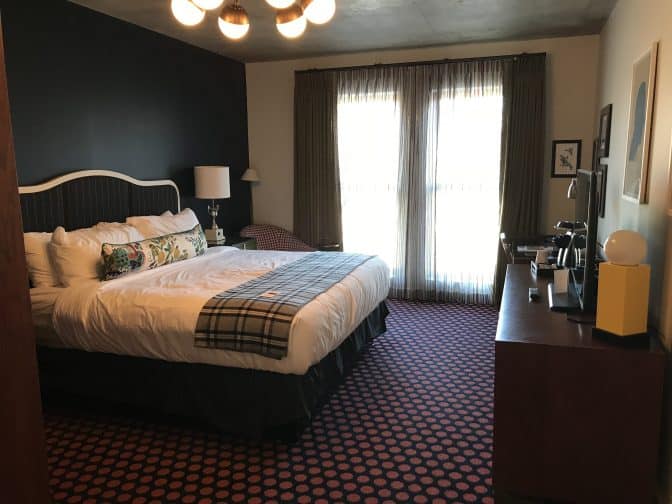 The beds were to-die-for comfortable! You literally just sink down into the most delightful sleep on these beds! There are plenty of outlets to charge all electronics.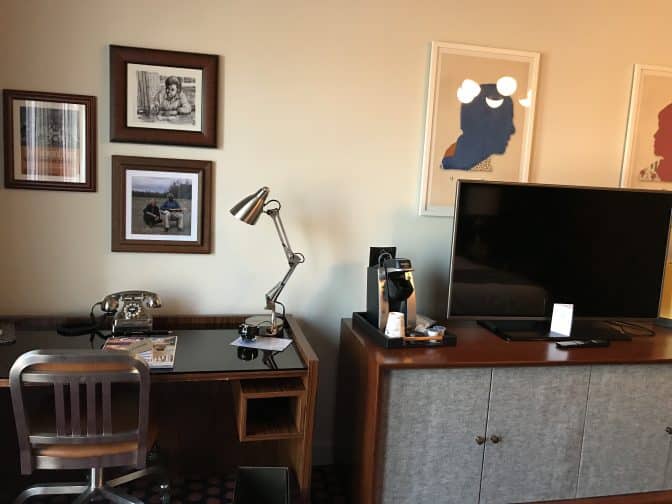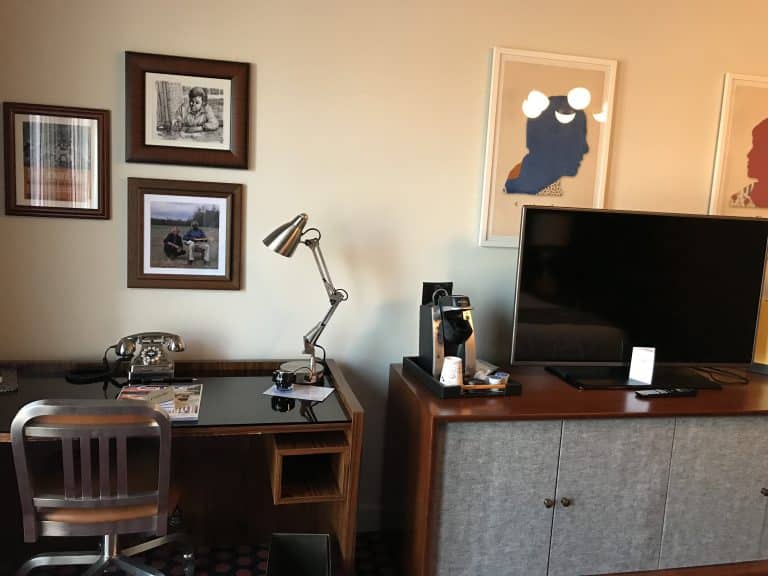 The shower was nice and roomy, and the water was steamy hot – a nice way to wake up in the morning! A nice selection of toiletries by Malin + Goetz complete the experience.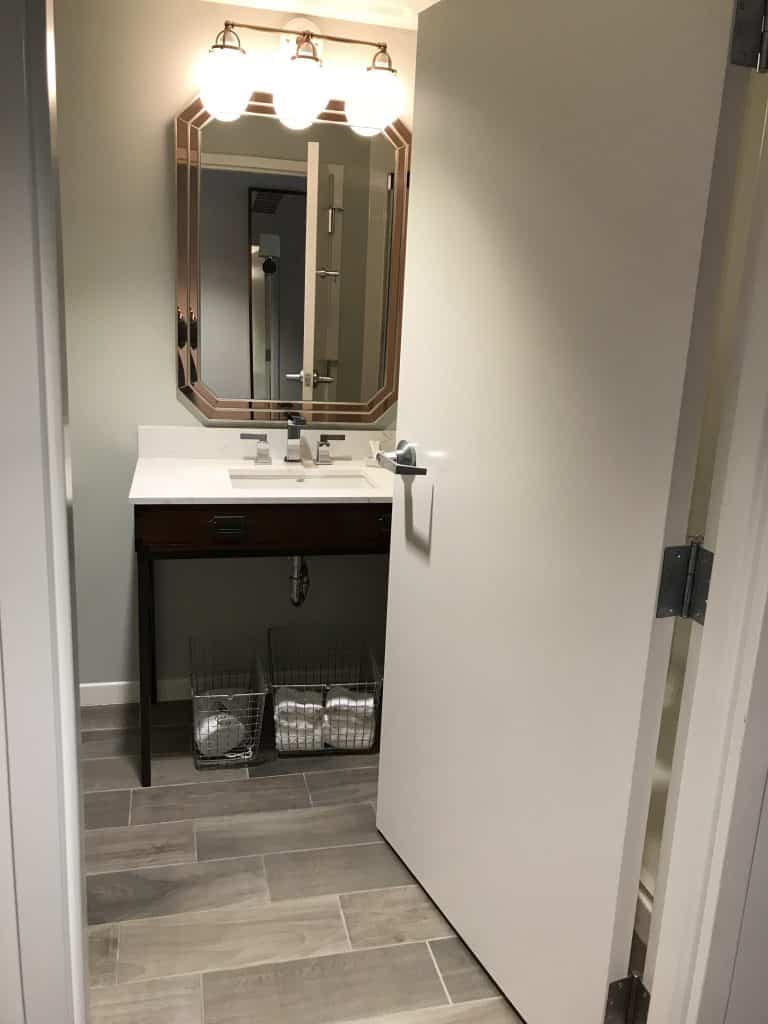 Shopping On The Square
Located just a block away from downtown, it's a quick walk from The Graduate to The Square. You must stop into Square Books! From its humble beginnings in a renovated upstairs space on The Square by Richard & Lisa Howarth, Square Books began to gain momentum when Bill Ferris came to Oxford as the first Director for the Center for the Study of Southern Culture. Ferris was instrumental in bringing renowned writers to the store for book signings and readings.
It was Willie Morris, who, in 1980 was the writer-in-residence at the University. He brought William Styron who penned Sophie's Choice, to the store. Styron's visit caused quite a stir and a long line of buyers. From his visit on, Square Books just rocketed upwards, and now has expanded to Off Square Books and Square Books Jr.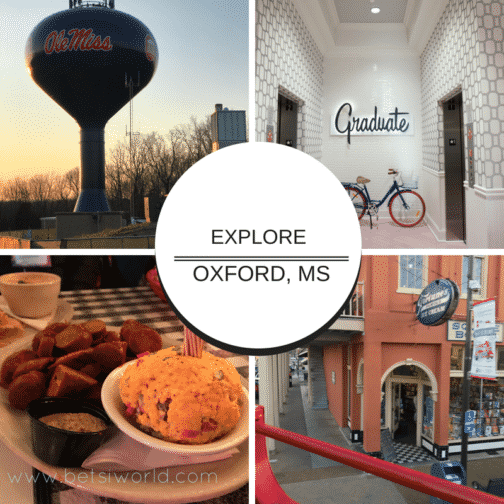 Boutique shops and eateries line the square, making it the perfect ending to a day of exploring. Do a bit of shopping, and then stop into one of the many eateries and have a bite of dinner, and wind up the evening with a nightcap at The Coop.
Eating in Oxford, Mississippi
When in Mississippi, eating at one of renowned Chef John Currence's eateries is a must! With walking distance of The Graduate, you will find Big Bad Breakfast, City Grocery, Boure, and Snack Bar. While each of these restaurants offers different types of cuisine, they have the heart & soul of John Currance in them, and you cannot go wrong with any one of them.
Another dining choice, located just a short walk from The Graduate is Ajax Diner. It has been named "Best Downhome Soul Food" by Mississippi Magazine for three years in a row. It's definitely a spot you MUST try when you are in Oxford!
Oxford is filled with history, culture, and a good amount of friendly, southern hospitality. You can rest assured that when you visit and explore Oxford, Mississippi it is like going back to a bygone era.
Have you visited Oxford, stayed in the Graduate, visited Rowan Oak, or shopped in the Square? Drop a comment below and share your experience with us!
Many thanks to TravelSouth, Laurie Rowe Communications, and Visit Mississippi for hosting me. All opinions are my own.
Have you explored Oxford, Mississippi? What's your favorite place to eat?
CHECK OUT WHAT'S NEW ON BETSI'S WORLD
Other Getaways You May Enjoy