Possum pie is as delicious as the name is hilarious. Thankfully, there is no trace of possum in this popular dessert.
Instead you'll get a delightful mouthful of chocolate crème and méringue layered onto a crisp pecan cookie crust. For those of us that love a chocolate crème pie, this one certainly hits the spot!
What is Possum Pie and Where Does it Come From
Possum pie originated in Arkansas and is quite the star when it comes to desserts in this southern state. Apparently, this pie got it's name from it appearance- it looks like something different on the outside than it is on the inside . In this case, the pie appears as if its vanilla, but it has chocolate inside!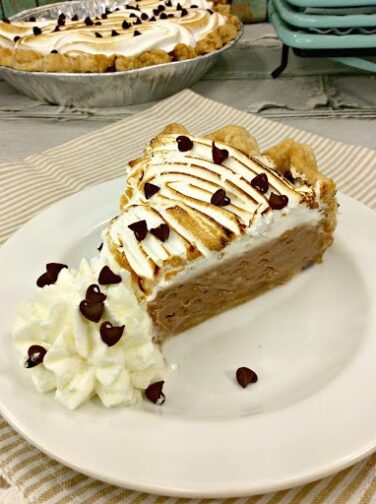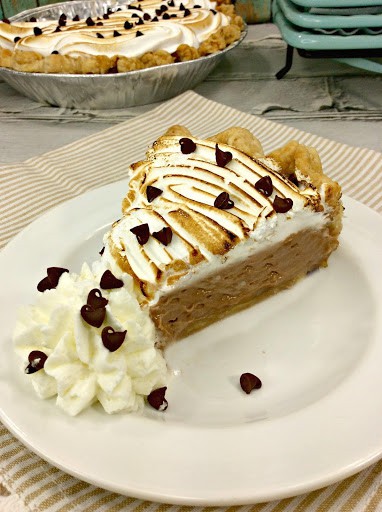 Often times possum pie recipes calls for boxed instant pudding mixes and cream cheese to make the inner layers. This recipe, however, is a bit more involved. I make a homemade meringue for the topping and a whipped chocolate crème from scratch! It may not be traditional, but believe me the extra effort is worth it!
How To Make Possum Pie
This possum pie recipe doesn't involve much baking, except for the homemade crust. However, the chocolate crème will take 5 hours to set in the refrigerator so, don't forget to account for that in your planning.
This dessert recipe is definitely for those who like to bake and love creating each element of the pie from scratch! I personally love making each element homemade, that way I have the most control over how it will taste. I also like that I can be creative with flavors that way.
Pecan Crust for Possum Pie
To make possum pie, also known as chocolate lush pie, begin with making your pecan crust. Chop the pecans and combine them in a large bowl with melted butter, flour, and brown sugar. The mixture should come together when squeezed in your hand.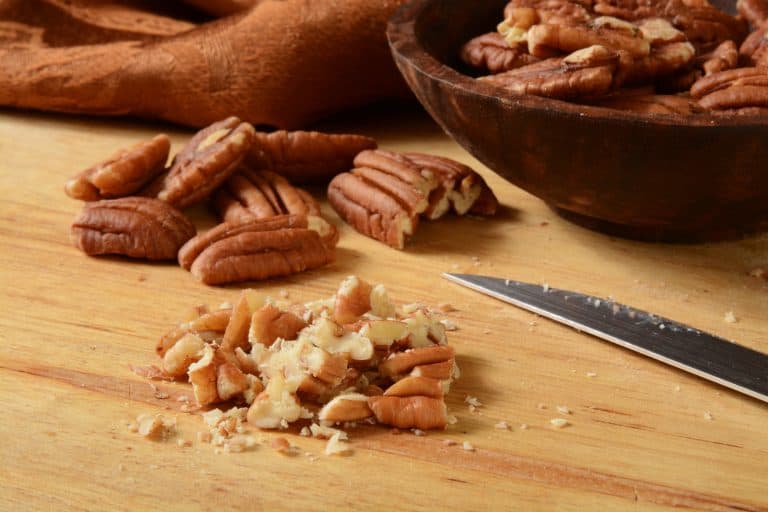 Grab your pie dish and push the crust into the dish in a nice and even layer. Then pop it into the oven for about 15-20 minutes until the crust is golden brown.
Homemade Chocolate Crème
The next step in this possum pie recipe is to make the chocolate crème. You will need semi-sweet chocolate chips, or dark chocolate chips if you prefer a more intense flavor. Melt the chocolate chips together in a saucepan with whole milk. You can choose to use half and half if you prefer, that will make it a bit thicker and richer.
Warm it slowly and continually stir the mixture with a spatula to ensure the chocolate does not burn. Let it cool slightly after the mixture is well combined. Meanwhile, beat the egg yolks and sugar together until you see a pale yellow color and smooth texture. You'll then add in the cornstarch and vanilla to thicken the mixture.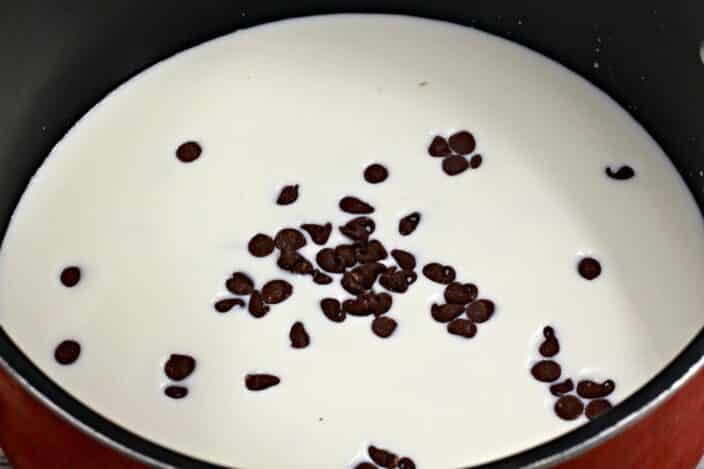 Now its time to add the chocolate! Slowly pour your chocolate mixture into the egg mixture while whisking. You don't want the eggs to cook so make sure you continually stir and that your chocolate isn't hot.
Then, add the fully combined mixture back into your sauce pan and bring to a boil while mixing continuously. The cornstarch needs to be adequately heated in the mixture before it can begin to gel and thicken. Remove it from heat and whisk until thick and smooth.
Pour the chocolate crème into your pecan crust, cover it with plastic wrap and chill in the fridge for 5 hours.
Marshmallow Meringue
To make the meringue for this fancy possum pie, you'll need an eletric mixer. You can use an electric hand mixer, but the stand mixer is more convenient!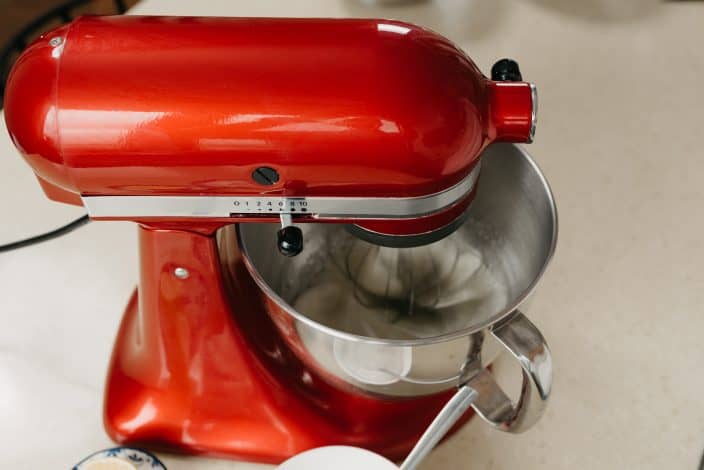 First, scoop the marshmallow fluff into the bowl and set it aside. Then, beat the egg whites, salt and cream of tarter together until its foamy. Make sure your egg whites are not super cold, they whip up better if closer to room temperature. Gradually add the sugar into the egg whites until you start to see stiff peaks. They should look glossy and hold their shape.
Fold the egg whites into the marshmallow fluff carefully with a spatula until fully incorporated. Grab your now cooled pie crust and chocolate creme out of the refrigerator and spread half of the meringue on the pie.
Fill a piping bag with the rest of the meringue and pipe it on top of the first meringue layer. Now, I like my pie with a bit of a golden top, so I popped mine into the oven for a few minutes to get the slightly browned look. You may use a dessert torch, if you have one.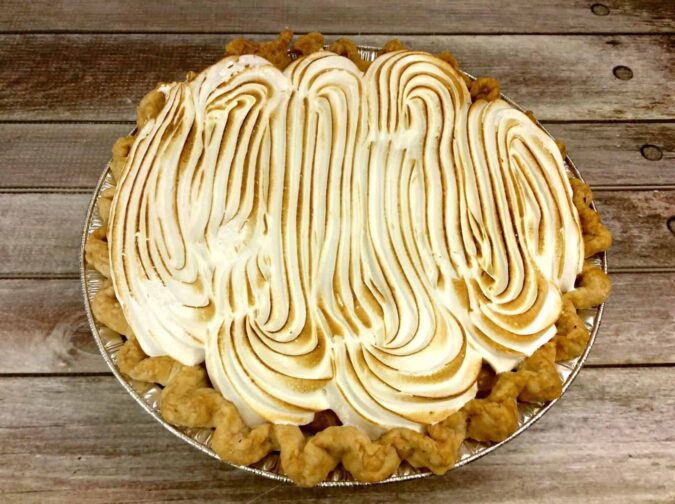 Sprinkle some chocolate chips and pecans on top and voila! A beautiful possum pie, with no trace of possum!
 This post may contain affiliate links which won't change your price but will share some commission. As an Amazon Associate I earn from qualifying purchases.
Tools You May Need To Make Possum Pie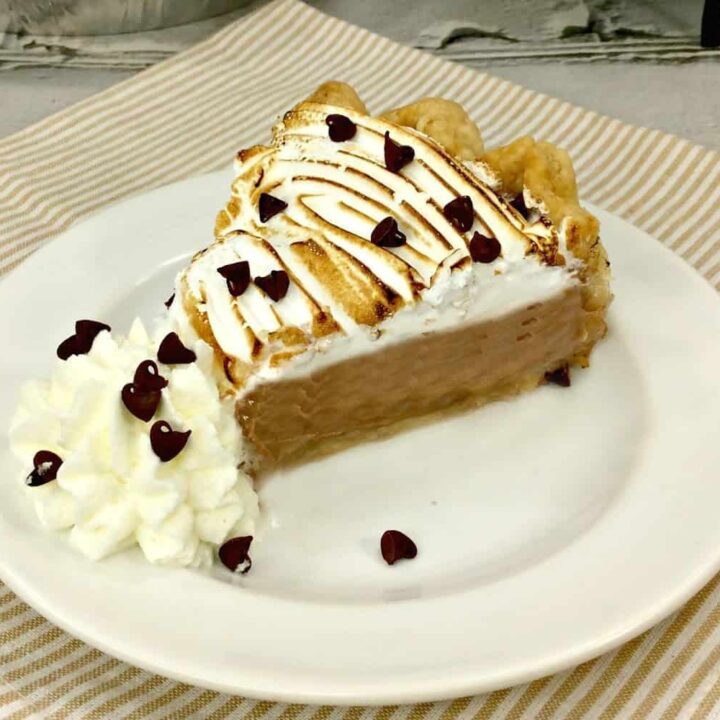 Possum Pie
Total Time:
5 hours
50 minutes
Possum pie, also known as chocolate lush, is a light and airy chocolate crème pie with a whipped topping. This recipe shows you how to make homemade méringue and chocolate crème to make an truly special dessert.
Ingredients
Pecan Crust
1 C flour
1/2 C unsalted sweet cream butter, melted
1/4 C light brown sugar
3/4 C pecans, chopped
Chocolate Creme
1 1/2 C whole milk
1/2 C semi sweet chocolate chips
3 egg yolks
1/2 C sugar
2 tbsp cornstarch
1/8 tsp kosher salt
1 tsp pure vanilla extract
Marshamallow Meringue
1/2 C sugar
2 7oz jar of Marshmallow Creme
6 large egg whites, room temp
2 tsp cream of tartar
2 tsp pure vanilla extract
1/2 tsp kosher salt
1/2 C mini chocolate chips for topping
Instructions
For the Crust
Preheat oven to 350 degrees
In a large bowl combine the melted butter, flour, brown sugar and pecans with a fork
Push crust into a 9 inch pie dish and bake in the oven for 15-20 minutes or just until the crust begins to brown
For the chocolate crème
Using a medium sauce pan, combine the milk and chocolate chips
Place sauce pan over high heat and gradually stir until melted, about 1-2 minutes
In a large bowl, mix together the egg yolk, and sugar until the eggs turn a pale yellow
Mix in the cornstarch, salt, and vanilla until combined
Gradually combine the chocolate mixture into the egg mixture. Make sure you are whisking the egg mixture while pouring the chocolate mixture into it to avoid scrambling the eggs
Pour the combined mixture back into the sauce pan and place on the stove on medium to high heat and bring to a boil while gradually whisking the mixture.
Remove from heat and whisk for about 2 minutes
Pour chocolate crème into the baked pie crust
Cover the chocolate crème with plastic wrap and place into the fridge for 5 hours
For the meringue
In a large bowl, scoop the marshmallow fluff into the bowl and set aside
Using a standing mixer, beat the egg whites, salt and cream of tarter until foamy.
Gradually beat in the sugar into the egg whites until stiff peaks form
Gently fold in the egg whites into the marshmallow fluff until fully incorporated
Spoon half of the marshmallow meringue into a piping bag and the other half onto the top of the pie
Spread evenly with a knife
Pipe meringue all across the top of the pie
Preheat oven to 350 degrees or you can use a kitchen flame torch
Using the oven, place pie in middle rack for 5-8 minutes or until the meringue is lightly browned
Using a flame torch, lightly toast the meringue
Sprinkle mini chocolate chips and pecans onto the top of the pie
Enjoy!
Nutrition Information
Yield

9
Serving Size

1
Amount Per Serving
Calories

606
Total Fat

25g
Saturated Fat

12g
Trans Fat

0g
Unsaturated Fat

12g
Cholesterol

93mg
Sodium

338mg
Carbohydrates

92g
Fiber

2g
Sugar

66g
Protein

9g
A Delightful Pie For Everyone
Possum Pie, chocolate lush, or chocolate crème pie, is a dessert everyone will love. Impress your friends and family with a pie made from scratch, that stands out in flavor and beauty.
This is a fun party dessert to serve, simply because of the name! Watch your guests faces change from confusion to delighted surprise when taking a bite of this awesome treat.
If you enjoy making beautiful cakes and pies that are sure to stun, check out our Reese's Peanut Butter Cheesecake recipe. It is sure to be a hit!
CHECK OUT WHAT'S NEW ON BETSI'S WORLD
Have you ever had Possum Pie? What did you think of it? We'd love to hear from you in the comments below!
Other Treats You May Like