Peach cobbler is the one dessert that always gives me a homey, cozy, and comforting feeling. The warm peaches surrounded by a flakey, delicious crust, and topped with a rich vanilla ice cream makes this the ultimate dessert.
This post contains affiliate links. When you make a purchase through these links Betsi's World receives a small commission at no additional cost to you. As an Amazon Associate, I earn from qualifying purchases.
I love the combination of texture, flavors and temperatures in this southern dessert. This easy dessert recipe is perfect for those cozy nights when you want to indulge in some southern flavors.
How To Choose The Perfect Peach
Picking the perfect peaches is imperative to making a delicious peach cobbler. First, you want to try and grab peaches that are from a local farmer. The shorter the distance the produce has to travel, the better. Less distance means that peaches can be picked at peak times, when they are ripe. This leads to fuller flavor and better texture. If you'd like to know more about how to pick the best produce check out our article on Farmer's Markets.
Next, you'll want to pay attention to color. Ripe and flavorful peaches are bright in color with yellow, pink, and reddish hues. Never pick a peach with green in its skin.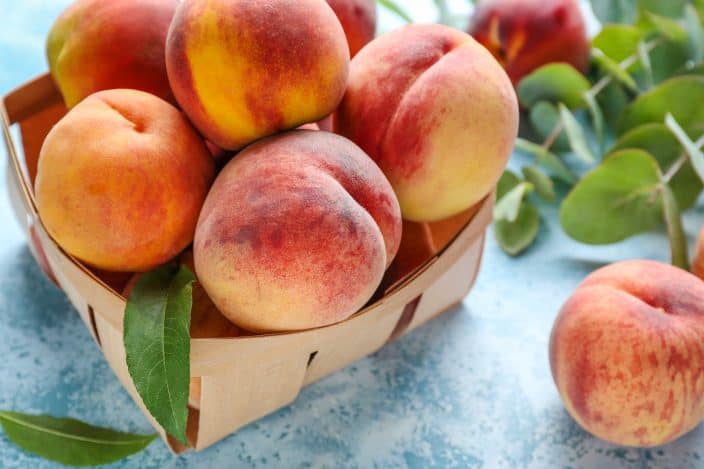 Third, assess the texture of the peach. Gently squeeze at the top of the peach where the stem was. If it gives a bit, it is ready to bite into! Firmer peaches may need a day or two before they are ready.
Fourth, go ahead a sniff the peach. They should smell how you want them to taste, however, be aware that this can be misleading. The best plan of action is to rely on the first 3 steps to make sure you get the best peaches for your cobbler every time!
How To Make Peach Cobbler
Prepare The Filling
To make this peach cobbler recipe, you'll need peaches, sugar, lemon juice, flour, salt, nutmeg, cinnamon and vanilla extract. First, pit and chop your peaches into bite sized chunks. Then grab a large bowl, add the ingredients and toss to combine them all.
Transfer the peach mixture into your preferred baking dish ( you can use a square or a round cake pan) for the cobbler and top it with brown sugar. I love the way that the brown sugar caramelizes the peaches and adds wonderful depth of flavor.
Bake the peaches on 400 degrees on the center rack of your oven for about 10 minutes.
Flaky Crust For Peach Cobbler
While, the peaches are baking, begin on your crust! This crust is so buttery and flakey, its the perfect contrast in texture to the soft peaches.
First, combine flour, ½ cup sugar, salt, and baking powder to a different bowl and stir to combine. Then grab your butter. Make sure that your butter is very cold, it should be hard when you chop it. Cut it into very small cubes with a sharp knife.
It is important that your butter stays as cold as possible when cutting, this is what makes the crust of your peach cobbler flakey and light. Add the butter to your bowl and combine it with dry ingredients. Gentle mix everything together with your fingers until pebble sized pieces are formed. Don't handle the dough too much, otherwise the butter will begin to melt.

Next, add the heavy cream and water to the flour mixture and stir with a fork until all the dry ingredients are moist and somewhat sticky. Be careful not to overwork dough!
Grab your baked peaches out of the oven and carefully spoon dough over the top, making sure the dough is the same thickness throughout. You can leave some spaces between where you place the dough or cover it fully. The spaces will make your cobbler have a more rustic appearance.
Return the cobbler to oven and bake for another 10-15 minutes, or until the topping begins to brown. Then, remove it from oven and brush the top with the egg white wash and sprinkle remaining sugar on top. Pop it back into the oven to finish baking for about another 10-15 minutes. When the top is golden-brown it's ready to remove!
Allow pan to cool slightly before serving. I like to serve mine with vanilla ice cream or whipped cream. Try serving it in little ramekins for a beautiful presentation!
Tools You May Need To Make Peach Cobbler
Sharp Knife. Slice your peaches into perfect bite-sized pieces with these awesome chef's knives!
Cutting Board. I love this bamboo cutting board because it's sturdy, easy to clean, and naturally antibacterial.
Large Bowl. A big kitchen bowl for baking, tossing, marinating, and mixing always comes in handy! I like this one because it's stainless steel, easy to clean, and durable.
3 Cheese Bacon Stuffed Mini Peppers
Need a last minute appetizer? This versatile recipe comes together in under 15 minutes, but looks and tastes like it took a lot longer. 
Ingredients
1 bag mini sweet peppers in assorted colors
6 oz. goat cheese
6 oz. ricotta cheese
3 T. fresh thyme leaves, stems removed
4 strips thick-cut bacon, cooked and crumbled
salt and pepper, to taste
1 oz. hard Parmesan cheese, freshly grated
Instructions
Wash peppers and pat dry. Cut each pepper in half lengthwise, leaving the stem intact.
Remove seeds and membranes from each pepper half and discard. Set aside.
In a small bowl, combine goat cheese, ricotta cheese, thyme leaves and bacon and sprinkle with some salt and pepper. Combine ingredients thoroughly.
With a small spoon, fill each pepper half with the cheese and bacon mixture and arrange on a rimmed baking sheet covered with parchment paper.
Top each stuffed pepper half with grated Parmesan cheese and pop into the oven under a preheated broiler set to 'high.'
Broil for approximately 5 minutes or until the cheese begins to brown and peppers start to blister.
Remove from oven and place on a serving plate. Serve immediately.
Nutrition Information
Yield

8
Serving Size

1
Amount Per Serving
Calories

131
Total Fat

9g
Saturated Fat

5g
Trans Fat

0g
Unsaturated Fat

3g
Cholesterol

25mg
Sodium

321mg
Carbohydrates

2g
Fiber

0g
Sugar

0g
Protein

9g
A Classic Southern Dessert
Peach cobbler is well known as a southern dessert, but you don't have to be in the South to eat it! Nor do you have to leave your house to get it. By following this simple recipe you can whip up your own homemade peach cobbler in no time. Try it, next time you're craving a sweet treat or surprise your friends and family at your next dinner party!
If you like southern desserts, you may want to try our recipe for Possum Pie (don't worry, no possums were used).
Do you like peach cobbler? Have you ever attempted to make it at home? Let us know in the comments below!
Other Treats You May Like