Holiday cocktails are an integral part of all December festivities! The season is great time to try out some new and creative drinks that will be a hit with you and your guests. Plus, its an aesthetic addition to any table decorations.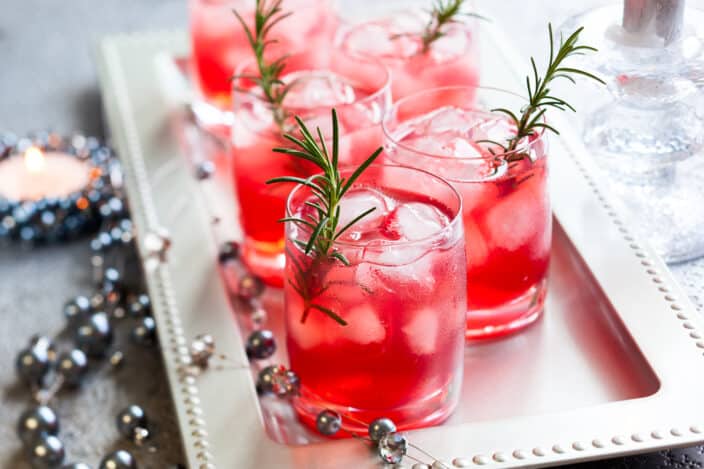 This post may contain affiliate links which won't change your price but will share some commission. As an Amazon Associate I earn from qualifying purchases.
These creative cocktails are inspired by my travels over the years and I'm sure they will bring some spice to your holiday celebrations!
Cocktail Tips
Use fresh ingredients. You may be tempted to use store bought lemon juice or lime juice but fresh pressed or squeezed is always better. You'll get much fuller flavor in your cocktail. This applies to herbs as well! Herb pastes can substitute in a pinch, but the fresh stems will go a long way. They are also a beautiful garnish.
Make sure you muddle. Muddling is an extremely important part of ensuring that you get the essence of your herbs or fruits in the cocktail. It is the key to flavor!
Use the right glass. The glass impacts the aromatics of the cocktail as well as the way it looks and its functionality. For example, tall thin glasses are often used for cocktails that use carbonated drinks like sparkling water or champagne. The form of this glass helps to ensure that the bubbles don't go flat too quickly.
Aromatics. Making and drinking a cocktail is an experience. The smell plays an integral part of the whole drinking experience. Don't skip massaging the herbs or rimming the glass with citrus peel, it takes your cocktail to the next level.
How To Make Homemade Simple Syrup
Making simple syrup at home is, well, simple. All you need is sugar and water. It is a 1 to 1 ratio; for example 1 cup of sugar to 1 cup of water. Add the sugar and water to a sauce pan and heat until the sugar is dissolved. Let it cool and store in a glass jar!
Tools You Need To Make Holiday Cocktails
Cocktail Shaker . This cocktail shaker is beautiful and functional. The clear glass lets you see all your ingredients inside while still presenting a stylish pattern on the outside.
Muddler. A muddler is an essential tool for making cocktails. This one has a soft nylon head that won't damage any of your glasses and works perfectly!
Jigger. A jigger helps you to easily measure out and pour your ingredients. This one has the measurements engraved on the inside, plus it's a beautiful shape!
Bar Spoon. Good for mixing drinks when they don't need to be shaken! The long handle allows you to get to the bottom of the glass easily.
The Best Holiday Cocktails
These recipes for holiday cocktails have something for everyone. The wine lover, whiskey lover, vodka lover, and generally "good cocktail" lovers will be enthused by these drink options.
Cranberry Christmas Sangria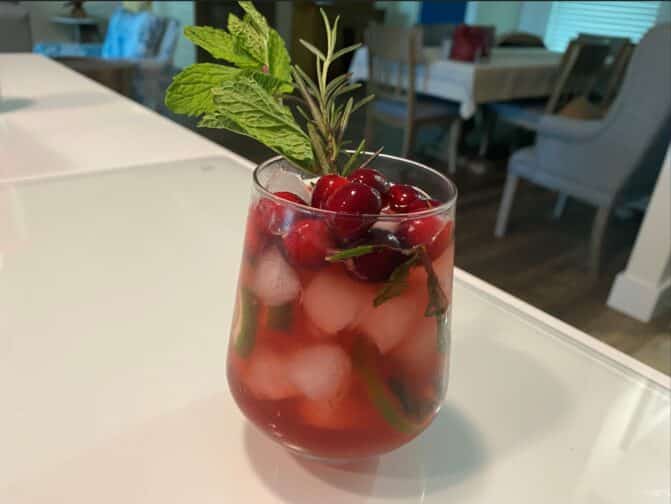 Inspired by a sangria that I used to drink at little bar weekly, this Christmas version will have your guests begging for more. Be prepared with a whole pitcher, you'll need it!
Ingredients For Cranberry Christmas Sangria
1 cup of cranberry juice
½ cup of white wine – I like to use a sweet white to offset the acidity of the cranberry juice
1 shot of brandy
2 to 3 sprigs of mint
1 to 2 sprigs of rosemary
2 to 3 lemon slices
A handful of cranberries
2 to 3 lime slices
How To Make This Sangria
Grab your cocktail shaker glass pour the cranberry juice, wine, and brandy into it. Then add your lemon and lime slices and the sprigs of mint. Before adding the mint, don't forget to slap the sprig on your hand a few times to release all of those lovely aromatics.
Next, get your muddler and muddle the herbs and citrus into the cranberry juice, wine and brandy. Use a push and twist motion with your wrist to really release all of the flavors.
Finally, grab your glass, a stemless wine glass works well, fill it with ice and pour the sangria into it. For extra aroma and aesthetic appeal garnish it with another sprig of rosemary and the cranberries!
Vodka Stinger Holiday Cocktail
This classic cocktail is a nod to the early 1900s. Originally it was made with cognac and crème de menthe but this vodka version is just as delicious. This strong and popular cocktail is also known as a White Spider!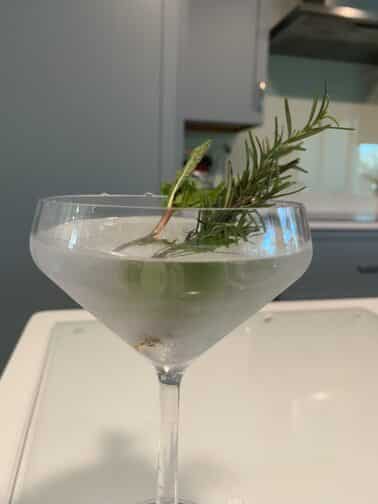 Ingredients You'll Need To Make This Stinger Cocktail
1 shot White Crème de Menthe
1 shot vodka
Sprig of Rosemary
Sprig of Mint
How To Make A Stinger Cocktail
Again you will need your cocktail shaker and strainer. Get all of your ingredients ready and fill the shaker with ice. Add your crème de menthe and your vodka to the shaker and shake, shake, shake! Make sure to strain your cocktail when pouring it into your coupe glass. If you would rather serve your vodka stinger over ice then you can use a rocks glass. Finally, add your garnish of mint and rosemary.
Note: If you would like to use the green crème de menthe for the festive green color, go for it!

Whiskey Peach Smash Cocktail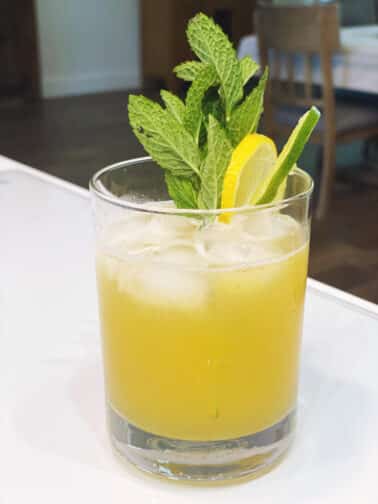 Ingredients You'll Need To Make This Whiskey Peach Smash
Simple syrup (homemade or store bought)
2 ½ wheels of lime
6 sprigs of fresh mint
1 ½ shots of whiskey
2 ½ wheels of lemon
¾ cup peach juice
How To Make A Whiskey Peach Smash
Begin by adding 3 sprigs of mint to your shaker and add your simple syrup. Take your muddler and begin muddling the mint into the simple syrup until fragrant.
Grab your peach juice and add it, as well as your 1 1/2 lemon wheels and 1 1/2 lime wheels. Again, use your muddler to combine it all. Then add ice to shaker until its 1/4 full. Now its time to shake, shake, shake!
Strain and pour into a an old-fashioned glass (or you can use a double old-fashioned glass) with ice, and garnish with remaining wheels of lemon, lime, and sprigs of mint.
Cheers!
---
Making new and delicious cocktails is such a fun activity, especially during the holiday season. Its a fun activity to do with friends and family or show off your skills to your guest!
Looking for some more cocktails? Try our tropical Goombay Smash!
What did you think of these drinks? Let us know in the comments below!