Summertime is officially upon us, and that means it's time to start packing for all of your vacation adventures! Whether you're hitting the beach, exploring a new city, or just spending some quality time at home, make sure you have everything you need with this handy summer vacation packing list.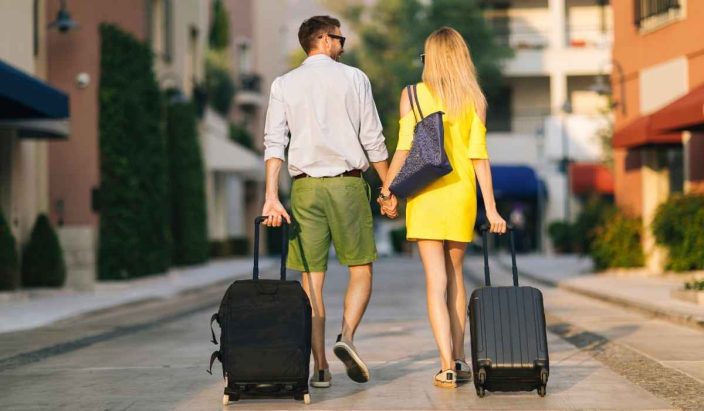 From clothes to accessories to sunscreen and everything in between, we've got you covered for your next trip! This packing list will help you get started on planning your best summer yet!
Packing Tips For The Summer
Start with a summer vacation packing list: This will help you brainstorm what you need to pack for your summer vacation. Make sure to include clothes, shoes, accessories, sun protection, toiletries, bug spray, a beach towel, and snacks and drinks.
Choose your destination: Once you know where you're going on summer vacation, it will be easier to narrow down what to pack. If you're headed to the beach, make sure to pack swimsuits and sandals. If you're exploring a new city, remember to pack comfortable shoes and clothes that can be layered.
Pack smart: One of the best ways to make packing easier is by using packing hacks. Try rolling your clothes instead of folding them to save space in your suitcase. Use a shoe organizer to store all of your small items. And don't forget to pack a summer vacation packing list!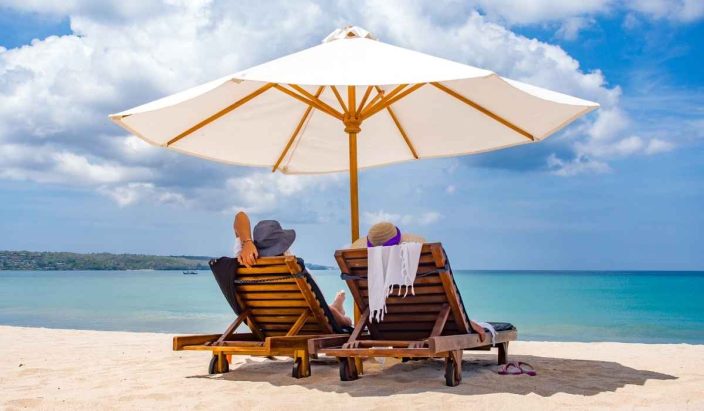 Consider the weather: if you're going somewhere hot, make sure to pack summer clothes like shorts and t-shirts. If you're going somewhere cooler, pack a sweater or light jacket.
Choose your activities: what will you be doing on vacation? If you're planning on doing a lot of hiking or other outdoor activities, make sure to pack appropriate clothing and footwear.
Start with the essentials: regardless of where you're going or what you'll be doing, there are a few items that everyone needs to pack. This includes things like a bathing suit, sunscreen, flip flops, sunglasses, and insect repellent.
How To Pack For Summer Vacation
Packing for your summer vacation doesn't need to be difficult with a few simple tips that will keep your packing organized.
Begin packing by reviewing where you are going. Once you've done a weather check, begin the process of choosing which clothing you want to take. I usually lay ALL of the possibilities out on the bed.
Decide on a color "theme" to ensure you won't overpack. For the summer it might nice to try some fun colors with neutrals.
Begin to put outfits together for each day, or each activity. After this step, I usually have only decided to take about half of what I originally pulled out of my closet. So I now put away those clothes that I have decided NOT to take.
Gather your undergarments together and add them to the stack of items to be packed. Don't forget to add a swimsuit or three (depending on the locale and mode of transportation) and add these to the stack to be packed.
To even out the bottom of the suitcase, shoes are wrapped in grocery bags (you can later reuse these for dirty laundry, or damp swimsuits). Then it is on to pants, shorts, and skorts. These are laid out, and then rolled, bottom to top. All pants are rolled and put into my suitcase.
Next, are dresses. They are rolled and put into the suitcase (placed next to and on top of the previous layer). Following dresses are tops; rolled and placed on top of dresses. On top of the dresses (unless your suitcase has a zippered compartment) place your undergarments (and bathing suit).
If you have dress clothing – suits, fancy dresses, etc, place these in an old dry cleaning bag (or garbage bag) and place in suitcase on the top.
Summer Packing List Essentials
Summertime is one of our favorite times of year. The weather is beautiful, the sun is shining, and there's nothing better than spending time outdoors.
To make packing easier, we've divided our ultimate packing list into multiple packing lists for both men and women. Of course, everyone's needs will be different – so feel free to mix and match as necessary. And if you're traveling with kids, don't forget to pack some snacks and entertainment to keep them occupied during the journey!
Packing List For Men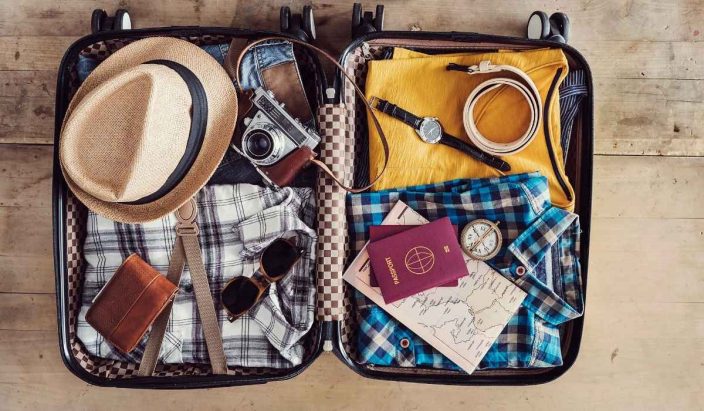 T-shirts: try packing shirts with light material that are versatile, color-wise.
Collared Shirt: this is a versatile option for day or night.
Swim Trunks: you never know when you might go swimming!
Light jacket: this comes in handy in areas where it might get cool at night.
Toiletries: these include shaving cream and a razor (travel sized), toothbrush, toothpaste, comb/brush, deodorant etc.
Watch/Cologne/Sunglasses: so you are always looking and smelling your best!
Women
Bathing Suit: for when you want to take a quick dip at the beach or pool.
Beach Towels: you can pack something like a turkish towel that will double as a sarong and towel.
Sun Hat: you can never have enough sun protection in the summer!
Sandals: choose ones that can go from day to night to avoid taking up too much room in your luggage.
Cross body bag: this kind of bag is great for traveling because it is on the smaller side and gives you extra security from being robbed
Hair styling tool: these include a straightener or a curling iron, or try a two-in-one!
Cosmetics: most all cosmetics can be stored in your carry on bag, just double check the amount specified on the bottle.
Lighter clothes: linen tops and pants work well in the hot weather of the summer.
Chargers: at this day in age, no one wants to forget their chargers for various electronics like their phone, laptop, ipad, or tablet!
Packing For International Travel
When you're planning a summer travel abroad, there are a few special considerations to keep in mind when packing your bags. Here are a few travel tips and items to add to your summer vacation packing list that will help you pack for international travel:
Make sure you have all the necessary documents. This includes your passport, visa (if required), tickets, insurance information, a copy of your vaccination card, and so on.
Choose versatile clothing that can be mixed and matched to create different looks. Pack items that can be dressed up or down, depending on the occasion.
Don't forget to pack essential toiletries and medications. Be sure to check if there are any restrictions on bringing certain items into the country you're visiting.
A good walking shoe.
Bring a small backpack or bag that can be used as a day bag when you're exploring your destination.
Make copies of important documents in case of loss or theft.
Essentials For Staying Safe During International Travel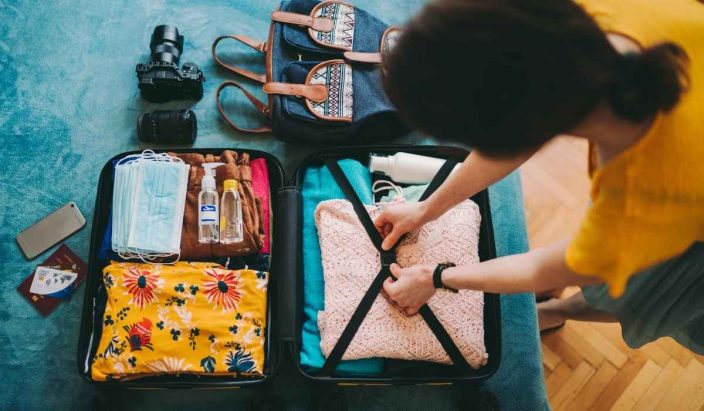 No matter where your summer travels take you, be sure to pack these ten essential items to help keep you safe while you're abroad.
While the chances of something happening to you while on summer holidays are slim, it's always better to be prepared. From medical supplies to self-defense gear, here are ten things you should never leave home without when traveling internationally:
A first aid kit: Include basic items like bandages, antiseptic wipes, and pain relievers.
Antibacterial hand gel: This will come in handy while traveling especially during COVID-19.
A map: Avoid getting lost by carrying a physical map of your destination (or downloading an offline map on your phone).
A copy of your passport: Keep a photocopy or digital scan of your passport in case you lose the original.
Local currency: Exchange some cash before you leave so you're not stranded without any money.
Emergency contacts list: You always want to have this on hand while you are traveling.
A flashlight: A small, handheld flashlight can be a lifesaver if you find yourself in an emergency situation.
A whistle: A loud whistle can help attract attention if you need help.
Self-defense gear: Choose an item that makes you feel comfortable and confident, whether it's pepper spray, a taser, or simply a strong flashlight.
Travel insurance: This is always a good idea in case something goes wrong while you're away from home.
Medications: Be sure to pack any prescription medications you need, as well as over-the-counter remedies for common ailments.
By packing these summer travel essentials, you can help ensure a safe and enjoyable summer vacation.
Outdoor Activity Packing List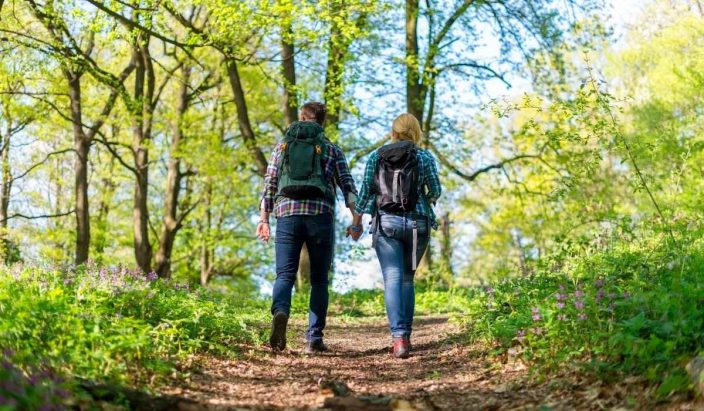 If you're planning on doing any hiking, camping, or other outdoor activities on your summer vacation, there are a few additional items you'll need to pack. This includes:
A map of the area (if you're going somewhere off the beaten path)
A small portable first aid kit.
Sunscreen: if you are planning on engaging in outdoor activities you need to be prepared with sun protection.
Extra batteries.
A pocket knife or utility knife.
Reusable water bottle . A reusable water bottle is important for making sure you stay hydrated especially in the warm summer weather. This one is collapsible so it easily fits into any luggage you may have.
A fire starter (if you're planning on doing any camping).
Appropriate clothing and footwear like hiking boots and long pants for protection against rough terrain and insects.
If you're headed to the beach for your outdoor activities, we've got a great beach packing checklist to help you get prepared.
Packing Hacks For Summer Vacation
Use vacuum seal bags to compress your clothes and save space. Packing cubes also work wonderfully for organizing and storing your clothes neatly in your checked luggage.
Put your shoes in a shower cap to keep them from getting your clothes dirty.
Roll up socks and put them inside of shoes so they don't take up extra space in your luggage.
Use binder clips to keep cords organized.
Wrap necklaces and bracelets around buttons to prevent tangling.
Put all of your small items in a pill organizer.
Pack items that can serve multiple purposes. For example, bring a sarong that can be used as a beach towel, scarf, or even a blanket. Another example is one pair of black pants that can be worn during the day but dressed up at night for a nice dinner.
Wear heavier items onto the plane, especially if you are checking a bag. This will help you to avoid potential over-weight fees.
Be mindful of what you pack in your carry-on bag. Liquids, gels, and aerosols must be in containers that hold no more than 100 milliliters or less. If you wish to take full sized items be sure to put them into your checked suitcase.
 This post may contain affiliate links which won't change your price but will share some commission. As an Amazon Associate I earn from qualifying purchases.

Summer Travel Tips
Plan ahead: one of the most important things you can do is to plan your trip in advance. This includes booking flights and hotels early, as well as researching the area you're visiting.
Pack light: summer is the perfect time to travel light! No need to pack hefty coats or boots, just make sure to pack the essentials, and you'll be all set.
Stay hydrated: it's important to stay hydrated when traveling, especially in summer. Bring a water bottle with you and drink plenty of fluids throughout the day.
Be flexible: things don't always go according to plan when traveling. Be prepared for changes and go with the flow!
With these tips in mind, you're sure to have a summer vacation that's both relaxing and enjoyable. We hope these packing lists have made your travel plans a breeze.
Going on a two week vacation? Check out my guide on how to pack efficiently and effectively for two weeks!
So what are you waiting for? Start packing! We hope you have a fantastic summer full of fun memories that will last a lifetime.
CHECK OUT WHAT'S NEW ON BETSI'S WORLD
Other Packing Tips and Tricks You May Enjoy