Mother's Day 2022 weekend will soon be upon us and there's no better way to celebrate then a fun and relaxing weekend getaway! What's better than showing mothers and soon-to-be-mothers how much we appreciate them by treating them to a weekend filled with pampering, delicious food, and beautiful scenery.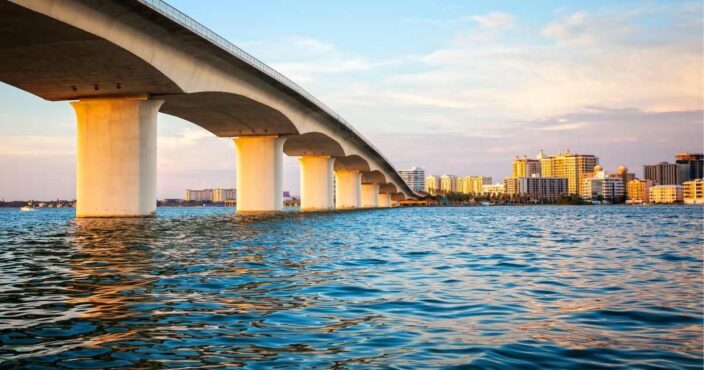 Florida is a great place to celebrate the wonderful women in your life. It's always sunny, blue skies and beautiful beaches are the perfect backdrop for a quick weekend trip. To give you some Mother's Day travel inspiration, I've rounded up 6 awesome towns in Florida for the best Mother's Day weekend getaways.
6 Mother's Day 2022 Weekend Getaways In Florida
Mother's Day In Sarasota, Florida
Where To Stay
Sarasota is a gorgeous small town with beautiful beaches and a clean, artsy, and upscale vibe, making it a great choice for a Mother's Day weekend getaway. Consider staying at The Westin in downtown Sarasota. Its location is ideal and close to all the hottest restaurants, St. Armands Circle, and lido beach. Have a special bite to eat and and drink on the rooftop bar for Mother's Day. Here you'll have a view that overlooks the gorgeous bay and floating sailboats. The rooftop bar during sunset is a must-see while staying at the Westin.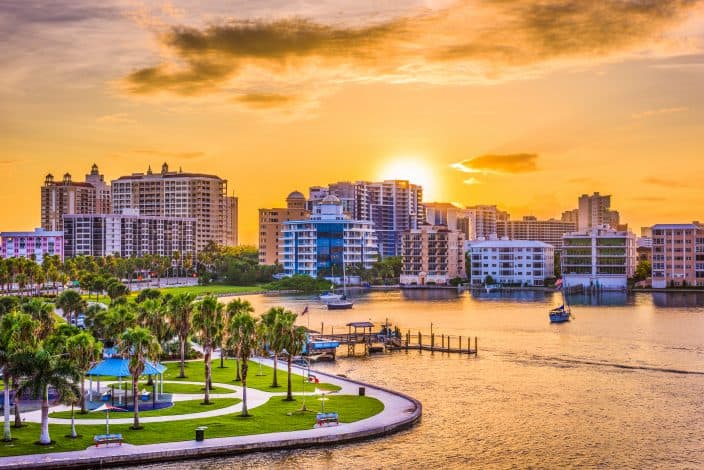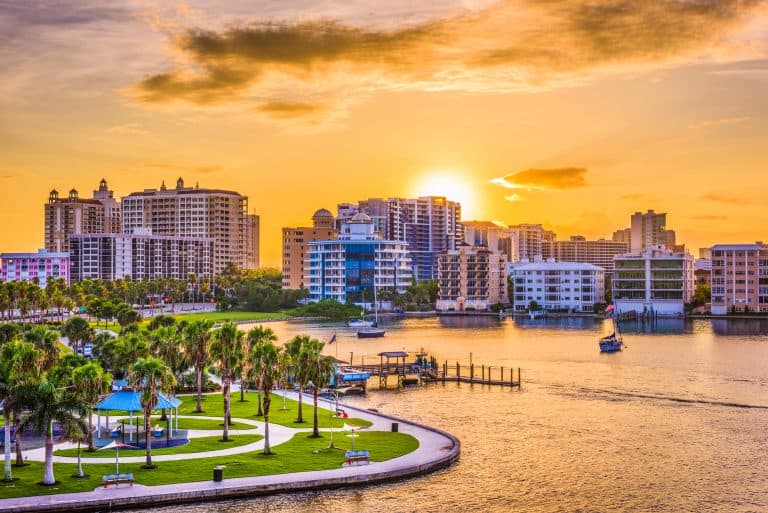 During the day, garden lovers will enjoy, the Sarasota Garden Club which is hosting a small Mother's Day event. The event includes classical music, wine, small bites and other refreshments. Come stroll the gardens and spend the afternoon in nature. Soak up some sun at one of Sarasota's top beaches, like Siesta Key or Lido Key. The soft white sand and blue waters are a truly luxurious experience! If you're interested in some more great beaches checkout our round up of The Best Florida Beaches.
Where To Eat In Sarasota
Celebrate Mother's Day with brunch at Station 400 downtown, where they serve the most delicious specialty mimosas, fluffy pancakes, omelets, and gourmet sandwiches. Or try Clasico, also located in downtown, an Italian bistro with a lot of flavor. Their innovative brunch includes a short rib hash and a scallop Florentine benedict, as well as many other delicious bites. They also have a full bar, so feel free to order any cocktail you desire! Sarasota has a ton to offer for the perfect Mother's Day weekend.
A Luxurious Mother's Day In Winter Park, Florida
This next destination is another small town ideal for a Mother' Day weekend getaway. Located just 5 miles outside of Orlando, Winter Park is full of great shopping and eateries. Spoil the lady of the day with the best shopping on and near Park Avenue. Well-known retailers like Lily Pulitzer and Lululemon are among smaller chic and local boutiques where you're sure to find your next amazing outfit. To top off the experience, stop into Peterbrooke Chocolatier to buy a delicious box of chocolates!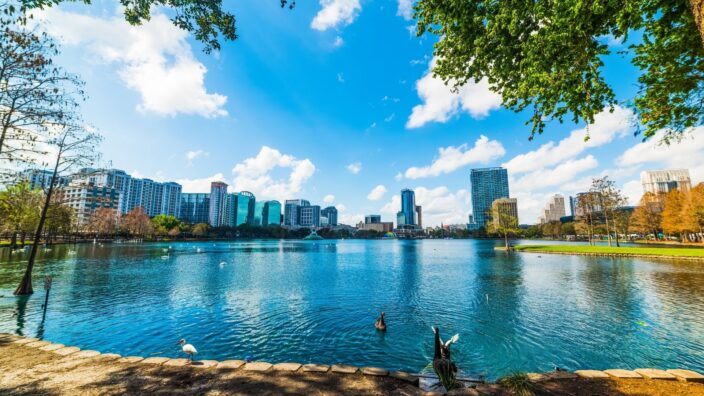 Where To Eat In Winter Park
For great food during your Mother's Day weekend getaway try out the Ravenous Pig and Chez Vincent.
The Ravenous Pig is a fine dining setting that is both beautiful and romantic. This restaurant focuses on sustainable and seasonal food grown in Florida. They are renowned for their creativity in dishes and impeccable preparation. I would highly recommend the royal red shrimp and grits with mushrooms, pancetta, and a tomato-shrimp broth.
Chez Vincent is the perfect restaurant for French cuisine lovers. It was created by a real French chef with a knack for fabulous food and romance. It has a great atmosphere, with exposed brick walls and white tablecloths. When you're there try out the filet mignon and the seafood crepe, you won't regret it.
Where To Stay
When staying in Winter Park, I recommend the The Alfond Inn. This boutique hotel is highly rated, plus it's dog friendly, so feel free to bring your pooch along! Art lovers will love the collection showed cased on the walls, which is part of the Rollins Collection of Contemporary Art. The building is pure elegance, with grand arches and pillars and plenty of majestic palm trees. The boutique is owned by Rollins College and has a total of 112 rooms each with it's own twist. While there, dine at the award winning Hamilton's Kitchen. Hamilton's Kitchen will be serving a special 3 course Mother's Day brunch that you won't want to miss.
A Mother's Day Weekend Getaway St. Augustine, Florida
A Mother's Day weekend getaway to St. Augustine is perfect for history lovers. Founded in 15,65 it is the oldest city in America. You can't travel to St. Augustine without visiting the Spanish fort, Castillo de San Marcos. Castillo de San Marcos is the situated right on the water is the oldest masonry fort in the continental US. Take a tour through the many rooms, courtyard and upper deck. Canon firings and weapons demonstrations are also held, free of charge.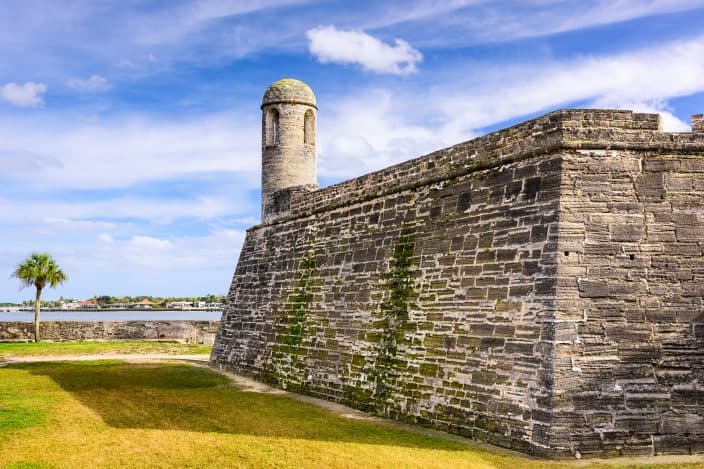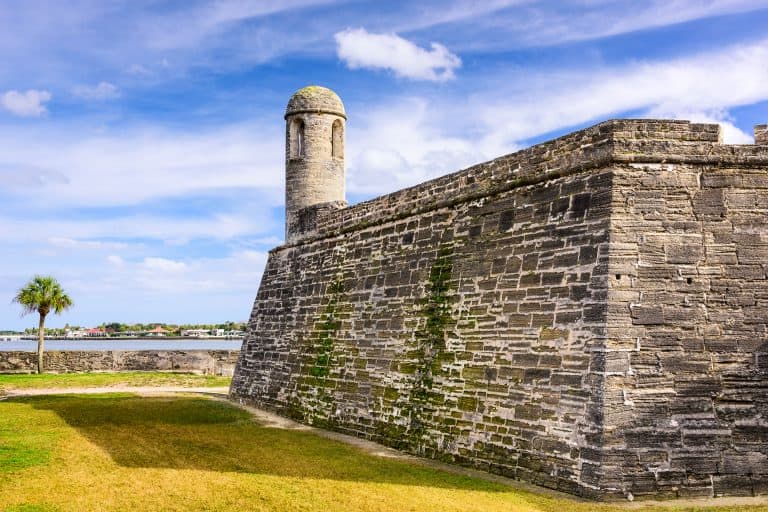 Where To Stay
Casa Monica Resort & Spa is nestled in the historic district of St. Augustine. This truly majestic hotel was built in 1888 with Moroccan inspired styling. The unique styling of the hotel transports you back in time and makes you feel like a queen. Rejuvenate and relax at their luxury spa, Poseidon Spa. The spa offers many treatments from body wraps and scrubs, to facials and massages. A spa day at this gorgeous resort is the perfect gift for Mother's Day!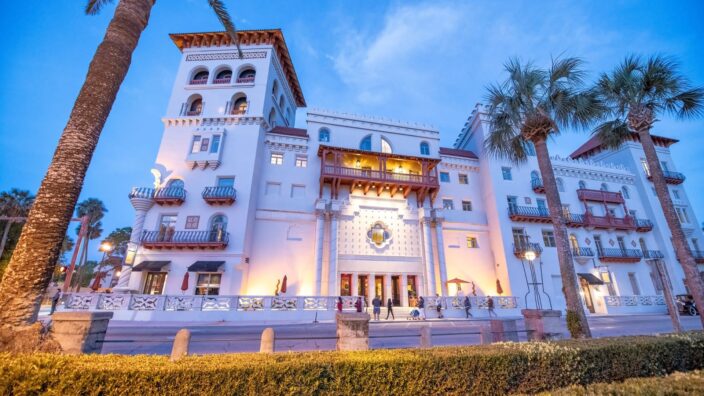 Where To Eat
Blackfly is an ideal choice for seafood lovers. Their menu is based off of the best seafood recipes from fishing lodges in the Caribbean. The atmosphere inside is casual but with upscale food and service. Currently, they have a variety of locally sourced entrees from the land and the sea. Some delicious dishes you shouldn't miss out on include the Bahamian conch fritters and the coconut crusted lobster with a mango curry butter.
Collage is perfect for those who have eclectic tastes. It has a fine dining atmosphere with high quality, fresh food that's also been locally sourced. Their menu features a little bit of everything from lamb, steak, and duck to scallops and fresh fish. Whatever you choose, you're sure to have an incredible time and a Mother's Day dinner that goes down in history.
St. Petersburg, Florida For Mother's Day Pampering
Just 45 minutes North of Sarasota is St. Pete, another destination ideal for a beach focused Mother's Day Getaway! One of the top sights to see in St. Pete is the Dali Museum. The Dali Museum houses the surreal works by Salvador Dali and is a wonderful experience for art lovers. As if the collection wasn't enough, the building is also a sight to behold-made out of stone and a beautiful glass dome.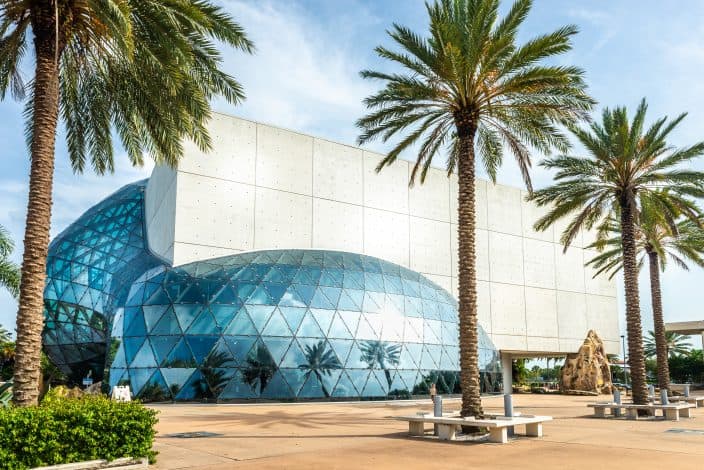 If you're looking for a relaxing day in the sun, head over to St. Pete Beach. This wildly popular beach is known for its long stretch of soft sand and turquoise waters. Take part in kitesurfing, waterskiing, paddle boarding, and parasailing or grab your umbrella and picnic basket and just bask on the beach!
Where To Stay
For a truly luxury stay book a room at The Vinoy for your special Mother's Day getaway. The iconic hotel's pink façade combined with its glamourous, chandelier clad interior makes you feel like you're in a dream. The rooms are spacious, clean, and modern with amenities like flat screen TVs, plush robes, and premium bath products. I recommend requesting a room with a bay view, you won't regret it. The Vinoy has plenty of great restaurants on-site to choose from, as well as a spa full of plenty invigorating treatments.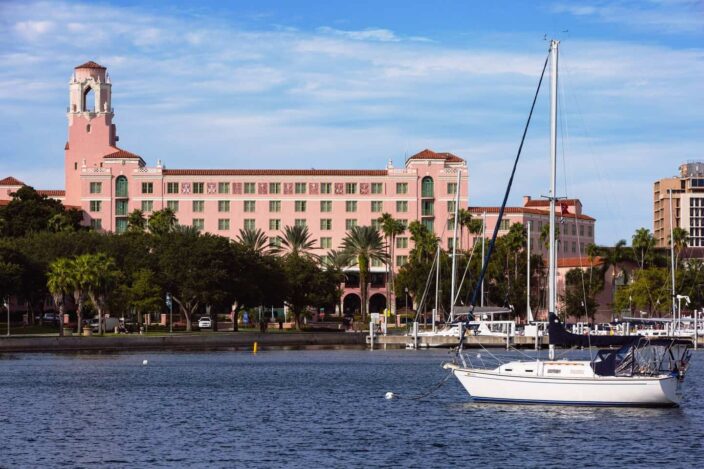 Where To Eat
Tropez has a causal, yet chic vibe. It's cuisine is tapas style, so great for sharing with your family for Mother's Day. They offer a collection of plates inspired by many different places around the world. For brunch you can enjoy dishes like shrimp ceviche tacos, lobster rolls, and eggs benedict. While for dinner, you can try bites like Moroccan lamb skewers, mushroom ravioli, and chicken tikka masala. The variety ensures that everyone can find a dish they truly love, or try a little bit of everything!
The Library is a beautiful restaurant with an interior lined with blue books and brass hardware. The cuisine is classic and clean, offering brunch, lunch, and dinner. The Library's cozy interior and comforting coffee aroma , makes it a great place to spend a Mother's Day morning brunch.
Amelia Island
For a Mother's Day island getaway, consider Amelia Island. Amelia Island is a barrier island on the Atlantic coast known for its nature, uncrowded beaches, and golfing. There are plenty of beach accesses along the island, so you'll easily find a quiet spot for you and your loved ones. Wildlife abounds on Amelia Island, creatures you may spot include turtles, deer, herons, and even wild horses! Visit Fort Clinch State Park to explore the fort and learn about its Civil War history. Then go for a walk on one of the numerous walking and biking trails within the park!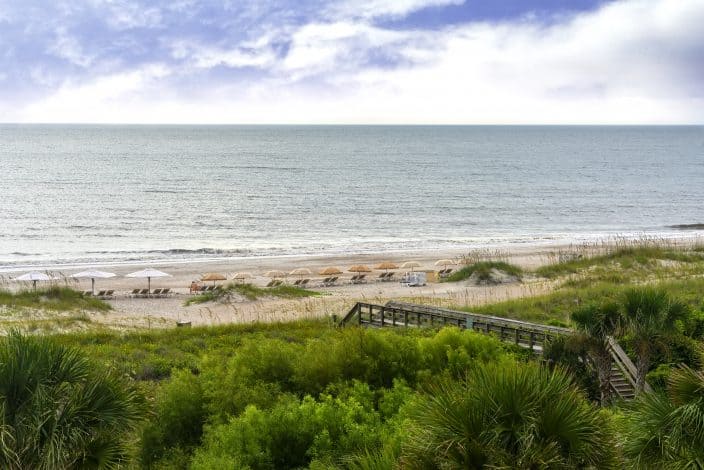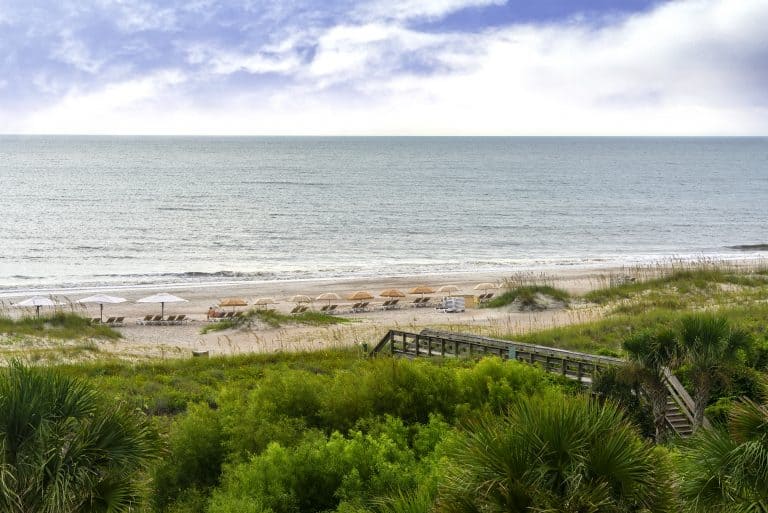 Where to Eat
David's Restaurant and Lounge has a sophisticated vibe, perfect for an intimate dinner. They have award winning steaks and seafood, as well as a unique cocktails. Treat the lady of the day to an indulgent meal of truffle scallops or filet mignon complimented with a glass of wine or mixed drink. Top the night off with a delicate dessert, like their delicious flourless chocolate torte!
Down Under Restaurant has a fish camp vibe and is situated right on the river. Enjoy incredible seafood like oysters Rockefeller, crab dip, shrimp and grits, crab cakes and more. Having your meal on the dock ensures that you'll spot lots of wildlife during your dinner!
Where To Stay
For another luxury stay, consider the Ritz Carlton, Amelia Island. This ocean side resort is pure tranquility. Everything at the resort is inspired by the barrier island, right down to their salt and infused bourbon. The Ritz helps you to explore everything the island has to offer through tours and culinary explorations. Almost every room comes with an ocean view and when you are not relaxing on the beach you can take part in one of their incredible spa services. Whatever you desire, the Ritz is sure to make your Mother's Day weekend getaway as special as possible.
Miami
Miami is an exciting and upbeat city that has practically anything you could wish for- perfect for mom! Whether she wants to see art in the Wynwood Art District, go shopping at Lincoln Road, or catch some sun on South Beach, she is sure to find something she will love in this hot city. Pamper mom at the spa at the InterContinental hotel which is offering a special prices for the holiday. There is nothing better to let her know how much you appreciate everything she does, than a day at the spa!
 This post may contain affiliate links which won't change your price but will share some commission. As an Amazon Associate I earn from qualifying purchases.
Where To Eat
The Rusty Pelican is having a Mother's Day brunch which includes a four-course menu offering items like lobster benedict, Faroe Island Salmon, steak and eggs benedict, chocolate salted-caramel tarts, and so much more! The Rusty Pelican offers gorgeous waterfront view of the Miami skyline, a great way to enjoy the sunshine alongside amazing food.
Nave located in Coconut Grove is another tasty option for brunch, lunch or dinner. Offering a raw bar filled with crab claws, oysters, and caviar, this spot is perfect for seafood lovers. Dine on snapper Milanese and a wide variety of other dishes including duck ragu and swordfish. Nave's perfectly plated dishes are as beautiful as they are delicious.
Where To Stay
The Goodtime Hotel is the ideal place for anyone who loves art deco design. The interiors give you a light, bright and happy feeling while still feeling like a comfortable place to relax. The views from the rooms are incredible, located right by the beach. The staff is extremely friendly and helpful, especially while you are relaxing poolside! Perfectly styled cabanas are available for rent while you enjoy tropical drinks in between dips in the water. Grab fresh juice and coffee at The Café, an outdoor terrace, all-day café! The Goodtime Hotel offers a fun and different stay for Mother's Day this year.
The Perfect Mother's Day Getaway
Mother's Day is a special time for family and to celebrate the important women in our lives. A weekend getaway in Florida is fun for the whole family and treats mom to some time away. I love these locations for all they have to offer: their beauty, the availability of luxury resorts, and great food! Use this to inspire your Mother's Day plans or your next getaway in Florida!
Looking for some last minutes gifts for mom? Our Mother's Day gift guide has something for every kind of mom!
CHECK OUT WHAT'S NEW ON BETSI'S WORLD
Which of these destinations inspires you most for a Mother's Day weekend getaway? Let us know your Mother's Day plans in the comments below!
Other Getaways You May Enjoy