Located in the heart of the Brazos Valley, Bryan is an excellent destination for couples looking for a romantic Texas getaway. With its close proximity to College Station and Texas A&M, you will certainly find something to suit your style.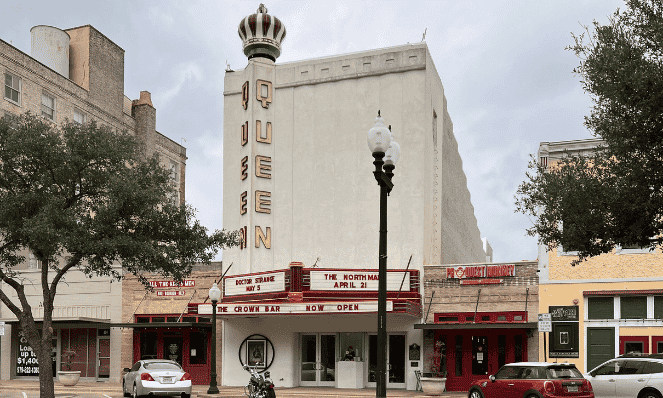 There are lots of parking spaces around Bryan, a perfect walkable downtown, and many events. I promise you will not be disappointed in planning a getaway to Bryan, Texas!
How To Get To Bryan
When traveling to Bryan, you have a choice of four airports. Easterwood Airport in College Station is the closest airport. Currently, the only airline that services Easterwood is American Airlines. 
Both George Bush Intercontinental Airport and Hobby International Airport are in Houston. George Bush Intercontinental is approximately an hour and forty minutes from Bryan. We've made that drive, and it is pretty easy. However, if you are arriving or departing during the week, be sure to factor in time for traffic. Hobby International is further out, on the other side of Houston. It will take you about an hour and 50 minutes to reach Bryan.
The fourth option for flying into Bryan, Texas, is Austin. Austin-Bergstrom International is an hour and thirty-six minutes from Bryan. The drive is easy, and the scenery is quite pretty. You will also want to factor in extra time for traffic flying into Austin.
Where to Stay for a Romantic Texas Getaway in Bryan
The Milton Parker Home
Our top choice for genuine Texas hospitality is the Milton Parker Home. With a choice of five luxurious rooms, your romantic getaway will not disappoint!
Denise and Bob Barbier, owners and innkeepers, definitely roll out the Texas charm and hospitality! There is always a beverage choice of wine, beer, or water to revive your thirsty palate!
The bath amenities are top-notch. The bed linens are soft, cool, and comfy. And the breakfasts! Oh my goodness, make sure you bring a Texas-size appetite with you!
The Broadmoor
Prefer a more intimate setting for romantic weekend getaways? Then check out The Broadmoor, a gorgeous designer condo. This is the perfect secluded romantic getaway in Texas. The condo offers two bedrooms with king beds, luxurious linens and amenities, two full baths, an incredible kitchen with stainless steel appliances, and more! This is an ideal space to call home whether you are coming for a short getaway or a longer workcation.
The Stella Hotel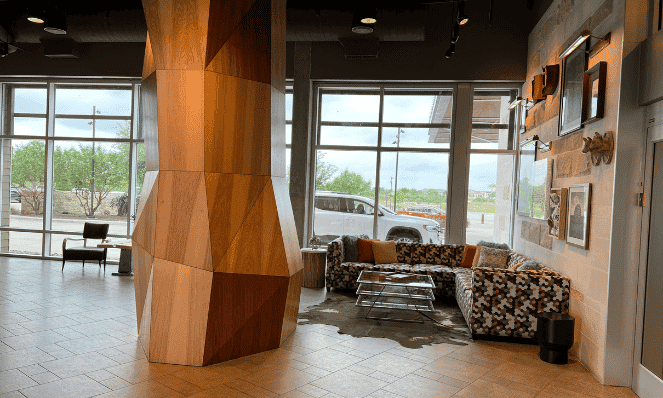 In 2020 The Stella Hotel was ranked the #3 Best Hotel in Texas in the Conde Nast Readers Choice Awards. There are four restaurants/cafes on site, a fantastic fitness room, two outdoor swimmings, and five cabanas to make this one the best romantic getaways you'll experience. You are just steps away from biking and hiking trails at the Stella. It is truly a unique Bryan vacation experience.
You will like The Stella whether you are planning a family road trip through Texas or looking for romantic getaways in Texas for two. Enjoy dinner at Campfire, a visit to the Children's Museum of the Brazos Valley, or your own private cabana by the pool right outside your hotel.
LaSalle Boutique Hotel
Want to be in the heart of downtown, within walking distance of shopping, restaurants, and coffee shops? Then the LaSalle Boutique Hotel is a great option for your romantic getaway. 
The LaSalle is a historic Texas landmark and boasts a colorful past! It was opened in 1929 and was an ideal stop for rail passengers between Houston and Dallas. In 1959 it was repurposed as a nursing home for 16 years until it closed in 1975.
The LaSalle is a significant piece of history in Bryan's downtown. In 1984, thanks to Lyle Lovett and Robert Earl Keen who featured the LaSalle in one of their songs "The Front Porch", the LaSalle Hotel was again experiencing notoriety. The hotel was added to the National Register of Historic Places in 2000.
And finally, in 2015, the hotel was again sold, and the dream of opening a boutique hotel in downtown Bryan has come full circle. 
There is an on-site restaurant and a secret, tucked away speakeasy. Be sure to search for the "knock" to gain entrance to the speakeasy.
Things to Do in Bryan
Bryan, Texas Shopping
The perfect romantic getaway would not be complete without a little local shopping. Bryan's shopping scene satisfied my retail therapy need! I found things I didn't know I needed, and things I had been looking for….including a, well, you'll find out what, if you keep reading!
Brazos Glassworks
Brazos Glassworks is a super cool shop in the midst of Bryan's historic downtown. Owned by Barbara Peevey and Deborah Jasek, you will be surprised at the fantastic selection of stained glass, fused glass, jewelry, glass beads, and mosaics. Of course, there was some retail therapy at Brazos Glassworks! I picked up some really fun and funky earrings.
Brazos Glassworks is a definite stop on your Bryan, Texas visit. You're sure to find just the right gift for celebratory events. The shop also offers classes for your romantic getaway, so be sure to look and see if any classes are offered during your visit.
Old Bryan Marketplace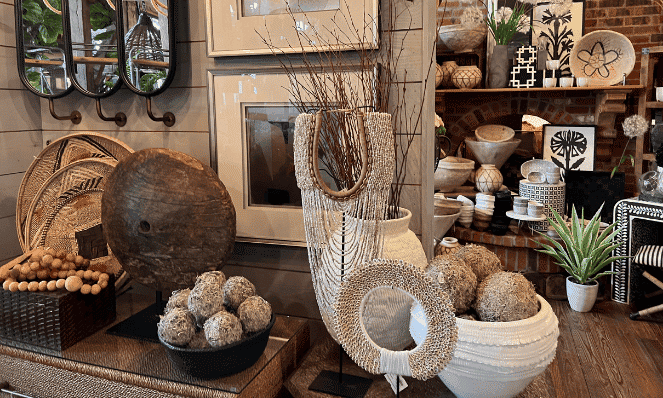 I love antiques and repurposing things, so Old Bryan Marketplace was a creative haven for me! Classic southern decor, an upscale spa & bath section, and antiques all under one roof. The Old Bryan Marketplace is a must-visit stop for the ultimate romantic getaway adventure.
Sparrow Lane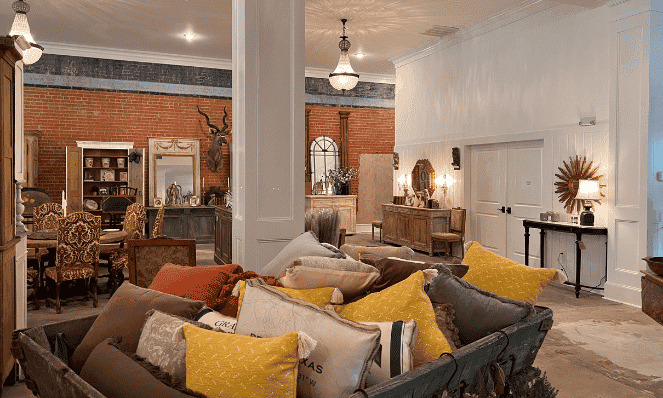 Sparrow Lane is located in the heart of downtown Bryan, and like many of the shops is in an old building. I loved the open floor plan of the store, and the eclectic selection of items. Most of the offerings are European antiques, home decor items, gifts, and a nice selection of timeless clothing. A perfect addition to your romantic Texas getaway tour.
Texas Rose Boutique
You can find everything from trendy cute clothing to classy and fabulous looks at Texas Rose Boutique! Don't miss this fabulous boutique filled with everything from dresses and vintage jeans, great sweaters and leggings to their awesome hats, sandals, and jewelry collection. 
If you're a diva like me, this is your kind of shop! I felt rather like Audrey Hepburn as I looked around Texas Rose Boutique, because their clothing and accessories are designed to make a girl feel classy, a little sassy, and fabulous!
Catalena Hatters
Our romantic getaway was made even better by the coolest hat shop we have ever visited! This shop has been in business for over thirty years, run by the same family! 
With so many corporate box stores, family-owned shops are a breath of fresh air. But a shop owned by the same family for over thirty years? That is not only a breath of fresh air but a true rarity in the world of retail.
Catalena Hatters started with a dream of owning a custom hat shop. Sammy and Carolyn Catalena and their two sons, Scott and Travis, are all involved in the operation of Catalena Hatters. 
Sammy and Carolyn have always loved custom hats and dreamed that one day they might own a custom hat operation. Whether by chance or fate, they were shown an ad for the sale of a Florida hatter. 
The Catalenas felt that this might be their big opportunity, so Sammy headed to Florida. Meeting with the owner was the confirmation that the Catalena's needed. 
The owner didn't want to sell to a large company. He was looking for someone who wanted a custom hat business, and use the equipment for custom hat work. The Catalans wanted to create and craft custom hats in Bryan. It was a match! And Catalena Hatters was born.
From the moment Jim and I walked into Catalena Hatters, I knew that we were destined to leave with a hat….or two. We looked around, tried on some hats, watched a hat being finished for a customer…and we were captivated. 
We left Catalena Hatters and headed to lunch. The next day we went back downtown to explore on our own. We wandered around looking in all the cute shops and stopped for a cup of coffee. Jim turned to me and asked if I wanted to run back by Catalena Hatters. 
Of course, I said yes! So off we went to Catalena Hatters. We walked around again, tried on more hats. 
I loved the hats, and so did Jim! But we live in Florida…nobody wears custom felt hats there. But they do wear straw hats! 
And I found something I did not know I needed – the perfect wide-brimmed straw ladies' flat-crowned hat. Jim also found the perfect hat for him. We love our new hats!
The Chocolate Gallery
No romantic getaway is truly complete without chocolate. And if you are a chocolate fan, you must try the chocolate from The Chocolate Gallery! It is absolutely decadent! We had six of their bonbons, and each was unique and delicious! When we returned from Bryan, we recommended this shop to a friend who promptly ordered a box online. She is a true chocolate connoisseur, and she raved about the chocolate!
Messina Winery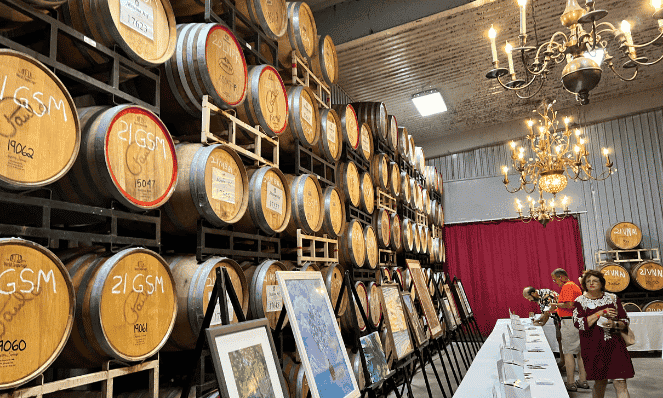 Jim and I don't hide the fact that we love wine. Specifically red wine. Our favorites tend to be Primitivo, Pinot Noir, and Tempranillo. 
 This post may contain affiliate links which won't change your price but will share some commission. As an Amazon Associate I earn from qualifying purchases.
We found all these and more, much to our surprise, at Messina Hof Winery in Bryan. This Award-Winning spectacular winery in Bryan was full of surprises! They are a leading producer of 100% Texas wine. They offer over 90 Texas wines for a wide variety for every palate.
We loved the grounds, but the tasting room was gorgeous! We were so pleased with their wine offering that we even joined their wine club!
Vino Boheme
No surprise that we felt like we had to visit this intriguing little wine bar in downtown Bryan. Vino Boheme opens their doors at 4pm Wednesday through Saturday, and 1pm on Sunday. Their selection of wines is extensive, so partake in a global wine tasting – you won't be disappointed!
We love to pair a wine tasting with a charcuterie platter, and Vino Boheme's charcuterie is fabulous! Don't miss this gem – a perfect way to relax and chill after a day of exploring.
The George H. Bush Presidential Library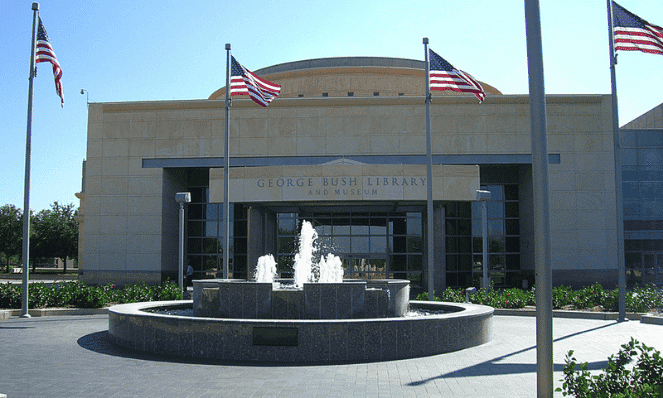 We were literally blown away by this presidential library! We had never been to a presidential library before, but were excited to visit the George Bush Presidential Library and Museum. 
From the moment we stepped in the door, it was as if you could sense you were in an extraordinary and amazing place. 
I was drawn to Bush, the politician, tracing his time from senator to President. Jim loved learning about Bush's military service, including an exhibit of the plane he flew during WWII. 
But both of us were most moved by the exhibit on the Middle East and the Iraq war period. When we finished the museum, I had tear tracks down my face.
Don't miss walking outside and around the lake to the graves of George H. and Barbara Bush. It is very serene and peaceful and the perfect spot to contemplate.
As you return to the presidential library, there is a stunning and moving statue. The statuary dominates an area just to the left. The exhibit features massive horses that are in motion with their hooves smashing the remains of the Berlin Wall. 
Texas A&M
Since you are already on the campus of Texas A&M exploring the George Bush Presidential Library, don't miss the opportunity to drive through the Aggie campus. It is huge! And the Aggie football stadium rivals some of the pro football stadiums we have seen.
For die-hard football fans, you might want to make the trek to Aggieland for one of their football games. We understand that gamedays at Texas A&M are unbelievable!
With so much to offer, it will be hard to do everything in a short romantic weekend getaway to Bryan, Texas! But you'll want to return to see whatever you don't see on your first visit to Bryan. Bryan is one of those unique destinations that begs to be visited multiple times. If you are looking for a Texas romantic getaway, then you have to check out Bryan.
CHECK OUT WHAT'S NEW ON BETSI'S WORLD
Romantic Getaways in the South