There is no better way to connect and unwind with your sweetie than by planning a romantic on the beach getaway. Walking hand in hand along the beach while listening to the crashing waves is undeniably romantic.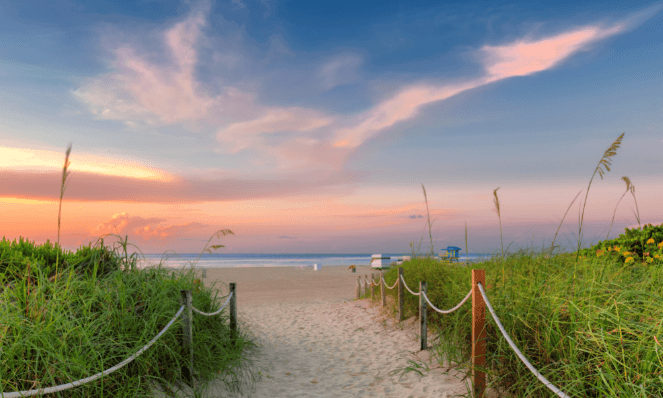 There are plenty of romantic beaches across the United States, but we're partial to the south. If you're looking for a romantic getaway, these romantic beaches won't disappoint.
The Best Romantic Beach Getaways
Romantic Beach Getaways In South Carolina
Hilton Head Island Beach, South Carolina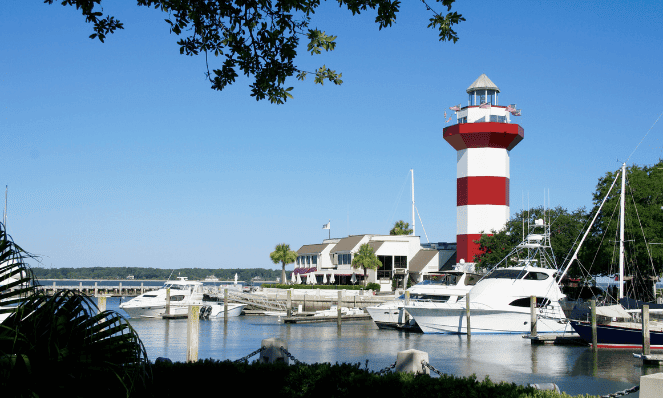 For one of the best romantic beach vacations in North Carolina, consider Hilton Head Island. It is a low-key beach town perfect for couples who want a quieter getaway. White sand beaches and lush forests offer plenty of opportunities for couples such as biking, fishing, and water sports. It is the ideal location for nature lovers who enjoy a romantic stroll on the coast.
The Inn at Harbour Town is sheer luxury from the moment you arrive until you depart. You will experience world-class service during your stay. The Inn at Harbour Town has been called Hilton Head's most elegant escape and perfect for a romantic getaway for two. For those who prefer coming by boat, The Palmetto Dunes offers vacation homes and marina.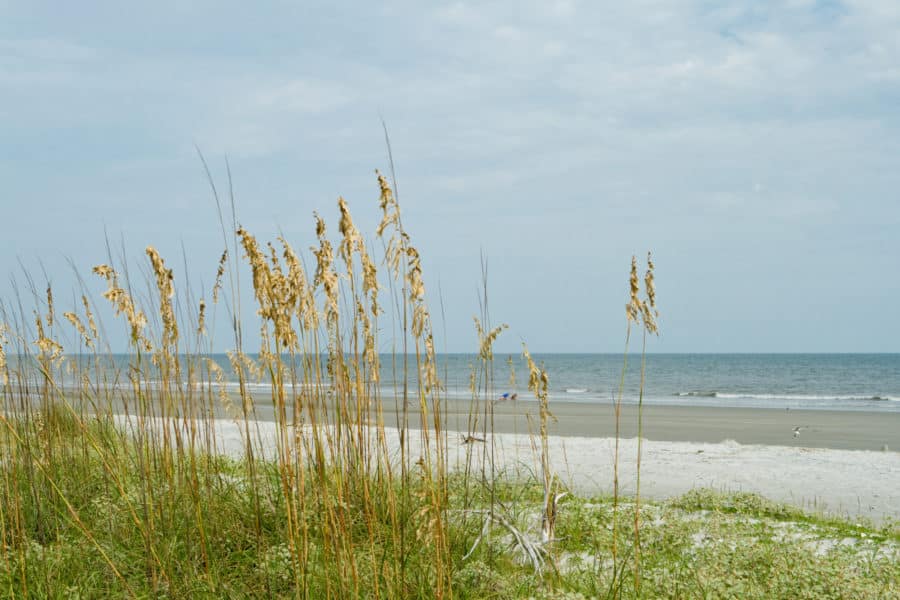 When the sun goes down, or Mother Nature sends some liquid sunshine, it's time to hit the shopping, or tour the Hilton Head Distillery or partake in a wine tasting at the Island winery (yes, Hilton Head has a fab winery!).
While staying on the Island, you'll truly feel like you've found paradise on Earth.
Charleston, SC
Charleston is full of history and romance, which makes it one of the best places for a romantic getaway in the south. Cobblestone streets and rich architecture create a perfect location for romance.
Visit Folly Beach during the day to catch some waves and rays. While you're there, venture out over the ocean on the pier and meander through various surf shops along the beach. Make sure to visit Morris Island Lighthouse.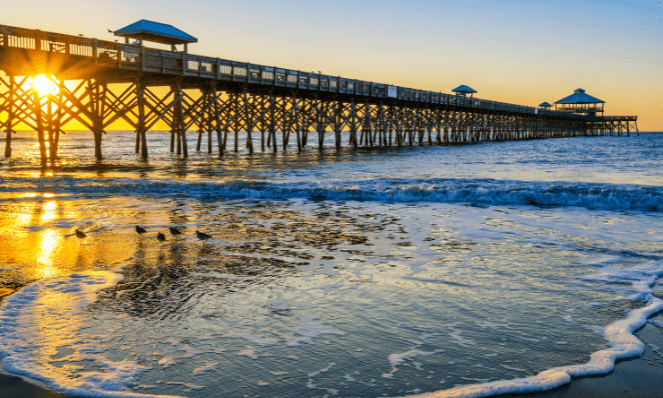 For discerning travelers, the Planters Inn, located in the midst of the historic district, puts you in the heart of Charleston. The Peninsula Grill is located at the hotel, and is the "Most Romantic Dining in Charleston." The Planters Inn embodies old Southern charm coupled with hospitality and character and outstanding cuisine.
Myrtle Beach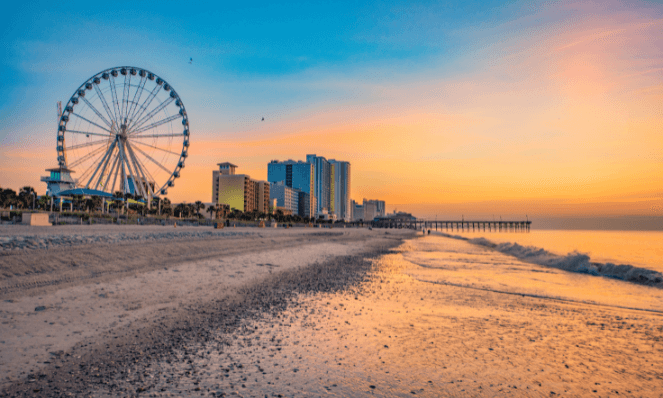 Myrtle beach is another location for great beach vacations. It offers a beautiful beach with a delicious sea breeze and plenty of activities just walking distance from the shore.
This South Carolinian location is known for it's popularity with spring breakers, but it also has tons of allure for romantic beach getaways. Known as the golf capital of the world, there are many golf courses for you to practice your skills on. If you prefer mini golf, you can do that too- as there are countless themed mini golf courses available.
Romantic Beach Getaways In Georgia
St. Simons Island, Georgia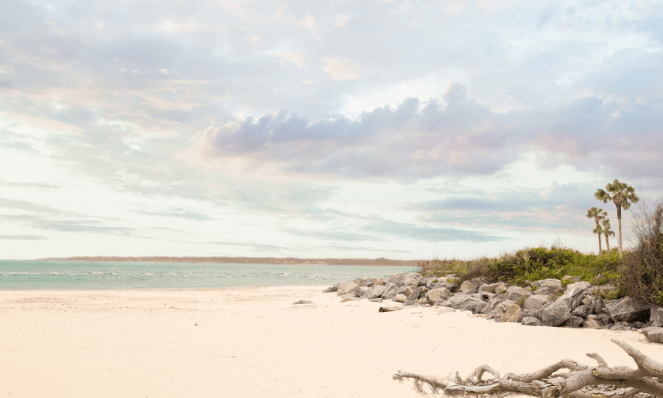 Another romantic beach getaway in the south is St. Simons Island. It is the largest of the Golden Isles, the barrier islands sprinkled along Georgia's southern Atlantic Coast. Our favorite island resort and the only oceanfront hotel is the King and Prince Beach and Golf Resort. Superior service and unmatched Southern hospitality are the cornerstones of the King and Prince.
A gorgeous beach just steps away from resort beckons you to dig your toes into the sand and take an early morning sunrise walk along the shore. As the sun begins to peek over the horizon, the birds will arrive, searching for their morning catch of food.
To get a good perspective of the island, book a tour with Lighthouse Trolleys. Owned by Cap Fendig, whose family has called St. Simons home for generations, will share the history of St. Simons, stopping at all the island's hot spots along the way. Rent a bike for the day head over to Village at St. Simons, where you can shop and nosh the day away.
For fresh seafood, and creative cocktails, head to Georgia Sea Grill for a relaxing and delightful dinner. Located at the Pier Village, Georgia Sea Grill is owned and managed by Zach Gowen. Gowen has created an upscale dining experience that is truly farm-to-table or sea-to-table.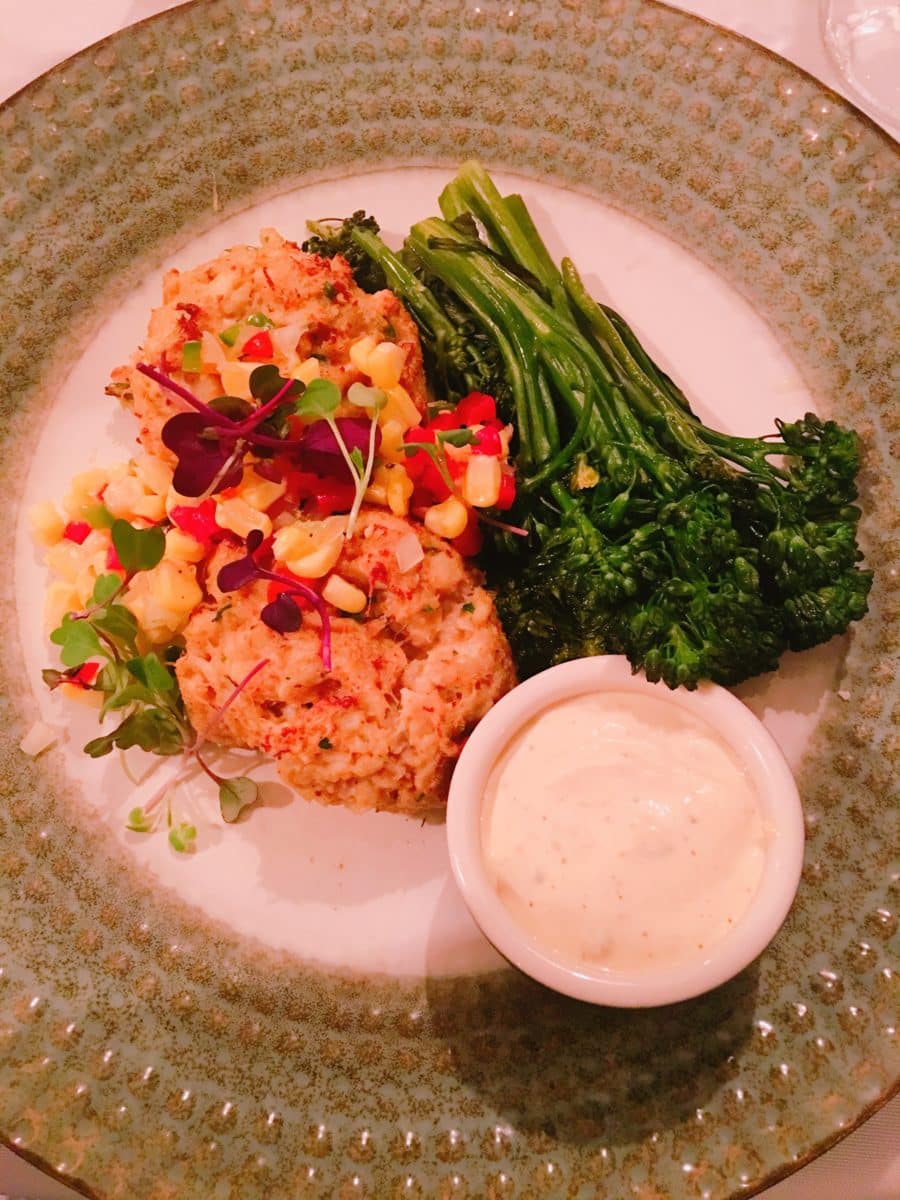 St. Simons pulls out the stops when you are seeking a romantic Southern beach getaway!
Jekyll Island, Georgia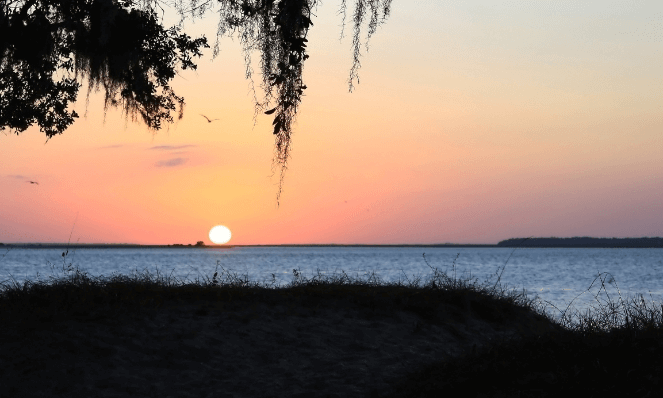 There are so many romantic things to do on Jekyll Island. From tram rides to shopping to luxury hotels, you'll find many reasons to love Jekyll Island. The southern tip of the Island is covered in sand dunes, perfect for a relaxing hike while holding hands. On the northern tip of the island, you'll find Driftwood Beach, which is home to many large trees that have drifted onto the beach.
Stay at the Jekyll Ocean Club and begin your day with a stunning sunrise. Relax poolside and sip a refreshing drink. One of the benefits to staying at the Jekyll Ocean Club is access to the Jekyll Island Club, steeped in history, Southern charm, and elegance.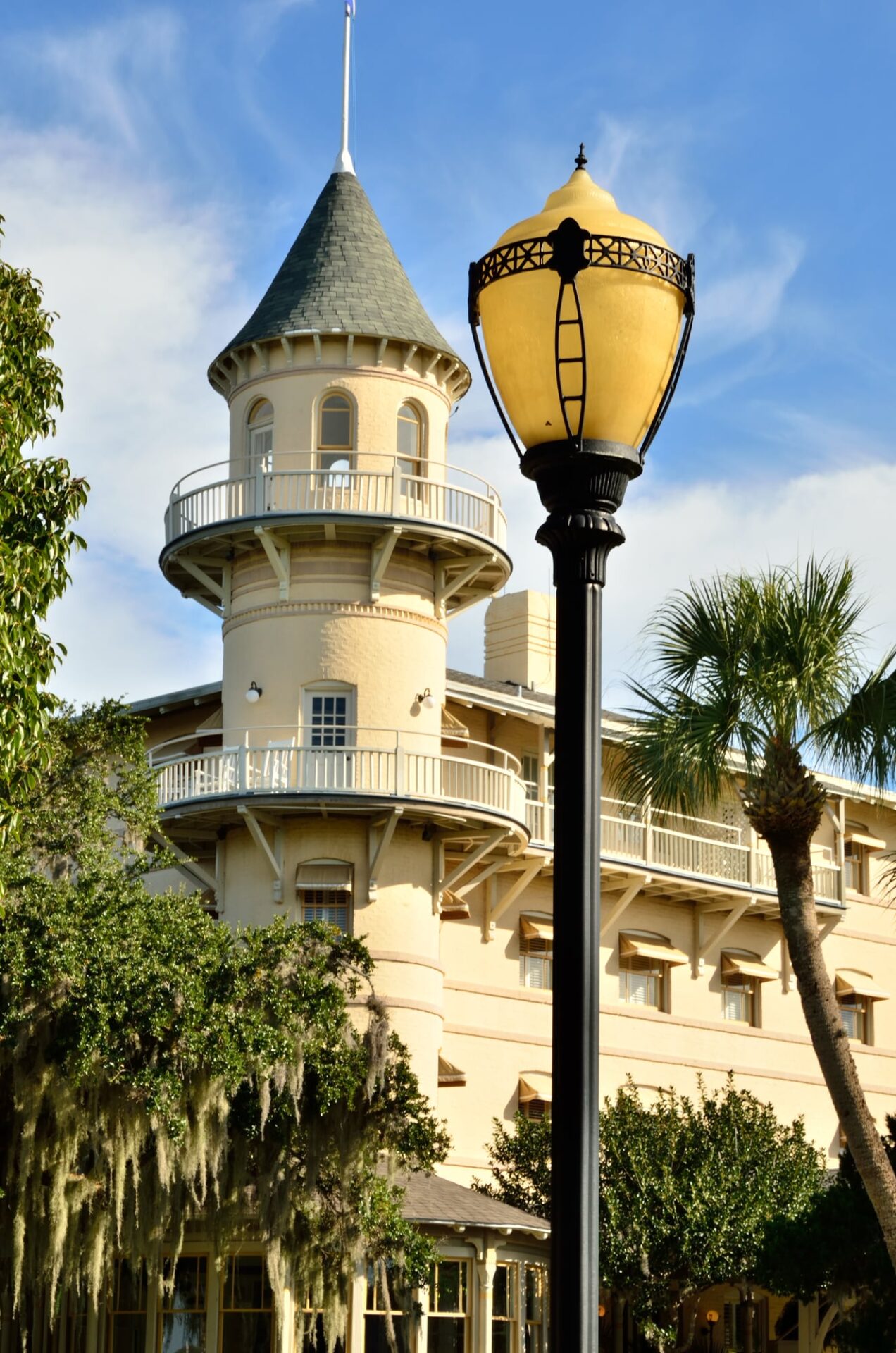 Make reservations for dinner at Eighty Ocean Kitchen & Bar, where you'll enjoy dining on locally-inspired dishes in an open-air setting.
Tybee Island
If you love taking romantic walks on white sand beaches, this island is the place for you. A barrier island located 18 miles from Savannah, Tybee Island is a small beach town ideal for the perfect romantic getaway.
The island has a wealth of natural beauty with many nature trails along the island. Walk down the Island Pier and Pavilion to get vast views of South Beach one of the best beaches on the island. Or visit one of 5 other pristine beaches that the Island has to offer.
Consider a golf cart rental for a fun, quirky way to explore the town. This will allow easier access to some of the unique boutiques and dining options along the beach.
This eco-friendly travel option also provides access to small hidden spots along the coast. What better way to catch a golden beach sunset and share a romantic moment?
Romantic Beach Getaways In Florida
Florida is home to some of the most romantic beaches filled with beautiful palm trees and unforgettable sunsets. If you love paddle boarding, walking up sandy dunes, and luxury resorts Florida is the place for you. Of course, you'll also find a golf course or two and plenty of hotel spa treatments to relax you during your beach vacation.
The sunshine state is definitely one of our top locations for the best beach vacations.
Destin, Florida
Destin is perfect for your romantic southern beach getaway because the sand is clean and white and the water is perfectly clear. Fun Fact: the sand at Henderson Beach is made up of pure Appalachian quartz! This makes it silky soft and sparkle in the sunshine. Southern hospitality is alive in this city and you'll find plenty to do, including dolphin tours, parasailing, and hiking.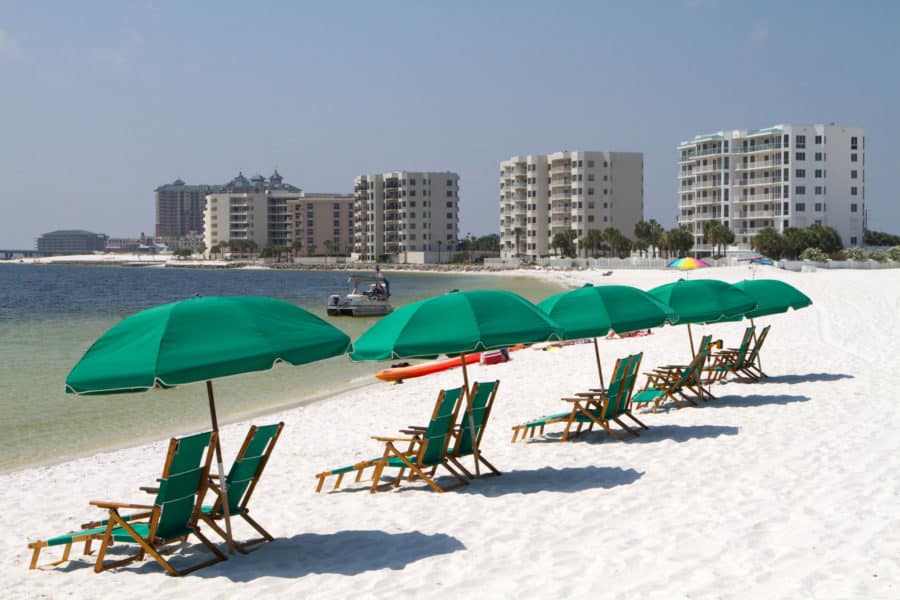 The Henderson Park Inn is our choice for the ultimate romantic escape. Overlooking some of the most secluded beaches in Destin, this is the only beachfront hotel. Spend your days lounging on the beach, and be sure to pick up a gourmet lunch and have a picnic on the beach.
While you're not at the beach, consider trying some other fun activities in town. For example, you could indulge in one of many Destin boat tours. If you and your sweetheart are hoping to catch a glimpse of some bottle nosed dolphins, book a tour with Southern Star Dolphin Cruises! For a romantic sunset cruise, consider a renting a private charter from Sail Away. On this sea excursion you can tailor your romantic evening to your liking. Bring you own music, drinks and snacks and bet prepared for an intimate evening on the water!
 This post may contain affiliate links which won't change your price but will share some commission. As an Amazon Associate I earn from qualifying purchases.
Panama City Beach, Florida
With warm, clear gulf waters and white sandy beaches, Panama City Beach is a perfect location for a romantic southern beach getaway. There are so many accommodation choices, it's hard to pick just one. No matter where you choose, you will fall in love with Panama City Beach!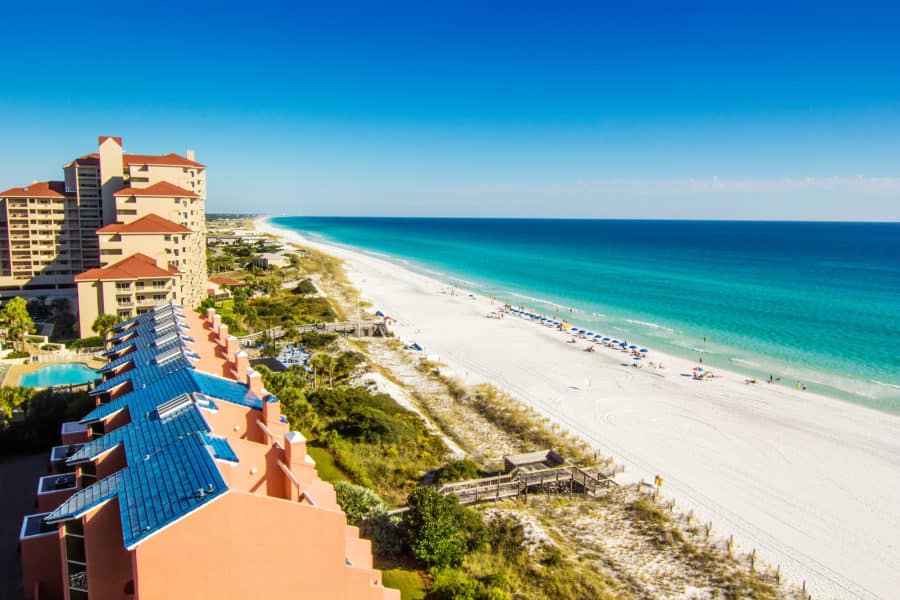 After spending the day at the beach, you can head to one of the cities festive restaurants. We love Capt. Anderson's! Capt. Anderson's works with local fisherman and oystermen to provide the freshest gulf seafood available. After dinner, take a walk on the beach, or have a cocktail as you watch the sunset. Panama City Beach faces the sunset, so no matter where you are when it sets, you and your sweetie will have spectacular views of the sunset.
Whether you are coming for the beach, golf, arts, and culture, you'll find activities galore in Panama City Beach.
Islamorada, Florida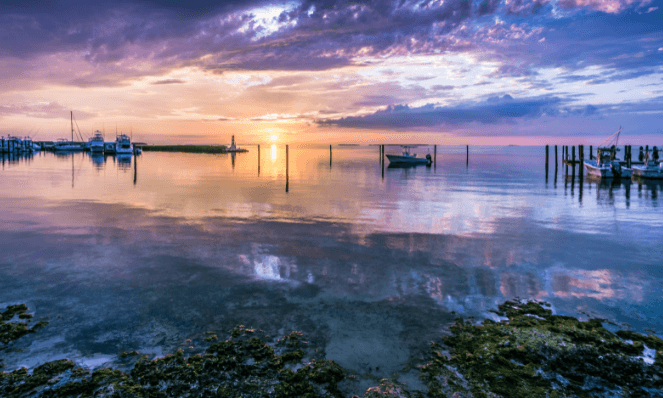 If you're looking for tropical beaches look no further than the Florida Keys. Slow down and take a deep breath. You're on Island Time in the Florida Keys. Don't rush; savor every moment. Located in the Florida Keys, Islamorada has a little something for everyone, plus stunning beaches. On Holiday Isle beach you will find shops and restaurants. At the marina, you can rent jet skis or spend the afternoon on a fishing charter boat.
If you are looking for peace and quiet, check out Long Key State Park, where you can swim, as well as hike and enjoy a picnic lunch.
Checca Lodge & Spa offers smart luxury travelers the charm and beauty of an old Florida fishing village coupled with laid-back luxury, making it a perfect choice for a romantic Southern beach getaway, and is our top choice for staying in Islamorada. Be sure to take advantage of their fabulous spa during your stay – a massage for two is a great choice!
Vero Beach, Florida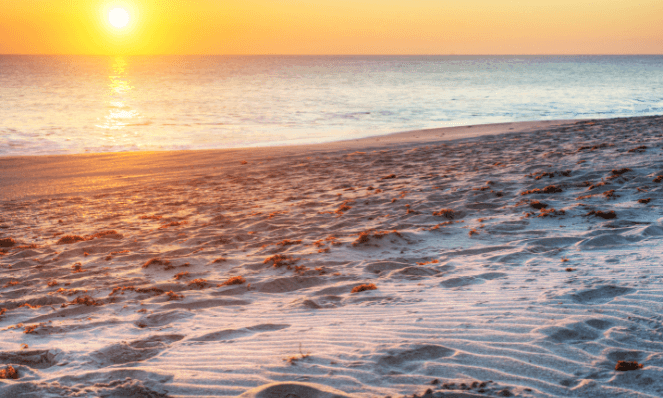 This fresh low-key coastal town with an upscale feel is a great destination for a romantic Southern beach getaway. Vero Beach is a haven for beach lovers, and a perfect recipe for adventurers. Take a leisurely walk down Ocean Drive and step into some of the boutique shops. Stop into Kilwins for a delightful iced coffee or scoop of ice cream. Have a quiet, romantic dinner at Ocean Grill, The Tides, or Citrus. Spend some time strolling the beach hand-in-hand watching the sunset.
Stay at the Kimpton Vero Beach Hotel & Spa for indulgent romantic getaways. Lounge by the heated pool or lay on the beach … the choice is yours. Book a couples massage followed by lunch in Cobalt. Then relax and recharge at their gorgeous swimming pool.
Beaufort, North Carolina
Stay at the Inlet Inn, with the best view and location in historic Beaufort, then the Inlet Inn ticks all the boxes. This is our favorite place to stay when visiting the Crystal Coast! It has the comforts and privacy of a hotel but the amenities of a Bed and Breakfast….and who can complain when having morning coffee overlooking the harbor?
There is so much to do in Beaufort and the Crystal Coast, that you will find yourself coming back time after time! You can rent bikes, hike the miles of beaches, book a sports fishing trip, take an eco-tour, ride a double-decker bus, play golf – your choices are endless! Take some time, and discover Beaufort and the Crystal Coast hand-in-hand with your special one.
---
These romantic beach getaways are perfect for reconnecting with the one you love. Whether you choose to chill at a luxury resort or get adventurous and try a new activity, you create memories that will last for years to come and what better way to do that than with a beach vacation?
We hope you found your perfect beach destination with the help of this guide. The South has numerous beautiful beaches to choose from and beachside condos, Air BnBs, or hotels to rent. Get away from the cold winter air and warm up in the sunshine of the South!
LOOKING FOR MORE BEACH GETAWAYS?
Vero Beach Florida Perfect Getaway
Best Things To Do In Clearwater Beach
CHECK OUT WHAT'S NEW ON BETSI'S WORLD
Which of these beach destinations would you like to visit next? Did you top choices make the list? We'd love to hear from you in the comments below!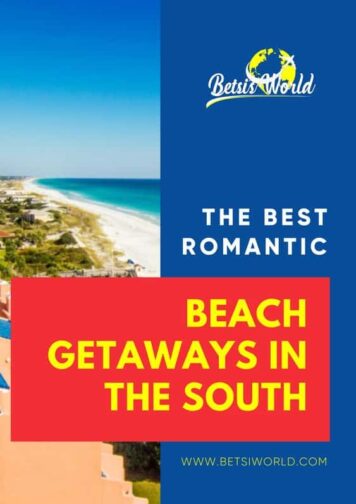 You May Also Enjoy These Getaways