Ideas For A Daytona Beach Romantic Getaway
A Daytona Beach romantic getaway is perfect for you if you're a fan of sun, surf, sand, and fun! Home of the Daytona 500, this coastal town is ideal for fun-loving couples.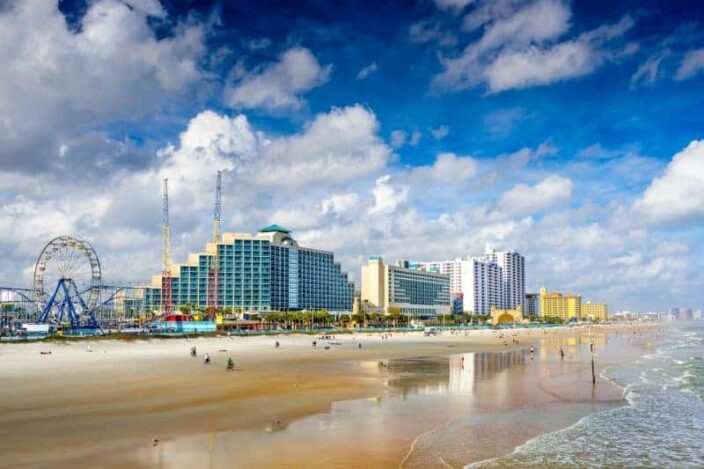 Florida is home to many romantic weekend getaway options for couples looking to explore the Sunshine State. Daytona Beach is yet another spot to check out if you're looking for a unique getaway destination.
Top Places to Stay for a Daytona Beach Romantic Getaway
River Lily Inn Bed and Breakfast
Nestled beneath stately live oak trees just over a mile and a half from the beach sits River Lily Inn Bed and Breakfast. This serene and cozy setting is perfect for a Daytona Beach romantic weekend getaway.
Couples seeking secluded and relaxing accommodations just a few minutes from the fun of Daytona will enjoy the homey atmosphere at this bed and breakfast. Enjoy one of the six romantic rooms, each with its own private bath. Your stay at River Lily Inn B&B includes a full breakfast in a common area of the home, as well as pool access.
The Shores Resort & Spa
The Shores Resort & Spa is casual coastal-chic meets luxury creating a memorable stay for guests. With a prime location right on the beach, you are only steps away from sinking your toes into the ocean.
The rooms are luxurious and relaxing, and the spa will have you 'ahhing.' The Shores is near to all the attractions of Daytona Beach and just a short ride away from the area's surrounding towns and activities.
From beachfront cabanas to bottled water, s'mores making kits and welcoming your four-legged pets, the Shores will make your Daytona Beach romantic getaway memorable.
The Hard Rock Café Daytona Beach
Hard Rock Cafe Daytona Beach is the ultimate in trendsetting luxury. It's cool, crisp decor is truly a feast for the eyes. The hotel features a spa and salon, nightly entertainment, dining, activities, as well as other luxurious amenities. This makes it an ideal home base for your luxurious romantic Daytona Beach getaway.
The Hard Rock is located right on the beach where you can take in breathtaking views of the water. They also offer a private pool and beach cabanas to enjoy , as well as beach rental options. Guests can choose from oceanfront or city view accommodations, suites, and rooms with sun porches and balconies for the perfect romantic getaway.
Where To Eat In Daytona Beach During A Romantic Getaway
When you travel for a romantic weekend getaway, food is an important part of the weekend. These restaurants are a selection of our favorite dining options for a Daytona Beach romantic getaway.
Chart House
Chart House is a favorite of locals and tourists alike and as part of the Landry's family of restaurants, is a popular spot for frequent travelers. The Landry's loyalty card provides meal discounts at several restaurants, and Chart House is one you won't want to miss.
Stunning views overlooking the ocean paired with delicious steak, seafood, and wine make this the ultimate Daytona Beach romantic getaway dining destination.
Pat's Riverfront Cafe
If you're traveling with your favorite pup, consider Pat's Riverfront Cafe. The outdoor seating area is dog-friendly, so you and your pooch can enjoy the relaxed vibes together. The restaurant now serves breakfast all day, which includes breakfast sandwiches, omelets, pancakes, and eggs your way.
They also serve delicious lunch comfort foods like warm burgers and tasty sandwiches. You'll love looking out over the Halifax River while you enjoy your delicious meal with your loved one.
Caribbean Jacks
Caribbean Jacks is one of our favorites when visiting Daytona Beach. We love to sit outside and eat overlooking the marina. They have a great happy hour, featuring different drinks Monday through Saturday! Time your meal for sunset, and share a toast to a day spent together…a perfect romantic ending to the day.
Zen Bistro
While not directly on the water, Zen Bistro is just a few blocks from the river and provides a cozy setting for a romantic dinner under the twinkling lights of the pergola.
If you're a fan of Thai food, this is the place to be on Daytona Beach. Vegans, vegetarians, and carnivores alike will enjoy this flavorful selection of authentic cuisine. For a sweet dessert, I recommend trying the sweet sticky rice with mango.
What to Do on a Daytona Beach Romantic Getaway
Whether you decide to take a leisurely stroll along the beach and pier or are more of a hands-on couple, Daytona Beach has plenty to do on your Daytona Beach romantic getaway. The town is also centrally located so you're never more than a few miles away from the variety that Florida has to offer.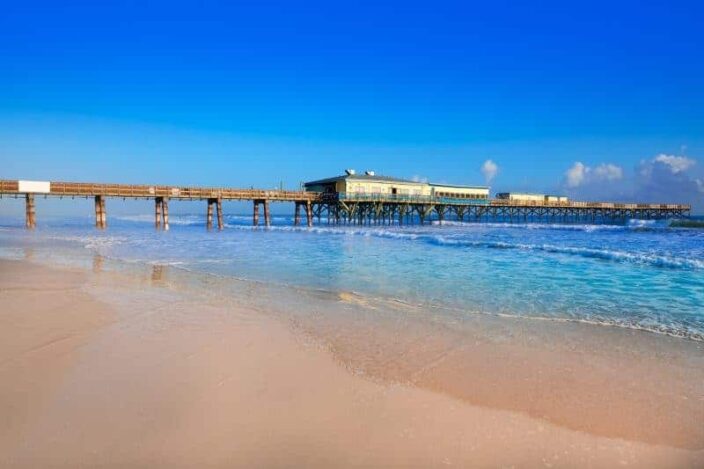 Within Daytona Beach, you'll feel like kids again as you stroll along the boardwalk. Take in a free concert and enjoy a romantic picnic at the Daytona Beach Bandshell. Did you know that the Bandshell is a historic landmark? It has a long history of community gatherings and open-air performances. The Bandshell is definitely a rich part of Daytona you won't want to miss.
This amphitheater offers a free Summer concert series and is the perfect way to spend a romantic evening under the stars, swaying to the music with your favorite person. Check out their website for upcoming events and performances.
Tip: Protect yourself from the Florida sun while you're out on the beach listening to music, don't forget to wear your hat!
Fun-loving couples can also spend a day at the Daytona Lagoon water park or go for a spin in a go-kart. There are plenty of adventurous and outdoorsy things to do during your Daytona romantic getaway!

Angell and Phelps Chocolate Factory
Angell and Phelps Chocolate Factory was originally a Michigan-based confectionery founded in 1924. Cora Phelps and Riddell Angel opened the candy shop on Mackinac Island. They later moved the business to Daytona Beach in 1940.
The shop offers tours of the chocolate factory that is a fun and air-conditioned respite from the hot, Florida sun. The delicious selection of chocolates makes excellent gifts or treats to take home as a souvenir.
Ormond Scenic Loop and Trail
If you enjoy a romantic bike ride in the great outdoors, the Ormond Scenic Loop and Trail is the ideal Southern romantic setting near Daytona Beach. Visitors can also rent electric bicycles at Daytona Adventures to explore the beach in motorized style.
Dine and Cruise
Nothing says romance more than a sunset dinner cruise on the ocean. The Halifax Harbor Marina Dine and Cruise is the ideal romantic Daytona Beach date night for couples.
The 1.5-hour cruise includes a buffet dinner with some vegetarian options. It also includes unlimited soda, and tea, dessert, prizes, games, and stunning views of the Atlantic.
 This post may contain affiliate links which won't change your price but will share some commission. As an Amazon Associate I earn from qualifying purchases.
What Else to Do on a Daytona Beach Romantic Getaway
Once you've explored all of the romantic spots within Daytona Beach, consider a day trip out to St. Augustine. This 'Ancient City' is the oldest city in the United States and home to history and countless restaurants and shops.
Spend an afternoon in the historic district with a trip to the Ponce de Leon Fountain of Youth Archaeological Park, visit the shops, and enjoy a romantic date night dinner at Michael's Tasting Room.
Merritt Island Wildlife Refuge is just an hour from Daytona and will provide entire days worth of outdoor adventure. Couples can kayak through the waters or a scenic ride around to spot wildlife and nature.
Black Point Wildlife Drive is a 7-mile path that will take visitors through the marsh and pine forest. It's an excellent opportunity for viewing birds, alligators, bobcats, otters, and countless other animals. What better way to spend a romantic weekend afternoon than out in nature enjoying the scenery with your love.
Head over to West Volusia and explore the St. Johns River with an eco-tour, walk Deland's main street, sip a brew a Persimmon Hollow Brewery, or visit the Stetson Mansion.
For those who love adrenaline-pumping adventure, check out Skydive Deland, and take the plunge skydiving. Whether you are an experienced sky-diver or a beginner, Skydive Deland will take good care of you. What's more romantic than taking a thrilling jump with your loved one?
Visit Daytona Beach For A Fun Romantic Getaway
While Daytona Beach may initially evoke thoughts of car races and Spring Break celebrations, the right couple can find romance anywhere.
Daytona Beach makes it easy with its beautiful beaches, ample activities for fun-loving couples, and delicious dining options. Hit the road for a Daytona Beach romantic getaway and see how much more there is than car racing in this cool coastal area.
CHECK OUT WHAT'S NEW ON BETSI'S WORLD
Have you ever visited Daytona Beach? What did you love about it? Let us know in the comments below!
More Florida Travel Ideas You May Like