Clearwater Beach is on Florida's Gulf Coast and is one of Florida's best destinations. It is a great destination to use as a base to explore the surrounding areas. On its own, however, Clearwater Beach is a fun destination that offers a lot – beaches, restaurants, family activities, and a chance to unwind and relax. We'll share our tips for the best things to do in Clearwater Beach, Florida, and where to eat.
This trip was a hosted visit to Clearwater Beach. All opinions are mine
How To Visit Clearwater Beach: Tips
Covid 19 Safety Protocols
For our recent trip to Clearwater Beach, we found lots of health and safety protocols in place. The hotel furnished sanitizing hand wipes, contact-free check-in, and daily contact-free towel service. Most of the restaurants had multiple hand sanitizing stations throughout their restaurant space, and the majority of the shops had hand sanitizing stations as you walked in the door. We felt 100% safe, and all Florida health guidelines were being followed, as far as we could tell.
Airports Near Clearwater Beach
If you are flying into the Clearwater Beach area, you have a choice of two gateways: Tampa or St. Pete-Clearwater. Tampa is an international airport, and most of the major carriers service Tampa, including American, British Airways, Delta, JetBlue, Frontier, Southwest, United, and WestJet. St. Pete-Clearwater International hosts Allegiant, SunCountry, and Swoop airlines (coming in November 2021).
Transportation from Tampa to Clearwater Beach
Prior to COVID-19 rental cars were an option. However, currently in 2021 rental car prices have skyrocketed, causing many to rethink rental cars. Never fear, we have the skinny on the alternatives to rental cars. Shared-ride services are a nice alternative to the high price of rental cars (however, we do suggest doing a price comparison).
Alora Transportation out of Tampa International offers late-model Lincoln Town cars, SUVs, and vans. Many times you'll find that you are the only passenger! Of course, Uber and Lyft are also options. For St. Pete-Clearwater International, United Taxi and Yellow Cab are your options. Both Tampa and St. Pete-Clearwater International airports offer shuttle services.
The Best Things To Do in Clearwater Beach: Head To The Beaches
Clearwater Beach
Clearwater Beach has gotten top accolades consistently and has been ranked as one of the top beaches by TripAdvisor, USA Today, Dr. Beach, and more. For families with little ones, Clearwater Beach is perfect with its shallow, calm water and the wide, white sugar sand beach. The beach also has lifeguards on duty year-round, giving parents another set of eyes to see their kids. The beach is raked daily, and it really is one of the cleanest beaches we've experienced. 
The water is perfect for snorkeling, so bring or rent snorkel gear and explore the wonders of the undersea world. For those who love thrills, a parasail trip is right up your alley!
Sand Key Park
Sand Key Park is the place to go for an uncrowded and relaxing day at the beach. You'll find cabanas and beach chairs for rent, a kid's playground, bathhouses, and a dog park. For those with disabilities, the park also offers free beach wheelchairs, which are designed to roll a bit more easily in the sand and float in the water.
Sand Key is both a park and a beach, offering double the fun for a day at the beach! Spend the morning at the beach, then head to the park area for lunch under one of two picnic shelters. After lunch, the kids can head to the playground while the adults clean up from lunch. Then head back to the beach for an afternoon of water fun, searching for ocean treasures, and building sandcastles.
Take a walk to the salt marsh before you leave, and sit on the benches, relaxing and birdwatching. Herons, anhingas, roseate spoonbills, and great horned owls all call Sand Key home.
Caladesi Island State Park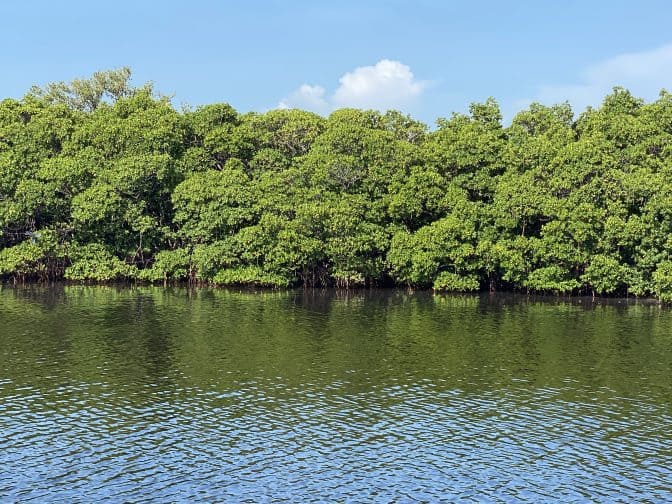 Caladesi Island State Park is one of those islands that is virtually untouched. This is due in part to the difficulty visitors have in getting to the park. You have to take a boat to the island. If you are not taking your own vessel, then you can rent a pontoon boat from KSK Marina, or take the Caladesi ferry.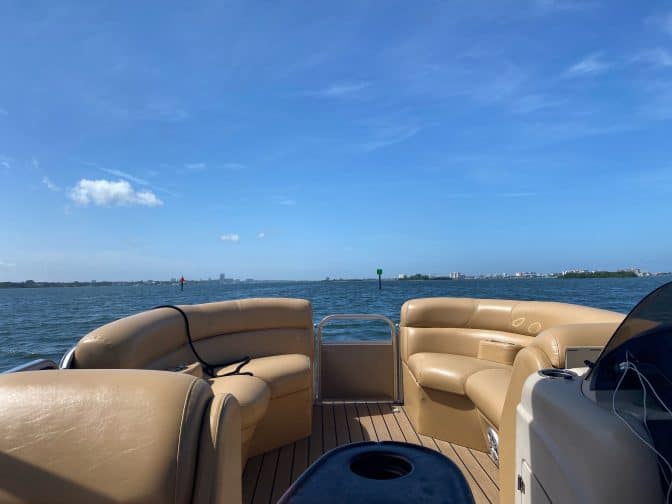 We rented a pontoon boat from KSK Marina for a half-day, and our first stop of the day was Caladesi Island. It is so worth the time it takes to get out there! It is gorgeous! And since we love boating, taking a rental boat out to the island made perfect sense for us, and gave us a platform to swim from, and we were able to see more than just Caladesi Island State Park.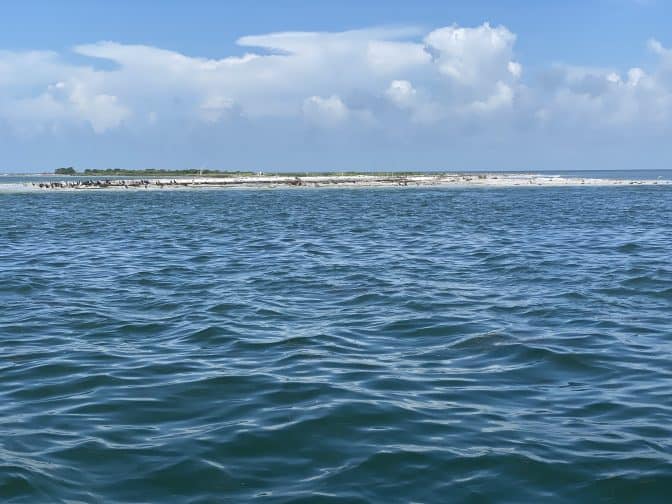 The beaches of Caladesi are fabulous, and you don't want to miss a visit out to the island. Spend the morning on the beach, and then wander the nature trails. You won't be disappointed with a trip to visit this gorgeous gem of an island and State Park.
Of course, no matter which beach you choose to play on, you have to have a good beach read!
Best Beach Reads
 When I look for beach reads, I look for some of my favorite authors – Rachel Hanna, Nancy Thayer, Judith Keim, Tripp Ellis, Nick Sullivan, and Wayne Stinnett. For our trip to Clearwater, I chose Rachel Hanna's "The Billionaire's Retreat", a Whiskey Ridge novel. It made for easy, light, take me away reading – just what I needed to relax in Clearwater Beach.
For those who love seat of your pants adventure, I would suggest Wayne Stinnett's Jesse McDermitt series. I am an avid reader and fan of his, and love this series! 
Best Things To Do In Clearwater Beach: Restaurants
Marina Cantina
 All we can say is WOW! Marina Cantina has forever spoiled us – the food is fresh, flavorful, and artfully presented. The margaritas at Marina Cantina are the perfect recipe to slake your thirst after a day on the water or on the beach.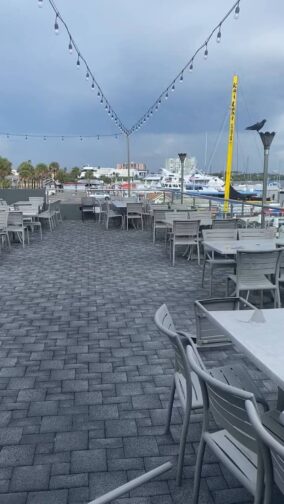 Be sure to time your visit to see the sunset from the expansive rooftop bar – arguably the best spot in Clearwater Beach to watch the sunset!
Clear Sky on Cleveland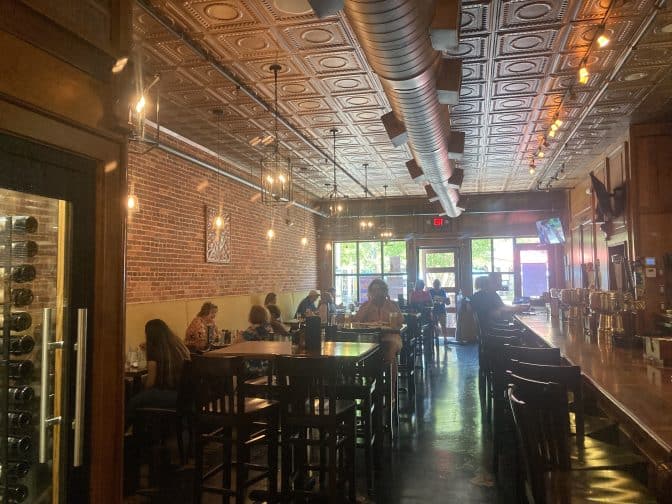 A rich wood interior that runs the spectrum of dark chocolate to milk chocolate, accented by a copper-colored tin ceiling, Clear Sky on Cleveland is located in Clearwater's historical Cleveland Street district. The food takes inspiration from across the globe and is delightfully fresh. We loved the short rib grilled cheese – pairing two of my personal favorites, short ribs, and grilled cheese, with a twist. 
Don't miss walking toward the back of the restaurant to their garden room. It's light, bright, and airy, perfect for a wine lunch.
Crabby's Dockside
Crabby's Dockside is just off Clearwater Beach, so a perfect spot for lunch, drinks, or dinner. They've been around for the last 20 years in Clearwater Beach, serving up great seafood and cocktails. Crabby's coconut shrimp is fabulous, and when they have hogfish snapper on the menu, snap it up – hogfish is delicious!
Best Attractions In Clearwater Beach
Clearwater Marine Aquarium
Clearwater Marine Aquarium is the home of Winter the dolphin feature in "Dolphin Tale" and this is a must-do when visiting the Clearwater Beach area. But, with the new renovation completed, Clearwater Marine Aquarium has upped its game, and it is amazing!
Some not-to-be-missed experiences are the new Virtual Reality theatre, where guests are transported into the deep ocean and are undertaking the role of marine biologists. It is so realistic, that you almost have to pinch yourself to realize that you are not actually in the ocean with the massive ocean creatures!
The boat tour is another new addition that came with the renovation. You have a choice of tours, though we loved the Dolphin Tour. You'll have the opportunity to observe dolphins in their natural habitat, and if you are lucky you may even see a family – mama, baby, and daddy, playing together on the seas.
Pier 60
 Head over to Pier 60 for great sunset views, maybe catch an artistic performer, and browse the artisan offerings.
 This post may contain affiliate links which won't change your price but will share some commission. As an Amazon Associate I earn from qualifying purchases.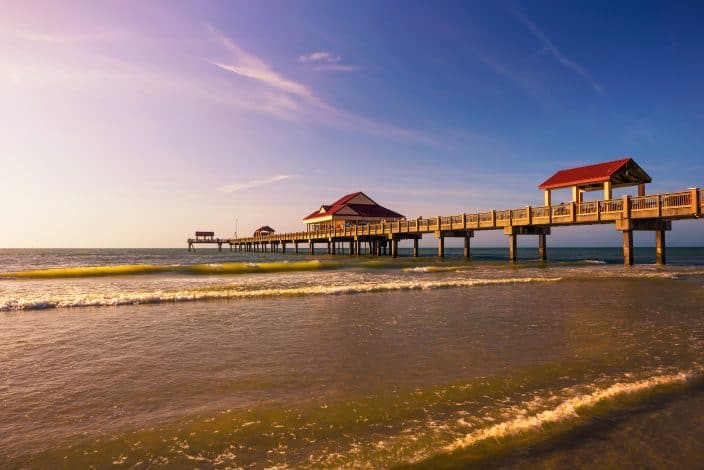 Captain Memo's Pirate Cruise
 Captain Memo's Pirate Cruise is serious fun for the entire family! As you set sail, delight in the gorgeous views of Clearwater and search for dolphins. Then the pirate antics begin, and you'll be hunting for treasure, engaging in water gun fun, and enthralled by the pirate tales. 
What to Pack for a Clearwater Beach Getaway
 Hat. You'll need a good beach hat to protect you from the sun. I love wide brimmed hats for extra protection on my face and neck!
Beach Bag. A great beach bag or tote will take you far! This large one is cute and will have enough space to carry everything you need.
Towel. These Turkish towels dry fast and don't take up a bunch of room, I love taking them on beach or boat trips!
Beach Read. Don't forget a good book! Its the best way to relax.
---
Clearwater beach is a tropical paradise in Florida with so much to offer. We adore visiting this coastal spot and highly recommend you visit it too!
CHECK OUT WHAT'S NEW ON BETSI'S WORLD
Have you ever visited Clearwater? What is your favorite thing about it? Let us know in the comments below!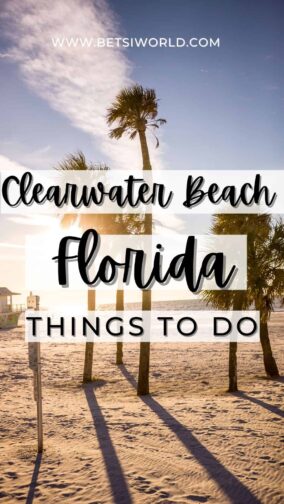 Beach Vacations You'll Love