The Perfect Mai Tai Recipe
A Mai Tai is a cocktail that is synonymous with relaxation and vacation. The sweet, citrus, and nutty flavors come together to make a perfectly balanced cocktail that delights you in every sip. This recipe will transport you to a tropical island in minutes, making it the ideal drink recipe for vacation.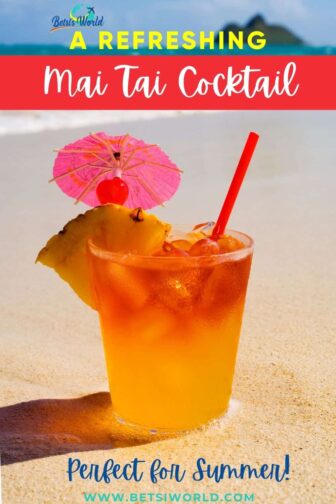 This post contains affiliate links. When you make a purchase through these links, Betsi's World receives a small commission at no additional cost to you. As an Amazon Associate, I earn from qualifying purchases.
There is nothing better to cool down on a hot, steamy summer day than a festive drink! This recipe is simple and comes together with just a few ingredients. So, grab that cocktail glass and start crafting one of our favorite cocktails – the refreshing and easy Mai Tai!
The Story of the Mai Tai Cocktail
To explore the Mai Tai cocktail, you first have to know the roots of the "Tiki Culture." The tiki culture was born out of the desire to fall in love with the unknown.
Americans, wanting to escape the Depression Era, would dress in their Sunday best, and flock to tropical nightclubs. Here, they would dance away the night under palm trees and coconuts while sipping their favorite cocktail at the time, a Martini.
Ernest Gantt turned the cocktail scene upside down. Ernest Gantt opened the doors to Don's Beachcomber Cafe in Los Angeles in 1934. The bar was a place to escape, at least temporarily, to a far-off land. Wearing a pith hat, safari suits, and floral leis, Gantt would serve strong rum drinks in hollowed out pineapples and coconuts. And the "tiki culture" was born.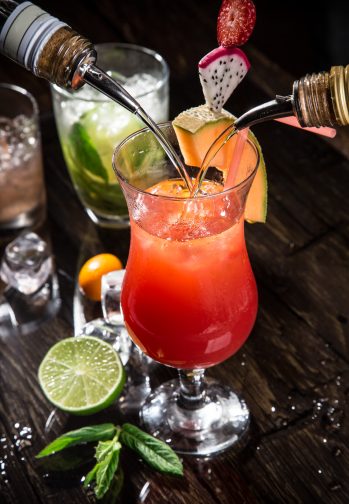 Escaping the Depression Era, they visited tropical nightclubs in their nice suit while dancing the night away under palm trees and coconuts. But, even though they were allured by the tropical atmosphere they still played it safe and only ordered the drink they knew, a Martini.
All except one man, Ernest Gantt. The man who changed the scene of cocktail forever. He was the first one to combine exotic cocktails with over the top, tropical, décor at his place Don the Beachcomber.
A Taste Of History
When you sip a Mai Tai, you are taking a sip back in history to 1944. The owner of a tiki restaurant, Trader Vic (aka Victor Jules Bergeron), was serving a couple of friends from Tahiti at his Oakland tiki restaurant. Not wanting to serve the tried and true standards of the day – Martinis, Manhattans, and Daiquiris, he began to create a simple, yet exotic rum drink.
Trader Vic tells the story of the day he was serving two friends, Eastham and Carrie Guild from Tahiti, at his restaurant in Oakland. Inspired by the simplicity of successful drinks like Martinis, Manhattans, and Daiquiris he set himself to create a new exotic rum drink.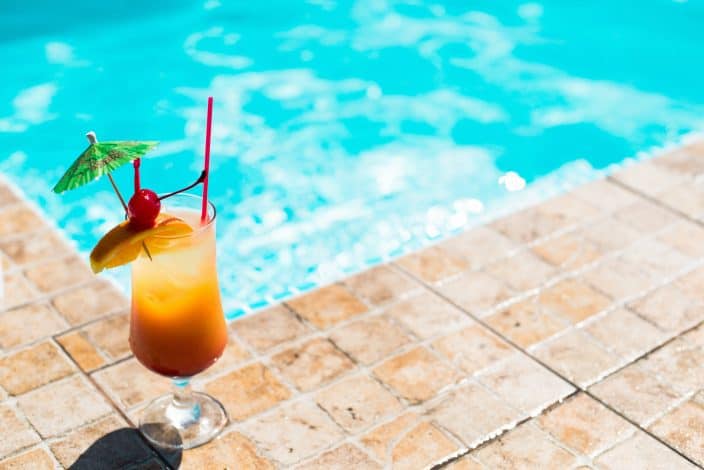 Using a golden-colored rum from Jamaica, with a medium body, fresh lime, orange, curaçao, a dash of rock candy sugar, and a dash of orgeat syrup, he shook the mixture with shaved ice, added a half a lime shell and a branch of mint. Serving the drink to his friends, he waited for their reaction. Carrie took one sip, and said, "Mai Tai-Roa Aé", which is Tahitian for "Out of this world-the-best."
Through the years the Mai Tai has morphed and changed a bit, but one thing that has not changed is its ability to transport the sipper to the islands for a little while. Many of the Mai Tai cocktails you order on vacation, on cruise ships, or in bars are a bit sweeter, but still very tropical.
The Original Trader Vic's Mai Tai Recipe
Ingredients:
Jamaican Rum (we like to use Meyer's rum)
Aged Rum (we like Kirk & Sweeney 18 year rum)
Simple syrup (see recipe below)
Orgeat (an Almond syrup)
Fresh squeezed orange juice
Fresh Squeezed Lime juice
This a great drink, but be careful… it's really potent!
Mai Tai Ingredient Substitutions
If you dont have orgeat, you can substitute it for an almond syrup, or even amaretto. If you use amaretto as a substitute, it may impart a slightly bitter flavor. Make sure to adjust the simple syrup ratio to taste.
In place of, or additional to the fresh squeezed orange juice you can use Cointreau orange liqueur. This will increase the depth of flavor as well as the alcohol content.
Instructions
Fill a cocktail shaker full of ice
Add in all the Mai Tai ingredients
Put the lid on the shaker and shake vigorously for 30 seconds of so until the shaker is very cold
fill a tall glass with ice
Pour the cocktail through the shaker strainer into a tall glass
Recipe for Simple Syrup
Ingredients:
Instructions:
Combine the sugar and water in a medium saucepan
Bring to a boil, stirring until sugar has dissolved.
Allow the syrup to cool
Garnish suggestions:
lime wheel
mint leaves
Pineapple leaves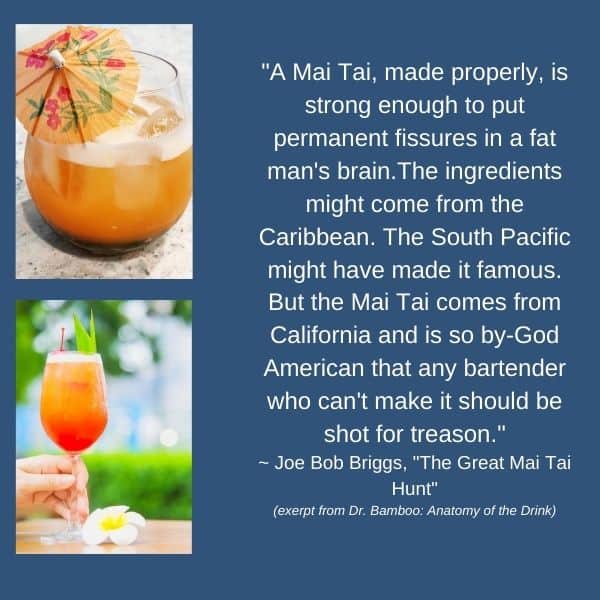 Refreshing Mai Tai with a Tropical Twist
Now that you've tasted the original Mai Tai, it's time for a Mai Tai with a tropical twist. This recipe is one of our favorite summertime sips and is perfect for outdoor gatherings, BBQs, or poolside parties. It's a thirst quencher for those steamy summer afternoons and evenings when you need a refreshing cocktail before dinner.
Ingredients
How To Make A Mai Tai With A Tropical Twist
Shake all ingredients in a cocktail shaker with 1 cup of ice cubes.
Strain into a glass filled with ice cubes – our preference is a short glass, and this one is perfect for a Mai Tai. For serving Mai Tais poolside we love these cocktail glasses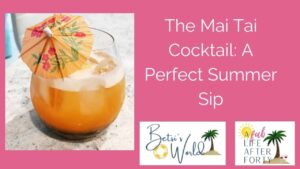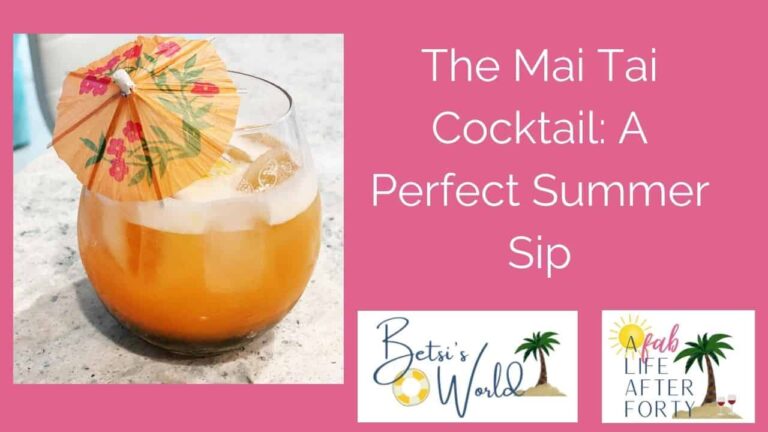 From it's beginnings as a drink in the Tiki culture of the late 1930's into the 1940s the Mai Tai has evolved into a popular cocktail found on almost every Caribbean island, cruise ship and beach bar. Now it's super simple to craft your own at home Mai Tai.
Try experimenting with fun cocktail glasses in different color or shapes. Fun garnishes like umbrellas or tropical fruits like pineapple are a beautiful touch as well. Perfect for summertime gatherings, this cocktail recipe will make you the hit of any party!
Looking for the perfect dish to serve with your Mai Tai? Try our Grilled Teriyaki Citrus Honey Salmon! The fruity and fresh flavor of the tropical Mai Tai will pair beautifully with the smoky citrus flavor of the salmon. It definitely a winning combo for a romantic dinner with your loved one.
What is your favorite summer cocktail? Let us know in the comments below!