Frozen margaritas are the perfect summer cocktail. There are so many variations and fun twists you can explore when making a margarita. I love sipping on this tangy summer drink when laying by the pool, having an outdoor party, or relaxing at the beach!
Although the classic margarita will always be a favorite of mine, these delicious variations on the classic are a great way to mix it up. Plus, its an awesome way to satisfy everyone's taste buds at a party! To help beat the summer heat, here are 3 tasty frozen margaritas for summer.
The Best Frozen Margarita Recipes For The Summertime
Frozen Mango Margarita
This delicious, refreshing frozen margarita does not require any added sweetener thanks to a healthy dose of fresh (or frozen) mango and orange juice. A small amount of fresh lime juice adds just the right amount of tanginess to balance out the sweeter flavors.
This recipe is great with or without alcohol, perfect for those days you just want a refreshing drink. To make this margarita you'll need fresh or frozen mangos, fresh lime juice, fresh orange juice, water, agave tequila, and ice cubes. I like to use fresh mango for this recipe, but if you can't find any then frozen will work.
First, peel and cube the mango and juice the citrus. You'll need around 4 or 5 oranges to yield the amount needed for this recipe. Add all the ingredients to your blender, topping it with the ice cubes. Pulse until everything is well combined and icy.
Tip: Do not over blend- pulse a few times until the ice is crushed into fine pieces like a slushy.
If you like a salt or sugar rim, run a piece of lime along the edge of each glass and roll it into your desired topping. Then pour the mango margarita into 4 glasses and and serve! For a garnish stick a sprig of rosemary into a mango cube and pop it on top!
Strawberry Grapefruit Margarita
This frozen orange grapefruit margarita gets some extra depth of flavor from the added orange liqueur. In this frozen margarita recipe I used Grand Marnier, a mix of cognac and triple sec, however you can substitute it with Triple Sec if you prefer.
The grapefruit juice in this recipe replaces the traditional lime juice, but still adding the tart flavor distinctive of a margarita. You'll need 2 large grapefruits, simple syrup, a handful of strawberries, Grand Marnier, and your favorite tequila. For this orange grapefruit margarita I would recommend using aged or gold tequila, especially if you are adding Grand Marnier. The gold tequila enhances the deep flavor of the Grand Marnier.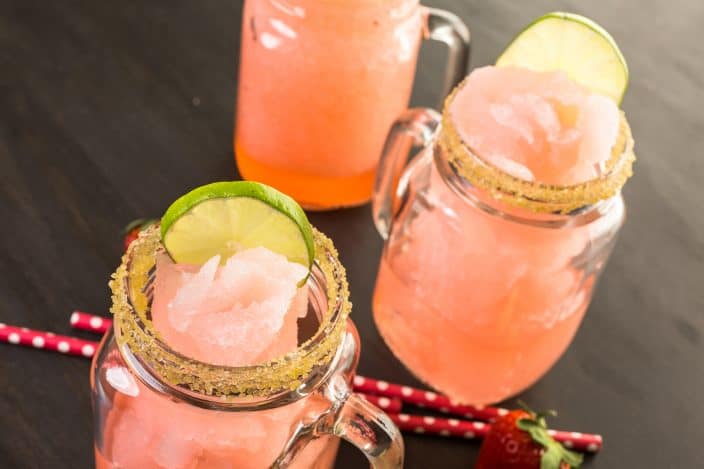 Juice or squeeze the grapefruits and then make your simple syrup if you don't have a store bought syrup. To make the simple syrup, combine the sugar and water in a small saucepan over medium high heat. Stir the mixture often until the sugar is completely dissolved. Then set it aside to cool and thicken slightly.
Wash and cut up your strawberries into quarters. Add all the ingredients to your blender and blend it up until the ice is slushy consistency. Garnish your frozen margarita with a lime wedge!
Frozen Skinny Spicy Margarita
This guiltless margarita uses honey instead of sugar and skips the triple sec, so you can feel good about totally enjoying this adult beverage. It pairs bright citrus flavors with some heat from the jalapeño slices, making it a wonderfully exciting drink.
Be aware that jalapeños can range in how spicy they are. I have found that they become spicier when they age, so be careful when slicing them. Using gloves when cutting the jalapeños and removing the seeds ensures that you won't have any spicy residue left on your hands. There's nothing worse than rubbing your eyes after an encounter with a jalapeño!
Navel oranges or Cara Cara oranges are my choices for this recipe. They are larger and give a lot of juice. If you have an electric juicer, use that. Otherwise you can just use a standard citrus press or your hands. Because this is a blended frozen margarita, I only use about 2 jalapeño slices in this recipe. If you love very spicy things, feel free to use more!
As with the frozen margaritas that came before, use your blender to grind up all the ingredients into a fine, slushy texture.
 This post may contain affiliate links which won't change your price but will share some commission. As an Amazon Associate I earn from qualifying purchases.
Tools You May Need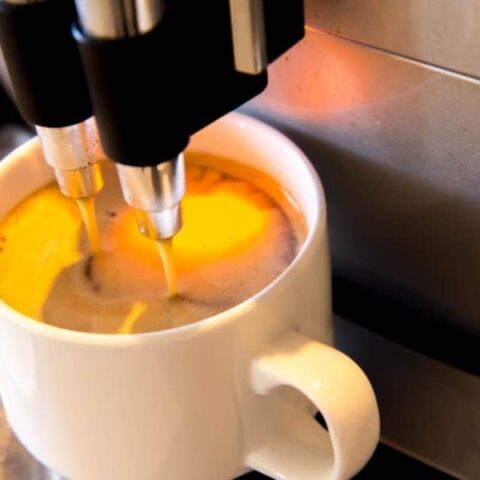 Holiday Gift Giving
The Perfect Cocktail To Beat The Heat
Frozen margaritas incredibly refreshing and delicious. What I love most about making margaritas is that you can drop almost any fruit into them and it will still taste great! Have some fun this summer experimenting with different fruits, veggies, and herb combinations in your homemade cocktails. These recipes are easy to make for a crowd by doubling or trippling the amount for each ingredient. Grab a big pitcher and get ready for a fun summer party!
If you're looking for another tropical drink for the summer check out our Mai Tai recipe!
CHECK OUT WHAT'S NEW ON BETSI'S WORLD
Which of these frozen margaritas sounds the most delicious to you? Let us know in the comments below!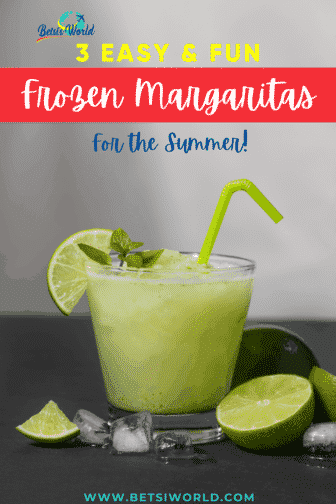 Other Recipes You Might Like