Summer vacations are here, and therefore its time to take out your summer bucket list and start planning! Every season has its own charm; we are all familiar with the winters and their quiet gloomy feel or the spring and its ever-so-vibrant colors. Summers on the other hand are all about the outdoors. In fact, it is the perfect time to pack up your bags and take that long-awaited break you have been craving for the past year.
Unfortunately, figuring out where to go can be tricky, considering that your time is limited and there are so many beautiful places to see. To help you with this dilemma, we have rounded up 15 summer bucket list destinations to visit to make the most out of your summer vacation!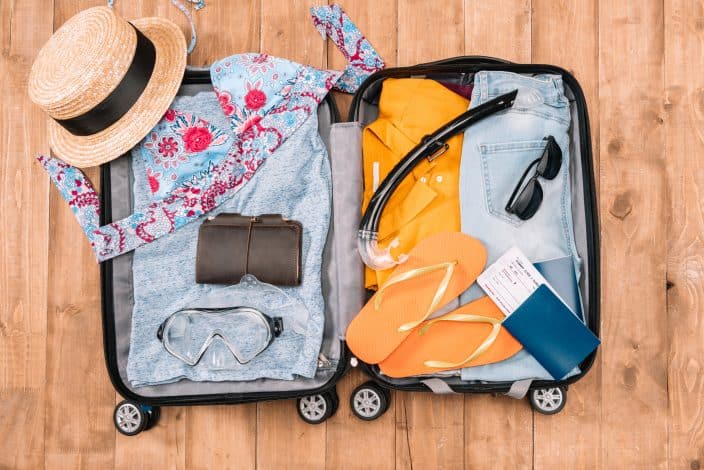 Must-Visit Summer Bucket List Destinations
Sunny Beach Destinations For Your Summer Bucket List
Sandy beaches are one of the most popular destinations in the summers and rightly so. I mean who doesn't like to spend time by the golden shore amidst the soothing sound of the waves? So, pack your sunscreen because we are taking you to some of the best beaches that deserve to be on your summer bucket list.
Flagler Beach, Florida
Flagler beach has to be on your summer bucket list this season. There are so many things to love about Flagler beach. It is located along Florida's Atlantic coast and sits between St. Augustine and Daytona beach. It is a small beach town with a huge coastline that has everything for young adventure enthusiasts to people seeking retreat alike.
You can take a dip and float with the waves at the beach or you can soak up the sun by the shore. You can also bring along a boat and go fishing. Flagler beach is also known for housing America's most beautiful natural parks where even a short stroll is filled with wonder.
After a long day at the beach and wandering through the natural parks, its time to explore. The beachside shops, waterfront open-air restaurants, and roof-top cafes will never let you down. As you enjoy your favorite cuisine by the coast under the sunset, the amazing view and delicious tastes are something you and your family will never forget.
Overall, Flagler beach has a very retro vibe to it. You will always find some local musicians just adding to the ambiance with their eclectic, enchanting tunes. If you are looking for a laid-back time, Flagler Beach is the place to be.
Cocoa Beach, Florida
Another Florida summer bucket list destination is Cocoa Beach. Located East of Orlando, it is considered a gateway to the iconic Kennedy Space Center visitor complex.
Unlike Flagler, Cocoa Beach is an established, bustling beach town with many facilities, hotels, and services available at your disposal. As one of the most popular beach destinations in America, summertime here literally feels like a festival.
Cocoa Beach has something for people of all ages. Apart from the usual soaking up the sun, you can ride the waves with your surfboard and even go fishing in the deep sea. For adventure seekers, there are a whole host of water sports that you can enjoy. The kayaking tours and airboat rides also give you a perfect opportunity to reconnect with nature.
This beach town is also filled with affordable shopping spots, delicious dining, and outdoor sports arenas. At night, the Jazz clubs and beachside cafes really come to life!
If that is not enough, there are many other activities that you and your family can enjoy. At the Kennedy Space Station visitors complex, you will get a chance to see all the iconic aircrafts that have shaped America's history. If you are lucky enough, you might even get to view a rocket launch into deep space! A summer trip to Cocoa Beach is sure to keep you and your family entertained for days.
Clearwater Beach, Florida:
Named America's No.1 beach by Tripadvisor, Clearwater Beach is a must-see summer bucket list destination. Clearwater Beach is just like it sounds, a stretch of white sand surrounded by clear waters. Its natural beauty attracts nature lovers from around the country. You and your loved ones will surely have a good time as you splash around in the water, amongst the aquatic birds.
Clearwater beach is filled with fun and exciting things to do. It is one of the most preferred destinations for enthusiastic watersports lovers. Due to its soft sand and calm waters, the beach is ideal for jet skiing, parasailing, and paddleboarding.
Visit the Clearwater Marine Aquarium, home to the famous Dolphin, Winter! Winter is known for having a prosthetic tail and the stories of her struggles and overcoming those struggles have been well documented in the famous movie "Dolphin's Tale". She is particularly famous among children and nature lovers alike.
Clearwater beach is also home to other world-class amenities. After a tiring day at the beach, you and your family will have a whole host of fine dining restaurants to choose from. Nearby, there is the Westfield Countryside mall and Aspirations winery. There are many comfortable lodging options near the sea, so you can soak up the sea breeze and extraordinary view all night long.
Myrtle Beach, South Carolina:
Another very famous summer vacation spot that should be on anyone's summer bucket list is Myrtle beach. It is located on the Atlantic Coast in South Carolina and consists of a 60-mile long beach strip. Myrtle Beach is also known for being home to some of the most exquisitely designed golf courses.
There is a lot that you and your family could do over the weekend at Myrtle beach. Take a walk along the beautiful beachfront boardwalk which provides a perfect view of the sunrise, sunset, and the entire ocean. Along the way, you will find many stands serving you mouth-watering snacks, as well as souvenirs to take home with you.
There are many fine-dining restaurants to satisfy your taste buds as well. Amongst other attractions, the family kingdom amusement park is a must-visit whenever you are in the area. It is also home to one of the country's tallest Ferris wheels. Once you are up there, the entire view of the city and the ocean is truly a sight to behold. Don't forget to bring your cameras!
Mexico Beach, Florida
For an incredibly beautiful summer bucket list destination, take a trip to Mexico beach, Florida. Beaches are not always about fun and games. Sometimes all you need is the calm serenity of the ocean and a refreshing breeze to release all your stress. If you are looking for a more quiet destination, Mexico beach, FL is for you.
Mexico beach remains somewhat undiscovered, it is located 20 miles east of Panama along Florida's gulf coast. Inhabited by a small group of people, the entire area has a cozy vibe to it.
Since there is less activity in the area, the overall surroundings provide an incredibly scenic view. The preserved natural beauty of sand and sea is literally food for the soul. Also, since there is little activity in the area, you will find beautiful shells to collect.
The area is also known for frequent sightings of dolphins. If you are lucky enough you will catch plenty of dolphins playing around during the sunset. After a tiring day laying out at the beach, you will find plenty of peace during the night. Since it is not a bustling beach city, the streets will be nice and quiet. The restaurants serve great food and the locals are very welcoming.
Beautiful Islands To Put On Your Summer Bucket List
Visiting a tropical island is always a good way to get the most out of your summer vacation. In fact, tropical islands are our easiest route to get close to nature. If you are looking to do something new this summer break, visiting a tropical island can be a good addition to your summer bucket list.
Florida keys
The Florida Keys are located between the Atlantic Ocean and the Gulf of Mexico. They are a string of tropical islands that stretch for about 120 miles. The islands consist of 5 unique destinations where you can enjoy and take part in a lot of activities.
If you are a person who loves sitting under the palm trees and enjoying the fresh ocean breeze, or indulging in water activities, this vacation haven has something for everyone.
Here you can relax by the shore and enjoy the delicacies of the many beachfront stands. You can also take a yacht into the ocean and score yourself a big trophy fish. For adventure seekers, there are water sports like scuba diving, snorkeling, and jet skiing, among others.
There are many other attractions in the Florida keys. Check out Duval street which has a bustling nightlife and numerous bars. You can also visit the Ernest Hemingway Home and Museum while you are there.

Amelia Island, Florida
One of our favorite summer bucket list destinations has to be Amelia Island. The islands offer a natural getaway into the wilderness far from the hustle and bustle of the city. It is located along Florida's northeast coast near Jacksonville.
The island is known for its beautiful golden-hued sand and sightings of dolphins, osprey, and even the endangered right whale. There is a lot more that you can do at Amelia island apart from marveling at its historic buildings and beautiful beaches.
You will find amazing recreation spots like luxury hotels, impeccable bed & breakfasts, upscale resorts, and other world-class amenities all around the island.
Downtown Fernandina beach, which is located at the northeast border has been a famous spot for generations. It hosts the famous Eight flags Shrimp festival, where you will also find many boutiques, restaurants, and bars to explore.
Overall, the island offers a tranquil, enchanting experience. Beautiful sunsets, amazing swimming opportunities, and a nightlife to remember. All of this with a hint of history, Amelia island is definitely "the place to be" this summer.
Turks & Caicos
If you want to be around beautiful scenery and clear blue waters everyday, this location should be on your summer bucket list. Turks & Caicos are a combination of 40 coral islands in the Atlantic ocean, southeast of the Bahamas. Surrounded by exotic blue waters and white sands this collection of islands is made in heaven for a romantic getaway with your loved one.
But that is not all, people of all ages will find something exciting to do here. From the obvious scenic beauty and beachfront activities, you can also indulge yourself in multiple watersports. Besides scuba diving and snorkeling, you can set sail and explore the open water.
Some famous spots to visit include Grace Bay Beach and Pumpkin Bluff Beach which are situated in the north Caicos. There are many luxury resorts available for you and you sweetheart, as well, making Turks and Caicos a great romantic summer destination.
Amazing City Destinations for you Summer Bucket List
Miami, Florida
Miami is considered one of the most popular cities in the world. It has everything from vibrant locals and sunny beaches to hot nightlife and a great art scene, making it a must see on your summer bucket list 2021.
There is a lot that you and your family can do while you are in this exciting city. Apart from spending time at South Beach or Miami Beach, you can explore the city or attend an event. Miami hosts many Boat Shows and other Auto Racing events all year round.
Miami is also known for its colorful and very bright nightlife. You can visit many bars, discos, and other famous spots like Little Havana and Art Deco District. Check into a one of Miami's gorgeous hotels and experience luxury at its finest.
With an international airport and one of the busiest seaports, Miami is a metropolitan city with an hip, beach vibe that you will not find anywhere else. If you are someone who loves the aesthetic, Miami is the place to be this summer!

Memphis, Tennessee
If you are looking for a soulful vibe this summer, Memphis is the place to go. Memphis is known as the birthplace of Rock n Roll. It is located in Southwest Tennessee right along the Mississippi River.
There is a lot that you can do while you are in Memphis. Take a stroll through the city on a bike and explore its colorful neighborhoods, iconic parks and meet interesting locals.
The beautiful riverfront overlooking the Mississippi River is also a sight to behold. Or even better, Kayak through the Memphis river for an unforgettable adventure. You can also visit the state park for breathtaking views of the hills, hiking adventures, and mountain biking. Wh
While exploring the city don't miss out on visiting Sun Studios where Elvis Presley and Johnny Cash Recorded their best work. Or, you can visit the Award-winning Zoo where your family and kids will have a lot of fun. There are many historical landmarks and museums in the city as well.
Overall, Memphis is an affordable vacation destination that has a lot to offer for people all ages. If you want to visit a place full of history, culture, and soul, Memphis should definitely be on your summer bucket list.

Alabama
Apart from being the very sweet home that it is, Alabama is also famous for being one of the best vacation destinations in America especially if you are a couple. If you love breathtaking, scenic landscapes and southern charm, this is the place to be this summer.
Alabama is home to some of the most relaxing beaches you will find anywhere. Especially along the Gulf of Mexico in Mobile Bay. You can also visit the many state parks and lush green mountains to get close to nature.
Apart from that, there is a lot to explore culturally and historically. From historic civil rights, monuments, and sites to several museums you will definitely learn a ton. It is the perfect learning opportunity for adults and children alike.
Science lovers will be excited to visit the Huntsville US Space and Rocket Center and marvel at some of the world's most advanced technology!

Charlotte, North Carolina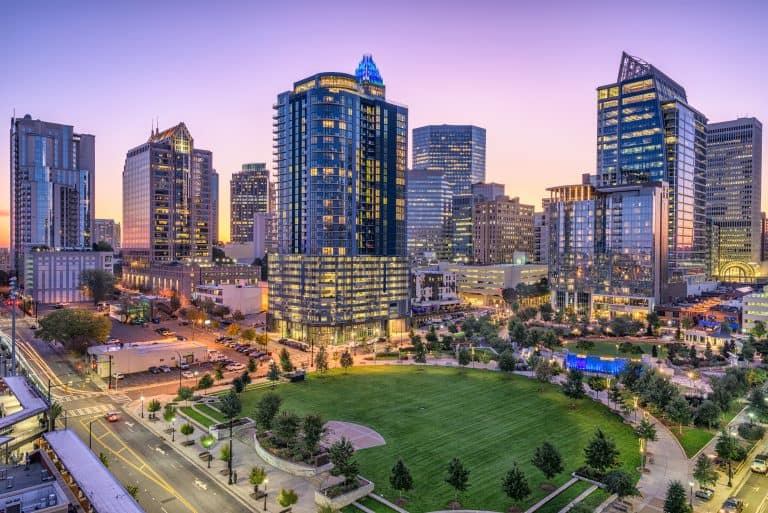 Charlotte is a city and a major commercial hub of North Carolina. Apart from being an economic powerhouse, it is also one of the most popular vacation destinations as well. Charlotte, North Carolina has a lot to offer, from a peek into America's rich history to great facilities where you and your entire family can have a lot of fun.
The Levine Museum is the city's most famous attraction. It depicts post-civil history where you and your kids could learn something new about the illustrious history of the south. Also, there is Discovery Place where scientific displays will never fail to amaze you.
The Carowinds theme and water park is another great place to beat the heat this summer. The park is filled with exciting rides and water slides where you and your family can spend the entire day. Or, you can visit Whitewater Center to get your dose of some watersports adventures as well.
Also if you are a car enthusiast, the Nascar Hall of Fame is a place you certainly don't want to miss while you are there. Here you will know all there is to know about the history of Motorsports through interactive exhibits and films.
The city has a lot of shopping malls, restaurants, and scrumptious street food as well. So during the night, you get to see the contrast of beautiful city lights, bustling streets, and an unforgettable ambiance. Put this in your Summer bucket list because Charlotte is really worth a visit.
 This post may contain affiliate links which won't change your price but will share some commission. As an Amazon Associate I earn from qualifying purchases.

LaGrange, Georgia
Another great summer destination where you'll get to find some peace with beautiful scenery and rich historic locations is LaGrange, Georgia. Think of it as more of a retreat, rather than a vacation because that's how visiting this place will make you feel.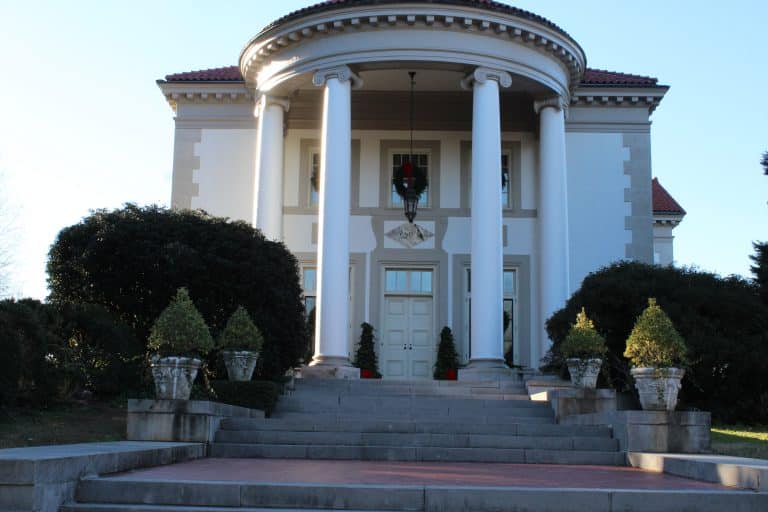 LaGrange has quite a few attractions including the Callaway Resort & Gardens, which is a sprawling estate covered with lush green gardens that offer an impeccable dining experience. You can also visit the Hills & Dales Mansion, which is a landmark and known for its beautiful gardens.
There are many museums in LaGrange which account for some of its most famous attractions. The Biblical History Center will surely revitalize your faith while Lagrange Museum of Art will leave you inspired. You can also visit the Nutwood Winery to satisfy your thirst for some pure wine.

Kentucky
One of our favorite destinations that should be on your summer bucket list is Kentucky. Kentucky provides another endless barrage of opportunities for you to spend your summer vacation in the best possible way. The state is located between the Ohio River in the North and the Appalachian Mountains in the East.
This means that you get to enjoy both beautiful scenic mountain therapy and swimming in the water to beat the heat. Hiking through the Mammoth Cave National Park is another great attraction this state has to offer. The best part? You get to spend time with nature in its purest form!
While you are in Kentucky, try visiting Louisville, the state's biggest city. Here you can visit the Louisville Baseball Stadium and the famous Kentucky Derby Museum.
Also, on the first September of May, the Famous Kentucky Derby is held at Churchill Downs, and believe me you will not want to miss that. This is followed by a two-week festival which has garnered much anticipation and excitement!
Destinations For Wine Lovers
Virginia Wine Country
If you are looking for something new and profound this summer, the Virginia Wine Country is your perfect destination. Located between the Atlantic ocean and the monumental Appalachian Mountains are collections of beautiful cities and towns known as the Virginia Wine Country which provide an enchanting experience.
The main attraction is the county's mammoth grape and wine production and my word, you will never get tired of wine tasting here. While in Virginia Wine Country, you will have plenty of choices regarding where you want to stay. The many beds & breakfast, luxury hotels and exquisite farmhouses guarantee that you will find a comfortable stay perfect for you.
Visit the Early Mountain Vineyards for breathtaking views and a restaurant that serves fresh food with some of the best wines you've ever tasted. Stinson Vineyards and Pippin Hill Farm & Vineyard are some of the other popular destinations.
---
With clear blue skies and the sun shining at its brightest, this is the perfect time to embark on an adventure. The summertime provide us the perfect opportunity to spend some valuable time outdoors and a way to escape from the stress of everyday life. So why not take its full advantage, right?
These 15 summer bucket list destinations offer the opportunity to indulge in many activities like soaking up the sun at sunny beaches, soothing yourself with the fresh tropical island breeze, or just exploring the very scenic beauty and historic richness this great country is blessed with.
So, what are you waiting for? Pack your bags and prepare for an amazing summer vacation!
CHECK OUT WHAT'S NEW ON BETSI'S WORLD
Which one of these summer bucket list destinations will you be visiting this year? Let us know in the comments below!

Romantic Getaways in the South